Unconventional Ways To Make Your Morning Eggs
Are you a total breakfast person? Do you love the smell of a home cooked meal floating through your home each morning, or at least on the weekends? Everyone knows that a key part of any good breakfast is the eggs, but sometimes you need to shake things up a little. Besides, who says you can only eat eggs for breakfast, anyways?
Check out these 15 delicious recipes for unique eggs that will have you excited to set your alarm tomorrow morning (or to get home from work for breakfast-for-dinner time)!
1. Poached egg over polenta with olive-herb pesto
The Ktchn shows you how to make a deliciously herb-filled meal by poaching an egg and serving it over warm polenta. The olive pesto gives it an added kick of flavour!
2. Sweet potato and brussels skillet
Have you ever seen delicious skillets on breakfast menus at restaurants? You can make your own skillets at home too! Love and Lemons gives you a mouthwatering skillet recipe that's healthier and yummier than what you'll find on a menu, especially since it's topped with a nice, big egg.
3. Baked feta with olives, tomatoes, and eggs
This gooey, mouthwatering dish is literally perfect for people who want to take their eggs to the next level. Paired with tomatoes and olives and nestled in melted feta, these eggs are literally swimming in flavour. Get the recipe on My Jerusalem Kitchen.
4. Twice baked potato with an egg on top
Baked potatoes are already one of the best side dishes out there, but there's always the possibility to make something better! Home Cooking Adventure figured out just how to do that… with eggs of course! Add chives, cheese, or sour cream for extra taste.
5. Fried egg and mushroom sandwich
This recipe might seem really simple, but it's certainly a combination that we just hadn't thought of before! We're so glad Garnish With Lemon did though, because it's making our tummies rumble. Slapping a fried egg on top makes everything delicious!
6. Shakshuka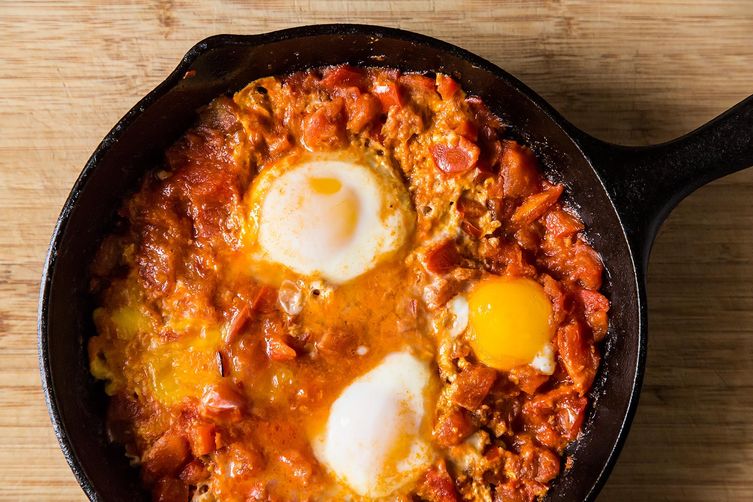 This Moroccan recipe from Food52 combines eggs with spicy tomato sauce and yogurt in a way that you definitely won't find in any of your local restaurants. The smell alone is enough to make your mouth water.
7. Egg white and greens frittata
Egg dishes are a great opportunity to eat more greens, even if you're not actually a big vegetable fan. Once you've fried them up into a omelette, all you're going to really taste is the delicious eggs, decadent cheese, and whichever herbs or spices you decide to add. This recipe from Healthy Chef is especially diet-friendly because it's made with egg whites!
8. Bacon, egg, and leek risotto
As if bacon and leek risotto doesn't sound good enough as is, this recipe from Smitten Kitchen is topped with a fried and seasoned egg. Between that and the bacon, it's basically an extra awesome breakfast in a bowl!
9. Quick and easy spinach egg drop soup
Egg drop soup is probably the biggest deviation from your standard breakfast that we've included so far, but it's also one of the most delicious ways to enjoy them! This recipe by Girl Cooks World is simple enough that you can enjoy a delicious egg dish even when you don't have a lot of time to prepare it.
10. Smoked tofu and egg fried rice
If we're talking about Asian food dishes that incorporate eggs then we can't leave fried rice off the list! This particular fried rice recipe from Fuss Free Cooking is made with smoked tofu that gives it a lot more flavour than you'd think. Between that and the eggs, this dish has it all.
11. Deconstructed Croque Madame
If you're already a fan of classic Croque Madame recipes then you'll be absolutely crazy about this one! My Invisible Crown guides you through the process of cooking a 'deconstructed sandwich', or a bread pudding containing all of the delicious ingredients you'd find on a Croque Madame, complete with the egg on top!
12. Baked eggs in avocado
Have you ever seen breakfast dishes made by cooking an egg in the middle of a piece of toast or inside the bottom half of a bell pepper? If those are intriguing but not quite your favourite ideas taste-wise, this recipe from White On Rice Couple might be your solution! Our mouths are watering just thinking about the combination of eggs, avocado, and bacon all cooked together.
13. Asparagus with poached eggs over grits
Do you have fond memories of eating homemade grits made by your grandma when you were a kid? It's one of those dishes that just recalls memories. Happyolks turns it into a bit more of a gourmet meal by adding deliciously grilled asparagus and, of course, a scrumptious egg on top.
14. Spicy tomato and egg pizza
Are you really looking to impress the egg-lover in your family with especially unique ways to eat their favourite food? We'd be willing to bet that they've probably never eaten eggs on top of pizza before! Get this awesome recipe on Desserts for Breakfast.
15. Eggs Benedict burgers
How had we never thought to combine two such delicious meals into one before? Thank goodness The Brewer and The Baker did! Rather than bacon, ham, or breakfast sausage patties on your eggs Benedict, go full out with actual burgers!
Do you know an egg enthusiast who's always looking for better ways to eat their favourite thing? Share this post with them for a little bit of cooking inspiration!