Triple Herb Stuffing Recipe For Christmas Season
Triple Herb Christmas Stuffing is an easy side dish to serve at any holiday gathering! Its crisp crust, soft stuffing, and big herb flavor is sure to make this an instant classic.
This Triple Herb Christmas Stuffing is the perfect addition to your Christmas table. It's a traditional stuffing – no pears, no apples, no nuts, no nothing weird – just the best classic stuffing you've ever tasted.
The herbs in this recipe add heaps of savory flavor to our stuffing. Rosemary, thyme, and sage are quintessential winter herbs that add that special holiday flavor to this side dish.
Technically speaking, this Triple Herb Christmas Stuffing, isn't actually dressing. Stuffing is baked inside a turkey or other bird, but dressing can be made in a pan, not requiring it to be "stuffed" into anything.
The dressing is easier to make, its suitable for vegetarians, and when made right, it has just as much, if not more flavor, than stuffing. Since our Triple Herb Christmas Stuffing is not encased inside a bird, the top can brown and get a nice crunchy crust – which is the perfect textural complement to the soft stuffing underneath.
A few tricks make this Triple Herb Christmas Stuffing the best stuffing on the Holiday Table:
The single most essential trick to perfect stuffing is this: use dry bread. Always. If you have the time, cube your bread and let it sit out, uncovered, on the counter overnight. If you are making stuffing in a rush, cube your bread and dry it out in a 350 degree oven for 10-20 minutes. Though it seems odd to use old and dry bread, when the bread is less than table quality, it can better absorb flavor. Don't worry, your Triple Herb Christmas Stuffing won't be the least bit dry.
Once you have your dry bread, this next trick takes your stuffing from great to amazing. We mix up a batter with stock, eggs, and herbs that soaks into the stuffing and gives it a soft and flavorful texture with that perfect crisp golden-brown top. The egg is the secret weapon that helps hold the stuffing together and gives it a luxurious texture.
Finally, the last trick to perfect Triple Herb Christmas Stuffing is bringing in plenty of flavor. Onions, celery, herbs are an easy way to add loads of flavor to this Holiday side dish.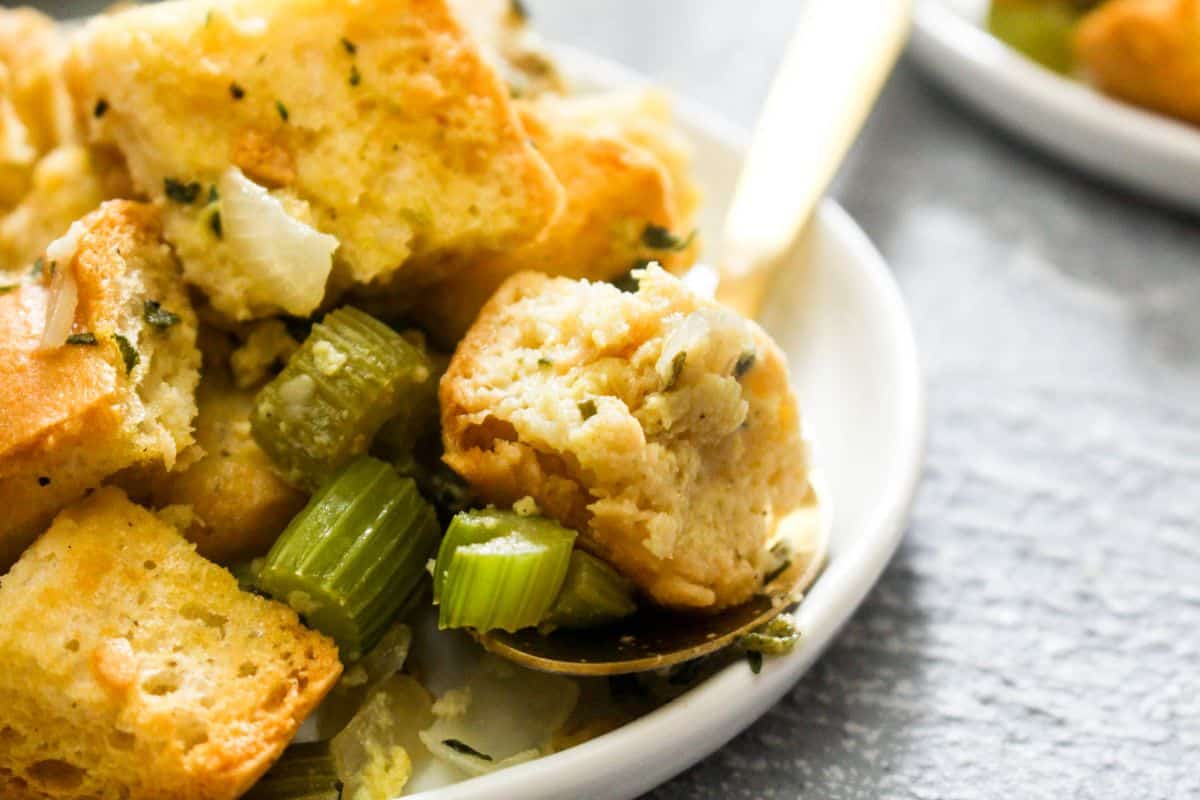 Ingredients for Herb Christmas Stuffing:
1 day-old French baguette, cut into cubes
2 teaspoons olive oil OR avocado oil
1 onion, diced
4 stalks celery, chopped
1 teaspoon salt
4 cloves garlic, minced
1 tablespoon minced fresh rosemary
1 tablespoon minced fresh sage
1 tablespoon minced fresh thyme
2 eggs
1 cup stock or broth
3 tablespoons melted butter
Directions to prepare the Christmas Stuffing:
Preheat the oven to 350 degrees. Spread the baguette out on a baking tray and bake for 10-20 minutes, or until your bread has dried out and has a crusty exterior.
While the bread is cooking, heat the oil in a skillet. Add the onion, celery, and salt. Sautee until the vegetables have softened, about 7-10 minutes. Add the herbs and garlic and sauté for another minute. Remove from the heat and set aside.
In a bowl, whisk together the eggs, stock, and melted butter. Set aside.
In a 9×11 baking dish, combine the bread and sautéed vegetables. Toss to combine.
Pour the egg and stock mixture over the top. Toss to make sure that each bread cube is coated.
Bake for 30 minutes until golden brown. Serve.
Triple Herb Christmas Stuffing is an easy side dish that can be made without needing to cook a whole turkey! The stuffing cooks in a pan so it gets a crisp golden brown crust with soft and flavorful stuffing underneath. The herbs add plenty of holiday flavor to this traditional dish.