The 9 Best Embroidery Machines On The Market in 2023
Whether you're a regular sewing enthusiast who has been looking to diversify your skills or a hand embroidery lover who has long been thinking about giving the automatic version of your craft a try, learning how to work an embroidery machine is something that we think essentially all thread-based handicrafters can benefit from. In fact, we actually recently made the decision to take our dedication to sewing and embroidery to the next level by investing in a brand new embroidery machine!
Many of these machines work similarly to professional sewing machines, but this time with several specialized features that allow for a wider range of stitch customization. As usual, we decided to do all kinds of research into the various options, features, and price points we might choose from before making our final decision, just to make sure that we really know what we're spending our hard-earned money on.
Editor's Choice
Premium Pick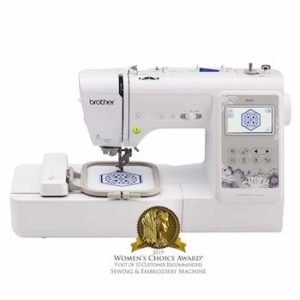 Best Embroidery Machines
By the time we'd finished bookmarking our favorite designs to go back over again in order to choose one, we realized we'd put together a rather excellent list of recommendations! We've always appreciated browsing the options other people like or would recommend when we're thinking about purchasing something new, so we wanted to share our list of embroidery machines in hopes that it might help someone else out. Check out these nine fantastic and high-end embroidery sewing machines that we came across in our search!
Are you the kind of person who actually goes into embroidery of all kinds through your love of visuals and the fact that you've always been a very visual learner as well? Then we have a rather strong feeling indeed that you'll appreciate the impressive graphics that this well-lit and computerized embroidery sewing machine from Brother proudly boasts! In fact, even the buttons and controls on this particular model are very illustrated looking and visual, making them intuitive and quite simple to navigate.
Part of the beauty of this machine also lies in the variance of built-in options it offers. In addition to offering over 80 pre-programmed embroidery designs ranging from kids' to holiday and floral themes, the machine is also capable of automatically stitching your customized words or short phrases in nine different pre-programmed fonts. As if all of that isn't enough, the machine's computer feature also has a USB port through which you can load completely custom and independent designs of your own. The screen even has touch screen functionality to help you really get the design laid out just right before you start the embroidery.
Pros
Comes with 80 built-in designs.
Features 9 font styles.
Cons
The frame can only hold thinner materials.
View price on Amazon
Do you love a lot of the features you saw above and believe that a machine with these capabilities is truly the kind of thing you're looking for, but you also tend to work on larger projects sometimes, and you're just not sure that the first model's base is quite large enough for what you'll occasionally need? In that case, we'dabsolutely suggest taking a look at howBrother also offers a version with a slightly more extended base instead!
In addition to being longer and a little wider as far as its work surface is concerned, this machine also has a few slightly more advanced capabilities than its previous version, which also makes it a little more expensive and therefore more of an investment. If you're really planning on branching into the world of creating your own embroidery designs and producing things that have a more advanced finish more often, then it's worth the extra cash, particularly since it's so shockingly easy to use. Besides its advanced touch screen, design adjustment, and embroidery capabilities, this machine also has automatic threading and bobbin winding processes that are simple, snag-free, and very user-friendly indeed.
Pros
Features 138 designs and 240 built-in stitches.
Comes with 8 sewing feet.
Cons
View price on Amazon
Have we actually still got you thinking about the possibility of using a single machine for both your sewingand your embroidery projects at once, meaning you'll require a larger range of regular functions than you've seen before? Well, this third alternative fromBrother just might be the kind of combination option you've been holding out for. Like the other two, it has a large, well-lit touch screen with all kinds of customization capabilities, but the difference lies in what this particular screen will do!
Since itis still an embroidery machine, this computerized design features USB syncing for independent designs, as well as 80 automatic embroidery designs that are built right in. Unlike the others, however, this machine also features a wider range of regular sewing stitches as well! You can choose from 103 built-in sewing stitches ranging from very practical things to slightly more decorative things, and that's before you even get into the actual world of embroidery design. Now, the framed embroidery field itself on this machine is a little smaller than some you'll see, but 4 x 4 is still quite standard as far as portable home models go.
Pros
Features 80 designs and 103 built-in stitches.
Comes at a great price.
Cons
Editing programs from Brother are quite expensive.
View price on Amazon
In addition to being a lover of various kinds of embroidery, are you also the kind of material-based handiworker who enjoys quilting too? Then we think you might be rather thrilled indeed to learn that there's a machine offered by Brother that's specifically built to combine those types of hobbies in one place so you can create the ultimate sewing-based projects! This particular machine gives you customizable embroidery design capabilities, a range of practical and decorative stitches that are perfect for high-quality quilting, and even a detachable table extender that gives you a work surface that's a lot more expansive without rendering the machine non-portable.
This machine, which can run at an impressive sewing speed of 850 stitches per minute, is rich in the automatic programming department despite not being a fully color screen-equipped computer model. It offers a number of basic image and font-based embroidery designs, a range of 60 built-in stitches, and even seven different kinds of automatic buttonholes for garment making. Even the threading system is convenient and automatic.
Pros
Features 60 built-in stitches.
Comes with 9 sewing feet and a wide table.
Cons
Doesn't work that great over thicker materials.
View price on Amazon
Are you feeling rather keen indeed to invest in an automatic embroidery machine that will help you create stunning stitched patterns in far less time than you're capable of doing by hand, but you're also the kind of DIY enthusiast who has to be able to move and clear way their crafting and handiwork supplies between projects because you don't yet have the luxury of having a permanent sewing space set up in your home? Then we think this slightly less bulky and more portable automated embroidery machine offered by SINGER might be one you'd find a bit more convenient to work with.
Despite being smaller and more portable, this machine is still fully equipped with the same types of high-quality features as most of the other embroidery machines you've seen so far! It has adjustable tension, stitch length, and speed, as well as an automatic threader, all of which make it an awesome sewing machine in its own right, but its embroidery-specific features are really what set it apart. The screen might not be color, but it's well visible and intuitively laid out, offering over 250 decorative stitches and embroidery designs that you can alter and customize to certain degrees and dimensions right there on the screen. Unlike some models, this machine also gives you more freedom in the size of your embroidery field! Simple change the settings on the screen and then snap differently sized durable plastic frames on and off the base to determine how large your embroidered design will be.
Pros
Features 200 built-in embroideries.
Comes with 250 built-in stitches.
Cons
View price on Amazon
Are you actually feeling quite settled on the idea of getting an embroidery machine that's very well equipped and highly capable, but you've found one or two of the designs you've seen so far to be ever so slightly overwhelming in the sheer number of features they offer? Then perhaps you'd prefer a version of those models that's just as user-friendly and intuitive, but that's free of some of the flouncier features that you're just not sure you'll use. Thankfully, Brother still has you covered!
In addition to custom design importing and slight on-screen alteration capabilities, this machine offers you a total of 138 built-in and automatic designs ranging from scrollwork to simple quilting designs to slightly more intricate florals. It also has 11 built-in fronts as well! Rather than feeling like more bells and whistles that you'll have to tackle learning, however, these fonts are programmed to be extra accessible in their selection process. As if all of that isn't enough, this machine also gives you a slightly larger than average base embroidery field, giving you a little more space to get creative with right from the jump.
Pros
Features a 3.2″ LCD touchscreen and comes with 138 designs.
Is programmed with 11 font styles.
Cons
The software you have to buy is also quite expensive.
View price on Amazon
Rather than programming a full image-based design into your sewing machine and letting it do most of the work automatically, are you the kind of embroidery enthusiast who would rather maintain some of the control and simply create your own decorative finishes out of more basic stitch combinations that you patterned together yourself? In that case, particularly if you appreciate a bit of aesthetic along with your function, we think you might really enjoy this lovely blush pink and computerized basic embroidery machine offered by Ever Sewn!
In total, this machine comes already programmed with an impressive collection of 310 stitching patterns. This range includes 32 automatic stitches that are more basic and practical or utility and 84 that are much more decorative. Additionally, the machine comes programmed with two differently styled full alphabets! The computerized machine also has a memory function that will let you save a number of your own stitch combinations made from what the model offers, so you don't have to select the specifics every time if it's something you do commonly.
As if all of that isn't enough, you'll also find an extender for the machine's arm and a whole range of presser feet for different functions, making the machine even more customizable than some professional quality, touch screen clad embroidery models.
Pros
Comes with 310 stitch patterns.
Knows 2 full alphabets.
Cons
The thread keeps tangling up.
View price on Amazon
Have you actually been in the machine embroidery game long enough that you don't feel the need for all of these computerized capabilities we've talked about because you're perfectly proficient at creating designs on your own using the different regular stitch setting the average machine already has? Well, we found that the more creative we got with our stitching styles on our beginner's machine, the more likely we were to damage it or break needles. That's why we liked the idea of investing in a heavy-duty sewing machine with a good range of basic and decorative built-in stitches if manual machine embroidery is your thing! This model from SINGER is a great example of what we mean.
This machine has metal framing and a stainless steel plate, making it durable and also smooth for working on, which is a great perk when it comes to the maneuvering involved in more manual machine embroidery. This machine offers you 11 built-in stitches that can be customized slightly for different fabrics based on simple pictorials and easy-to-use dials thanks to adjustable stitch length and presser foot pressure.
If you're the kind of skilled embroidery enthusiast who learned how to do certain designs entirely by your own hand without even really using pre-set stitches at all, then you're even more on track with this machine than the average bear!
Pros
Super affordable.
Only 11 built-in stitches, but it's perfect for crafts and home sewing.
Cons
Not as sturdy as it looks.
View price on Amazon
Even though we all know that function is a lot more important than looks when it comes to choosing a sewing machine, are you still the kind of fun-loving creator who loves a good design and some color so long as a model truly has all of the features you need? Well, if you've ever been a comic book lover, then we think you'll get a real kick out of the way Brother offers this fully computerized embroidery machine that's also adorned with a bright Marvel theme!
Just for fun, this embroidery machine comes with four Marvel character-based interchangeable faceplates, each emblazoned with either The Incredible Hulk, Captain America, Iron Man, or The Avengers.
One of our favorite perks in terms of the machine's functionality is that, on top of the 80 pre-programmed embroidery designs, 103 builtin stitches, and 10 types of automatic buttonholes, this particular machine also comes with a credit for downloading several Marvel comic themed embroidery designs from a popular database website as well, allowing you to customize your sewing experience even further! A large and well-lit color touch screen makes it all simple to navigate.
Pros
Features 103 built-in stitches.
Comes with some cute Marvel faceplates you can change and downloadable Marvel designs.
Cons
A bit too technical to use for some folks.
View price on Amazon
Conclusion
Do you know another sewing, crafting, and DIY enthusiast who has been thinking a lot about purchasing and embroidery machine to up your sewing game, in addition to the regular sewing machine they already have, but they feel like they could use a little bit of guidance and help along the way? Share this post with them so they can see the ones you considered, too, just to make sure they have all kinds of options to consider!