Delicious and Spicy Chicken Crockpot Curry Recipe to Make at Home
An easy from-scratch spicy chicken crockpot curry with a kick of chili spice. Everyone loves a good takeout curry, but homemade chicken curry is something special. Even more so if you raid that spice cabinet and make everything from scratch.
Served up in the middle of the table with a mountain of rice, some pita bread and mango chutney and you have a feast that'll beat anything on that take-out menu!
This curry uses a fair number of spices as well as 3 teaspoons of HOT chili powder to give you a medium-hot curry. If you want to dial down the heat, just use less or replace with mild chili powder.
If you want to make enough for leftovers, you can double the amounts of everything no problem. If you do this, you may need to stir in a little cornstarch slurry at the end to thicken it (1 tbsp cornstarch mixed with 2 tbsp cold water).
Any leftovers can be cooled, covered and refrigerated or frozen for a super-quick mid-week meal.
Here's what you'll need for the chicken crockpot curry recipe:
Serves 4
1 tbsp. vegetable oil
1 large onion, peeled and chopped
3 chicken breasts (boneless and skinless) diced
3 cloves garlic, peeled and minced
1 large piece of ginger (about the size of your thumb), peeled and finely chopped
1 tsp salt
½ tsp ground black pepper
3 tsp hot chili powder (use less or mild chili if you don't like your curry too hot)
1 tbsp ground cilantro
½ tbsp cumin
1 tbsp curry powder
1 tsp paprika
1 tsp cinnamon
1 cup chicken stock (water plus a stock cube is fine)
1 x 14oz can chopped tomatoes
2 tbsp tomato puree
2 tsp sugar (this is to counteract the acidity in the tomatoes)
1 x 14-oz can full-fat coconut milk
To serve:
Rice, chopped cilantro and finely chopped chilies

Directions to prepare the spicy chicken crockpot curry:
Preheat your slow cooker to high. Heat the oil in a large pan (or the insert of your slow-cooker if it can go on the hob), add in the onion and cook on a medium heat for 5-6 minutes until softened.
Add the chicken and cook for 3-4 minutes until just sealed.
Add in the garlic, ginger, salt, pepper, chili powder, ground cilantro, cumin, curry powder, paprika and cinnamon.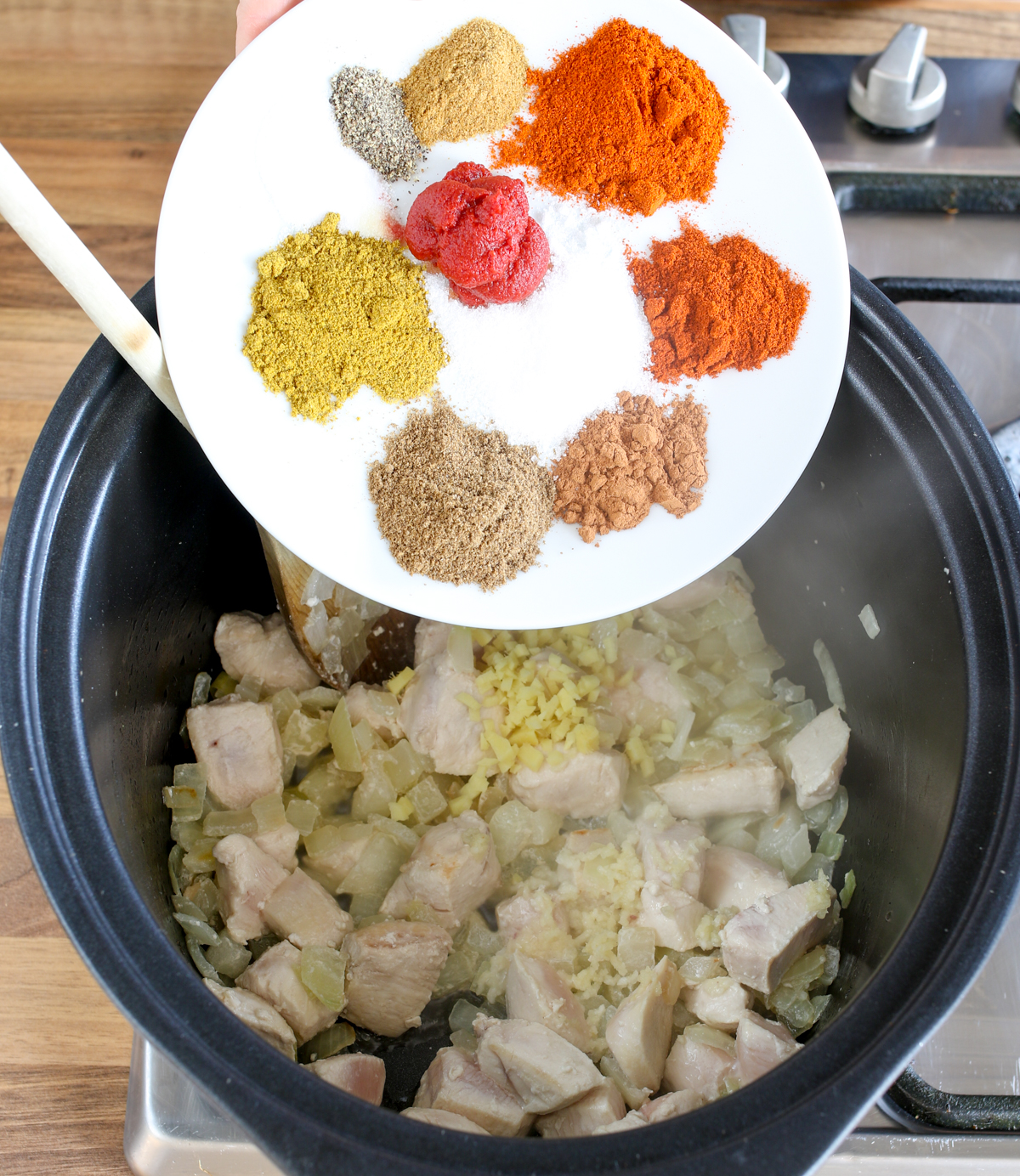 Stir to coat the chicken and cook for 1-2 minutes.
Add in the stock, tinned tomatoes, tomato puree, sugar and coconut milk.
Stir, bring to a gently bubble then pour into your slow cooker and cook for 3-4 hours on high or 5-6 hours on low.
Take the lid off and give everything a stir (the oils will have risen to the top, so you can spoon most of it out, or just stir it back in). Sprinkle with cilantro and serve with rice.