How To Make A Chicken Fajitas Platter Recipe
A pick-and-mix fajita sharing platter that the whole family will love! Chicken Fajitas are a quick and easy meal for the family – and a great way to get a few veggies in (even though it feels more like fast food!).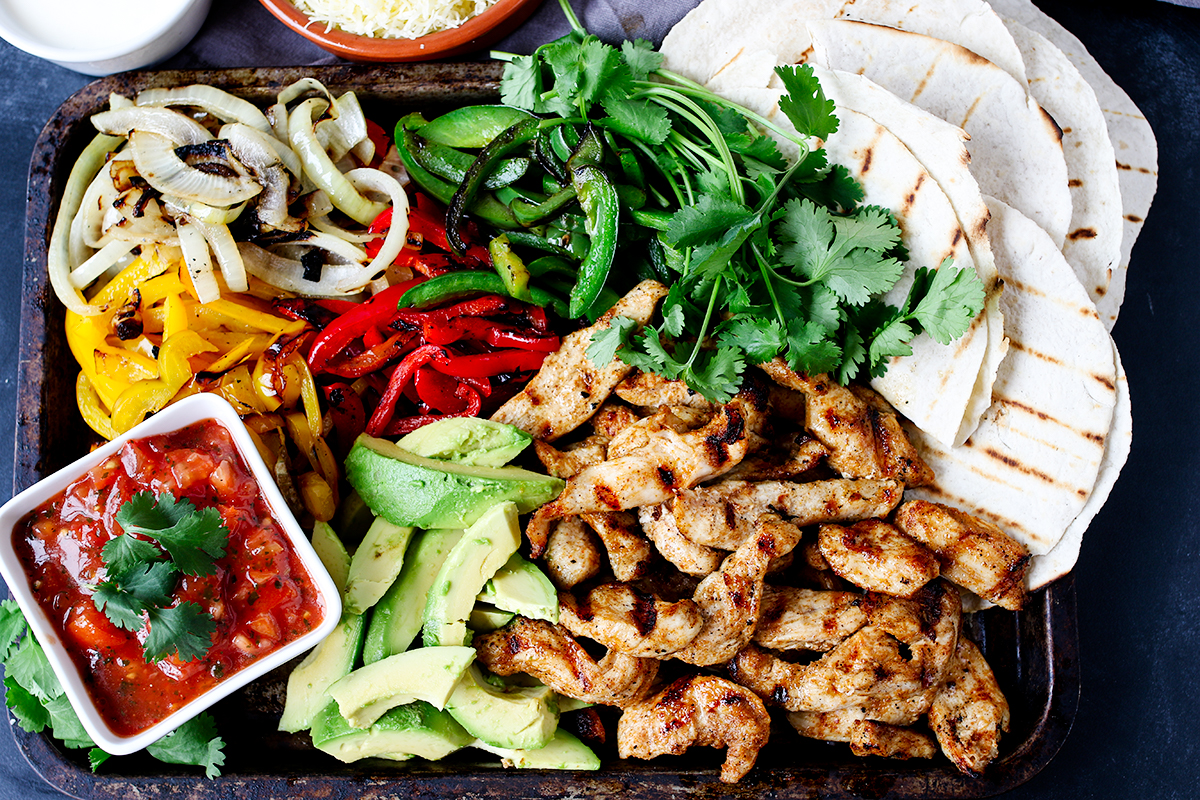 I love serving fajitas in this way – cook everything up and then throw it on one huge platter. Everyone can dig in and help themselves.
Not only great for regular mealtimes, but also for parties, gameday, and any time you need to feed a crowd.
Although not vital, a cast iron griddle is really useful for this recipe – use it for grilling the flatbreads, chicken, peppers and onions to give a slightly smoky-charred flavor.
Serve with plenty of salsa, sour cream and cheese for a dinner that everyone will LOVE!
Here's what you'll need for Chicken Fajitas plater:
Serves 4 hungry people
8 small flour tortillas
3 chicken breasts, sliced into strips
3 tbsp vegetable oil
2 tbsp fajita seasoning
1 red bell pepper
1 green bell pepper
1 yellow bell pepper
1 onion
1 avocado
Large bunch fresh cilantro
1/2 cup sour cream
1 cup salsa
1/2 cup shredded cheddar cheese
Steps to prepare a delicious sharing Chicken Fajitas plater:
Preheat the oven to it's lowest temperate and place a large baking tray in there to warm. Then cut the peppers and onion into slices. Peel, de-stone and cut the avocado into slices.
Place the chicken on a plate, pour on 2 tbsp of the oil and sprinkle on the fajita seasoning. Mix together until thoroughly combined.
Heat a cast-iron griddle plate to a high heat, when hot, place the tortillas on the griddle – turning once until you have griddle lines on the tortillas. It should only take a minute or two, but you'll probably need to do this in 2 or 3 batches. Place on a plate and cover with some foil to keep warm..
Brush the griddle with the remaining 1 tbsp of oil. Place the sliced peppers and onions on the griddle and fry until slightly charred and softened (about 8-10 minutes), turning once or twice during cooking. Remove and place on the warmed baking tray (take the tray out of the oven now so it's not too hot to serve)..
Place the chicken on the hot griddle and cook until charred and no longer pink in the middle (about 5-6 minutes). Turn over once during cooking..
Take the tray with the vegetables out of the oven. Place the chicken on the tray along with the warmed tortillas, avocado slices and cilantro. Serve with the sour cream, salsa and shredded cheese..
Mmmmm delicious!