In our house, each member of the family has an iPad for either work or school. This means that we're constantly mixing them up and also also constantly concerned for the safety of each person's tablet, since they're slightly fragile and rather expensive. That's why we've decided that each person in the household needs a decent case for theirs, both so we can tell whose is whose and also so they don't get scratched or damaged. Of course, we could just go buy some differently coloured pre-made cases from any number of stores, but we always feel much more accomplished when we make things ourselves. That's why we've been keeping an eye out for awesome DIY iPad cases lately!
1. iPad case from cardboard and an old skirt
No matter what you're making, have your favourite kinds of crafts always been ones that involve some kind of element of upcycling? In that case, we think you'll really appreciate the way Make Life Lovely reused cardboard and repurposed an old skirt in order to make this closing book style iPad case that ties closed!
2. DIY iPad case made from magazines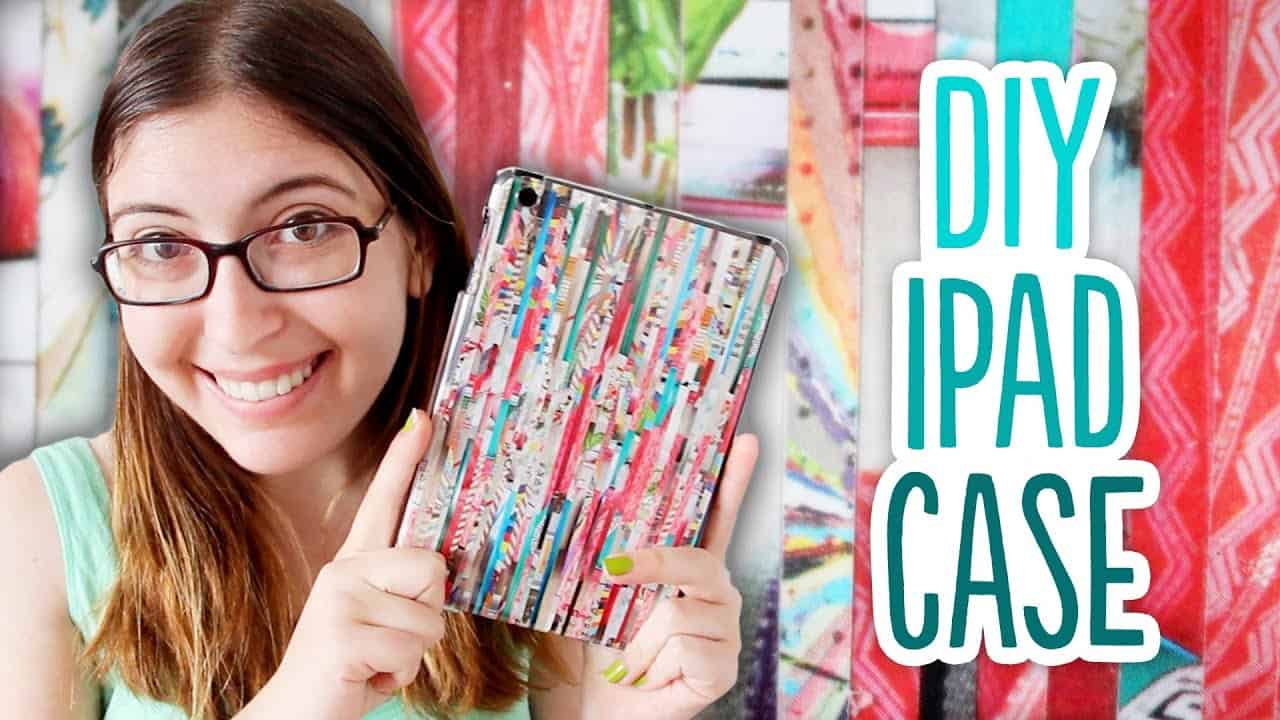 Perhaps, rather than being obsessed with upcycling, you're the kind of person who always appreciates as much colour and visual texture as you can possibly include in one project? Then we have a feeling you're going to appreciate the way Karen Kavitt DIY made this iPad case from brightly coloured strips of magazines, like a collage!
3. Scribbler notebook iPad case
Did we actually really catch your attention when we started talking about the idea of an iPad case that opens and closes like a book but you'd actually kind of like to run with that theme? In that case, we have a feeling this fantastic scribbler notebook style iPad case outlined step by step on Manmade DIY might be right up your alley!
4. Five dollar, one hour iPad case
Perhaps you're working on a budget and within a pretty quick timeframe because you'd like to get your new iPad covered quickly before you go on a trip and travel with it in a bag, so you're looking for a solution that's quick, easy, and affordable? In that case, we think you simply must take a look at the way Little Miss Lovely made this fantastic opening fabric case in one hour and for literally only $5!
5. Felt scallop-edged iPad case
Maybe you're feeling rather intrigued indeed by all these tutorials that involve fabric of various kinds but you're actually quite skilled at sewing so you're looking for something a little more challenging, albeit along those lines? In that case, we'd absolutely suggest taking a look at how Oh So Lovely Vintage made these lovely envelope style felt cases that have cute buttoning clasps and scalloped edges.
6. Envelope clutch style iPad case
Has the thing we've actually caught you attention with so far been the mention of something that closes envelope style but you're convinced you'd prefer something a little more sleek and streamlined around the edges than the scalloped style piece we just showed you? Then we have a feeling you might get along a little better with the way In Honour of Design made envelope style clutch that's really an iPad case.
7. Instagram collage iPad case
Perhaps you were quite intrigued indeed by the decoupage techniques that were used in the magazine idea we showed you a little higher up on our list but you'd much rather use actual images that mean something to you in place of just strips of colour? Then you just might be the perfect person to give this awesome Instagram photo collage iPad case a try! Get the full details for making one of your own on Lil' Blue Boo.
8. Striped quilt style fabric case
Did we really catch your attention when we started talking about homemade iPad cases that are made using your sewing techniques but you're convinced that you'd actually do better with something even more challenging that what we've shown you so far in that regard? Then we think you simply must take a look at the way Amy's Creative Side not only sewed these adorable iPad pouches but actually quilted them together in a fun patterned patchwork effect!
9. Felt Harry Potter themed iPad sleeves
Just in case we really caught your attention when we started talking about felt because you've always enjoyed working with it but you're just not sure that the scalloped design was the one for you, here's an awesome idea for your inner book nerd! If you've ever been a fan of Harry Potter then we think you'll simply adore the way Practically Functional made these detailed felt iPad sleeves that are modelled after Harry and Ron!
10. Bubble mailer envelope case
Perhaps the thing that all of the ideas we've shown you so far is really missing in your mind is a bit of real cushioning to keep the iPad safe? After all, more can happen to it in a bag when you're carrying it around than just scratches. That's why we thought this envelope style case from Hative that's actually made from a protective bubble mailer was such a neat idea!
11. Elegant Molskine book case
Of all the ideas we've discussed so far, is the one that's really sticking out in your mind actually the one that looked like a notebook because you really like that contrast between classic things and technology but you can't help wishing it looked more sleek and sophisticated, more like a journal than a scribbler? In that case, we have a feeling this DIY moleskine book style iPad cause featured on The Modern Day Pirates might be right up your alley!
12. Quilted rollable iPad case
All of these iPad cases that open like a book are all well and good, but what if you'd like the kind of case that not only opens but lets you lean the iPad at different angles? Then we have a feeling you might get along a little better with something like this quilted rollable iPad case outlined step by surprisingly simple step on Instructables!
13. Lined iPad case from IKEA chair cushions
Just in case upcycling is your absolute favourite thing and you're still looking for a tutorial that will help you do that while protecting your iPad in an interesting way, here's a concept that is also a bit of an IKEA hack! We love the way Shelterness made this fantastically protective iPad case from a set of IKEA chair cushions.
14. Geek chic iPad purse
Were you quite enamoured indeed by the idea of making an iPad case that also looks like a small clutch, but you actually find that you've always preferred purses to clutches no matter what you're putting in them? In that case, we're pretty sure this tutorial from How About Orange that teaches you how to make a Greek chic purse case with a handle might be a better fit for you!
15. Upcycled plaid shirt iPad case
Have you actually been scrolling through our list and thinking about how much trouble you're having deciding between making a case that lets you work with fabric and making a case that lets you upcycle because you enjoy both of those things? Well, then why not make something that will have you doing both at once? We love the way Mr. Kate did just that when they made this kitschy iPad case from an old plaid shirt.
Have you made other kinds of awesome DIY iPad cases before that you really like using but that you don't see here on our list? Tell us all about what you created and how you did it or link us to photos of your finished work in the comments section!