15 Printable Weekly Schedule Templates For Everyone to Utilize
It doesn't matter if you're well into your career or you are a high school student, a bit of organization and planning never hurt anyone. Everyone can utilize these 15 printable weekly schedule templates and keep their weeks a bit more goal-oriented and focused.
Take a peek, print some off, and you can even create your very own DIY planner.
Weekly Schedules Template Ideas
1. Honeycomb
This honeycomb schedule from Inspiration Made Simple may be our favorite on the list. Use this for to-do's, homework, or even your work musts. It's a great one to print off and fill up personal planners with!
2. Chevron
Speechy Musingshas a chevron beauty to choose from. It breaks down each day for you and you can have an easier time mapping out super busy schedules. Hop on over now to print!
3. Personalized
Skip To My Lou has a design that's a bit easier to personalize. We also love its simplicity and pop of floral in the corner making for a more cheery finish. This is a freebie too!
4. Week Of
Over at Little House Living, you'll find a classic "week of" schedule that will help a lot of people out as well. It's got a more retro style and will fit into a variety of notebooks and planners with ease.
5. Colorful
Again, if you need daily breakdowns for a really busy personal or family schedule, we've got one that's perfect for that! It's colorful, easy-to-read and you can print it out by visiting Flanders Family. No need for highlighting!
6. Teal
If you're fond of teal, then you'll really love this design from – you guessed it – A Shade of Teal! This one is simple in design but packed with all the spots you need to organize your weekly schedule. This is a really good one for students!
7. Simple
If you're looking for a super simple schedule, one without any fluff – then this one will do that job. Perfect for guys and gals all around, you can print this off right now just by visiting Emma Studies.
8. Daily
This one is for the busy birds as well. Over at A Blissful Nest, you can print off these daily schedules to help keep you (and possible the kids or employees) in line throughout the days. You can pack so much in!
9. Singular
iHeart Organizinghas another favorite design up their sleeve. These singular day schedules are perfect for all kinds of needs. We like the easy, one-page print off as well and the colorful, cheery design!
10. Full Set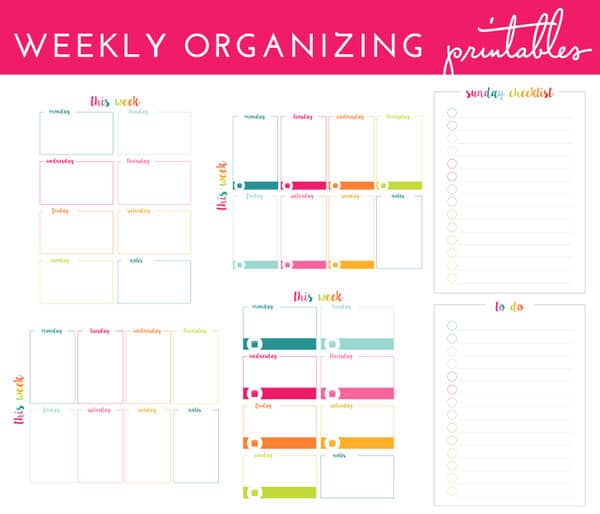 If you're looking to really keep yourself organized, hop on over to The Homes I Have Made. They've got a great set that will keep all corners of your week neat and tidy. And you can easily print them out without hassle – tonight!
11. Versatile
Grace and Good Eatshas another versatile design. If you're looking for a weekly schedule that breaks your days down and will help keep the pace of your have-to's this one is it. We love these additions to any DIY planners and such!
12. Tropical
You can keep that work schedule a bit happier by using a tropical schedule to keep everything in order. Dream of vacay all throughout the meetings and homework planning. Check it out at Ona Creation.
13. Feminine
Shining Mom has an ultra feminine printable weekly schedule that we're swooning for. The pop of blushing pink and modern edges of the B&W background make this a glam option. Jazz up your fridge, your planners, your binders, or just your desk with some of these to keep your brain tidy.
14. Edgy
Here's a weekly schedule with an edgy finish that we're really digging. Pop this up on the fridge for the entire family or print it out for your teen to keep homework on track. Grab it at Craft and Design.
15. Clean
And finally, Simply Organized will give us the poshest and crispest of them all. Super versatile and gets the job done, go ahead and print these out for everyone in the family.