Creative DIY Projects Made With Playing Cards
Is your family the kind of group that gathers around the table after dinner each night to play cards? Do you adore games like Uchre, Poker, and Bridge? Then your household sounds like the perfect place for some DIY projects that upcycle or incorporate playing cards into your creative life too!
Check out these 15 crafting opportunities that repurpose playing cards into all kinds of awesome things.
1. Playing card and hot glue toy house
Do you have a pack of cards that's so bent or that's lost its glossy finish so badly that the cards sort of stick together as you play? This doesn't have to mean that they're destined for the garbage or recycling box! Crafting a Greener World shows you how to use simple stacking techniques and glue to make a toy house out of playing cards. It might look unstable, but if you build it from triangles like the picture shows and glue it well, the house will actually be able to support small toys!
2. Playing card Valentine's Day Garland
Holiday themed garland is cute for any occasion, but we're pretty big fans of this slightly "punny" Valentine's Day garland idea from No Time for Flash Cards! Collect all of the cards in the hearts suit from an old deck of cards and string them along some ribbon or crafting string. From other cards, cut heart shapes out of the red side and string those between the heart faces!
3. Playing card cut out magnet
One of our favourite ways to upcycle small things is to make them into magnets, because they're easy to make and you can create so many different designs. Playing cards are not exception! Cut Out and Keep shows you how to create a flowered magnet from rounded strips of old playing cards.
4. Playing card Las Vegas themed bouquet
Are you and your bridal part headed to Las Vegas for your bachelorette party, complete with costumes and novelty props or accessories? This faux flower bouquet from Pinterest, featuring dice and playing cards between the roses, is the perfect way for you to reuse those old cards sitting in your games chest!
5. Daisy shaped playing card birthday message
Do you have a group of friends that you always get together for card games with? Celebrate their birthdays by making them birthday cards that use pieces of old playing cards in the design! They'll feel great that you thought of them, but they'll also get a kick out of how appropriately themed the card is for your friendship. We love this playing card flower design by A Craft Project.
6. Playing card hair pins
Did you like the floral magnet made of playing cards so much that you'd like to make card flowers into other things as well? Then Refab Diaries has just what you need! Make yourself some little blossoms using pieces cut from playing cards, just like you did last time, but instead of gluing them onto magnets, stick them onto bobby pins instead. Next time you go to a games night, a casino, or a themed party, you'll be set as far as accessories go!
7. Rolled up playing card flowers
Style Me Pretty shows you how to make another type of paper flower using playing cards, this time by rolling whole cards into cylinders rather than cutting them into pieces. You could turn this flower into just about anything! It would look fantastic as a hair piece, the centre piece on a table, or with a bunch of other card flowers in a case like a faux bouquet on poker night.
8. Playing card themed gift wrap
Were you hoping to give your card troop friend a gift to go along with the birthday card we were talking about earlier on this list? Abionson has the perfect DIY gift wrap idea to make the whole thing look complete! Along with red, black, and white wrapping paper and gift ribbon, embellish the top of the gift with old playing cards so they stick out from the bow like a novelty gift topper.
9. Casino night flower centre piece
Does your poker group like to go all out when you get together, featuring poker themed snacks and decor? If so, we think you'll be a pretty big fan of this playing card, dice, and paper bill centre piece idea from Pinterest! Stick old playing cards in among the flowers and embellish the vase with a fan of them position like a good poker hand as well.
10. Playing card accordion notebooks
Craftypod guides you through the process of turning two playing cards into the front and back covers of a tiny notebook. They show you how to create pages by folding a single length of paper like an accordion and sandwiching that between the two cards. It's perfect for keeping score during card games!
11. Vintage playing card ribbon tags
Have you got a collection of vintage playing cards sitting in your cottage or attic, and you'd like to use them for something where people might actually enjoy their kitschy appeal? Follow A Sort of Fairytale Girl's lead and turn them into ribbon tags, using a hole punch and whatever cute ribbon you choose! You can use these tags as all kinds of things, including place settings, gifts tags, or drink markers.
12. Business card holder
Crafty Stylish shows you all the steps for turning a few old playing cards into a folding wallet to hold business cards or gift cards! People will love looking at the cards every time you pull the wallet out if you use old ones that have vintage pictures or artwork on them.
13. Playing card bracelet
Do you loved kitschy themed accessories that are unlike anything you'd find in regular stores? Then we think you'll be rather interested in this origami bangle made by folding old playing cards! Get the pattern for it on DIY Fashion.
14. Playing card top hat
Sometimes it's fun to make silly crafts just to say you did! That's how we feel about this hilarious playing card top hat from Instructables. Whether you're interested in this tutorial because you have a Halloween costume in mind or just because you think it's funny, we think you'll be surprised by how easy it actually is to make!
15. Playing card pendant light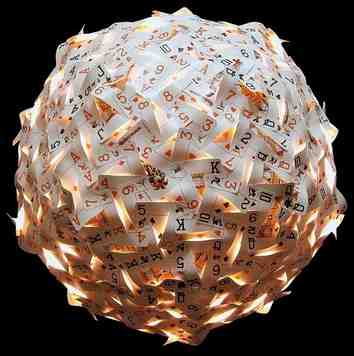 Are you ready for a more hands-on project that takes a little more time and dedication than most of the ideas on this list? We present to you: this giant, awesomely mod playing card pendant light from Curbly! Just make sure that you use a low heat bulb inside when you're done to keep things safe.
Do you know someone who, besides crafting, loves nothing more than a great game of cards? Share this post with them to show them how their two biggest passions can meet!