No-Sew Pillow Case Patterns
Whether it's the pillows on our bed or the throw pillows on our couch, we've always been huge fans of making our own pillow cases. Matching bedding sets are great, but sometimes it's nice to make yourself a contrasting couple of cases just to jazz things up a little bit. Sure, you could simply buy yourself some pillow cases in contrasting colours and patterns to the sets you own, but if you're anything like us, you always enjoy using things more when they're things you made yourself!
With all of that said, however, what if you're not entirely confident in your sewing skills yet? Well, that doesn't mean you can't make yourself a set of awesome DIY pillow cases! Check out these 14 very helpful tutorials for getting the job done without any sewing at all.
1. Sparkly monogrammed pillow cases
We don't know about you, but we're always open to a good monogram. There's just something about subtle customization that makes everything a little more fun, especially when you can do it without sewing when you're not ready to! Check out how Life Ann Style made these super cute patterned cases and monogrammed them in cute sparkly lettering.
2. Middle knotted no-sew pillow case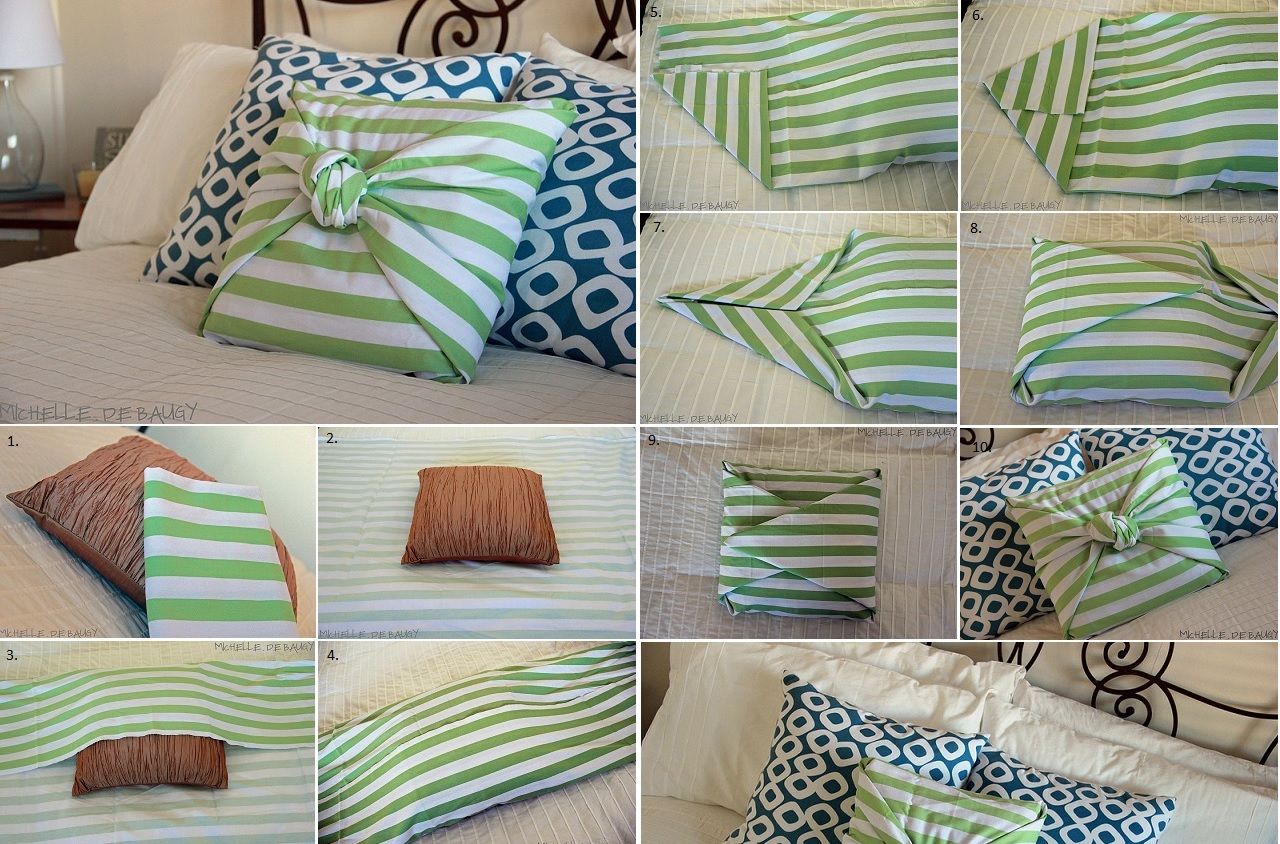 Have you ever tried fabric crafts that are made using draping and wrapping techniques rather than actual sewing before? Well, if not, here's an awesome introductory project for you to give it a try! We love the way All Day Chic finished their no-sew pillow case off with a stylish knot in the middle.
3. No-sew case with a bow
Do you love the idea of folding and wrapping a pillow to create a case but the knotted design we showed you above just doesn't quite do it for you? Then check out this adorable version involving a bow instead! Find out how it's done in just a few simple steps on TheTurquoisePiano.
4. Envelope pillow case with a button
We've already established that you'd rather stick to patterns that don't involve sewing for the pillow case itself, but would you be comfortable simply hand stitching on a single button? Then this awesome fabric envelope pillow case featured on Pinterest might be for you!
5. Tassel tied pillow cases
Tassel tying is a classic no-sew technique that, if you ask us, everyone should learn at some point or anything. Whether you're making a dual sided tassel tied blanket or a smaller pillow case like this one from Kid Project, the whole technique is a blast. We love how easily it lets you create the pocket for the pillow to slide right in.
6. Ruffled no-sew covers
Did you know that you can actually create a number of quite elaborate pillow covers without sewing? One of our favourites is this awesome ruffled embellishment from Crafty because it's simple to do but still gabs the eye of visitors walking in the door.
7. Cinched centre pillow cover
Do you like the look of the no-sew pillow cases that have some type of detail about the middle, but bows, ruffles, and knots just haven't quite held your attention yet the way you were hoping? Then perhaps a simple cinching in the middle will do! We love the way DIY Projects create a unique shape by making a case with a bit of a pinch to it.
8. Fabric petal pillow case
Now that spring time has finally started blooming, we've found ourselves hankering more than a little bit for spring themed DIY projects, especially in the décor department. That's why this stunning no sew petal pillow case from Objective: Home caught our eyes so quickly! Their tutorial shows you how to pinch and secure each little petal individually for a beautifully layered effect.
9. No-sew pumpkin pillow
Have you always loved the visual effect that techniques like quilting or fabric applique have, but you've never tried making anything that looks similar because you didn't know that was an option when you don't sew? Well, On Sutton Place is here to show you that it is! Check out their tutorial to learn how.
10. Button top no-sew cover
We know we already showed you one buttoning no-sew pillow case design, but we're always excited to include variations on the same idea because then everyone gets what they want! Rather than gathering to a point and closing like an envelope, this button style case from In My Own Style cuts straight across, making it a more friendly design for bold fabrics that already have enough going on visually without including angles too.
11. Felt scallop pillow cover
For reasons we can't even really explain, we've always loved working with felt. There's just something about how easily it crafts in so many different ways that makes us partial to it. You can imagine, then, how excited we were when we found this awesome felt pillow customization idea on Classyclutter! They show you how to take a plain, premade pillow cover and create something of your own using colourful felt pieces fastened in layers across the surface of the case.
12. Layered rose petal no-sew cover
Do you like the basic idea of the felt pillow case above but you'd rather your felt pieces gather into a true design, rather than just a repeating pattern? Then this layered felt flower from Purple Eggplant might be just the design you need! We love the idea of building it on top of a premade or homemade pillow cover that has a bolder pattern and a contrasting colour.
13. Silk flower spring pillow
Speaking of customization, were you hoping to see some embellishment suggestions on our list that will really take your basic throw pillows to the next level without any stitching? Then check out how Southern Charm Wreaths turned their plain pillows into veritable bouquets! It's possible that we've never appreciated silk flowers so much.
14. No-sew sweater pillow
Are you still very into the idea of creating a pillow case from something upcycled but nothing has caught your eye quite yet? Then, last but not least, we simply must show you one of our very favourite pillow ideas of any kind! Crème de la Craft guides you through the process of creating a no-sew pillow case from an old, comfortably worn out sweater. We love the way the arms tie in the centre like the sweater is giving the pillow a cozy hug.
Have you made other no-sew pillow cover designs that you absolutely love but that you don't see on our list? Tell us about your design in the comments section or link us to pictures of your work!