No-Sew Pillow Case Patterns
Whether it's the pillows on our bed or the throw pillows on our couch, we've always been huge fans of making our own pillow cases. Matching bedding sets are great, but sometimes it's nice to make yourself a contrasting couple of cases just to jazz things up a little bit. Sure, you could simply buy yourself some pillow cases in contrasting colours and patterns to the sets you own, but if you're anything like us, you always enjoy using things more when they're things you made yourself!
With all of that said, however, what if you're not entirely confident in your sewing skills yet? Well, that doesn't mean you can't make yourself a set of awesome DIY pillow cases! Check out these 14 very helpful tutorials for getting the job done without any sewing at all.
1. Sparkly monogrammed pillow cases
We don't know about you, but we're always open to a good monogram. There's just something about subtle customization that makes everything a little more fun, especially when you can do it without sewing when you're not ready to! Check out how Life Ann Style made these super cute patterned cases and monogrammed them in cute sparkly lettering.
2. Middle knotted no-sew pillow case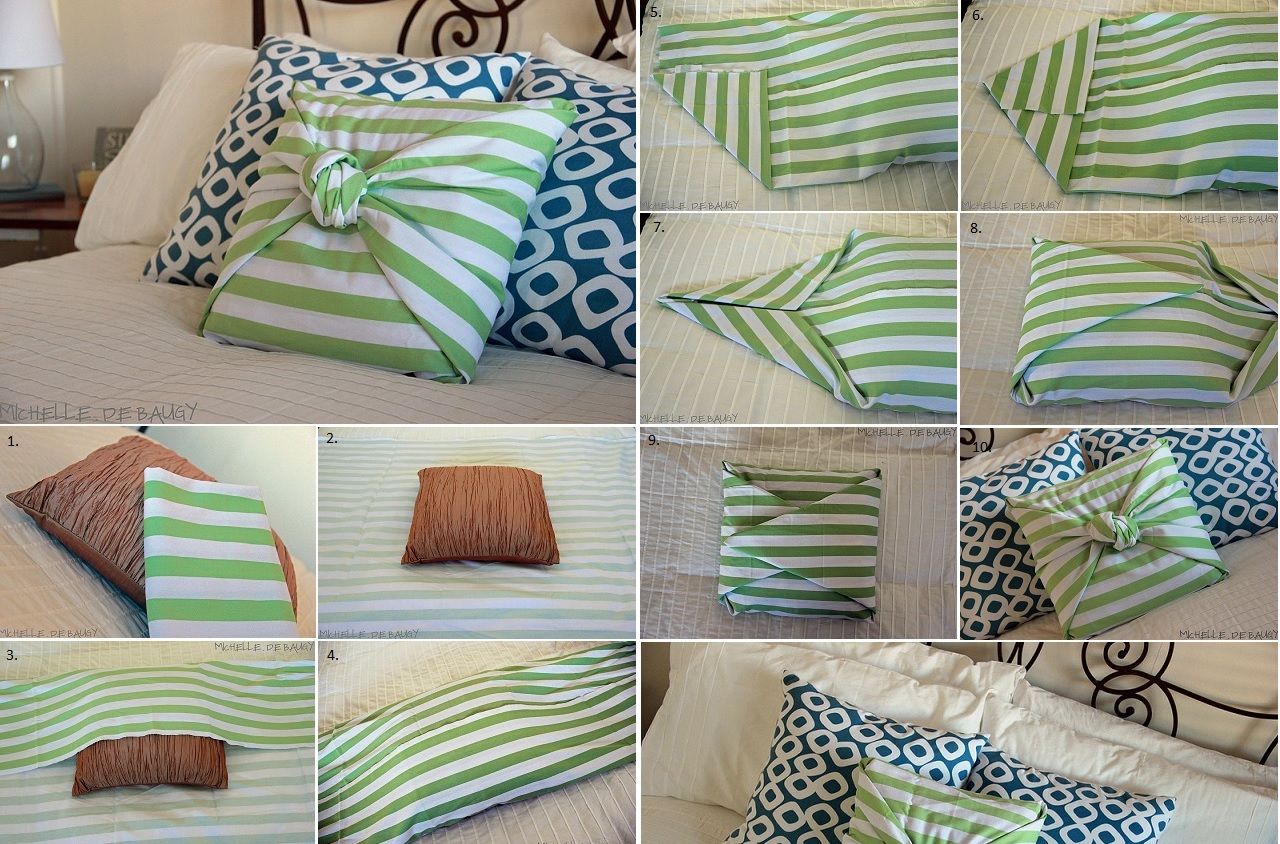 Have you ever tried fabric crafts that are made using draping and wrapping techniques rather than actual sewing before? Well, if not, here's an awesome introductory project for you to give it a try! We love the way All Day Chic finished their no-sew pillow case off with a stylish knot in the middle.
3. No-sew case with a bow
Do you love the idea of folding and wrapping a pillow to create a case but the knotted design we showed you above just doesn't quite do it for you? Then check out this adorable version involving a bow instead! Find out how it's done in just a few simple steps on TheTurquoisePiano.
4. Envelope pillow case with a button
We've already established that you'd rather stick to patterns that don't involve sewing for the pillow case itself, but would you be comfortable simply hand stitching on a single button? Then this awesome fabric envelope pillow case featured on Pinterest might be for you!