40 Naan Bread Pizza Recipes To Top Off The Weekend Bread
Take pizza night to an entirely different level with the addition of naan into the recipe. Personalized and innovative, these dishes are the perfect way to celebrate girl's nights, movie nights or sleepovers with the kids. Check out these 40 naan bread pizza recipes and top off the weekend right.
1. Turkey Curry
Jittery Cook made some naan bread pizza with a bout of ground turkey and curry. Strong flavors but a lot of good and healthy ingredients, you'll definitely be satisfied after a meal made of this. Go more or less on the curry – it's up to you and your taste buds.
2. Pesto with Pancetta and Tomato
Here's another naan bread bite that's filled with lots of flavors. Tomatoes, pancetta and pesto too, there are so many great ingredients on top of this one. Grab all the details and the rest of the flavors over at Bohemian Cottage.
3. Chicken Ranch
Eclectic Recipes created a chicken ranch naan bread pizza that will delight the taste buds of lots and lots of friends and family. A bit of avocado could top this one off quite nicely but we will take those tomatoes and chives too. The kiddos will even try this one.
4. BBQ Chicken
Bowl of Delicious served up a slice filled with BBQ chicken! This is another one that will take the family by storm with lots of happy taste buds. Serve it up with a side salad or cut it up small for an appetizer that starts the dinner party off right.
5. Breakfast
You can even create a naan bread pizza full of breakfast bites. An over easy egg tops off this masterpiece. All you have to do is visit ABCD's of Cooking to grab all the details – just make sure to add some extra crispy bacon to the dish.
6. Chicken Korma
Chicken korma has a lot of great flavors involved as well. It's another bite that will satisfy but it's also one that will be able to add some uniqueness to the dinner table as well. With this one, you may even get the pickier eaters to take a bite and like something different
7. Caprese
Mozzarella and tomatoes are a pair made in heaven. And that goes doubly for when you make it a topping for some pizza. Relish will give you all the details behind this beautiful bite and hopefully you can have some fun recreating it in the kitchen tonight.
8. Tikka Masala
This one has some curry involved too. So, if you like strong flavors, you'll definitely want to jump into this one too. You'll just need to visit What the Forks for Dinner? to learn how to top that naan bread off right.
9. Fig and Prosciutto
If you're looking for something a little lighter, than visit Lemons for Lulu. Round out some salty and sweet flavors with the warmth of the naan bread. Prosciutto and fig makes for another classic pairing that can make a yummy pizza slice too.
10. Southwest Chipotle Pulled Pork
The Freshman Cook went with some southwestern flavors. This pulled pork naan bread will have everyone in the house excited for dinnertime. And of course, it's easy to make too and hard to mess up – perfect for novices in the kitchen!
11. Grilled Veggie
Bev Cooks sprinkles on some cheese and grilled veggies. Perfect for the vegetarians of the family or for when you want something a bit lighter, this naan bread pizza can easily be personalized and packed with good ingredients. Get creative with your veg mixes!
12. Curried Vegetable
You can always add a bit of spice or other seasonings to your veggie naan bread pizza. How does curry sound to you? Find all the great details for these bites over at Sinful Nutrition as you whip up something new and easy for the family tonight.
13. Grilled Pesto Zucchini and Salami
Add some zucchini to your classic pizza ingredients. Start off with some naan bread and keep it going with pepperoni, cheese and tomato sauce! The zucchini adds an extra pop of health-consciousness and crunch!
14. Buffalo Chicken
Simply Scratch went with a spicier flavor. Buffalo chicken is another fan favorite that can top a piece of naan bread with ease and deliciousness. You can even drizzle on some ranch or blue cheese dressing to finish it off.
15. Cajun Shrimp
Lemons for Lulu adding some shrimp to the mix. With other fresh ingredients, you'll be able to take some of your favorite vacation flavors to the kitchen this weekend. Dinner for the family won't be boring with this one.
16. BLT
Who doesn't love a classic BLT? Well, you can easily take all of those same flavors and use them as inspiration for your naan bread pizza. Check out all the details behind this creation over at Peanut Butter and Peppers.
17. Mediterranean Hummus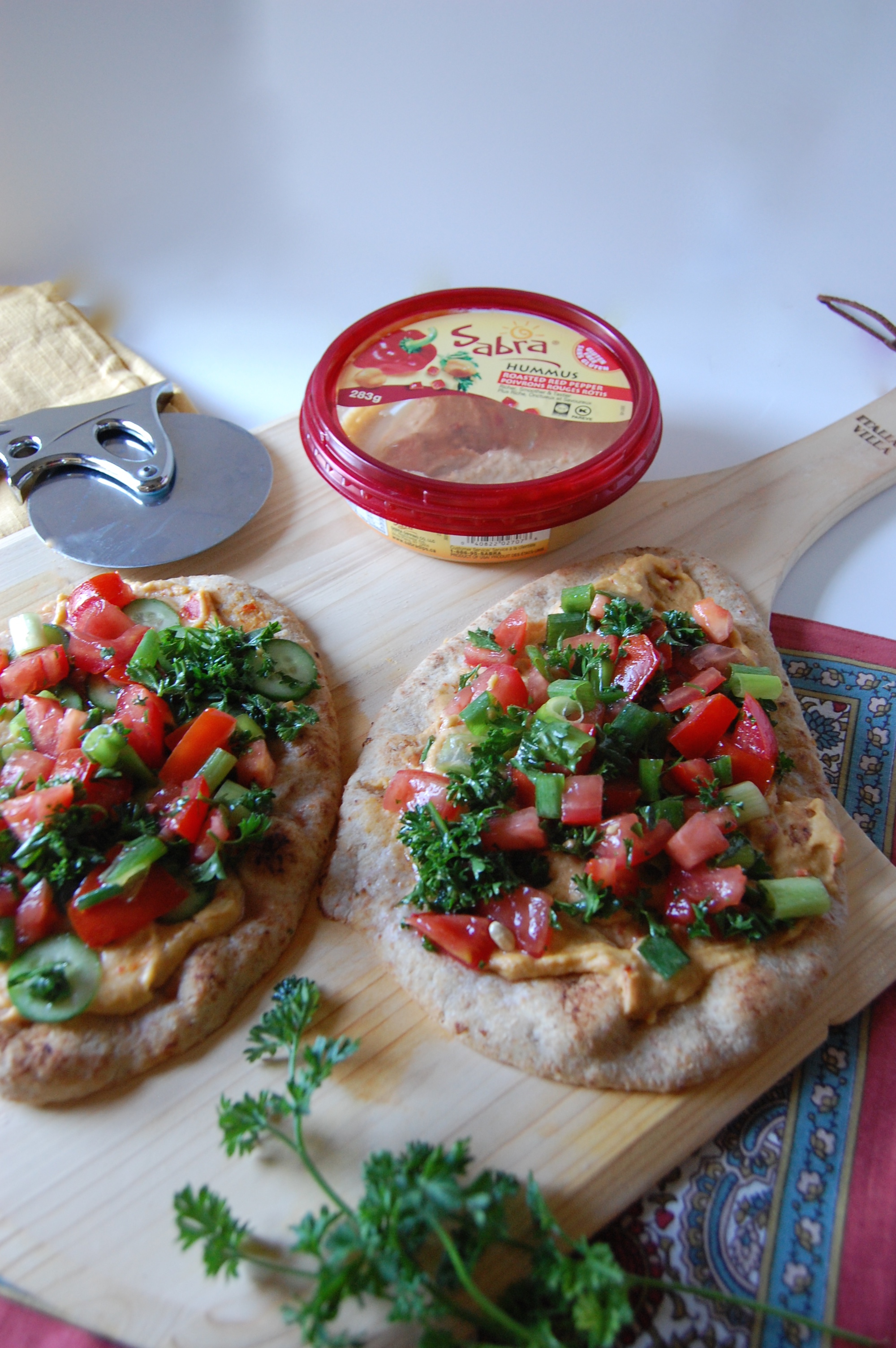 A Cedar Spoon went with a healthier version as well. With a hummus base and a Mediterranean inspiration, this pizza tastes like a European getaway. You could even add some olive or a sprinkle of feta.
18. 10-minute Classic
Domestic Gothess went with a simple and quick recipe.Check out how to turn a piece of naan bread into a classic and super satisfying bite! Just follow the link and follow along, the kids will help out too, we're sure!
19. Spinach and Mushroom
Spinach and mushroom, with a bit of cheese too, could be quite the delicious and refreshing combination as well. Jar of Lemons has all the details you need to get started. The fresher the ingredients, the better for this one.
20. Pot Roast with Caramelized Onions & Fontina Cheese
Yes, you read that right. You can even top off some naan bread with last night's leftovers. Turn pot roast into something a bit trendier and kid-friendly by transforming it into some pizza!
21. Pepperoni, Mozzarella and Sweet Chili-Infused Beetroot
Here's a combination you may have no thought of before. Take a bit of mozzarella, some pepperoni and a bit of chili-infused beetroot for an extra special bite. Grab all the juicy details behind this recipe at Love Beetroot.\
22. 3-Cheese White
Eat Wisconsin Cheese loves cheese and so do we! Check out this recipe for a three-cheese naan bread pizza topped with arugula and balsamic drizzle. There are lots of satisfying flavors and ways to personalize each bite to your liking.
23. Pepperoni & Mushroom
We've found another classic recipe to try your hand at this weekend. If you love pepperoni and mushroom as a combo, then this is the one for you! Grab the entire family and make it an activity you can all do together.
24. Roasted Beet & Pear
Cuckoo Kitch'n used some roasted beet and pear to make a beautiful – and special – combination. If you want something a bit sweeter than this is the recipe that you need to take a peek at. You could even add some extra feta to it as well.
25. Fig & Arugula
Marin Mama Cooks used a sweeter ingredient as well. Topped with arugula and rounded out with some fig, this is a great summertime dinner idea. Pair it with a side salad to complete the meal.
26. Strawberry Balsamic, Chicken & Avocado
It's like taking your favorite salad and turning it into a pizza! Our favorites over at Well Plated, made this beautiful pie out of strawberry, chicken, a bit of balsamic drizzle and avocado too. You may even get the kiddos to try something new with this one.
27. Chicken, Spinach, Queso & More
Ambitious Kitchen added some chicken to the mix here too. With some quest fresco and spinach too, you'll be getting something super satisfying with this recipe. It's perfect for when you have the friends over.
28. Grilled Garlic Cheesy Spinach
Chef de Home went a bit of a different route than the other with this cheesy garlic naan read. Serve it up as an appetizer for your friendly get together. And make sure you add a bit of marinara on the side for dipping!
29. Blue Cheese & Apple
Blue cheese and apples are a perfect pairing as well. If you're looking for a lighter recipe, take a peek at this classic combination. It's a winning duo full of most sweetness and sharp flavors.
30. Margherita
The Viet Vegan went with the all-classic margarita. But, you get a vegan-style recipe with this one. So, whether you're looking for a cozy, comfort flavor or one that fits your diet, you get both benefits here.
31. Smoked Salmon
Three Many Cooks serves us a naan bread pizza that you can have in the morning too. With some dill cream cheese and smoked salmon on top, you'll be using your naan a bit differently than what others are used to. It's also a great idea for serving at showers and brunches.
32. Cheesy Avocado
Cheesy avocado pizza sounds pretty good too, don't you think? Check out all the details after the jump and know that you can add some extra cheese if you'd like. Even mix some up and add kale with it too.
33. Mushroom, Goat Cheese & Balsamic Glaze
Who loves goat cheese? Over at Domestic Superhero, you'll learn all about pairing it with some mushrooms and balsamic glaze. You could even add a bit of kale or arugula to this one – or sweet red peppers.
34. Pesto & Spinach
There isn't much to this pizza recipe but it's delicious all the same. iHeart Naptime grabbed some pesto and worked their way up from there. Spinach and mozzarella and a pop in the oven, you get a bite full of flavor overtime.
35. Hummus & Shrimp
Who loves shrimp? Who loves hummus? Who loves it together? Okay, that may not be the most popular combination, but we promise that it works. Check out all the details after the jump!
36. BBQ Baked Pineapple & Tofu
Learn how to make a vegan-style naan bread pizza over at Connoisseurs Veg. You'll start out with some tofu and then work to create a Hawaiian-inspired dream bite. Filled with BBQ sauce and pineapple, even meat-lovers will love this one.
37. Cheese & Turkey
Some simple cheese and turkey (or ham) works too! We're loving this easy recipe from Mennonite Girls Can Cook and we know the kids will love it too. And that's perfect, because it works as the perfect after-school snack.
38. Roasted Vegetable
For all of our veggie lovers, we've got another veggie pie for you to try! Peach and Plenty roasted their vegetables and added a bit of balsamic drizzle to the top too. And don't forget the cheese, we prefer a bit extra.
39. 15-Minute Ham, Mushroom and Mascarpone
What's great about this recipe – besides the ingredients – is that it takes no time at all to make. In just 15 minutes you can be serving up this special treat for the family. Start with the ham and work your way through the rest as you go.
40. Mango Chutney & Prosciutto
And finally, we ask you to hop on over to Costco Cuisine for this sweet and savory naan bread pizza idea. With some mango chutney and prosciutto, you'll get the best of both worlds in every bite. Of course you can always add pepperoni for pickier eaters.