Sparkling Lime Juice Cocktail With Melon
Having a fabulous summer drink in your repertoire comes in handy for entertaining or when friends drop by. I've fallen head over heels with this sparkling lime juice cocktail with melon. It can be grown up by adding vodka, or kid-friendly by using water instead.
The base of the drink is pureed fresh cantaloupe. The sweet nectar is perfumy and the color is simply stunning. It ends up having a very tropical feel with the addition of the lime juice. Depending on the sweetness of the cantaloupe, a little simple syrup is needed to offset the acidity of the lime. The sparkling water makes it utterly cool and refreshing – just the thing for a hot summer night. We prepare it by the pitcher and serve it over plenty of ice.
Ingredients you'll need for lime juice cocktail:
1/2 medium cantaloupe
4 ounces simple syrup, to taste
4 ounces fresh lime juice
8 ounces vodka or water
8-12 ounces ounces sparkling mineral water, chilled
Ice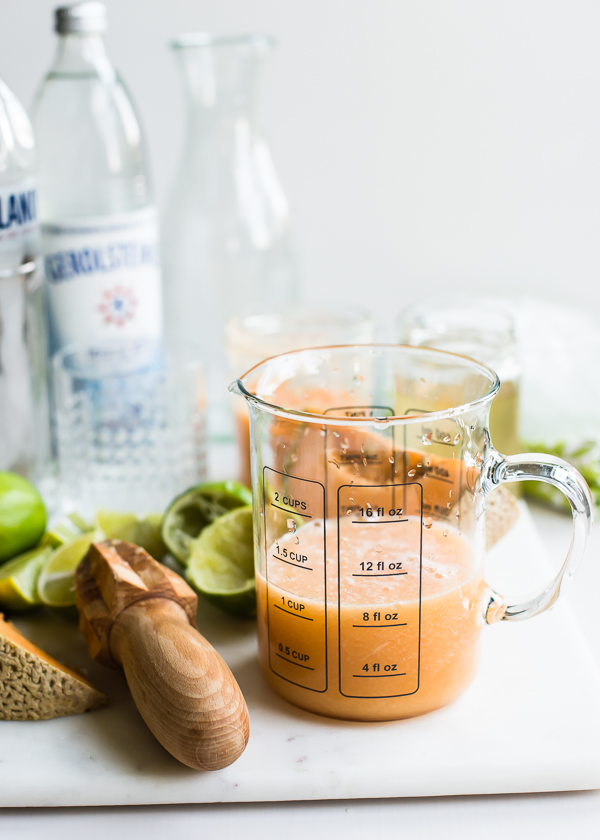 Instructions step by step for cocktail preparation:
Remove seeds and rind from cantaloupe. Puree in a blender until smooth. Chill until ready to use.
In a pitcher or carafe, combine melon puree, simple syrup, lime juice, and vodka. Add the sparkling water a little at a time so it doesn't overflow. Serve over ice.
To make simple syrup: combine 1 cup sugar and 1 cup water in a saucepan and bring to a boil. Let cool completely before using. Store leftovers in a jar in the fridge.
Note: other varieties of melon and other fruit can be substituted for the cantaloupe. Use about 4 cups diced fruit.
Prep time: 10 minutes
To make 6-8 cocktails