25 DIY Projects To Make Your Home Cozy For Winter
Winter isn't upon us quite yet, but soon it will be time to start preparing for the long cold months ahead. But before you panic, thinking about all of those chilly days – read through our long list of DIY projects that will help you get through the season unscathed. Here are 25 of our very favorite cozy home decor projects.
1. DIY Lavender Rosemary Scented Candle
There's nothing cozier than a beautiful handmade candle… except maybe one that's scented with relaxing lavender and rosemary. These gorgeous candles are placed in small mason jars and tied with sprigs of rosemary, making them pretty enough to give as gifts. Head over to Live Simply to check out the full photo tutorial.
2. Add String Lights
Here's an easy way to add warmth to any space… hang string lights! Hang them loosely over your bed as shown above, around the mantel, or you might even zig-zag them over across the ceiling of your home office. Head over to The Design Chaser to check out this and many other warm, cozy rooms.
3. DIY Flannel Throw
Plaid is another trendy pattern this year, offering a hint of nostalgia along with a healthy dose of coziness. And this particular blanket has red and black flannel on one side, with warm gray fleece on the reverse so you'll never be chilly. Head over to Let's Go Sunning to find out how to make one yourself.
4. Cloud-Shaped Rugs
These cloud-shaped rugs are impossibly adorable, with their rounded edges and fluffy gray color. The fabric is faux sheepskin, so it's sure to keep your toes warm on even the coldest of winter evenings. Make your way over to Lifeflix to find out how to make one. Spoiler alert: it's incredibly easy!
5. DIY Veneer Lampshade
Lighting is an easy way to brighten up any room (literally and figuratively), especially when you use materials that are warm such as the honey colored veneer in the image above. Find out how to redo an existing lampshade using this simple tutorial from Better Homes and Gardens. It's easier than it looks!
6. Furry Stool IKEA Hack
I think that there's something that's so luxurious about faux fur… if you feel the same way, then these furry IKEA stools might be just the ticket. All you'll need is an IKEA Marius stool, spray paint and some faux fur of course. Head over to The Kitchy Kitchen to learn how to hack the Marius into this lovely piece.
7. Rice-Filled Heating Pad
These heating pads are so versatile – use them to cure aches and pains, or just to warm you up while you're laying on the couch. They can be customized to your desired size, and you can also do any color combination. But be sure to use a soft fabric! Get the full photo tutorial over at Fellow Fellow.
8. Colorful Pom Pom Rug
This brightly colored pom pom rug feels so cheerful and inviting… and it's actually much less time consuming than you might imagine. You won't have to string thousands of pom poms together. Head over to Conversation Pieces to find out how to make one. You could use the same technique to make just about any type of rug!
9. String Light Canopy Bed
This string light canopy bed is rather simple to recreate, with the right materials. You'll need a few strings of white lights, and a couple of yards of white tulle fabric. Attach the top section of the tulle over the headboard, then the lights, then attach the next section, and proceed down to the bottom. Found at Jakfruit.
10. Faux Fur Throw Pillow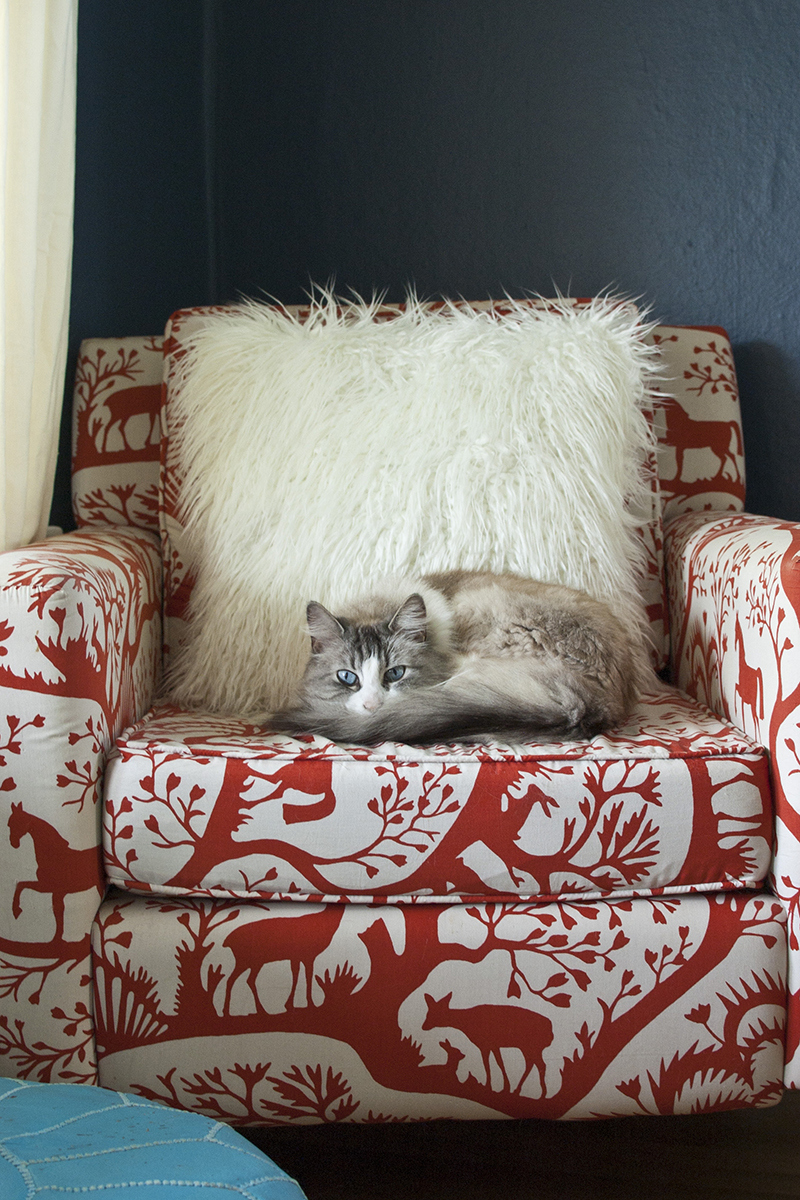 This comfy-looking faux fur throw pillow is kitty-approved, so it must be good! You'll need a pillow insert and some super soft faux fur from the fabric store. Head over to Transient Expression to find out how to make one these beauties for your home. The texture is sure to add some extra pizzazz to your living room!
11. DIY Pinecone Fire Starter
If you have a fireplace, make a few of these gorgeous pinecone fire starters to make it easy on yourself. And they are scented so your fireplace will smell even better than normal. Head over to Something Turquoise to find out how to make them. They also make great housewarming or holiday gifts!
12. Keep Cold Air Out
Stop those cold drafts from blowing in underneath your doors with this lovely DIY draft excluder. Just buy some black and white fabric (or print your own, if you're feeling ambitious) and follow the instructions over at Fall For DIY. Added bonus: it might help keep your heating bills down too!
13. Simple Candle Cozy
Make your candles even more lovely with this simple DIY candle cozy! And the best part? There are no knitting skills involved. All you'll need is a candle in a glass jar and an old sweater that you no longer wear. Head over to Sweet Paul Magazine to find out how to make your own candle cozy.
14. Winter Simmer Pot
Make your home smell like the aromas of winter… cinnamon, orange, apple and cloves are all combined to create the most heavenly scent that will make you feel warm even during the chilliest of nights. Make your way over to How Sweet It Is to find out how to create this lovely simmer pot mix to heat over your stove.
15. Bath Mat Throw Pillow
Introducing texture into your decor is an easy way to make your space feel more inviting and comfortable, and this throw pillow will certainly do the trick. Just grab a bath mat and get to work. Genius! Centsational Girl will show you how to do it. Who would have thought that you could make a cool pillow out of a bath mat?
16. DIY Tufted Headboard
Make your bedroom even more comfortable by adding a tufted headboard to your bed. Upholstering projects can be intimidating, but this project is simplified by blogger Sarah Dorsey who lays out the instructions in clear steps. And the nailhead detail makes it look super high-end. Head over here to check out the instructions.
17. Easy Knit Blanket
This gray and pink color blocked knit blanket is sure to get plenty of use, keeping you warm on even the coldest nights. Make it using Big Box Detox's simple instructions. Bonus – you'll stay warm and cozy while you knit the blanket too… the further along you get, the more it will cover your lap. Now that's motivation!
18. Add Mood Lighting
Okay, so this mood lighting idea doesn't actually include instructions… but it seems like it would be easy enough to DIY. Just grab a long branch, hang it from the ceiling and wrap a few lamp cords around it. Found over at the lovely Goldwire Blog along with plenty of other bohemian loft decor ideas.
19. Orange Peel Fire Starters
Here's an even easier fire starter idea… dried orange peels! Check out some tips and tricks for making your own orange peel fire starters here, along with tons of other great ways to use oranges in your home. And these will make your whole house smell deliciously citrusy!
20. Hawaiian Style Floor Pillows
Why not infuse your home with a bit of Hawaiian charm during the depths of winter? Channel your inner island goddess by making a set of these brightly colored floor pillows… they'll be a cozy place to sit to do a project, or to use as extra seating when friends come over. Get the full sewing tutorial at Purl Soho.
21. Wine Bottle Candle
Once you're finished drinking all that red wine (which is sure to keep you warm also), save the bottles so you can make a few of these lovely wine bottle candles to cast a warm, cozy glow over your living room. Or bedroom. Or any room! Head over to Cambria's blog to find out how to make one of these beauties.
22. Crocheted T-Shirt Yarn Rug
Create a soft, colorful rug to keep your toes warm all winter using t-shirt yarn! It's a simple pattern to follow, and it's sure to be a conversation starter when your friends come over to visit. Head over to My World of Wool to find out how to make one of these fabulous crocheted rugs.
23. Fabric Pouf Tutorial
Give your feet a new place to hang out by making one of these playful fabric poufs! When not in use, it's a great place to stash a tray with a candle and a book or a magazine, too. Make your way over to HGTV's website to find out how to make one of these surprisingly easy poufs for your house.
24. Cable Knit Sweater Pillows
No need to learn advanced knitting skills for this project… all you'll need are a couple of old cable knit sweaters. There's nothing better than cozying up with a soft sweater underneath your head! Check out the instructions at Create Craft Love. You'll probably be pleasantly surprised at how quick these are to make.
25. DIY Mantel
There's something about a good old-fashioned mantel that just feels cozy and warm, whether it has a fire inside or not. And do style it nicely like she's done here… you might even consider putting candles inside rather than logs and branches. Get the complete building instructions at Blue Roof Cabin.