Best 9 Hose Reel Carts to Keep Your Hose Pipes Organized
Now that summer is on its way, we've been doing a lot of thinking about what we can do to improve our outdoor space and clean up our yard a little. We've managed to find pretty decent DIY solutions for a lot of the things we needed to get up and off the lawn, but the hose was something we struggled to think of a creative solution for.
That's why we finally decided that it was time to invest in a good quality hose reel. Even just about and beyond finding a neater way to store it that won't have it spread across our lawn, causing a tripping hazard, we wanted to make sure we take better care of it and protect it from damage since we invested in a new one last year.
If you've never owned a hose reel cart before, then you might not realize just yet how many different kinds there are out there, nor how affordable and useful they can actually be. In general, we find that online shopping provides not just a better selection but more time to really read over the details, compare your options, and think about which features might be the most beneficial. That's why we've been bookmarking the designs we wanted to come back to and give the most consideration, and sharing never hurts!
Editor's Choice
What is a hose reel cart?
A garden hose reel is a device that helps you safely and space efficiently coil your hose in a way that keeps it neatly wound, untangled, and easily accessible whenever you need it. The reels' are usually liked a big rotating wheel turned sideways and mounted in some kind of base. The base has a handle on one side that lets you rewind the hose up after you've released some of its length to use it. Some hose reels also have a brace that the hose fits through, which acts as a feed when you wind or unwind the hose, keeping it from flipping, tangling, or unwinding too loosely.
Who might benefit from a hose reel cart?
In reality, we're of the opinion that anyone with a garden hose can benefit from the organizational solution that a hose reel cart presents. In particular, however, garden hose reel carts are useful for:
People with very small yards who need to declutter
Families with small kids who don't want to leave their hose lying around for safety
Those with gorgeous gardens that frequently need to be watered but who don't want to interrupt the beauty of their gardening work and need a neater, more discreet storage solution for the hose that won't make it inaccessible
Parents of older kids who want to keep the hose set up for their kids' use in the summer (for the sprinkler, for example) but also still out of the way between uses
Best Hose Reel Carts
If you're convinced that it's time for you to invest in a new hose reel card as well, but you still feel like you could use a little help along the way, give this pros and cons list of the top nine models we found in our search a browse.
Believe it or not, there are actually hose reel carts that can coil your hose automatically for you. This model fromSuncast is the perfect example; it's smoothly motor driven for recoiling your hose, and it features a convenient hose feed or guide to keep things detangled and set well. The motor inside is controlled with a foot pedal in the back corner that you activate by pressing down and slow by easing up, but there's also a handle on the side so that you can take over manually if necessary. The motor operates on a 12V battery that comes with the reel, is rechargeable, and will give you about 20 rounds before needing to be charged again. In the front of the box-style base, you'll find a tilt-out storage drawer for small things like interchangeable hose heads.
Although most people who have purchased this box before were quite pleased with how it worked, a few had complaints about arrival and customer service. Occasionally, a unit has been known to have damage upon delivery, and customer service to get it to replace is reportedly quite poor and a little slow.
Pros:
Motor powered winding controlled with foot pedal
Rechargeable battery with good lasting life between charges
Hose guide for even, neat winding
Protective lid and tilt-out storage for accessories
Cons:
Slower and difficult customer service in the event that something arrives damaged, which has happened before
View price on Amazon
Are you actually on the lookout for something much more space-efficient because your "yard" isn't much more than a patio, but you still have lots of potted plants to water and a kiddie pool to fill? Then you might have better luck with this compact reel fromMelnor. Besides coming with the reel itself, this set also gives you a connector so you can attach a second hose for length and also a good spray hose head for power control. In fact, unless you choose to attach a second piece, this reel is actually all you need because it comes with a hose of its own already curled inside; 30″ of it in total! There's also a handle at the top for convenient portability.
Although no one has reported any complaints about this product on the sales page yet, the brand has been very explicit about noting that this hose reel is not built to mount onto the wall. They have had customers purchase it previously and then try to return it in stores because they assumed, by the unit's size, that it's wall mountable and were disappointed to learn that it's not.
Pros:
Convenient portable handle
Built-in hose length of 30″
Includes spray head and connector for adding additional hose for length
Cons:
Doesnot mount to the wall, even though it looks like it does, and many people have purchased it assuming it will
View price on Amazon
Are you actually in need of a hose reel that's a little more industrial in size and build, and your ability to move it all over is quite imperative? Then perhaps you'd find something like this 4-wheel garden cart from Liberty Garden Products a little more useful. This functional, durable piece is perfect for landscaping and other more commercial needs. It holds up to 300ft of standard 5-8″ garden hose, which is easily pushed on the durable wheels using the non-slip cart handle. The cart itself is made of 13 gauge steel that features a powder coating finish meant for weather resistance. The cart's low center of gravity prevents tipping, while the rubber grip on the winding handle makes the hose easy to recoil.
Despite the powder coating and the metal that the cart is made from being reported as corrosion safe, a number of previous buyers have actually had issues with this cart rusting. This takes place primarily around the connector at the back, where, thanks to a valve that only turns snugly with some hose models, some water has been known to escape. For the most part, though, the rusting hasn't affected the reel's ability to turn.
Pros:
Low center of gravity for stability, with thick wheels that let it cover most terrain
Smooth winding action thanks to 13 gauge steel and a rubber grip on the winding handle
Non-slip card handle for easy pushing even when full 300ft hose capacity is coiled
Cons:
Some parts of the cart have been known to rust thanks to a weak connector valve that drips water
View price on Amazon
Are you actually still thinking about the idea of a wall-mounted hose reel and wishing the small one we showed you earlier had been mountable? ThenLiberty Garden Products has just what you're looking for. This durable steel rack and hose reel are actually one that can be either set on its flat end on the floor or mounted to the wall by that same side. You can choose between stainless or painted steel, but either way, the product is made of 13 gauge steel that's been coated for weather resistance. If you decide to set it on the ground, the rack comes with four little rubber feet to prevent sliding as you pull for length. You'll get 5ft of leader hose included but must purchase the rest; the rack can hold up to 200ft of 5-8″ garden hose.
Be aware that, although this pieceis wall mountable, you actuallydo have to purchase the mounting hardware to make that happen separately. Several previous buyers have purchased it before on the assumption that it can be mounted as is with their own tools, but that's not the case and frustration about having to make additional purchases ensued.
Pros:
Can be floor set with non-slip rubber feet or wall-mounted
Comes with 5ft of starter hose and can hold up to 200ft of 5-8″ garden hose
Rubber grip handle makes winding and recoiling easy
Steel materiality that has been coated for weather resistance (in both colors)
Cons:
Rack doesnot come with the hardware required for wall mounting; that must be purchased separately
View price on Amazon
Did the idea of portability appeal to you, but you'd rather a unit that you can use with the garden hose you already have, rather than the built-in hose style you saw earlier? ThenAmazon Basics has a style you might prefer. Thus reel card has a handle across the top that makes for easy lifting and a crank on the side for smooth winding. Its wheel can hold up to 140ft of half-inch garden hose. The frame is easy to assemble, lightweight to lift even when coiled, and made from durable polypropylene plastic with rust-resistant metal pieces.
Although not everyone had this critique, some previous buyers found that this reel system was actually a little bittoo lightweight for the strength with which they're used to pulling length from their hose. If you're not careful, you risk yanking too hard and sending the whole reel skidding across the yard because it's not weighed down.
Pros:
Easy to lift and portable thanks to durable handle
Strong polypropylene plastic construction and rust-resistant aluminum connecting pieces
Holds up to 140ft of half-inch garden hose
Cons:
Some people found the unittoo lightweight and experienced skidding when they pulled for more hose length
View price on Amazon
Are you still looking for a heavy-duty hose reel, but you doubt you'll have to wheel it anywhere? Then here's a good alternative from Yard Butler. Besides the fact that it's sold in three awesome colors, this reel is also great because it's a ground set or wall mount. The handle at the top can be used to shift and carry the reel, or you can steady the rack while you're turning the crank handle. The rack holds 75″ of garden hose, and its made from welded stainless steel with brass fittings. It comes mostly assembled, is very simple to set up, and features 5ft of leader hose to start you off.
Although most buyers have reported being happy with the actual winding action and storage capacity of this reel, a few had complaints about leaking. They claimed that the hose connector doesn't let some hose types tighten all the way to close off the possibility of drips.
Pros:
Fun, bright colors options, all in durable welded steel with brass fittings
Holds 75″ of garden hose and provides 5ft of leader hose
Features top handle for shifting, lifting, or steadying rack while winding
Can be either floor set or wall mounted
Cons:
Some people have had problems with leaking and dripping at the hose connector site.
View price on Amazon
Are you still thinking about how much you liked the idea of an enclosed hose reel storage box, but you're just not sold on the look of the previous one we showed you? Then maybe you'll find this alternative from Suncast to be in better taste. This hideaway style reel is made from sturdy resin that's molded with a nice basket weave pattern all around the sides and across the top. It features a smooth winding crank handle on the side and a hose guide at the opening to ensure a neat hose feed. It has a reinforced seal at the connection to ensure water tightness, and it is just weighed enough that it won't shift as you pull for more hose length.
Although most people were rather pleased with the function of this piece, it sits a little higher on the price scale as far as garden hose reels go. Its durability and smooth function make its price tag make sense, but the higher number might take this piece out of the budget range for some people, so it's definitely something to take into account.
Pros:
Enclosed storage box made from durable resin
Features helpful hose guide and smooth winding crank handle
Molded with cut basket weave design all across the outer surface
Weight well enough to avoid shifting when you pull for more hose length
Cons:
Sits at the more expensive end of the price scale
View price on Amazon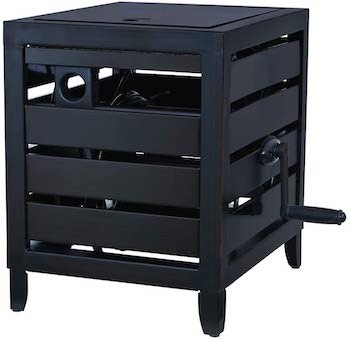 Just in case you're still in the market for an enclosed hose reel box, but nothing has appealed to you quite yet, here's another option from AMES. This aluminum structure is built with cold-weather proofing in mind, as well as leak protection. The winding action controlled by the side crank is smooth and simple, and the hose guide makes getting a neat coil, so simply you don't even have to think about it. It holds up to 150ft of standard garden hose and features a leader hose for some extra give.
Like the one above, this piece sits at the higher end of the price range as far as hose reels go. This price makes sense since the piece is extremely durable and was reviewed almost every time as having a fantastic function, but the price tag might still take it out of the realm of possibility for some people.
Pros:
Cold weatherproof and durable in the outer frame
Smooth winding action and even portioning thanks to moving hose guide
Holds 150ft of standard garden hose length and gives 5ft of leader hose
No-leak connector system
Cons:
Higher price point than the average garden hose reel
View price on Amazon
Are you still on the hunt for a slightly more industrial garden hose reel cart that you can wheel around a large outdoor space, but the previous designs we showed you just didn't appeal? Then perhaps you'd prefer this more decorative but still durable option from Liberty Garden Projects. This cart holds up to 200ft of standard garden hose and gives you 5ft of leader hose to start. Its 8.5. inch tires are of a never-flat design, and the handle has lined with smooth foam to make it non-slip. It's also extendable in height. The ornate frame is made from 13 gauge steel that has been powder coated for durability and weather resistance, and the brass fixtures are non-rust and leakproof.
It's worth noting that some people found themselves wishing this reel cart came with a hose reel lock, which it does not. This results in a big of free-swing when you stop winding or when you first push off to roll the cart somewhere, which occasionally causes the head of the hose to drag on the ground. When it does that, it risks scratching, and wheeling the cart becomes slightly awkward.
Pros:
Holds up to 200ft of standard garden hose and provides 5ft of leader hose
Never flat tires and smooth foam grip handle with extendable height makes for better maneuvering
13 gauge steel materiality makes the frame durable despite how pretty and ornate it looks
Materiality and connections are rust-resistant and leak proof
Cons:
Lack of reel lock has caused some people grief after winding or in moving when a touch of unwinding makes the hose head drag
View price on Amazon
Types of hose reel carts
While there are truly only so many variations of functional hose reel carts that brands can release, there are still several different types that you'll encounter if you browse through the ones we likedor conduct your own independent search. You might see:
Stationary boxed reels with lids and feed braces
Actual cards with handles and wheels that are easy to move around the yard
Reel racks that are more simplified and feature just a stand, reel, and handle rather than being enclosed
Wall-mounted racks that keep the hose up off the ground, as well as neatly wound
If you know another person who has been thinking about how much they could use a garden hose reel but who is having trouble making their choice, share this post with them, so they have a good starting point to go from.