Best Irish Soda Bread Recipe
A super simple, super easy Irish bread recipe – no proving required! St Patrick's day always sends me off looking for homely, comforting Irish food. Hearty Irish stew, large bowls of colcannon, dotted with butter and of course raisin flecked soda bread.
Almost scone-like in taste, raisin soda bread takes a little less effort than scones in that you don't need to rub the butter and flour together at the beginning. Also, of course, soda bread is one giant loaf – no need to get those biscuit cutters out.
Warm from the oven, it makes the most divine treat, slathered in a little salty butter. A little fruit jelly also tastes amazing (my children's favorite way to eat it).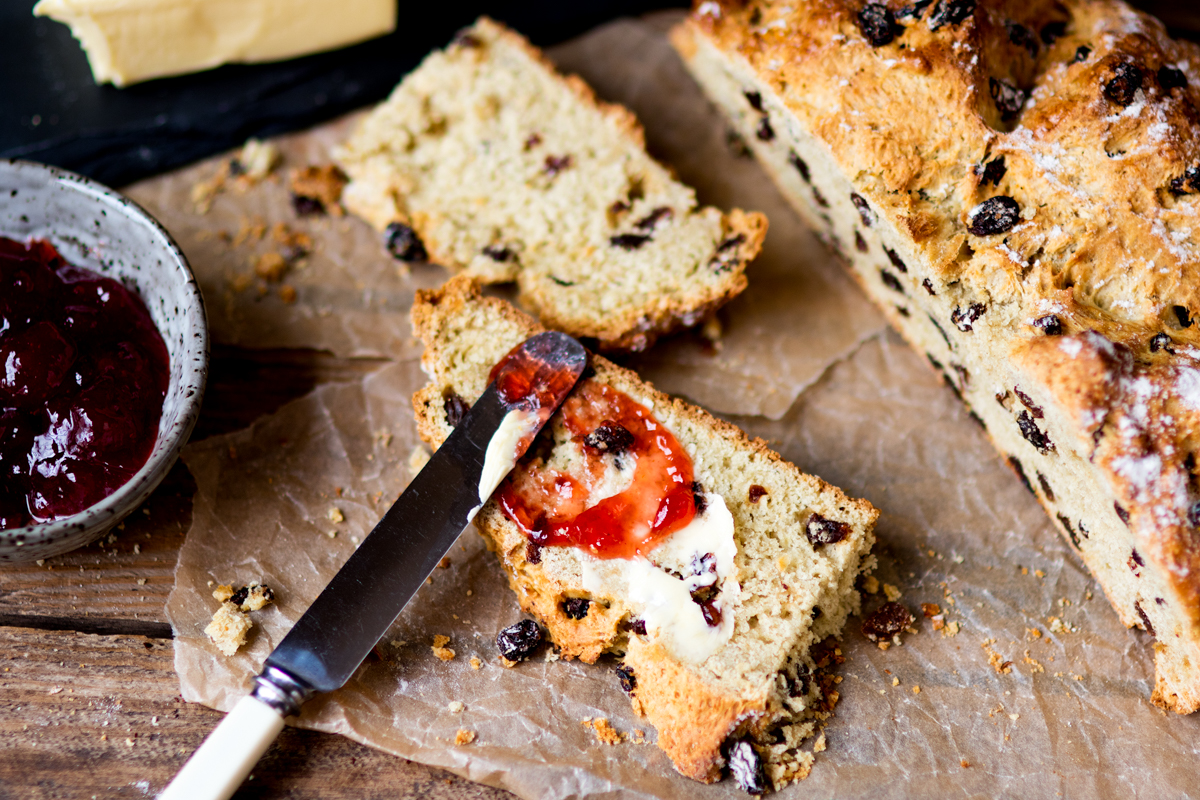 Soda bread generally doesn't keep long. It's best to eat it within 24 hours – as it starts to dry out a little after that. You can stretch that out by an extra day if you toast slices of it before serving.
Ingredients for Irish soda bread:
Makes 10-12 slices
4 cups + 1 tbsp all-purpose flour
1/2 cup superfine sugar
2 tsp baking powder
1 tsp baking soda
1 + 1/4 cups (packed) juicy raisins
¼ tsp salt
2 large eggs
1 cup buttermilk
1/4 cup butter – melted and slightly cooled
Step by step guide to make a healthy bread:
Preheat the oven to 350f. Line a baking tray with baking parchment or a silicone mat. In a large bowl, add all but 1 tbsp of the flour, the sugar, baking powder, baking soda, raisins and salt. Mix together.
Break the eggs into a separate bowl and whisk gently for a few seconds. Pour all but 1 tbsp of the egg into a separate small bowl. Add in the buttermilk and melted butter (make sure the butter isn't too hot or it will scramble the eggs) to the large bowl and stir to combine.
Pour the egg mixture into your dry flour mixture and stir – initially using a wooden spoon, and then your hands – until you get a sticky dough. Don't overmix or you'll end up with tough bread.
Form the dough into a large ball and place on the prepared baking sheet. Score a 1-inch-deep cross into the bread – using a sharp knife. Brush the reserved egg yolk all over the bread and then sprinkle with the reserved flour.
Place in the oven and cook for 45-50 minutes until the bread is golden brown.
Take the bread out of the oven and leave to cool for 10 minutes (or longer) before cutting up and serving with butter and jelly.