25 Stunning IKEA Hacks For Your Home
IKEA is known for its reasonable prices, but with affordability comes mass production – chances are your neighbor or friend will have the very same Lack side table that you just bought. Enter the IKEA hack … a small DIY modification that makes your piece unique.
We've rounded up 25 of our favorites IKEA hacks that you could easily do at home yourself. Let's delve in.
1. Reclaimed Wood Headboard
Add Stikwood (adhesive reclaimed wood panels) to the IKEA Malm headboard for a trendy take on the classic. Get the tutorial over at Sugar & Cloth.
2. Tribal Print Pouf
Tribal prints are all the rage right now… so grab a footstool from IKEA and cover it with fabric using this easy tutorial from Kristi Murphy.
3. Wine Crate Butcher Block Cart
Dress up the Forhoja kitchen cart with a coat of paint and rustic wine crate covered drawers… perfect for all you wine lovers out there! Get the simple tutorial over at Hunted Interior.
4. Leather Sling Back Chair
This gorgeous leather sling back chair began as a humble Mysingso beach chair… get the incredibly easy instructions on Kristi Murphy's blog.
5. Colorful Patterned Step Stools
The IKEA Bekvam Stool will only set you back $14.99… add a bit of paint and wallpaper, and you'll have a colorful step stool for your kitchen or craft room. Get the tutorial from This Little Street.
6. Campaign Style Dresser
Add some glamorous hardware to the Hemnes dresser to create a classic campaign style dresser for your bedroom. Sarah from Laquer & Linen will guide you through the process.
7. Charming Rast Dresser Hack
The IKEA Rast dresser is dirt cheap, but it's also unfinished… so a little paint or stain can go a long way. Find out how to recreate this bold pink look over at Sita Montgomery Interiors.
8. Colorful Bar Cart Hack
Make a glam bar cart to hold all of your craft cocktail mixing materials… all you'll need is an IKEA laptop table, an acrylic sheet and a few other tools to make this fabulous piece. Head over to Style Me Pretty for the instructions.
9. Convert A Dresser Into A Desk
Convert a Tarva dresser into a secretary style desk using this clever tutorial… it's not as difficult as it looks to recreate!
10. Easy Metallic Bar Stool Hack
The Dalfred bar stools come in all black, but with a little spray paint you can give yours the same metallic treatment as the ones pictured above. You could also try silver or copper, too! Here are the simple instructions over on the Melodrama blog.
11. Copper Pendent Lights
Turn a pair of Ottava lamps into expensive-looking copper pendents using – you guessed it – spray paint! Kojo Designs has the tutorial for you here.
12. Colorful Picture Frame Jewelry Tray
This is an easy one… turn a Ribba frame into a decorative jewelry tray using a bit of paint and your artistic skills! Head over to Melodrama for the how-to.
13. Gilded Bookshelf
The Vittsjo shelving unit has a black frame, but why not lighten up? That's just what the folks over at Style Me Pretty did. Find out how they transformed it into this gold and marble-look bookshelf here.
14. Chic Desk Hack
This chic white desk started as an IKEA Ingo table… check out the amazing transformation over on Matsutake.
15. Modern Pendent Lamp
Believe it or not, this stunning modern pendent lamp was made out of a plate! Read all the details at Smitten Studio.
16. Gold Leaf Work Desk
Gold leaf makes everything prettier… learn how to add it to an IKEA desk over at Style Me Pretty.
17. IKEA Lack Shelf Hack
If you're already an IKEA fan, you're probably very familiar with the Lack… it's an end table that costs a mere $9.99. This genius hack involves rearranging the legs into a fun little wall shelf. Read more about it at Redbook.
18. Painted Mid-Century Modern Nightstand
All you need for this hack is the Selje nightstand and paint… just grab a couple of colors that correspond with your decor and go crazy! Found at Apartment Therapy.
19. Studded End Table
This glamorous studded table is another Lack hack… make your way over to Lovely Indeed to find out how Chelsea transformed the basic piece into something so pretty.
20. Hemnes Nightstand Hack
This beauty started out as a plain old Hemnes nightstand, but with a little bit of effort it became quite a show stopper! Joy explains the process over on Apartment Therapy.
21. Corner Shelving Unit
Take advantage of that awkward area in the corner of the room with this shelving unit made out of Lack tables. Here's the clever tutorial.
22. Gilded Nightstand
Yet another Lack hack! It's such a versatile little piece. Here we have an elegant gilded nightstand brought to you by Style Me Pretty.
23. Stenciled End Table
This Lack has a wooden top that's stenciled using chalk paint and then stained – isn't it gorgeous? Check out Milu's House to find out more.
24. A Clothing Hamper Side Table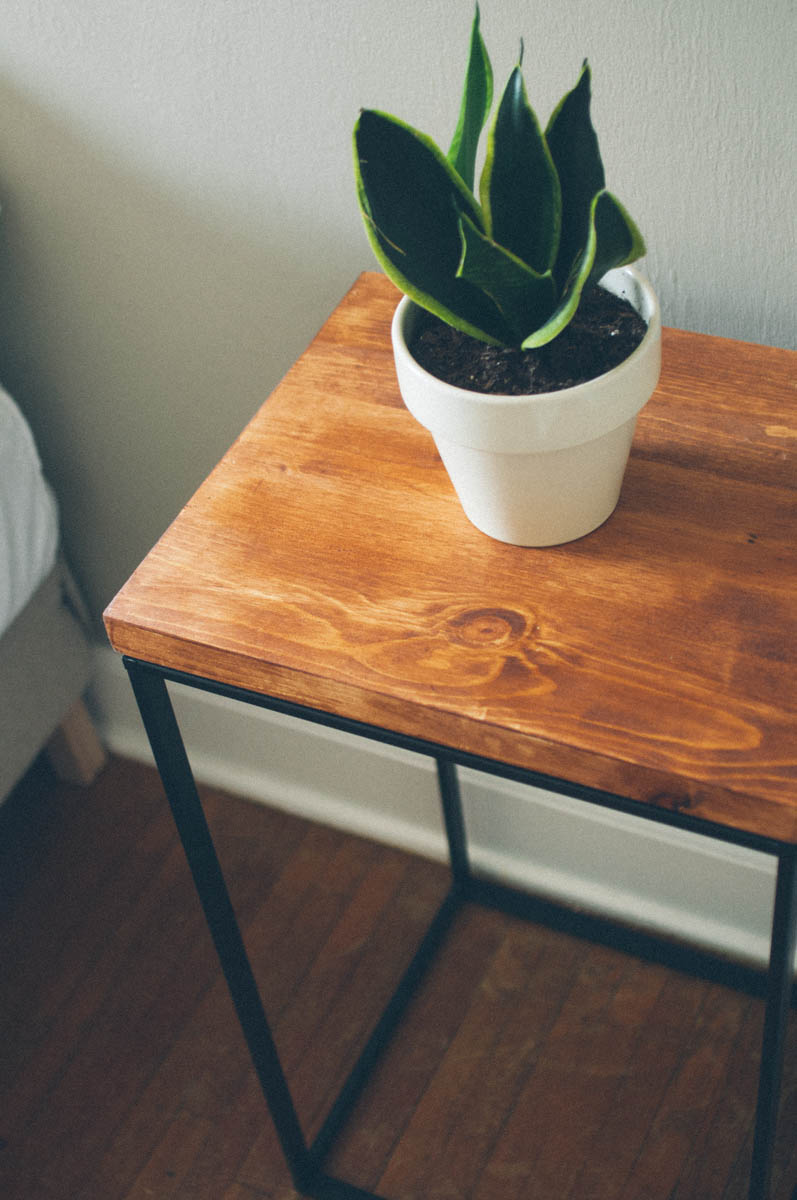 This genius project involved an IKEA hamper, some paint and a piece of wood. Find out how to achieve the same look by heading over to The Clever Bunny.
25. Salad Bowl Bathroom Vanity
This might be the most epic IKEA hack of all time – a stunning bathroom vanity made out of a Rast dresser and a salad bowl. Read all about the project here.