Best Gutters: Installing, Cleaning, and Everything Else You Need to Know
If you're in the market for a gutter system, it's essential to take the time and research your options. You have to take several aspects into account before making a financial commitment, like choosing gutters that match your aesthetic preferences, fit on your home's exterior, and complement its architecture.
Gutter systems come in multiple types, shapes, sizes, materials, and prices. Perhaps you are also interested in accessories that improve their function, like rain barrels. You can find all of these options and more by doing a little online research.
If you're unsure where to begin, we got you covered! Keep reading to discover all you need to know about choosing the right gutter system for your home.
Gutter Types
There are two types of gutter systems: seamed and seamless. Each comes with pros and cons, so let's review them to see which is a better fit for your home.
Seamless Gutters
A seamless gutter is made from a single, continuous piece of metal, so there are no seams to encourage rust, leaks, cracks, or clogging. It has many benefits, making it more popular than sectioned gutters.
Aside from the fact that they are more attractive since they look cleaner, seamless gutters are stronger, more durable, and incredibly efficient. You can clean them easily since there are no cuts to get in your way. In general, seamless gutters require low maintenance.
On the other hand, seamless gutters are more expensive than sectioned gutters when it comes to materials and labor. This only applies to the initial costs, though, since you will be saving money in the long term by not spending too much money on maintenance and repairs.
Expect to pay between $4 and $30 per linear foot for seamless gutters.
Seamed Gutters
A seamed (sectioned) gutter is composed of multiple pieces that are attached together. It is cheaper to make and install, which makes it a good choice for homeowners on a budget.
However, seamed gutters have several disadvantages when compared to seamless gutters. For instance, they rust easily and can also leak and crack over time. More maintenance is necessary in terms of cleaning and repairs to ensure they function properly.
In addition, seamed gutters don't look as good as seamless gutters and often detract from a home's aesthetics.
If you choose seamed gutters for your home, be prepared to pay between $3 and $20 per linear foot.
Gutter Styles
There are many gutter styles to choose from, and it would be impossible to list everything. Here's what you need to know about the most popular ones:
Half-round gutter. It has a semicircular shape, needs a hanger, and is the most popular type of gutter. Often chosen for its traditional look, you can use it on any home style, thanks to its neutral color and simple form.
Box gutter. It has a rectangular shape and straight edge style, giving homes a modern and finished look. It's particularly useful at preventing water damage in houses with flat roofs.
K-style gutter. Also known as ogee gutter due to its rolled shape, it has a triangular shape that resembles the K letter to divert water away from the house. It's ideal for homes with and without eaves, and you can attach it to the roof or fascia.
V-shaped gutter. It's a hybrid of the half-round and K-style gutters, with a pointed end that catches more water. Wooden gutter systems typically use it to improve water capacity.
Corrugated gutter. It has a wavy appearance to better conform to curved roofs. It's typically less expensive than other types of gutters but also less durable.
Roll-Out Gutters. As the name suggests, it rolls out when you need to clean it. It's a comfortable option if you don't want to climb a ladder to clean your gutters.
Gutter Components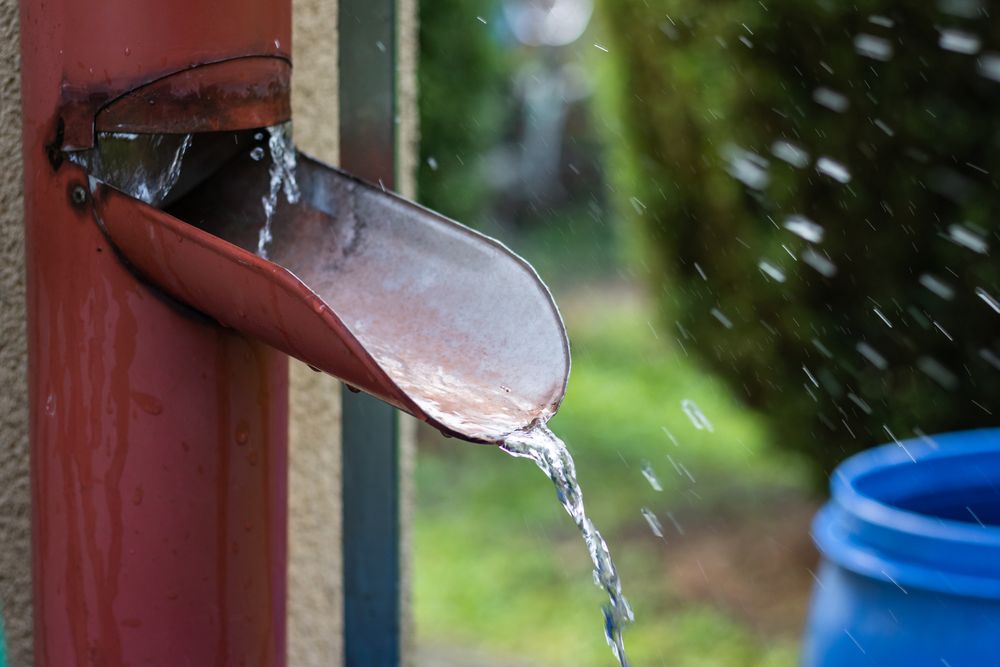 A gutter system consists of downspouts, corner joints, end caps, and hanging brackets. Let's review each!
Downspouts
Downspouts are the vertical pipes that extend from the gutter system and carry water away from the roof. They come in various shapes and materials, like sheet metal or PVC.
All gutters come with downspouts included, but you might find that additional downspouts are necessary for certain situations – if your home is large and has multiple roofing surfaces, for example. Extra downspouts are also needed if your home is built in a way that doesn't allow water to flow directly into the main downspout.
Many homeowners purchase gutter covers to keep debris out of their gutters. If you're one of them, remember to account for the extra weight held by the downspout. And, believe it or not, you can choose from a range of colors for downspouts!
Corner Joints
Corner joints are the fittings that connect two pieces of gutter together at a corner. They are typically triangular and come in 2-inch, 3-inch, and 4-inch sizes to accommodate different gutter systems.
End Caps
End caps fit over the ends of the gutter sections and keep water from flowing out. They have various shapes and sizes, and they are available at most home improvement stores.
Hanging Brackets
Hanging brackets attach the gutter system to your home's exterior. They are available in plastic, aluminum, and stainless steel.
Gutter Accessories
In addition to the main components, you can equip a gutter system with accessories to improve its efficiency and extend its functionality. Here are some of the most popular add-ons for gutters:
Gutter guard. It has a flat surface and completely covers the top of the gutter. It prevents clogging by allowing water to pass through while blocking leaves and debris.
Gutter cover. It has the same purpose as a gutter guard, with the difference being that it has a reverse curve design to filter debris while capturing all rain.
Leaf guard. It fits over the top of the gutter and has a slanted design to filter water. It's typically made of aluminum or plastic.
Gutter screen (filter). It's a metal mesh that fits over the top of the gutter and prevents debris from entering. Regular cleaning is necessary to prevent clogging. Seamless gutters often come with a built-in gutter screen.
Rain chain. It carries water into a chain outside the house instead of into traditional downspouts, giving homes an outdoor shower look. It also prevents clogging by allowing water to drip slowly outside your house, stopping it from pooling on the ground.
Gutter foam. It provides a thin layer across the top of your gutters to prevent clogging by absorbing water like a sponge. However, it often traps dirt and bird seeds, thus encouraging the growth of vegetation.
Decorative boot. It's a cover that goes over the top of your traditional gutter system, giving it an attractive appearance.
Catch basin. It attaches to your downspout, sits underground, and collects water from the roof. It's a good solution if you don't want to install a French drain.
Rain barrel. Similar to a catch basin, it captures and stores rainwater. However, it's larger and sits above ground. Gardeners prefer collecting rainwater for lawns and plants.
Gutter cleaner. It's a pole with a small scoop on the end that allows you to easily remove debris from your gutters.
Gutter Materials and Costs
Gutter systems may use different materials: aluminum, copper, steel, vinyl (PVC), zinc, or wood.
Aluminum Gutters
Aluminum gutters are the most popular type of gutter because they are lightweight, affordable, and do not sag. They are available in a wide range of colors to match your home's exterior. Plus, they can be seamed or seamless – the seamless version lasts longer and doesn't need a lot of upkeep.
Furthermore, aluminum doesn't rust in time, making it a durable material. With proper maintenance, they can last for at least 20 years. Still, it's worth mentioning that it's susceptible to dents. And it corrodes when touching certain types of mortar or other metals, so you need to separate it.
On average, expect to pay between $4 and $14 per linear foot for aluminum gutters.
Copper Gutters
Copper gutters add a touch of class that is unmatched by other materials, thanks to the unique color. At the same time, they are incredibly tough, resistant to rust and corrosion, and accommodate any climate.
Copper gutters can be sectioned or seamless, K-style or half-round. If you properly care for your copper gutter system, it can last for 60 to 100 years.
On the other hand, copper gradually changes color when exposed to weather conditions – it eventually changes from shiny copper to a green patina. Regular upkeeping is necessary to keep the copper clean and shiny.
On top of that, a copper gutter system is more challenging to install by DIYers since the material is heavy and difficult to handle.
They attract potential buyers but don't necessarily increase property value. Copper gutters are more expensive than other materials, ranging from $15 to $30 per linear foot. However, with proper care, you might actually save money in the long term when taking into account their lifespan.
Steel Gutters
Steel gutters are typically galvanized, but you can also find stainless steel versions. They come in the seamed, seamless, half-round, or box style, depending on your preference. They are the most affordable type of gutter as well as durable, capable of withstanding corrosion and harsh weather conditions.
Another benefit of steel gutters is that they are less prone to leaks. Plus, you can paint them in any color to adapt to your home's style. With proper care, steel gutters last for 20 years or more. Maintenance requirements are minimal, though.
On the downside, steel rusts in time, so it's necessary to reseal or repaint it every few years. It's also heavy, making it difficult to install by DIYers. Plus, steel gutters get deformed in time, so repairs will be necessary.
Homeowners pay anywhere between $1.5 to $7 per linear foot for steel gutters.
Vinyl (PVC) Gutters
PVC gutters are cheap systems and the easiest to work with. Vinyl is a lightweight and flexible material that snaps together, which you can cut with regular household tools – it's ideal for DIYers!
Plus, you can find vinyl gutter systems in a wide of colors to match the trim of your home, including white. They can be seamed or seamless. Since it's made of plastic, a viny gutter doesn't risk rusting, corroding, or dents.
On the other hand, vinyl gutters are susceptible to damage and handle extreme weather conditions poorly. If you live in a dry, mild climate and properly maintain your vinyl gutter, it should last up to 20 years. In other conditions, though, expect to replace it after 10 years.
Expect to pay between $3 and $6 per linear foot of vinyl gutters.
Zinc Gutters
The zinc gutter system isn't as popular as other materials, although it has its fair share of benefits – it's used in Europe more than in the US. Granted, it's more common for high-end houses and historic buildings.
For once, zinc is twice as durable as aluminum, capable of withstanding scratches and corrosion. And, similar to copper, it has a unique color that may appeal to many homeowners.
You can pick the sectioned or seamless version of zinc gutters, where the seamless option has more advantages but is also more expensive. Additionally, zinc is available in K-style or half-round.
Maintenance is minimal since zinc gutters naturally create a protective layer of zinc carbonate when exposed to the weather elements; you just have to clean the gutters until it develops that layer. Painting or resealing is not necessary. With proper care, a zinc gutter lasts for 80 years or more.
On the downside, there are fewer color options for zinc gutters. Also, it's best to avoid zinc if you live anywhere with salt or acid in the air (e.g. near the ocean) since the protective layer will degrade in time. And, unless you're a skilled welder, you can't install a zinc gutter without professional help.
As far as costs are concerned, expect to pay $8 and $25 per linear foot for zinc gutters.
Wooden Gutters
Wooden gutters are popular for historic homes, as they match the vintage or classical look. They can be made from any type of wood, such as pine, cypress, and fir. Redwood and cedar work best, though. You can choose from the half-round, K-style, or V-shaped styles.
However, they involve a lot of disadvantages. For instance, they are not long-lasting as other materials and require a lot of maintenance, like regularly treating the wood so that it doesn't rot. With proper maintenance, wooden gutters can last for 25 years; redwood can last up to 100 years.
On top of that, wooden gutters are costly because there are few manufacturers in the US. They are also challenging to install and maintain by a DIYer, although regular upkeep is necessary.
On average, wooden gutters cost between $18 and $25 per linear foot.
Gutter Installation
There are two ways to install a gutter system: you can do it on your own or hire a professional.
How to Install a Gutter System
If you're interested in setting up a gutter system for your home, it's best to leave the job for professionals. However, if you want to take on this large home improvement yourself and save labor costs, here's what you need to do for gutter installation:
Measure the length of your roof and downspouts to calculate the number of linear feet you need. This will help you determine the cost of the gutter system.
Decide on the material of the gutter system: aluminum, copper, steel, PVC, zinc, or wood. Carefully study their pros and cons. For example, PVC is easiest to handle, while zinc requires professional welding.
Select the gutter type between seamed and seamless. You need to order the seamless metal from the hardware store by taking into account the exact measures, so no mistakes are allowed. When it comes to a seamed gutter system, you can make adjustments on the spot.
Choose the preferred gutter system style (half-round, K-style, or V-shaped) after researching their advantages and disadvantages and by taking into account the home's requirements and your preferences.
Clean and prep the area where you will be installing the gutters.
Mark the placement of the gutters using a chalk line or spray paint.
Cut the gutters to size using a hacksaw or power saw.
Attach the gutter hangers to the roof with screws, following the manufacturer's instructions.
Hang the gutters on the hangers and attach them at each end.
Install the downspouts and elbows, if necessary.
Seal any seams with a caulking gun and silicone sealant.
Inspect your work and make any necessary adjustments.
How to Install Gutter Guards
Installing the gutter guards is not as complicated as gutter installation, but it still requires some skill and effort. It's best to consult a professional for this job. Here's what you need to know:
Choose the type of gutter guards carefully based on your needs and preferences. See if they meet all your requirements such as keeping out leaves and debris but letting the rainwater flow through unimpeded.
Measure the length of your roof and downspouts to calculate how many linear feet you need before going shopping at a hardware store or home improvement store.
Prepare work materials by assembling tools, buckets, ladders, safety equipment, safety harnesses, safety goggles, and so on.
Clean the gutters and downspouts of any debris.
Install the gutter guards by following the manufacturer's instructions.
Review your work and make any further tweaks.
Hiring a Professional for Gutter Installation
A professional will cost you money, but the job gets done in half the time and to your exact specifications. Furthermore, they will help you decide which type of gutter system is right for your home and how to install it properly.
A contractor also provides assistance with choosing gutters that match the style of your home. The company's workers do all the work for you, so you don't need to buy any tools separately. Besides, you won't have to measure everything and cut the materials.
Most importantly, professional service for gutter installation comes with a warranty, so you don't have to worry about any mistakes.
Gutter Installation Cost
The cost of installation depends on where you live – major cities command a higher price tag while suburbs charge cheaper rates due to less demand. It also depends on the material, type, and style, number of downspouts, enhancements, house size, and other factors.
Expect to pay between $3 and $6 for PVC, $6 and $15 for aluminum, $8 and $12 for galvanized steel, $15 and $30 for copper, $18 and $25 for wood, and $20 and $25 for zinc. The price represents the average cost per installed linear foot for each material of the gutter system.
Gutter Cleaning: Everything You Need to Know
Gutter cleaning is something you should do regularly. It helps prevent damage to your gutters, such as rusting and corrosion from the elements of weather. Plus, it improves their performance since your gutters can carry off rainwater better if they're free from debris.
Must-Have Gutter Cleaning Tools
Certain tools are indispensable for regularly cleaning your gutter without turning to a professional. You need the following items:
A ladder. It should have a weight capacity of at least 200 pounds. Make sure that the ladder is stable and steady before climbing up to the roof.
A ladder stabilizer. It keeps the ladder in place and prevents it from slipping, making your job safer and easier. You can buy it as a separate tool or as part of a ladder system.
A heavy-duty bucket. It should be able to hold at least 5 gallons of water because you need it to hold all debris collected from your gutter. And you don't want to take too many trips down the ladder to empty the bucket.
Heavy-duty gloves. Those with rubber padding are the best option since they won't slip off your hands. Besides, they will keep your hands protected when touching debris or any sharp edges that would puncture regular garden gloves.
Safety goggles. They prevent pieces of debris from flying into your eyes when you're cleaning the gutters.
A basic gutter scoop. It's specifically designed to remove debris from gutters, thanks to its flexibility.
A long pole with a hook or a net at its tip. It helps you get rid of debris in hard-to-reach spots.
A gutter cleaning solution. It will make your job significantly easier when cleaning the exterior of your gutter system by loosening the dirt and debris.
How to Clean Gutters
To clean gutters by hand, here's what you should do:
Install a sturdy ladder with a ladder stabilizer.
Wear heavy-duty work gloves and safety goggles.
Hang a 5-gallon bucket on the ladder or stand near the gutter that has debris inside. You may need another person for this task.
Wet the downspouts so you won't have to climb up and down the ladder multiple times while cleaning them.
Clean out all debris by using the gutter scoop or with a long pole with a hook attached to one end or a net at its tip. Then dump the debris in the bucket.
Repeat the process until all debris is removed and your gutters are clean and clear.
Shift your attention to the exterior of the gutter system and clean it with a gutter cleaning solution.
Extra Tools to Help with Gutter Cleaning
You will save a lot of time and effort if you're willing to invest in some high-quality tools for gutter cleaning. Here's what you can use:
A garden hose with a spray nozzle. It helps you clean the gutters from a safe distance.
A wet/dry vacuum cleaner. It will quickly suck up all the debris in your gutters, even the small ones.
A leaf blower. It can help dislodge the debris stuck in your gutters, making it much easier to scoop them out.
A pressure washer. It can make gutter cleaning a lot easier by blasting away the debris and loosening the dirt, particularly on the exterior side.
A water-based telescopic gutter cleaner. It attaches directly to your garden hose and sends a jet of water to the nozzle, enabling you to safely wash the gutter without climbing a ladder.
Hiring a Gutter Cleaning Service
If you don't feel comfortable cleaning the gutters yourself or simply don't have the time, then hiring a professional gutter cleaning service is a good option. They will do a thorough job and leave your gutters clean and free from any debris. Just be sure to ask for references and check them out before hiring anyone.
The gutter cleaning cost depends on various factors, such as house height (single- or multi-story). Additional costs are usually implied when you want to also clean the downspouts and roof. On average, expect to pay $1 to $1.50 per linear foot for gutter systems on single-story houses.
Gutter Maintenance Tips
Gutter maintenance is necessary to prevent leaks and other problems with your gutters, such as clogs. This process should be done regularly so that you won't have any trouble when it's the rainy season again. Here are some tips on how to maintain gutters:
Get rid of heavy vegetation that could cause blockages or damage your gutter system by brushing it away from the sides of your house at least once every year in springtime.
Trim tree branches back 6 feet to make sure they don't hang over your roof.
Prune grapevines around your home.
Install gutter guards to keep debris from accumulating in your gutters.
Inspect your gutters for damage and fix them as soon as possible – rust, holes, leaks, corrosion, etc.
Check your roof and remove any debris.
Replace sections of your gutter system if it's severely damaged.
Thoroughly clean your gutters twice a year or more often if your location is susceptible to harsh weather conditions year-round.
Get rid of any pests or rodents; clogged water attracts mosquitoes.
Reseal or repaint your gutter system to improve its lifespan.
Gutter Systems FAQ
Discover more information about gutter systems.
What is a gutter?
A gutter is a trough installed along the edge of a roof to collect rainwater and divert it away from the building.
How are gutters attached to the house?
Gutters are affixed to the roof by brackets. The hangers that hold them up are under the shingles, so you won't see any screws or nails if you inspect your gutters from below. As soon as you remove a section of siding, though, you'll be able to see how they're attached.
What's the best way of cleaning out my gutters?
The best method is to use a telescopic gutter cleaner. Attach it directly to your garden hose and send a jet of water inside so all debris can easily be dislodged.
If you don't have one of those cleaners on hand, try using a pole with a net attached at the end to scoop out the debris. You can also use a wet/dry vacuum cleaner or a leaf blower.
Can I install my own gutters?
Yes, you can. There are many DIY gutter installation guides available online. Be sure to get the right measurements and purchase the correct materials. It's a fairly straightforward process, but it's always best to have a professional do it for you if you're not confident in your abilities.
Are gutters necessary?
It depends on where you live and your climate conditions. If you experience a lot of rainfall, then it's a good idea to have gutters installed to prevent water from seeping into your home and causing damage. In some cases, homeowners may be required to have gutters by local building code.
Can I remove my gutters if they're damaged?
If your gutters are severely damaged, then the best thing to do is have them replaced by a gutter contractor. Otherwise, you'll need to hire a roofer or carpenter to fix whatever's broken or missing on the roof of your house before getting rid of your gutters. So, it's recommended that you don't attempt this type of repair at home without prior experience unless it's an emergency situation.
Can I paint my gutters?
Yes, you can. However, you'll need to wait until the weather is dry and the temperature is above 50 degrees Fahrenheit. You'll also need to use rust-resistant paint. Be sure to follow the manufacturer's instructions for the best results.
What type of gutter protection should I use?
There are many types of gutter protection available on the market, such as gutter guards, screens, and covers. If you're experiencing a lot of debris accumulation in your gutters, then it's a good idea to invest in one of these products.
What are the benefits of having gutters?
Gutters reduce your risk of experiencing water damage, foundation problems, and mold. They also extend the lifespan of your roof by diverting rainwater away from it.
What is a gutter screen/guard/cover?
A gutter screen is a mesh or metal sheet installed in your gutters to keep debris from clogging them. Meanwhile, a gutter guard is a perforated material placed over the gutters to allow water to flow through while preventing leaves and other large objects from entering.
Lastly, a gutter cover is a hood-like device fitted over the top of your existing gutters. This type of gutter protection is effective against large leaves and other significant elements that can potentially cause damage to your roof or foundation.
What type of material should I use for my gutters?
The most popular materials are PVC and aluminum. However, copper and galvanized steel are also options. It's important to choose a material that will withstand the weather in your area.
For example, PVC gutters might not be a good choice if you live in a cold climate because they can become brittle in the cold weather.
How much do gutter guards cost?
The price of gutter guards depends on several aspects, including type (PVC, mesh, stainless steel, etc.) and brand. Expect to pay between $0.60 and $1.50 per linear foot for PVC screen or between $3.50 and $6.50 per linear foot for gutter helmets. This only covers the material, not the labor.
How much does gutter cleaning cost?
The price of gutter cleaning varies greatly depending on the house's height, the number of stories, and gutters. Homeowners can pay $1 to $1.50 per linear foot for gutter systems on single-story houses.
Are gutter guards worth it?
Yes, gutter guards work. They will keep your gutters clean and prevent debris from clogging them, which can lead to dangerous leaks and damage the guttering.
What is the best gutter guard?
There is no best gutter guard because it depends on your personal preferences and what will work for your home. A good option is the PVC screen, which is affordable and can be easily installed.
How much does gutter installation cost?
It depends on your region, house size, material, type, additions, and other aspects. You can end up paying between $3 and $6 for PVC (cheapest) or $20 and $25 for zinc (most expensive).
What is the average cost of leaf filter gutter guards?
If you're interested in installing leaf filter gutter guards, you can pay between $15 and $35 per linear foot.
How to cut a gutter downspout?
To cut downspouts, you should start from the top and work your way down. Use a Sawzall to cut it to the desired length. Be sure to wear the appropriate safety gear, such as goggles and gloves.
How to hang Christmas lights with gutter guards?
To hang Christmas lights with gutter guards, you can use plastic clips for attachments.
How to measure the gutter size?
To measure the gutter size, use a tape measure to find the length and width. This will help you determine what type of gutter guard or other materials you need.
What are some gutter alternatives?
If you're looking for gutter alternatives, you can use rain chains, drip edges, a drip path, a rain dispersal system, grading, or a French drain.
What kind of gutter guard is best?
A mesh-type gutter guard works well for most homes. They're affordable and also allow water to flow through them with ease, preventing debris buildup in the process.
How do I take down a gutter?
Take down your gutters by first removing any fasteners you can quickly detach without too much effort. Once this is done, take out the screws connecting it to the roof. If it's still attached to other sections of guttering, remove those as well so you can fully remove the entire system once everything else is detached.
How long does it take to clean gutters?
It depends on how large your home's gutters are and what type of tool you use to clean them. You can spend anywhere from 30 minutes to a few hours cleaning your gutters, depending on the situation.
Final Thoughts on Gutter Systems
A gutter system is a crucial part of a house's exterior since it prevents water damage. So, you should maintain it properly so that it can function well.
If your gutters are not working properly due to some issues then you must know about gutter systems and their importance. You can find more information on this topic by reading articles available online or consulting with experts.