50 Grilled Salmon Recipes Welcomed At The Dinner Table
Who loves salmon? Any one of these 50 grilled salmon recipes will welcomed with open arms – or mouths – at the dinner table tonight. Check out all of our favorite picks below and see if any strike your fancy!
1. Rainbow Salmon Skewers
the view from great island starts us off with this yummy kebob recipe. Grab all the ingredients and jazz up your cookout tonight!
2. Cedar Plank Salmon
The Healthy Foodie shows us how to make salmon on a cedar plank. Grill it up in this trendy, "foodie" way!
3. Honey Garlic Butter Salmon in Foil
Pop the tin foil in the oven or on the grill! Check out this Cafe Delites concoction after the jump.
4. Grilled Salmon with Avocado Salsa
The Cookie Rookie took their salmon dish to new levels with this avocado salsa creation. Impress all the guests at the dinner party with this one!
5. Grilled Lime Butter Salmon in Foil
The Recipe Critic gave us another fun foil recipe to try. Throw it on the grill or in the oven. This one is perfect for summertime!
6. Soy Sauce and Brown Sugar Grilled Salmon
For those that like strong flavors, this brown sugar and soy sauce delight from Let's Dish Recipes is right up your alley. Add a lemon for garnish and serve.
7. Garlic Lovers Salmon in Foil
Gimme Some Oven went the foil route as well. And this one is packed with fresh garlic and fun ingredients.
8. Honey Mustard Salmon in Foil
And if you like the previous recipe from Gimme Some Oven, then you'll enjoy this one as well. Add honey mustard and go!
9. Grilled Brazilian Rub Salmon
For an exciting dinner date at home, this Brazilian-rubbed salmon could be fun. Just follow along and serve up with a fresh salad. (via)
10. Balsamic Glazed Salmon
Cooking Classy went with a balsamic-glazed salmon that is perfect for a dinner party as well. A side of asparagus or salad will accompany it nicely.
11. Grilled Salmon with Brown Butter Citrus Sauce
Will Cook For Smiles went with a browned butter citrus sauce that's full of fresh ingredients and flavor. We're sure you'll satisfy the entire family with this one.
12. Garlic and Herb Salmon Marinade
The Seasoned Mom gave us a killer marinade recipe! Just like it sit and then grill these pieces up!
13. Crispy Bourbon Glazed Salmon
Do you like your salmon a bit on the crispy side? How Sweet Eats shows you how to make that happy with some bourbon!
14. Grilled Maple Salmon
Maple syrup is the key ingredient here. And those veggies on the side look just as scrumptious, don't you think? (via)
15. Grilled Lime Salmon with Avocado-Mand Coconut Rice
Here's an entire meal served up with some tasty grilled salmon. Between the spicy-sweet salsa relish and the rice, it's a bowl of deliciousness that the entire family will enjoy. Check it out at Cooking Classy.
16. Honey Garlic Salmon
Chef Savvy paired garlic and honey in this grilled salmon creation. If you like a bit of sweetness and a bit of savory then this one is for you.
17. Sesame Ginger Salmon
Damn Delicious took the Asian-inspired route. Again, this recipe is for the entire meal, so you don't even have to think about your side dishes.
18. Cilantro-Lime Honey Garlic Salmon
if you're looking for something with more zest, check out this beauty from Julia's Album! The secret here is the cilantro.
19. Grilled Salmon Burgers with Avocado Salsa
COOKTORIA took salmon and turned them into burgers! Your weekend cookout could be taken to an entirely new level with this one.
20. Artichoke and Spinach Salmon
Artichoke and spinach salmon sounds like a fun medley to try. It's a bit more indulgent as well. Find it at Little Broken.
21. Lemon Parmesan Crusted Salmon
Culinary Ginger took lemon and made it the star behind this crusted masterpiece. Grab all the details after the jump.
22. Panko Crusted Honey Mustard Salmon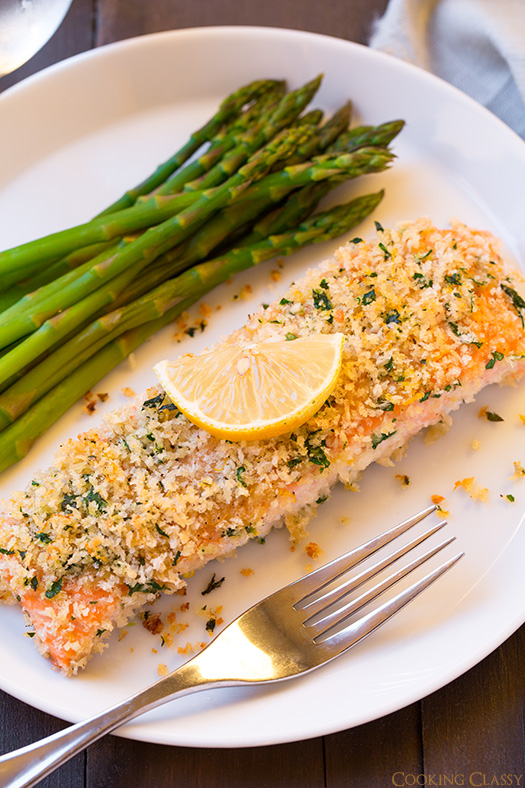 Cooking Classy did another honey mustard and salmon duo but this time the salmon was crusted! Perfect for those that want something light but just as flavorful for dinner.
23. Firecracker Baked Salmon
Maybe you want your salmon dish to have a kick of spice. You'll get all that and more with this recipe from Jo Cooks.
24. Asian BBQ Salmon
Carlsbad Cravings paired everything we love about BBQ with some Asian flavors in this fun dish! Snag the recipe when you visit!
25. Chipotle Lime Salmon
Closet Cooking does it again with this fabulous dish. It's another one that can be done easily – and less messy – in foil!
26. One-Pan Roasted Lemon Pepper Salmon
This is a roasted dish but you can easy grill up the salmon as well. Just follow along and see if it strikes your fancy. (via)
27. Pesto Salmon with Italian Veggies in Foil
Do you like Italian flavors? If so, learn how to take that craving and pair it with salmon over at Cooking Classy.
28. Orzo Corn Salad Bowl with Salmon
Saving Room for Dessert brings us another tasty and lively "bowl" recipe that we're loving. Full of fresh, tasty ingredients, it's definitely something that can become a family staple.
29. Triple Citrus Salmon
The Recipe Critic gives us a fruitier salmon recipe to try grilled up. This time, it's all about the citrus flavors!
30. Salmon Tzatziki Bowl
Feasting At Home went Greek. Who loves a good tzatziki sauce? Well, you're salmon will and we guarantee you'll love your salmon even more with a dollop on top.
31. Grilled Salmon with Mango Salsa
NeighborFood topped their grilled salmon off with a helping of mango salsa. Grab all the details after you take the leap.
32. Salmon and Summer Veggies in Foil
Here's a fun summertime foil recipe to take a try with. Again, pop it in the oven or use it as inspiration for your cookout this evening. (via)
33. Honey Sriracha Salmon
Chef Savvy knows that Sriracha is all the rage. Pair it with some honey for a smoother finish.
34. Mexican Grilled Salmon Salad
For a light and healthy dinner or lunchtime idea, check out Cooking Classy again! Who doesn't love a good Mexican-inspired salad?
35. Salmon with Thai Sweet Chili Glaze
Once Upon a Chef went the sweet and spicy route as well. We love how you get the best of both worlds with these kinds of dishes.
36. Dill Grilled Salmon Veggie Packets
Whole and Heavenly Oven did something a little differently. Adding dill to their foil package, you get an unusual flavor that's just as delicious as the ones already on the list.
37. Lemon Garlic Butter Salmon Skewers
Are you a skewers lover, especially when it comes to the grill? EatWell101 gives a fabulous idea for your summertime BBQ.
38. Greek Salmon Salad
Greek Salmon Salad might be one of my favorite salads right now. It's refreshing and you can find the full recipe on Stuck on Sweet.
39. Salmon Tacos with Jalapeño Cream
Lemons for Lulu took salmon to the tortillas. Who knew salmon could be so tasty inside a taco?
40. Lemon Pastas with Salmon
Here's a light and delicious dish we're wanting to try from Taming of the Spoon. It's a great way to introduce the kids to salmon as well.
41. Sake and Ginger Soba Noodle Salmon Stir Fry
Half Baked Harvest went with an Asian-inspired dish as well. Again, this recipe isn't just for the salmon, it's for the entire meal!
42. Garlic Butter Salmon with Caramelized Shallot Relish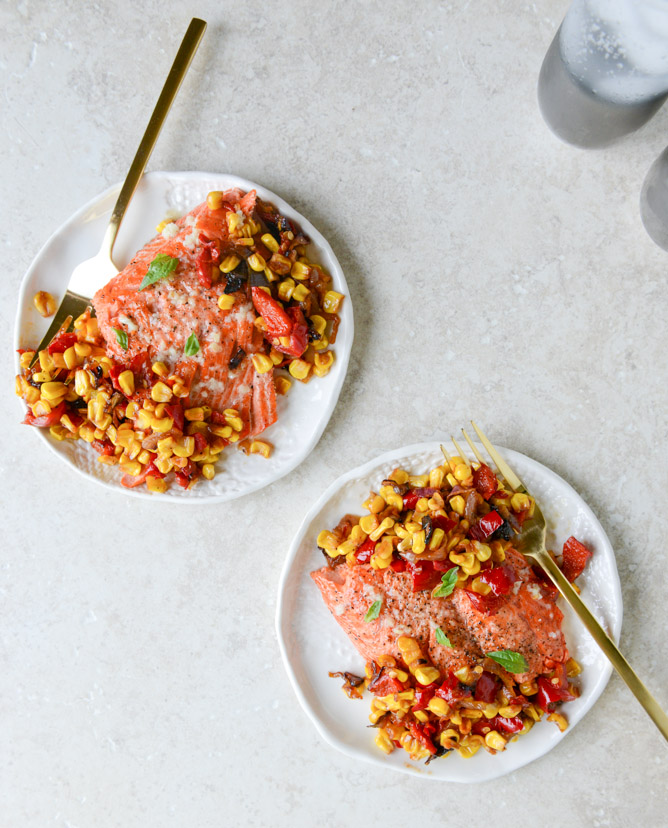 We are swooning over how good this recipe sounds and how good the finished product looks. Check it out at How Sweet Eats.
43. Warm Salmon Salad Nicoise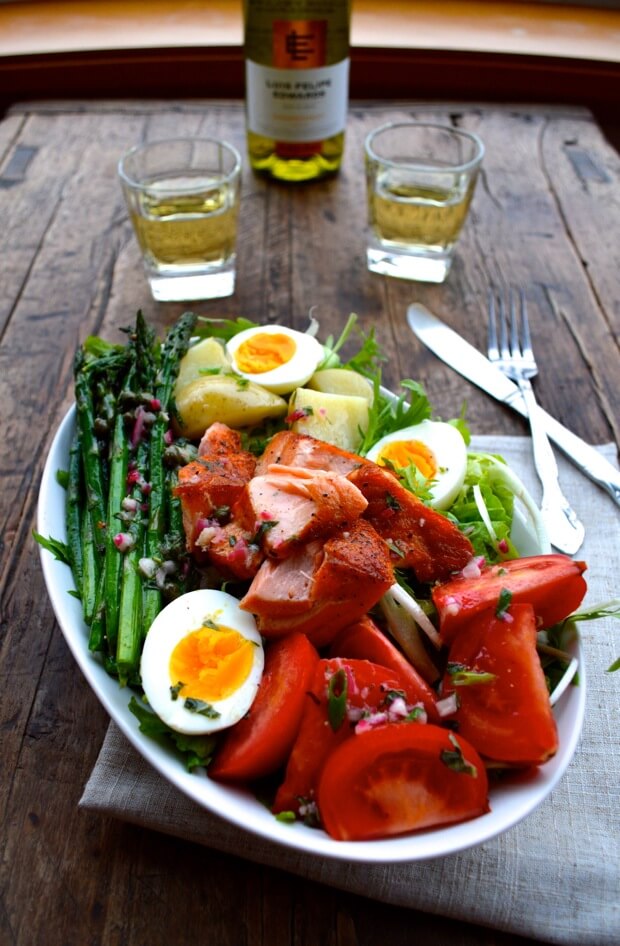 The Woks of Life create this delicious, sharable salad with a bout of fresh ingredients. Find out what you need after the jump.
44. Maple Soy Grilled Salmon Steaks
Jo Cooks grilled up some salmon steaks that look mighty fine. With some maple, some soy and a palette of rice below, you have a refined and tasty dish for your family and friends!
45. Grilled Salmon with Mint & Basil Sauce
EatWell101 gave us a more unique salmon dish to try. Topped with mint and basil sauce, it's for more adventurous of taste buds.
46. Salmon Teriyaki Bowl
Panning the Globe knows that salmon pairs well with teriyaki. So, they made an entire meal out of it!
47. Baked Lemon Salmon with Creamy Dill Sauce
Cooking Classy went with dill as well. You'd be surprised how tasty this pairing is. You can bake it or grill it!
48. Soy Sauce and Brown Sugar Salmon Marinade
Soy sauce and brown sugar come together for a savory and sweet combo as well. Check out the ingredients after the leap and serve it over a bed of rice or fresh salad. (via)
49. Grilled Salmon Tacos with Avocado Salsa
Cooking Classy went the tacos route too. With avocado salsa on top, it's the meal of our dreams.
50. Baked Parmesan Garlic Herb Salmon in Foil
And finally, visit The Recipe Critic for this divine recipe. Parmesan and garlic will always be a timeless flavor pairing.