Glazed Lemon Poppy Seed Muffins
Glazed lemon poppy seed muffins – the classic zingy, lemony muffin; easy to make and sure to brighten up any morning!
Who doesn't love a good muffin? I certainly do! There are so many delicious muffin flavours available that it is difficult to pick a favourite flavour, but if I was forced to choose then I think that I would have to go for lemon poppy seed muffins. It is the variety that I pick most often if I am in a cafe and it never disappoints; and the good news is that they are really quick and simple to make at home!
The main key to making good homemade muffins is to make sure that you don't over-mix the batter – that will lead to tough muffins. For this reason I always mix muffins by hand, never with an electric mixer. But don't worry, they still only take a few minutes to whip up and they bake in fifteen minutes so you are only half an hour away from a batch of delicious fresh muffins.
These ones are flavoured with both lemon zest and juice as well as being topped with a zingy lemon glaze to make sure that they are full of fresh lemon flavour. Poppy seeds add a bit of texture and crunch, and I used yogurt in the batter to keep them light yet moist. As with most home-made muffins, these are best eaten on the day they are made, but they can be kept in an airtight container for a couple of days. They also freeze well so you've got a stash of muffins ready for whenever a craving hits. They are perfect for breakfast, brunch, to pop in a lunchbox or to have as a snack at any time of day!
Here's what you'll need:
Lemon Poppy Seed Muffins:
2 cups all purpose flour
2 tsp baking powder
1/2 tsp baking soda
1/4 tsp salt
1 cup granulated sugar
2 large eggs
finely grated zest of 2 large lemons
juice of 1 lemon
1 stick butter, melted and cooled slightly
3/4 cup low fat Greek style yogurt
1 tsp vanilla extract
2 Tbsp poppy seeds
Lemon Glaze:
1 cup powdered sugar
2-3 Tbsp fresh lemon juice
1.Preheat the oven to 425°F. Line a 12 cup muffin tray with paper muffin liners.
2.In a large bowl, whisk together the flour, baking powder, baking soda and salt until very well combined and free from lumps.
3.In a large jug, whisk together the sugar, eggs, lemon zest, lemon juice, melted butter, yogurt and vanilla extract until smooth.
4.Add the liquid ingredients to the dry along with the poppy seeds and fold together gently until just combined. There should be no pockets of flour left but be careful not to over-mix.
5.Divide the mixture evenly amongst the muffin liners, I use a trigger ice cream scoop to do this.
6.Bake for five minutes then without opening the oven door, turn the temperature down to 375°F and bake for a further 10-12 minutes until golden and a skewer inserted into the centre comes out clean. Transfer the muffins to a wire rack and leave to cool completely.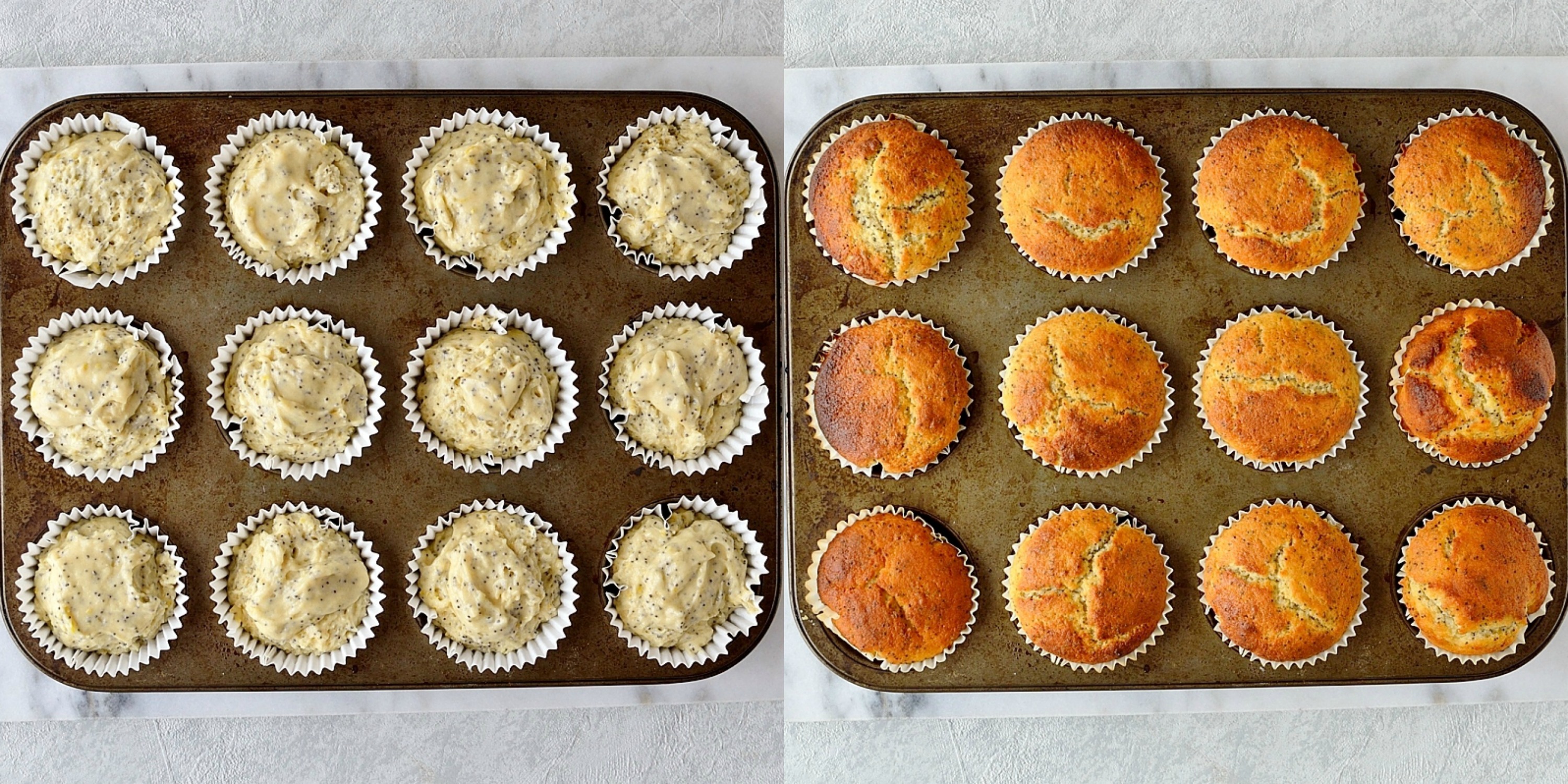 7.To make the glaze, sift the powdered sugar into a small bowl and gradually stir in the lemon juice until it is thin enough to drizzle.
8.Drizzle the glaze over the tops of the muffins and serve. Best eaten on the day they are made but will keep in an airtight container for a couple of days.