Healthy Homemade Real Fruit Popsicles
These real fruit popsicles are a real hit with the kids – and healthy too! It's so simple to make popsicles at home, and the kids always love them. These ones are packed with fresh fruit and filled with apple juice which make them taste sweet and delicious. Use any fruit you like. I went with strawberries, blueberries, cherries, and kiwi for a lovely bright popsicle.
Some of my other favorite combinations:
Pineapple and mango
Green grapes and green apple slices
pomegranate and blueberry
I've been known to feed these to the family for breakfast when we're running late for school. Scoffing them in the car, everyone has the biggest smile – like they're having a naughty treat. In fact, they're a lot better for you than that bowl of cereal or toasted bagel. The only thing to worry about is the school uniforms being covered in drips! Napkins are definitely needed!
Now the holidays are here, it's also a great snack that the kids can make themselves.
Any popsicle mold that has room for pieces of fruit is fine. We use the Norpro ice pop mold. It also comes with a lid to help keep the wooden sticks steady, but you don't really need the lid as the amount of fruit in the popsicles ensures the sticks stay put.
What fruit will you try?
Ingredients for homemade real fruit popsicles:
Makes 10 popsicles
2 kiwi fruits
6 strawberries
1 cup cherries
1/2 cup blueberries
2 cups apple juice
Step by step directions to make the fruit popsicles:
Prepare the fruit by peeling and slicing the kiwi. De-stone the cherries and slice in half. Slice the strawberries into slices and the blueberries in half.
Place the fruit into the popsicle molds (you may not need all of it). Use plenty of fruit to that it's well distributed when you add the apple juice.
Pour in the apple juice so that it nearly reaches the top.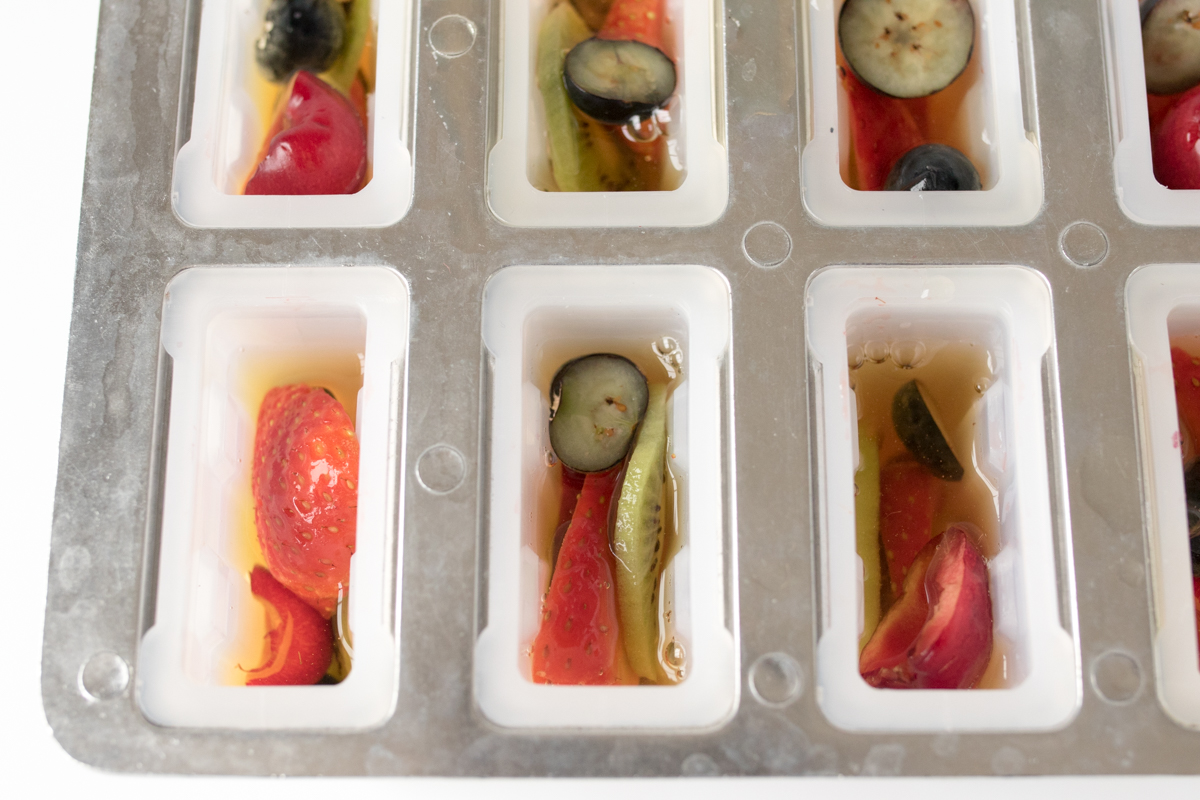 Add the sticks and place in the freezer for at least 5 hours to freeze completely.
Enjoy for breakfast or snacks!
Yield: 10
Healthy Homemade Real Fruit Popsicles
These real fruit popsicles are a real hit with the kids – and healthy too! It's so simple to make popsicles at home, and the kids always love them
Total Time
5 hours
15 minutes
Ingredients
2 kiwi fruits
6 strawberries
1 cup cherries
1/2 cup blueberries
2 cups apple juice
Nutrition Information:
Yield:
10
Serving Size:
1
Amount Per Serving:
Calories:

48
Total Fat:

0g
Saturated Fat:

0g
Trans Fat:

0g
Unsaturated Fat:

0g
Cholesterol:

0mg
Sodium:

3mg
Carbohydrates:

12g
Fiber:

1g
Sugar:

9g
Protein:

0g