25 Beautifully Colorful DIY Necklaces
Jewelry can be pricey, and sometimes it's difficult to find exactly what you're looking for. So why not make a few necklaces?Often, that's not as difficult as it sounds. Here are 25 unique, colorful, easy-to-make necklaces that are sure to wow all of your friends.
1. Woven Beaded Necklace
This woven necklace is made with two different bead colors… head over to Brit + Co. to learn how to make one of these pretty necklaces for yourself.
2. Colorful Tassel Necklace
Tassels are a hot trend right now… hop on the bandwagon with one of these adorable beaded tassel necklaces. Get the simple tutorial over on Made In A Day.
3. Utility Rope Necklace
This rope necklace is sure to make a big statement… find out where to buy the supplies and how to make it over at Honestly WTF.
4. Painted Wooden Necklace
Give some plain wooden beads a makeover by color blocking them with metallic paint. Find out how to recreate the look at Swallow's Heart.
5. DIY Rope Necklace
Here's another colorful statement necklace that is made of rope – but this one also uses some hardware from the wood shop. Get the easy tutorial at Refinery 29. 
6. Nail Polish Chain Necklace
This idea is impossibly genius… file it under the "why didn't I think of that?" category. Simply paint a chain with multiple nail polish colors. Get the tutorial here.
7. Stone Necklace
If you enjoy saturated, colorful stones, you'll love this tutorial. Head over to Twinkle and Twine to learn how to make one of these yourself.
8. Wooden Disc Necklace
These lightweight wooden discs provide the perfect material for a large statement necklace. Find out how to make one of these color blocked wooden disc necklaces here.
9. Anthropology Inspired Seafoam Necklace
The trick to this seafoam green Anthropology inspired necklace is the order in which you place the beads on the chain. Get the instructions here.
10. Ombre Pistachio Shell Necklace
Can you believe that something so beautiful could be made from pistachio shells? Get the full tutorial for this ombre necklace over at Creme de la Craft.
11. Braided Rope Necklace
A Beautiful Mess shows us how to make this fun neon pink and gold braided rope necklace. Get the easy tutorial right here.
12. Painted Block Necklace
This modern painted block necklace would be perfect to wear with a plain white tee or that little black dress. Get all the instructions at Lulu The Baker.
13. Chevron Chain Necklace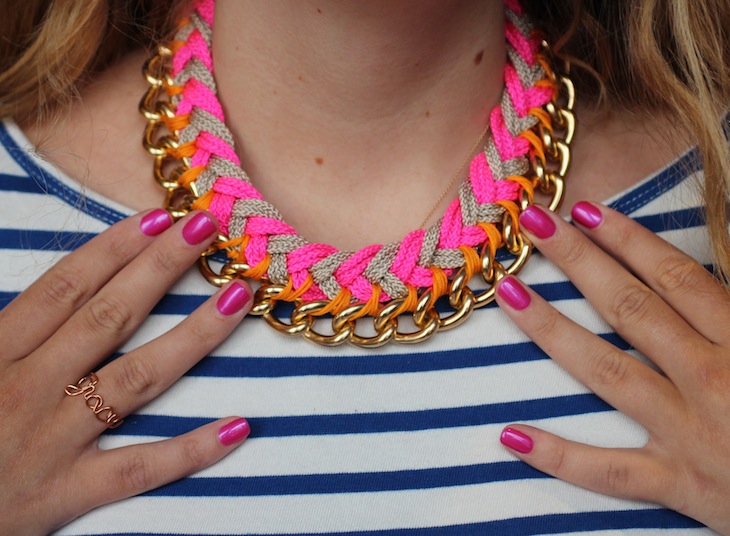 This pretty little number isn't as hard to make as it looks. Find out how to make your own chevron chain necklace over at The Stripe.
14. Crochet Bib Necklace
This gorgeous neon crocheted bib necklace is sure to be a discussion starter. Get the surprisingly simple instructions here.
15. Brass Ring Necklace
Grab a few brass rings and some neon cord to create on of these unique necklaces. Get the tutorial at Honestly WTF.
16. Anthro Inspired Tassel Necklace
Anthropology's style is coveted, but the prices are not – so just make your own version of the classic tassel necklace using this tutorial.
17. Painted Chain Jewelry
Try your hand at one of these incredibly easy painted chain necklaces. Get the full tutorial over at I Spy DIY.
18. Pink Knot Necklace
Try your hand at one of these soft felted rope necklaces. The Everygirl shares the full tutorial right here.
19. Golden Geometric Necklace
You'll never guess what these geometric triangle pieces are made out of. Make your way over to Sincerely, Kinsey to find out.
20. Tshirt Necklace
Can you believe that this pretty multi-strand necklace is made out of an old tshirt?! Grab the easy tutorial at the ever-creative Brit + Co.
21. Neon Washer Necklace
Take a trip to the hardware store to complete this fun necklace project. Head over to the Maiko Nagao blog to read the full tutorial.
22. Tassel Rope Necklace
This one combines two of the most popular trends all in one… tassels and rope. Find out how to make one of these at The Stripe.
23. Triangle Statement Jewelry
Here's another one with some unique materials… head over to Creme de la Craft to find out what it is. And to read the tutorial of course.
24. Paracord Necklace
This one is quite unusual as well. The key is the way you thread the rope through the cylindrical coils. Find out how to make one at Court + Hudson.
25. Neon Cotter Pin Necklace
Take another trip to the hardware store for this one… painted cotter pins are the key material here. Get the tutorial here.