15 Homey DIY Fireplace Mantels
When we were young, the fireplace and its mantel were a central spot for many important goings on in our household. Family movie nights, homework time, and general bonding with our parents and siblings all took place in the living room around the fireplace, and the same goes on now that we have a home and kids of our own. That's why we've always dreamt of making a lovely fireplace mantel of our very own. After all, making something yourself always feels a touch more satisfying than just using what's already in place or buying something pre-made from a store. It'll come as no surprise to you, then, to learn that we've been spending quite a bit of our spare time looking up awesome DIY fireplace mantels and gathering ideas.
1. Simple fireplace makeover under $100
Are you actually working on a pretty strict budget and taking your mantel piece on as your first sizeable home renovation so you're looking for something pretty manageable and cost effective? In that case, we think you'll really appreciate the way Hometalk teaches you how to use fireplace pieces from stores such that they're custom to the style and layout you want in your space specifically, without surpassing a $100 price tag!
2. DIY fireplace wall mounted mantel shelf
Does your home actually have the kind of inset fireplace that sits flush into the wall without a mantel at all and you can't help feeling that adding a fully framed fireplace surround might not actually fit the space very well without interrupting the visuals? Them perhaps you'd do better to follow this tutorial from Her Tool Belt that creates a sort of floating mantel above the fireplace only by installing a wooden braced shelf!
3. Easy DIY wood mantel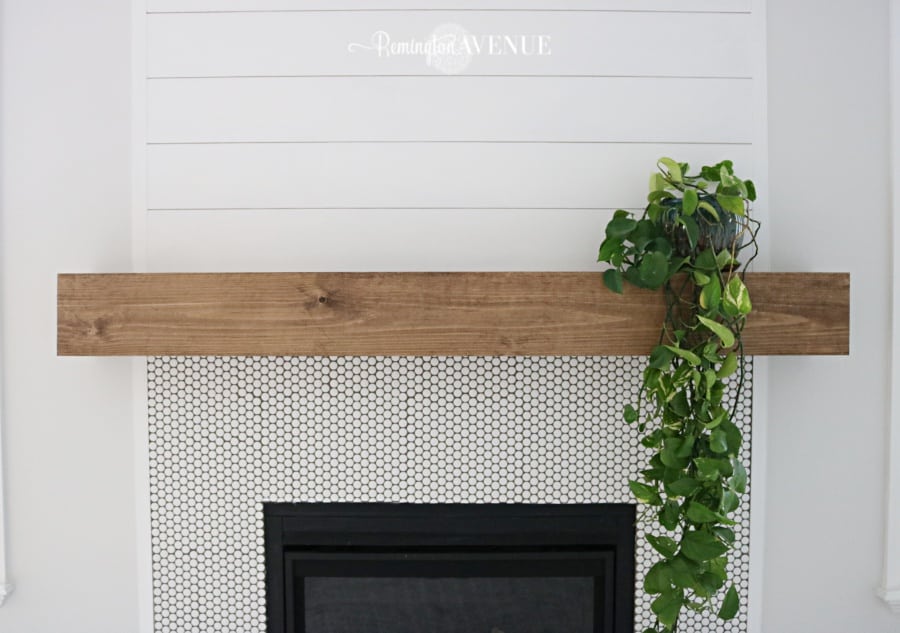 Just in case we really caught your attention with the concept of making a floating mantel from a type of shelf but the polished, braced piece that we showed you above doesn't suit your slightly more rustic aesthetic, here's another version of a similar idea for your consideration! Remington Avenue guides you step by step through the process of making a country chic looking floating mantel by installing a thick wooden shelf piece in just a few simple steps.
4. DIY mantel for a brick fireplace
Do you have the kind of old but stellar mid-century house that has a lovely brick fireplace but, although you love that original element, you can't help feeling like adding a slightly more modern looking piece to the mix might make the space feel a little more updated? Then we think you might get along rather well with the way The Idea Room built themselves this pristinely white new mantel and surround right there on the brick, breaking up the visuals and outlining their DIY process nice and clearly.
5. Faux fireplace and mantel surround
Perhaps the space you're living in doesn't actually have a fireplace at all but that's something you've always dreamed of having and, until you reach a point in your life where you finally have a home with a grand mantel and roaring fire, you're willing to fake it a little to get the look? In that case,  you just might be the perfect person to give this faux fireplace and mantel surround tutorial featured in detail on Rogue Engineer a try. We love the way they filled theirs with standing candles like an homage to the fire they'll sit by in the future!
6. Homemade basic rustic faux beam mantel
Just in case you adore the way the rustic wooden beam mantel we showed you earlier looked but you're just not sure it'll stay put as a singular floating piece on your otherwise very brick based design without braces like the first floating mental had, here's a great tutorial from Toolbox Divas that teaches you how to make something that falls right in between the two ideas, both aesthetically and structurally.
7. How to add a wood and stone fireplace surround
Perhaps your home has a lovely inset fireplace that could be quite grand looking with the right treatment but you can't help feeling you could use a bit of guidance in taking in there? In that case, we think you might really appreciate the way DIY Network outlines their process for making this wood and stone fireplace surround in awesomely clear detail!
8. DIY fireplace mantel and hearth table makeover
Have you actually got quite a stunning fireplace area in a central room of your home but, whether it's because your house is very old and the spot needs repair or simply because you have little kids, you don't currently use it to actually burn a fire? Then we'd definitely suggest taking a look at the way Fox Hollow Cottage turned their fireplace and its surround into a sort of decorative hearth table space that's perfect for putting flowers or trinkets on.
9. Simple mantel surround with double shelves
Maybe you're actually quite a handy DIY enthusiast who is used to doing your very own larger scale home renovations and you're looking to take on a fireplace makeover that's a little more challenging than most of what you've seen so far? In that vase, we'd definitely suggest taking a look at the way Dreambook Designs created this stunning fireplace surround and mantel that features a matching double set of shelves up the wall on either side. It's decorative and practical for increased storage! d
10. Chunky white mantel on a stone fireplace
We've already show you how to add a rustic element to an otherwise quite modern looking fireplace surround by creating a floating mantel out of a wooden beam, but what if your fireplace is already quite old fashioned looking and you've been hoping to use similar techniques to update it in some way? Then check out how Place of My Taste modernized a brick fireplace using a chunky white beam to make a floating mantel instead!
11. DIY rustic wood faux fireplace with a mantel
Did we actually really catch your attention when we started talking about creating faux fireplaces in rooms that don't already have the central piece you wish they did but your house calls for a slightly more rustic aesthetic than the store bought surround and standing candle design we showed you a little earlier on our list? In that case, we'd absolutely suggest taking a look at the way We Lived Happily Ever After made this wooden plank and branches piece step by step instead!
12. DIY statement faux mantel with brickwork and log ends
Just in case you're still hoping to find a faux fireplace that works for you aesthetically but the style of your space falls right smack in the middle between the very rustic version and the more modern looking pre-made project, here's another alternative for your consideration! We love the way Remodelaholic made this statement faux fireplace that features both brickwork and a cut section log effect.
13. Clean, simple, Shaker style mantel
Perhaps you actually live in a neighbourhood where many of the houses are older and more traditional looking but yours, which was recently renovated on the inside before you moved in, lost a bit of that old style charm in its updates? In that case, we think you'll be very pleased indeed to see how Checking in With Chelsea made this stunning, traditional looking shaker style mantel that actually sits right in the corner of the room. They even show you how to mount your TV higher up on the corner above it!
14. Simple, slim cottage inspired painted mantel
Perhaps your currently living space is actually a little smaller than a lot of the designs you've seen so far? Maybe you've just spent several years building a sort of cottage inspired aesthetic in your home so you're looking for a lovely DIY idea that will suit that well. In either case, we'd definitely suggest taking a look at the way The Shabby Chic Cottage made this lovely, slim fireplace surround and mantel and painted it in a colour corresponding to the rest of their room for a little extra charm.
15. Low hanging rustic mounted mantel shelf on a stone fireplace
Just in case the rustic wooden beam mantel is unequivocally the idea that has appealed to you the most but you need some better guidance that's a little more specific to helping you mount such a thing on a very hard stonework fireplace, here's an awesome tutorial from Shanty 2 Chic that will teach you how to do precisely that in surprisingly few simple steps!
Do you know another crafty homemaker or DIY enthusiast who has been feeling really intent on making their very own fireplace mantel lately but who could use a little bit of guidance along the way? Share this post with them so they have all kinds of different styles and tutorials to choose from!