18 DIY Coffee Stations To Make Your Mornings Brighter
A warm cup of coffee seems to be an always-invited notion in our lives. So, that means, we need a place in the house where we can conjure one up and enjoy it. Thankfully, there's a lot of inspiration and DIY idea out there to get us started. Check out these 18 DIY coffee stations that will make your mornings a heck of a lot brighter.
1. Ultra Modern
Carla Aston starts us off with an ultra modern set up. It's clean. It's functional. And there's no clutter involved. This works well for smaller kitchens and ones with a more contemporary vibe.
2. With Shelves
Open shelving really does help when it comes to coffee stations. Just look at this set-up. Everything is organized but in reach! We found this easy – farmhouse-inspired space – at Involvery.
3. Hidden Away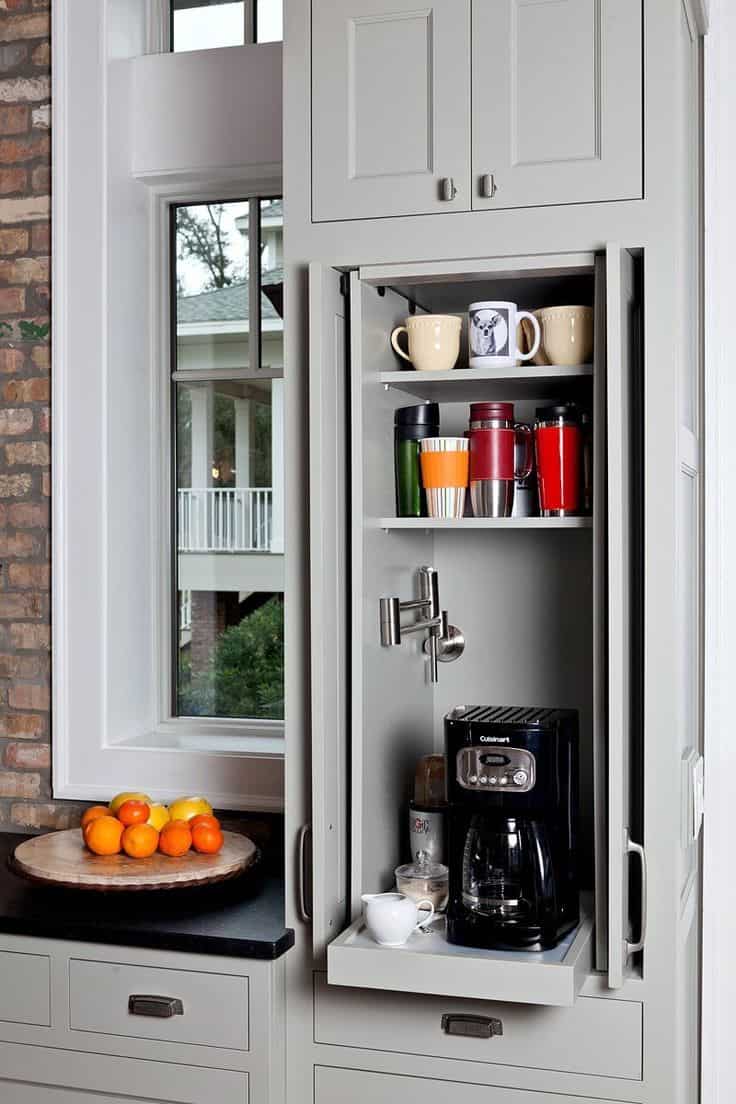 Other spaces may not have a corner carved out for a coffee break. Instead, you may have to hide it away. We found a great example of this idea at Decoist.
4. Chalkboard
The best way to highlight your at-home coffee station is with a chalkbaord wall at the backsplash. You can change the designs with the season and really personalize the set-up. Check it out at DECORILO.COM.
5. Posh Cottage
Your coffee station could have a feminine, posh appeal added to it. The Home I Create really embraced the glam and the cottage within this scene. The gold hardware, the fresh blooms, it all comes together in a way that feels a bit luxurious, don't you think?
6. Victorian Inspired
And over at Style Motivation, you'll see a Victorian set-up that's hard not to fall in love with. What's so great about it is that it utilizes some of the accents that predecessors did – the chalkboard backsplash and the open shelving.
7. Comfy Country
Pinterest has tons of great ideas when it comes to coffee station inspo (as well as everything else in the world) and that's where we found this cozy scene. It has a beautiful blend of farmhouse qualities that fit well with out countryy-loving hearts. And check out all that Rae Dunn!
8. Minimalism
We know that some people can't function without clutter-less fashion. Thankfully, Heather Bullard gives us a minimal space to be inspired by. Think white cups and saucers, stainless steel appliances and a place for all other essentials to go when they're not in use.
9. Copper + Wood
The DIY Mommy went with a unique copper and wood combination that we're really digging as well. If you're looking for a station that has more masculine energy this is definitely one that can help you with that. Mixing materials is always good for industrial homes as well.
10. Farmhouse Fresh
Here's another fun farmhouse finish! Noblewh went with rustic energy from top to bottom here. Metal mugs, canisters for keeping essentials within reach and mixed material furniture fixtures.
11. Open Hipster
Apartment Therapy always finds some of the best, most modern of selections. We love how this one fits that contemporary tone but also engages in a hipster vibe that's hard to ignore. Those glass mugs are absolutely swoon-worthy!
12. Flea Market
thehowtohome.com has a setup that reminds us of an eclectic scene built with some flea market finds. We love these kinds of designs because they're so personal. They also don't break the bank like some others may.
13. Family Sun
This coffee station is family-focused. And you can totally tell. It's organized but it doesn't have the smooth edges that other, more modern structures have, which makes it more approachable. Find out more at Unhappy Hipsters.
14. In-Office
Don't think that your coffee station much stay in the kitchen. In fact, having one in your home office seems to make more sense, don't you think? Check out this inspo by visiting My Life From Home.
15. Miniature
Over at At Home With Zan, you'll find a mini coffee station that ignites our hearts as well. it doesn't have to be big to be functional. And it's perfect for those that don't have as much space to work with.
16. Inside A Hutch
Old hutches can really come in handy. A fresh coat of pant, exposed shelves, and voila! You've got a new place to set up all your coffee needs. Visit the how-to behind this creation at Katie Crenshaw.
17. Nightstand
Really though, all you need is a nightstand to house your coffee needs. Just look at this upcycled project from My Repurposed Life! You don't need to be an experienced DIYer to pull it off.
18. Industrial Black Pipe
And finally, here's an industrial look from Homelovr that we're loving. Some piping and wooden palettes can create the foundation – then just build and organize from there!