Feathered and Feather Themed Crafts and DIY Projects
Whether we're talking about fashion, interior decor, or simply just things you'll find in nature, we adore feathers. We're especially big fans of them, however, because there are so many amazingly versatile crafts and DIY projects you can make using or including feathers and feather themed things! Each and every project looks natural, whimsical, and rather adorable and no matter which technique we're looking at, we just can't get enough.
Check out these 15 awesome feathered and feather themed projects that will satisfy your feather obsession 100% (and totally up your trendiness factor while you're at it)!
1. Feathered love arrows
Have you always been a fan of seasonal novelty crafts as long as they're made from or include your favourite things? Then you're he perfect person to make these completely adorable feathered love arrows from Design Sponge! They're a great decor detail for Valentine's Day but we actually love them so much that sometimes we just make them and hang or place them around our bedroom in decorative places just because we like them.
2. Beautiful painted feathers
Hand painting things is always a hugely detailed skill but we're even more impressed by it when it's done on an unconventional surface rather than just a flat canvas, paper, or wall. That's why we fell so in love with these pretty little painted feathers featured on Free People! No matter what you turn them into later (they'd make lovely jewelry pieces, hanging decor, or gift wrap embellishments), you'll be as satisfied as ever when you see how gorgeous your own hand painting skills look on a simple set of feathers.
3. Feathered boutonnieres
Prom and graduation season is coming so there are plenty of great tutorials out there right now for pretty floral corsages and boutonnieres, but what if flowers aren't really what suits the aesthetic of your and your date's ensemble? Try wearing something a little by different by making your date a beautiful DIY feathered boutonniere instead! Find out how it's done on A Beautiful Mess.
4. Painted canvas feather necklaces
As a crafting and DIY enthusiast, you'll already be more than familiar with the idea of painting on canvas stretched over a frame, but did you know that's not the only format you can use canvas in? We love the way Alisa Burke painted stunning, detailed little feathers onto stretched canvas, cut them out, and turned them into soft necklace pendants. This lets you wear and enjoy feathers but also put your own twist on them and add whatever colour scheme you love best.
5. DIY fabric feathers
Did you like the idea of creating soft alternative feathers but you're not quite so confident in your detailed painting skills as you feel like the canvas ones call for? Then try making them out of fabric instead! Rather than adding all of the little details with paint and a brush, try cutting the texture into the edges with small scissors just like Hazlo T Mizmo did here.
6. Feathered chandelier
If you've ever seen a chandelier full of gems, diamonds, crystals, or even plastic rhinestones, then you already know how stunning it looks to have whimsical, pretty things hanging down around a pendant light to really add some personality to your space. What if you have a more natural taste in décor, though, and very sparkly pieces aren't really your thing? Then we think you might prefer this feathered chandelier instead. The Sweetest Occasion shows you how to make it using feathers of your choice and coloured embroidery floss.
7. String art feather plaque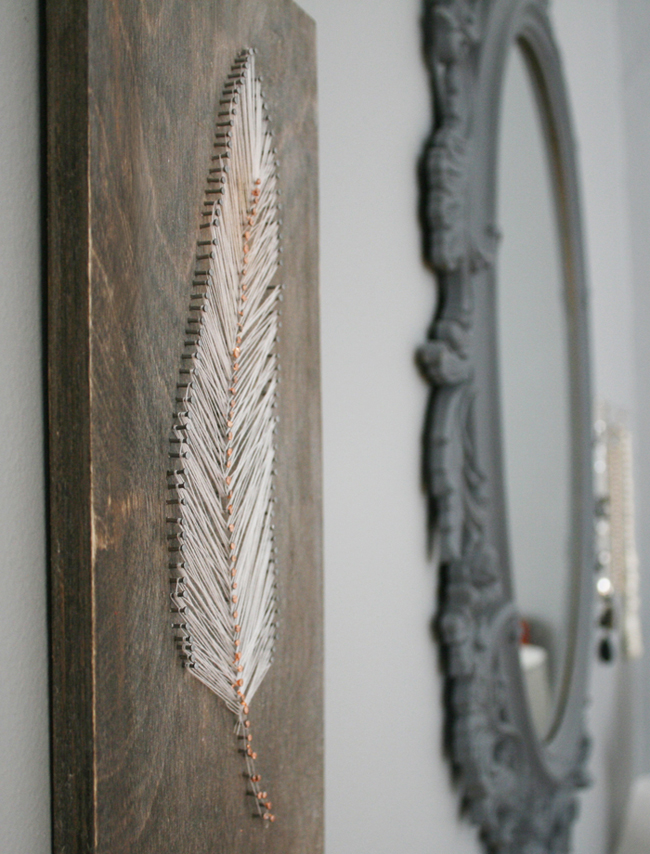 If you're an artist of crafting enthusiast, then you've probably already tried string art before. That's perfect, because it means you're already had some practice and you're ready to try something with a bit more detail to it to create texture! We love the way DIY Crafts Love outlines, in just a few simple steps, how to carefully place small nails and wind them with delicate embroidery floss to cultivate the illusion of a feather on a block of wood. The final product is a unique combination of fine and rustic.
8. Feathered lampshade
When you think of feathered décor, do you think of something a little more dramatic and vintage looking? The whole natural, rustic aesthetic isn't the only look you can aim for when you're creating pieces with feathers. We love the way The Feather Girl used stylish feather trim to create a stunning lampshade that has a slightly vintage flapper inspired look to it. It'll help your lamp give the room a subtle, seductive glow rather than an overwhelming stream of light.
9. DIY feathered hair extensions
Do you remember about five years ago when hair feathers were all the rage and everyone walked around with stunning, delicate pops of colour peeking out from between their locks? Well, guess what's trending again? Instead of paying money for a very quick appointment at the salon, however, try learning how to carefully place a homemade hair feather yourself. Elisa McLaughlin teaches you how to put the feathers in at home without hurting your hair or having it fall out by the time you've walked out the door to show it off.
10. DIY feathered nursery mobile
If we're being honest, there are so many amazing handmade and DIY nursery mobiles that we could write (and have written) a whole post about just those! In the meantime, check out this adorable feathered mobile featured on All Women's Talk. We love the way the branches contrast with the coloured embroidery floss wrapping. You could make yours quite natural like this one or you could use brighter floss and coloured feathers to make a less rustic version that will really pop!
11. Wire and embroidery floss feathers
Maybe you're allergic to real feathers, find synthetic ones tickly, or just prefer to make things from actual scratch yourself, but you still adore the look, shape, and texture of them? Then try making these embroidery wrapped wire feathers instead! This tutorial from Infarrantly Creative shows you how to make them as realistic as possible, right down to the soft edges and tip, but using whatever colour of floss you choose.
12. Gold painted clay feathers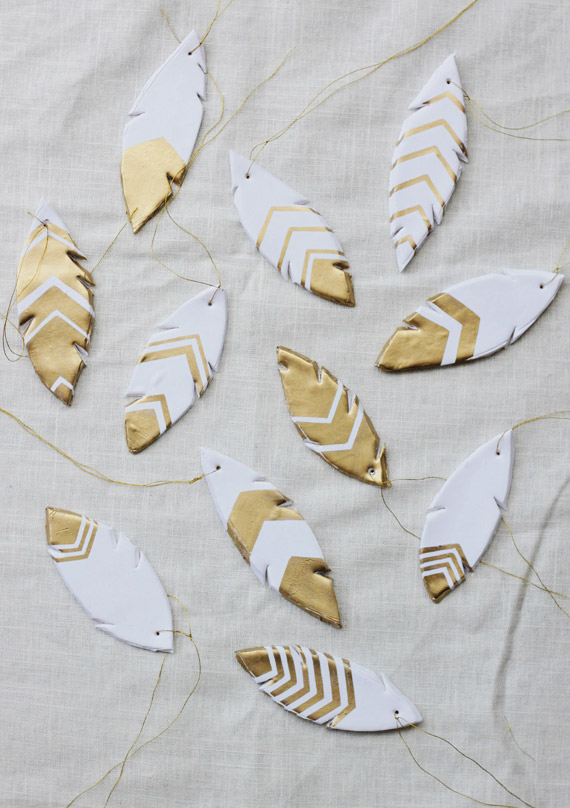 Are you throwing a party of hosting an event where you think feathers would make the perfect hanging décor but you'd like them to have a little more substance than actual feathers or fabric mocks would have, so they don't sway quite so much? Then try making heavier feather shaped ornaments out of clay instead! The best part of these ones by 100 Layer Cake is that, once they're shaped and dried, you can use paint and your own creative skills to give them cute little details. Create cohesive patterns or make each one look a little bit different!
13. DIY paper plate feather garland
We've talked about simple feather décor made from just about everything by this point, but here's yet another alternative that will add some pretty personality to any tablescape or party décor scheme and it's one that 's easy to make and totally affordable. A Fabulous Fete suggests making a strung bunting of little hanging feathers by cutting the shapes out of paper plates. We love the way the texture looks having been cut into the side of each "feather"!
14. DIY prairie feather necklace
Are you still caught on the idea of both fabric feathers and feather themed jewelry, scrolling through the list in hopes that a combination of the two will appear? Well, your patience shall be rewarded, because here's the perfect tutorial for you! Rebekah Gough walks you through the process of creating little patterned feather silhouettes fastened horizontally to two lengths of delicate chain to create a stunning DIY necklace that people will hardly believe you made yourself.
15. Glitter dipped feathers
Perhaps you're still intrigued by the simple idea of hanging feathers as party or room décor, but you're also still looking for a unique customization idea that will really catch people's attention? Well, if subtle glitz and glam are your idea of the perfect craft then we definitely think you should check out this glitter dipped feather concept by Bridal Musings. Their simple guide shoes you how to dip just the tips of your feathers into coordinating paint and litter before you hang them up for a whimsical effect. We love the way their dark feathers with gold dipping look, but we think the idea would be cool on white or light coloured feathers with other colours of contrasting paint and glitter too!
Do you know someone who adores feathers just as much as we do, if not more? Then share this post with them for a little bit of crafting, DIY, and décor inspiration!