Best Construction Knee Pads in 2023 (Reviews + Buying Guide)
Knee pads might sound like something your mom made you wear when you went rollerblading as a kid (which, as modern-day parents, we'd still recommend, by the way), but did you know that they actually have all kinds of other practical uses?
Any person with a very physical job or a hobby that requires a lot of crouching down close to the ground on one's knees can attest to the fact that it can get hard on your skin and bones pretty quickly if you always have to kneel down, especially on hard surfaces.
That's part of the reason we decided to start gathering links to the best construction knee pads we could find for sale online, comparing and contrasting their features and flaws in order to make the process of finding the best ones for different needs and situations a little easier and less time-consuming.
Editor's Choice
Ideal for Construction
resistant material
What are the best knee pads for construction?
Based on our testing, we have found these to be the best construction knee pads on the market:
These knee pads fromNoCry are the perfect blend of heavy-duty construction design and versatility due to comfort. Their tough plastic faces are enough to face concrete floors and gravel, while their neoprene straps and inner gel lining cushion your skin and bones from impact with any surface or support them for extra comfort through prolonged kneeling. They're also shocking affordable given their durability.
These knee pads do, however, also come with a brand disclaimer that a design flaw insome designs occasionally causes the attachment brackets to pop off. They are easily reattached, so that might be fine for you if you're doing something low risk, but you might wish to re-evaluate the choice if you're working on a construction site where wearing knee pads at all times is mandatory.
View price on Amazon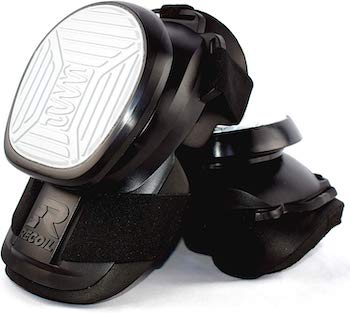 If you're doing something high impact or prolonged that might wear your knees down, but you're indoors where you don't want to mark up brand new floors in any way, this workplace knee pads pack fromReCoil might be a little more suited to your needs. These knee pads feature a rubberized anti-marking, anti-slip covering on their impact point to stop you from sliding across and marking up things like wood floors. Behind this pad sits a six-coil spring technology that cushions and moves with your knee, which comes up against a comfortable inner foam backing.
These knee pads are undoubtedly effective at reducing impact and are therefore a great choice if your knees are more fragile, but be sure to think about whether their protruding design is suitable for your task or whether that slightly bulky design might hinder you.
View price on Amazon
If you're a person that experiences a lot of outer paint when you kneel, then you might actually get along better with a gel knee pad design rather than a foam one, just like this one from Klein Tools. This gel is the central of five impact-absorbing layers within the contact point on the kneepad, and it does a better job of molding to your particular knee shape. The straps on these pads are also quick and easy to detached and reattach. The outer surface is important, too; it uses a durable rubberized fabric to provide a non-slip effect.
Now, the price of these particular knee pads makes sense in terms of the comfort and protection they offer, but be aware that they're a bit more of an investment, selling for double the price of the first design we showed you.
View price on Amazon
If you've tried knee pads made of thick foam and bulky layers of plastic and neoprene before and found them too much of a hindrance to your movement, you might get along better with a more simplified design like that of these leather knee pads from Troxell USA. These pads are still a source of comfort thanks to their soft inner foam and fabric lining, but they're easier to move in because they're smaller, and the leather that provides all the protection on the outside also gives you a little more flexibility.
Bear in mind that because these knee pads are a little smaller than many of the other designs you've seen, they also don't providequite as much coverage. They'll also naturally withstand extremely rough terrain a little less flawlessly than some other hardier materials.
View price on Amazon
In contrast to the design above, these knee pads fromKP Industries actually provide awider surface area of protection, and by wider, we really mean longer, as they cover more vertical space up and down your leg beyond just your knee. These pads are made of a special thin foam that's designed to be absorbent but light, with non-slip straps that keep the past in place but without pulling uncomfortably tight on your muscles or cutting off circulation. The pads also feature an easy-moving hinge that's intended to keep protection up but without hindering how your knees bend.
The main caution here is actually that seam and hinge itself, despite its intention to be helpful. In most cases, it won't be an issue, but if you're required to wear full coverage knee pads at work, the small space between the two pieces where the pad bends might prove slightly problematic.
View price on Amazon
The overall theme of these next pads fromThunderbolt is absolutely "non-slip," even though they also offer innumerable other benefits. Not only are the flexible straps that keep the pads on your legs non-slip so that they don't slide down below your knees, but the rubberized fronting on the protective plastic shell, where your knees hit the ground, is also non-slip so that your needs don't slide around while you're kneeling down. These affordable knee pads also feature a double-layered inner gel that's typical of many designs twice their price.
Be aware that the thick strap piece right above the pad on this model sits above your knee when they're strapped on, meaning your knee bends with it; this is something that people with weak knees might find even more challenging on their joints even if the contact point of the pad provides impact relief.
View price on Amazon
If you're actually looking specifically for a kind of knee pad that provides more coverage, extending up and down your leg a little more to provide protection and support beyond just your knee, thenToughbuilt has just the design for you. These impact-absorbing pads provide non-slip capabilities and layered gel comfort to make them better for long wear, but they also feature upper leg braces that keep the knee from twisting within the pad. These brackets also provide additional thigh support when you're getting up and down with the braces on and lifting things.
Although they're designed with comfort and support in mind, these pads might also feel like overkill if what you're doing is lower impact than a lengthy day on a construction height. Despite their hinged brackets that are designed to avoid hindering your movement, they take some adjusting and getting used to.
View price on Amazon
If you're still looking for a very light, full coverage knee pad that's not quite as bulky and a little more "general use" than some of the things you've seen, here's another foam hinged design for your consideration this time from Sellstrom. These pads are similar to the tan colored hinged foam kind you saw before, but with a thicker bolstering impact point on the front and larger, slightly more durable clasps at the ends of the straps.
As we said with the other hinged designs, the hinge that's designed for your convenience might also be your curse if youneed full coverage and can't spare the little space it might reveal when your knee bends, like if you're working on gravel.
View price on Amazon
If you're still in the market for something heavy-duty, but you're also intent on finding the softest version of a construction pad that you can because you've never really liked the constricting feeling of wearing knee pads in the first place, then Closemate might have a design closer to your vision. These pads feature not only an inner layer of comfortable, impact-absorbing gel that molds custom to the shape of your knee but also a thick, damage-resistant gel on the outside where your knee hits the ground, rather than being made of hard plastic. This provides extra absorption and comfort, a little bit of flexibility, and also a non-stick quality where the pads meet the floor.
These pads offer quite a number of impressive benefits for their price but do be aware that, because they really only sit on the face of your knee, the top of your knee is left quite exposed when your leg is bent, making them a decent choice for some construction sites but not necessarily the ideal choice for all high-risk sites.
View price on Amazon
If flexibility, movement, and comfort are your highest priority in a set of knee pads, even over durability and heavy-duty protection, then we think you'll do best with these pads from JSYW. Thanks to a rubberized fabric, the fronts of these knee pads are non-slip, giving you a solid point of contact. The gel inside the front pad's cushions where your knee hits on the inside while the neoprene wrapping straps keep the pad well situated and in place without sliding or shifting. Because there's no hard plastic involved, you're afforded a little more flexibility in stretching and bending your knee and moving your leg.
Given the softer nature of these pads, they once again might not be the best option for either high-risk construction sites or prolonged and repeated work on very hard concrete floors and other rough surfaces. They're a better choice for gardening, cleaning, and slightly lower impact activities.
View price on Amazon
Knee pads buying guide
What are knee pads useful for?
If it's a job or activity that involves the possibility of impact to or time spent on your knees, then you'll find knee pads useful for it! This ranges from construction to sports to gardening. Your knees are a rather important part of your body, and they get a lot of wear and tear, so they require care whenever possible. If you're in need of either a little extra support in bending and lifting or a little extra cushion when kneeling on hard surfaces, then knee pads might be a good idea for you.
Who should use knee pads?
If we're honest, essentially everyone could benefit from using knee pads if they're spending any length of time crouching down on their knees for long periods of time. Even if your knee joints themselves are n good working order, you're still likely to bruise if you're kneeling on something hard, and knee pads can reduce that. They can also reduce the impact on your joints, making you less sore later when you're finished with whatever you're doing.
What are knee pads made of?
Like most things, there are all kinds of knee pads intended for all different things. You might find soft foam and elastic knee pads meant for casual use and hobbies like gardening or playing the occasional game of road hockey. You might also come across heavy-duty knee pads that are made from durable materials, reinforced with outer plastic shells, and lined with padding and straps to provide support to your entire legs as you bend and straighten. It just depends on your needs, your budget, and the kind you seek out.
How long do knee pads last?
As with anything, knee pads will naturally last longer if you take care of them, clean them when necessary, and store them well. Most knee pads are made from rather durable materials, letting them last for several years at a time with normal wear and tear. Of course, knee pads made from simple foam probably won't withstand as much hard use as knee pads with encased foam linings and hard-coated plastic outer casings, so it's always a matter of evaluating how you're using them, as well as how often.
Should you wear your knee pads all the time?
Listen to your body! Your knees will tell you whether or not the pads are helping and how often you need them. Of course, there are certain times, like during sports games or on construction sites, where knee pads will be deemed mandatory, but if you're just at home gardening and your doctor hasn't made them an absolute requirement, pay attention to how your knees feel when you're using your knee pads and when you're not, and do whatever helps you feel the most comfortable and pain-free.
Conclusion
Do you know someone who has been thinking about investing in a pair of knee pads for something physical that they do, but they're having trouble choosing which are the best for them?
Share this post with them, so they have all kinds of options to choose from.