14 Cake Decorating Tools Just In Time For the Holidays
The winter season always calls for a bit more time in the kitchen. Whipping up fresh-baked goodies is one thing, but decorating them can be an entirely different feat. Thankfully, with these 14 cake decorating tools, you'll be ready just in time for the holidays.
Decorating cakes is something that needs practice, so you may mess up once or twice before you get it right, and that's perfectly ok. The best part is that you at least have the right tools for the job if you pick something from our line-up.
Editor's Choice
Versatile Pick
Starter Pick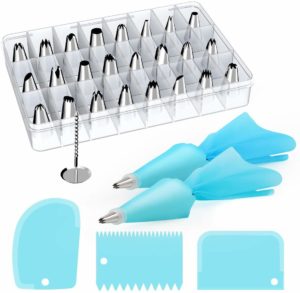 Best Cake Decorating Tools
We've selected 14 decorating tools you can buy this year so you can perfect your skill. Plus, think about how much cake you'll be eating as you practice! Yummy! Let's get going!
The H3 Innovations 118-piece Cake Decorating Kit has tons of pieces to pick and choose from when creating gorgeous baked goods for friends and family. You get all the tools for making intricate designs and a turntable, making those intricate designs even easier.
What you get: 1pc Rotating Cake Stand non-slip base | 48pc Small Stainless Steel Piping Tips | 5pc Large Piping Tips | 1pc Piping Tip Guide | 10pc Silicone Piping Bag Ties | 1pc Large Piping Bag Coupler | 2pc Small Piping Bag Couplers | 1pc Decorating Pen | 2pc Icing Spatulas | 1pc Cake Leveler | 3pc Cake Side Scrapers | 1pc Flower Lifter Scissors | 2pc Flower Nails | 2pc Silicone Piping Bags(12in & 16in) | 25pc Disposable Piping Bags | 12pc Silicone Cupcake Molds.
The Kootek Cake Decorating Kit is a bit smaller than its predecessor but still has a lot of great options for decorating and creating delicious and beautiful treats. The price is insanely reasonable, and you get 52 pieces to help in your journey, including: 1 Cake Turntable, 36 Cake Tips, 3 Icing Smoother, 2 Silicone Reusable Bags, 1 Silicone Spatulas, 1 Cake Server, 1 Icing Spatula, 2 Couplers, 2 Flower Nail, 1 Flower Lifter, 1 Decorating Pen and 1 Brush.
The revolving cake turntable helps to turn your goods smoothly so you can work without any hassle. And the rest of the tools are strong, durable, stainless steel, corrosion-resistant, reusable, non-stick, tasteless, and dishwasher safe.
The Kootek 32-Piece Cake Decorating Kit is an even smaller set but still has the essentials you need to create fun designs. You don't get a turntable with this one, but if you already have one, you don't need to pay more for another anyway!
If you're looking for a kit that's all about the tips, this is the one. Included: 24 stainless steel tips (closed star, open star, French, round, plain, leaf, and petal) and 2 reusable plastic couplers.
The Kootek Cake Decorating Kit with Turntable includes 12 cake decorating tips, a coupler, pastry bags, 2 silicone piping bags, a flexible icing spatula, and various icing smoothers. Of course, the revolving cake turntable is within this kit as well.
With this purchase, you won't be breaking the bank, and it's a wonderful, inclusive gift option as well. There are so many different patterns and designs you can create!
If you're in the market for an even bigger set, check out the KOSBON 282-Piece Cake Decorating Set. For those wanting to practice and decorate like a pro, you need the tools of a pro. And this set includes them!
What's inside? There's a turntable, leakproof round Cake pans, egg beaters, muffin cup molds, paper cupcakes, carved pens, numbered icing tips, disposable bags, flags, Russian tips, egg tart molds, scrapper sets, silicone bags, Russian tri-couplers, cream scraper, straight & angled spatula, cake server, cake knife, cake smoother, cake board, decorating pen, flower nail & lifter, cleaning brush, pattern chart.
This is a great option as well! The Taiker 243-Piece Cake Decorating Kithas a lot of goodies to use and play with as well. Some items included: springform cake pans, heart-shaped pan, 48 icing tips, Russian tips, pattern chart, revolving cake turntable, carved pen, flower nail, and a decorating pen.
All of these pieces meet US food-grade standards and are made of FDA certified stainless steel. They're sturdy, they're reusable and completely safe for the family.
Another simple set with all the ingredients for making a beautiful baked good. The RFAQK 64-Piece Cake Decorating Kit includes an 11-inch turntable, 23 numbered icing tips, 11-inch straight & angled icing spatula, cake leveler, pattern chart, e-book user guide, comb scraper, 2 couplers, 30 icing bags, and a cleaning brush.
What's great about the addition of the e-book is the extra tips and tricks that you'll be able to learn. And there are a few cake recipes included as well!
Check out the Ohuhu Aluminum Revolving Cake Stand if you want to upgrade some of your tools. With the revolving turntable, you'll also get smoothers and an icing spatula. Each piece is FDA-approved and super easy to clean.
The platform is non-slip and will hold cakes up to 11-inches. This is one of the best gift ideas on the list – especially for those that already have some decorating skills.
And then we have a perfect beginner's set that can be a great gift idea or quick buy for someone wanting to test skills. The All-in-One Cake Decorating Kit comes with six essential pieces: a turntable, 3 scrapers, decorating and angled spatula, and easy-to-follow detailed user instructions.
Made with 100% food-grade stainless steel and you'll receive a link to a how-to video after your purchase!
The MERRI 171-Piece Cake Decorating Kit may just strike your fancy. The set includes all the tools bakers use to create wonderful-looking treats for holidays, celebrations, or just everyday fun!
The kit includes 171 pieces of BPA-free plastic tools and stainless steel accessories – which are 100% dishwasher safe. Within the set, you'll get tips, spatulas, and even an L-shaped cake polisher for easy frosting and smoothening of your cakes.
You'll find the essentials within the RFAQK 174-Piece Cake Decorating Kit as well. And it's wonderfully comprehensive for those that are just starting out and need a bit of everything to practice their skills.
Included in this set is: an 11-inch turntable, cake leveler, 11-inch straight & angled spatula, cake server, cake knife, reusable cake board, icing tips, Russian tips, pattern chart, couplers, a pastry bag, icing bags, fondant smoother, cake scrapers, decorating pen, flower nail & lifter, cleaning brush, and an e-book user guide!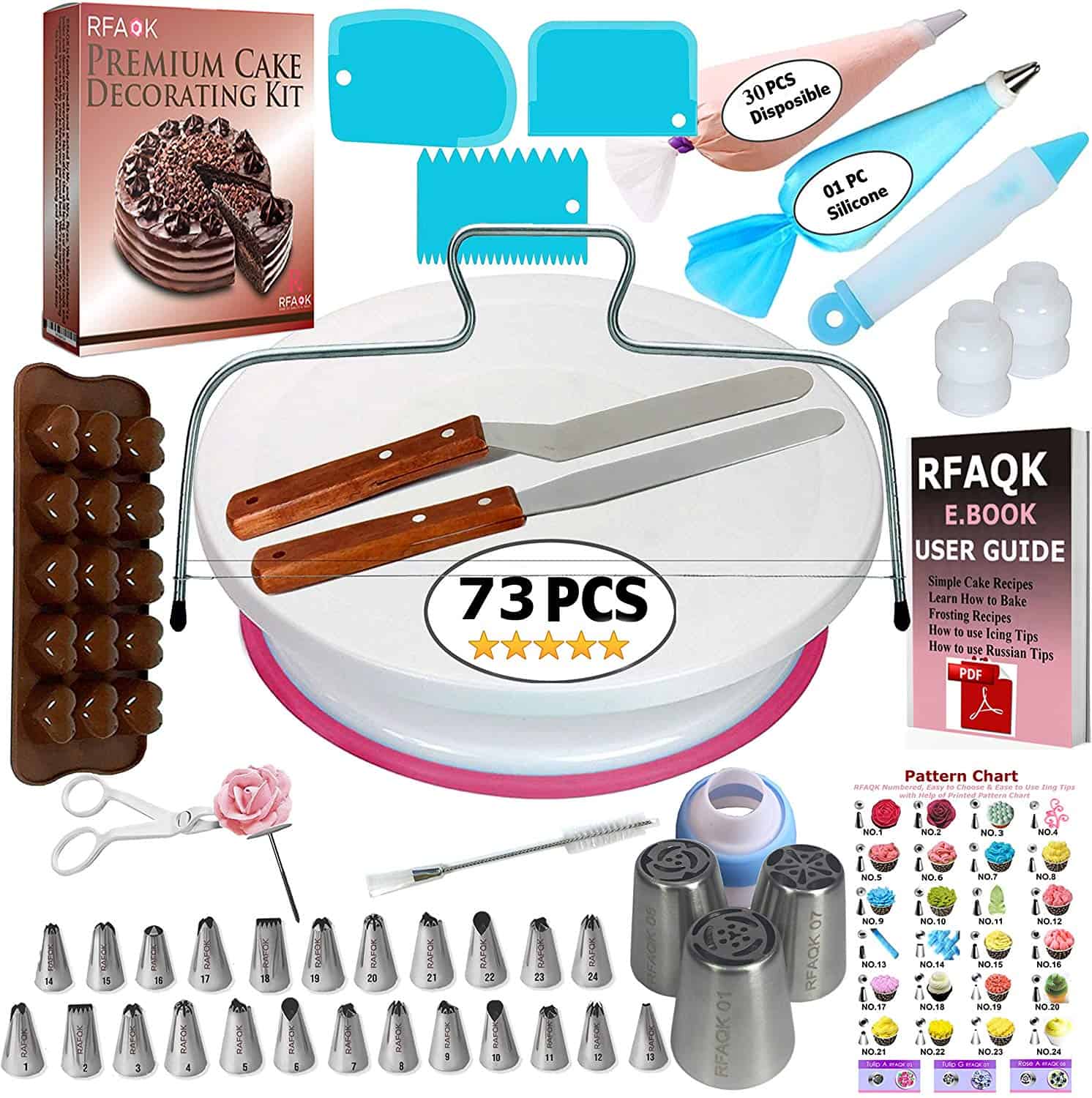 This purchase is a bit smaller but still includes what you need to make pretty and delicious things happen in the kitchen. The RFAQK 73-Piece Decorating Kit (for beginners)can be bought for just around $16 and worth every penny!
The turntable, leveler, the tips, all the essentials are here and ready for beginners to start practicing their newfound skills. And there's an e-book guide here, too, for helpful tips and tricks.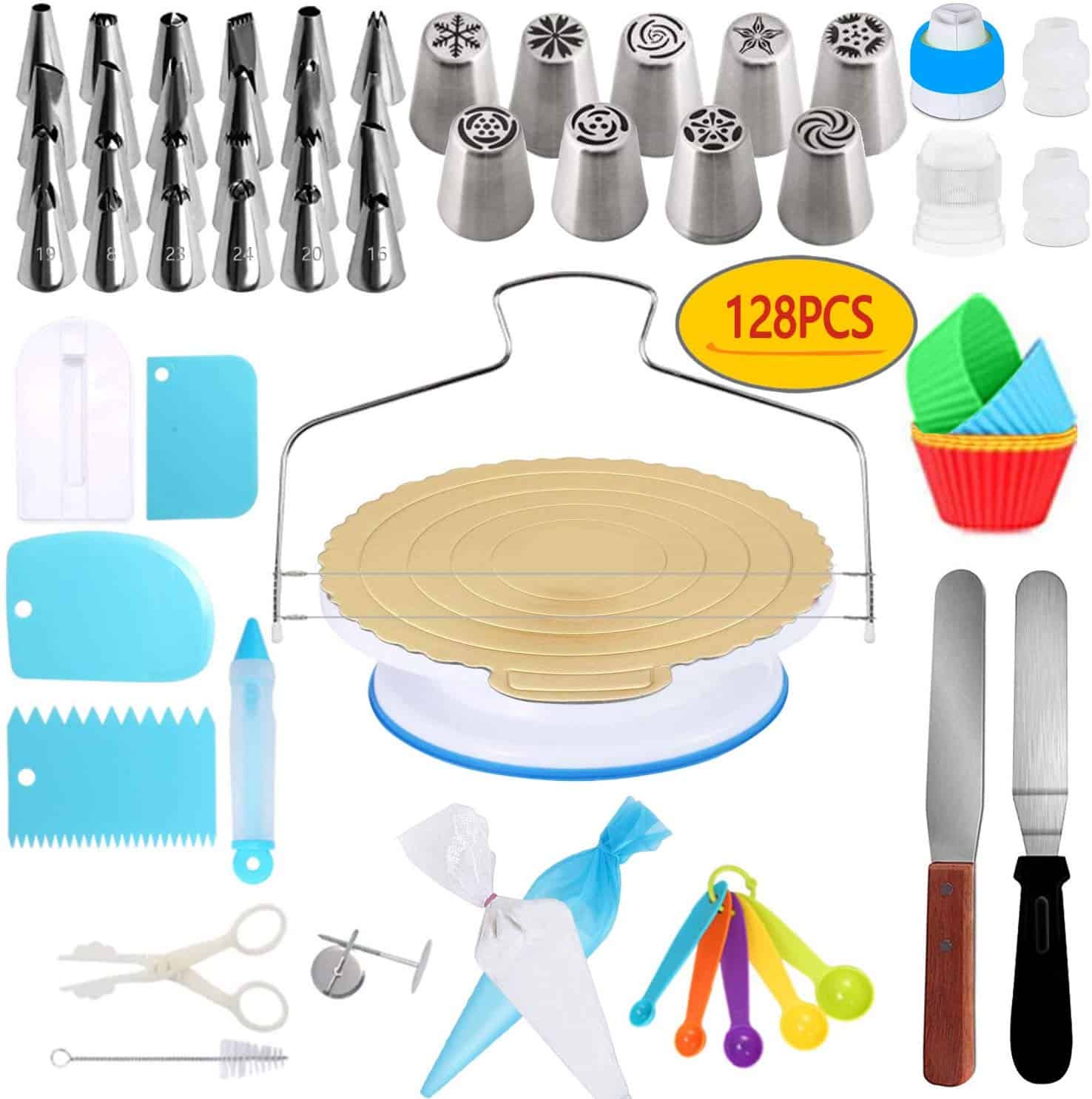 There's a Nisam 128-Piece Cake Decorating Kitthat looks like a great option as well. There are icing tips, Russian tips, a cake leveler, turntable, measuring spoons, and more! And every piece will help you to get the job done well.
Again, these sets are great options for gifting but also buying yourself as a push in the right direction (in the kitchen). There's a 30-day warranty here too.
The Kootek 42-Piece Cake Decorating Kit comes with 36 stainless steel icing tips, 2 reusable silicone pastry bags, 2 reusable plastic couplers, 2 flower nails, with which you can create all types of patterns on cake or cupcakes. And the price point stays around $7 – a perfect gift idea!
This is a great way to spruce up a baker's already-made collection or replace older pieces. And the tools are made with premium quality material – so no worries in terms of strength or durability.
Now go on, snag one of these sets and start whipping up some beautiful and delicious treats for the entire family to try. Not one of these kits will break the band either!