The 9 Best Electric Weed Eaters Ideal for Smaller Yard-work Projects
The weather might be feeling cold right now, but we can assure you that spring will be upon us sooner than you think! That's why we're already looking at electric weed eaters and thinking about investing in a new one. Price is, of course, always a pretty big consideration, but we like to carefully analyze all of the features available to us in the different options as well, just to make sure we really settled on the design that has precisely what we need.
Being the avid researchers we are, we thought there might be other yard work and DIY enthusiasts out there looking for a bit of help and guidance as well! Check out these makes and models that we investigated and considered. Perhaps you'll find what you're looking for, just like we did!
If you ask us, having a diverse tool that will do more than one job for you right then and there will always be a plus. That's why this particular mode from Worx caught our eye so well! Besides the bonus feature of being cordless so that you're not tethered to the electrical outlet on the side of the house and dragging a cord around the yard, this weed eater also has trimming and edging capabilities that will help you shape and cultivate the look of your lawn across every inch!
Perhaps the smallest but most impressive feature within those extra capabilities is that the trimming and edging string blades have a special guard on them. This ensures that you get the neatness and shape you're looking for, but without losing control of the fast spin and damaging other plants or putting chips in your lawn ornaments.
View price on Amazon
Although this next model from Greenworks is a little more on the expensive side compared to the previous weed eater we showed you, it's got the added features to justify it! One of the biggest selling points on this piece is its increased battery size; and by that, we mean its power and the length of time it will last for, not just its physical size.
Besides the battery, this model also brings the draw of adjustable speed. This means that you can run the cutters faster if you're in the middle of the lawn where you're just working with simple grass, but turn them down slower if you're working near other plants or around the edges and would like to be a little more careful.
View price on Amazon
Have you actually been hoping to find a weed eater that's a little lighter and easier to maneuver? Then we have a feeling you might get along a little better with something like this sleek design from Ryobi! Price-wise, this model is quite a bit cheaper than the previous design, but that's because it does have less to offer in the end.
On the plus side, this design is cordless, great for precision near gardens and edges, and is compatible with many types of charging cord so long as the voltage is right. Although the speed is not adjustable, it is standard for this kind of tool.
View price on Amazon
Have you actually always found the longer, straighter types of lawn machines a little harder to use because they get heavy and don't work with your height? Then we have a feeling you might prefer this curved handle design from Black & Decker instead!
This product comes at an unusually affordable price and the reason for that is its pre-owned, renewed status. Although it has been used before, it has also been checked over by professionals and seller standard setters and has, in fact, been deemed of new and fully working quality, so it's still a steal!
View price on Amazon
Are you actually in the market for a weed eater or edger and an actual lawn mower, since yours broke? Well, have you considered getting yourself a combination tool rather than purchasing them separately and having to swap machines? This model from Black & Decker is precisely the kind of thing we mean!
Now, this might not look like the easiest thing to use for trimming and edges on first glance, but the handle and a smaller trimming blade head actually detaches from the base. At the same time, an adjustable arm and a swivel action keep it from being clumsy in either form.
View price on Amazon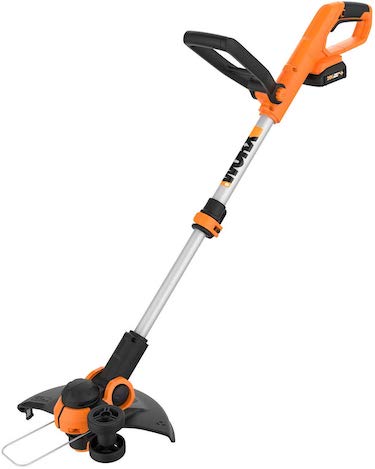 Do you often find yourself using both hands to support your weed eater while you're working, but the second hand gets tired of simply gripping the pole beneath the handle, since most designs only have one? Then we'd definitely suggest taking a look at how this particular design from Worx gives you the option to fold down a secondary handle for extra support!
That's not the only great feature this piece offers. It also has an adjustable pole below the handle for comfort and two wheels at the back instead of one for smoother driving across the ground while you aim and work. Additionally, the battery in this machine will work across most other Worx tools, which is great if you've got more than one machine from this brand already.
View price on Amazon
In addition to having the same kind of second handle as we described above, this next model from Greenworks also has a custom designed cushioned handle that's supposed to make turned and positioning the machine easier around corners and along curves. This design is also very usefully adjustable in terms of its cord.
While it is a cordless, battery powered machine, you also have the option of plugging it in and locking the cord in place if you need to use it once the battery has run out and before it has recharged. This way, you don't have to wait but the cord won't come unplugged while you're working.
View price on Amazon
Did you feel almost convinced by the idea of having a 3-in-1 machine on hand, but there's actually nothing really wrong with your old lawn mower and, if you're being really honest with yourself, it's not actually necessary? Then maybe a 2-in-1 edger and trimmer combination is really all you need! That's precisely what this design from Remington has to offer.
The handle and shaft of this design are pretty cutting edge as well (no pun intended). Besides having a good pivot action and being adjustable, the entire pole between the cutter and the handle also collapses and folds inward, making for very easy storage.
View price on Amazon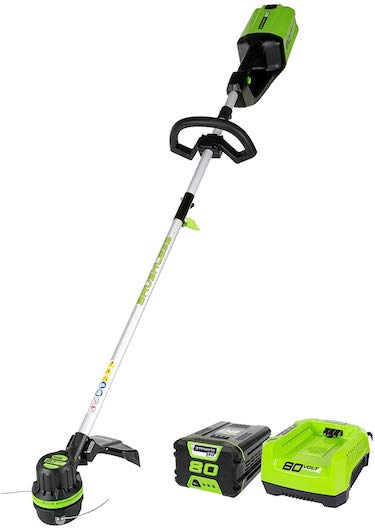 Are you actually still thinking a lot about the second model we showed you, but your yard is very large indeed and you can't help wishing there was a version that was slightly better equipped to handle more coverage, since that weed eater does have everything you're looking for otherwise? In that case, we're pretty sure this alternative model also from Greenworks is just what you're looking for!
Besides having a larger capacity battery that will automatically give you more time to work with, the trim action strings on this mower are slightly longer and more durable, giving it a wider reach through thicker, tougher plants. At the same time, they're not so long that they diminish your control over your work.
View price on Amazon
Conclusion
Do you know another fellow home enthusiast, DIY lover, and handy person who has been considering buying a new weed eater lately too but who also feels like they could use some guidance? Share this post with them so they have all kinds of information to consider and designs to choose from!