The 7 Best Vinyl Sticker and Decal Maker Machines in 2023
A premium cutting machine improves the quality of your vinyl stickers and decals, whether you're practicing a craft or a true artisan who owns their own business. However, it can be challenging to purchase a specific machine since there are so many options in this industry.
Some people would immediately go for the most expensive vinyl sticker and decal maker out there, but that doesn't necessarily mean it's worth the money if you plan to use it for limited tasks. Others prefer a budget-friendly solution without taking into account the long-term impact that a knockoff has on the results.
That's why it's important to carefully review all advantages or disadvantages of a vinyl sticker creator and decal maker. We can imagine how little time you have on your hands to sustain a small crafting business as well as thoroughly research multiple cutting machines, so we're here to help.
Editor's Choice
Premium Pick
Budget Pick
What To Look For In A Vinyl Sticker And Decal Maker Machine?
Here are the features we have taken into account when pursuing the best vinyl sticker and decal makers:
Speed and power. If you have numerous customers waiting for their orders to be fulfilled, then you're interested in a superior machine that has plenty of power and cuts through fabric quickly.
Easy to use. It doesn't matter if the cutting machine is equipped with the latest and greatest features since you have no idea how to use them. So, you should get intuitive step-by-step guides to learn how to easily assemble and use the machine.
Durability. Most artisans prefer investing in quality products that won't break down after just a couple of uses. This means that the cutting machine should be made from grade-one materials.
Great for commercial purposes. Although there are plenty of people who create vinyl stickers and decals for fun, most do this for a living out of the comfort of their homes. The highest level of performance is required to sustain a profitable crafting business.
Accuracy. In most cases, you have to learn the kinks of a machine and know how to calibrate and recalibrate it in order to accurately cut fabric without losing materials, time, and money. However, the very best vinyl sticker and decal makers can automatically adjust settings to make Swiss-level precision cuts.
Noise levels. You don't want to wake up your neighbors or children when working on a project with a deadline during the night. The cutting machine should remain quiet, no matter how powerful or fast it is.
Pricing. After weighing in the pros and cons of a cutting machine, it all boils down to the price and whether or not it's affordable. But it also depends on other financial factors, like how much you are willing to invest in materials.
What Are The Best Vinyl Sticker Maker And Decal Maker Machines?
Without keeping you on hold any longer, here are what we think are the top-of-the-line vinyl sticker and decal maker machines.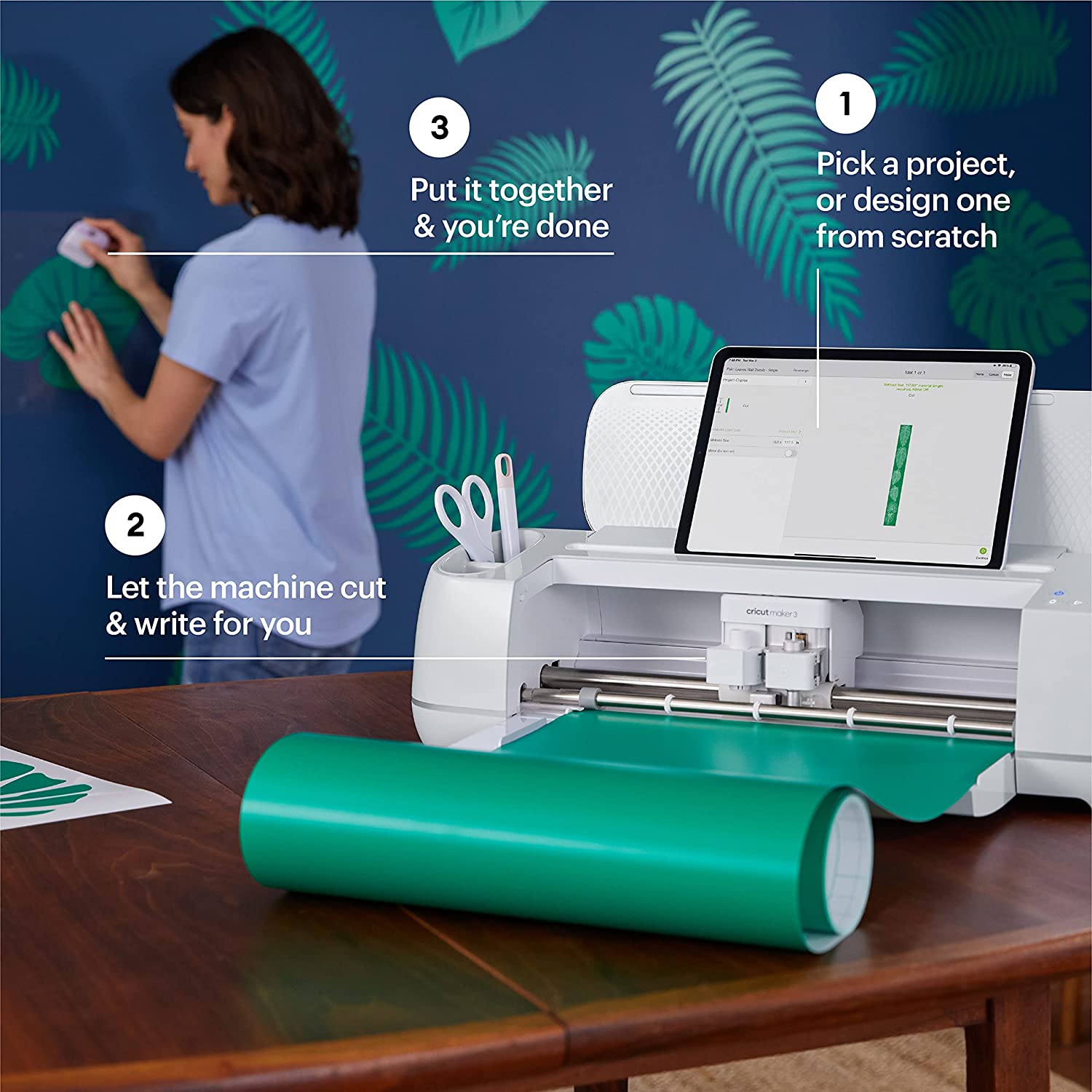 Version 3 is the latest iteration of the Cricut Maker, which aims to cut material two times faster than the original Cricut Maker when using a mat, thanks to Fast Mode. It's the most complete smart cutting machine produced by Cricut, which can be used in a wide range of crafts, not just vinyl stickers and decals.
Cricut Maker 3 features 13 specialty tools required for cutting, scoring, embellishing, writing, foiling, debossing, and engraving. It has a cutting force of 8.81 lbs (4 kg), works with more than 300 materials if you are ever ready to expand your business, and supports an Adaptive Tool System powered by 13 distinct tools.
Matless Cutting With Smart Materials
With the help of Cricut Maker 3, you can make cuts up to 12 ft (3.6 m) long and 13 in (33 cm) wide. It also works with Smart Materials like Smart Vinyl, Smart Iron-On, and Smart Paper Sticker Cardstock, in order to cut fabric from 13 ft wide to 75 ft long (33 cm wide, up to 22.8 m long) without using a cutting mat.
The machine comes in five colors: blue, champagne, lilac, mint, and rose. Furthermore, it's really quiet, so you won't risk waking up your neighbors or children during the night.
Intuitive Design Software
When it comes to creating the vinyl sticker and decal designs, you can turn to Design Space, a super-intuitive app that's proprietary to Cricut and which you can set up on Windows, Mac, Android, and iOS. It gives you the possibility to explore, purchase, and use templates and designs created by fellow artists from the Cricut community. No technical skills are needed to master this user-friendly program.
On the downside, Design Space requires an Internet connection at all times. So, if your area has poor Internet coverage, it means that you have to prepare your designs somewhere else before using Cricut Maker 3 in order to not lose business.
A Bit Heavy To Move Around
On top of that, Cricut Maker 3 is on the heavy side since it weighs 22.7 lbs (10.3 kg), which means that you need a dedicated workspace so that you don't have to move it around often.
You also need another PC and a third-party image editor like Photoshop to create personalized designs since Maker 3 doesn't have integrated functions for printing designs out of the box, and Design Space has limited design options.
The asking price of Cricut Maker 3 is $429.99, but you can get it for $369.99 right now from our website. Read all about this product in our Cricut Maker 3 review.
Pros
Great cutting force of 8.81 lbs (4 kg)
Quick jobs in Fast Mode with a mat (matless cutting is also supported)
Low noise levels
Works with more than 300 materials
Intuitive design software (Design Space)
Cons
A bit heavy at 22.7 lbs (10.3 kg)
Design Space is limited and online only
Expensive
Silhouette Cameo 4 is an excellent cutting machine for creating decals, and the fourth version has worked out many issues found in the previous model.
It has a cutting power of 11 lbs (5 kg), which is 2.2 lbs (1 kg) more than Cricut Maker 3, which occupies the top spot on this list. It's probably too much firepower for your vinyl sticker and decal business, but it will definitely help if you ever consider trying out other niches.
3x Faster Than The Previous Cameo Model
Despite its superior power, Cameo 4 isn't faster than Maker 3. However, compared to the previous Cameo models, it's three times quicker. So, if you currently own an older Cameo, it's worth considering upgradingto the latest edition.
The Cameo 4 comes in three sizes: the standard version that's 12 in (30.48 cm) wide, the Plus version that's 15 in (38.1 cm), and the Pro version, which is 20 in (50.8 cm) wide. Unfortunately, it's pretty loud.
Integrated Roller Feeder For Long Cuts
Additionally, Silhouette Cameo 4 has a built-in roller feeder that you can use to cut 12 in (30.5 cm) wide and 10 feet (3 m) long, making it an excellent choice for handling large posters or banners. And, if you ever need to cut thicker materials, the Cameo can go as deep as 0.11 in (3 mm) when using the Knife Blade.
Using Silhouette Cameo 4 means gaining access to Silhouette Studio, a feature-rich design application that gives you more room than Cricut's Design Space. But it's also a bit harder to master (no special skills are required, though). And, the best part is that you don't need around-the-clock Internet connection to work with Silhouette Studio since it's available offline.
You can use Pixscan technology to take a photo or scan a design, in order to immediately upload it to Silhouette Studio, add cut lines, and replicate the results with precision, thanks to edge detection. It makes it possible to quickly turn a stamp collection into vinyl stickers or hand-drawn sketches into decals.
Silhouette Cameo 4 costs $299.99.
Pros
The best cutting force on this list at 11 lbs (5 kg), making it possible to cut materials up to 0.11 in (3 mm) if you ever decide to expand your vinyl sticker and decal business
A built-in roller feeder can cut fabric up to 10 feet (3 m) long
Three times speedier than the older Silhouette Cameo versions
Cons
To export Silhouette Studio projects, you have to buy the professional software edition
A less performant dual-tool carriage than the previous Cameo model
The machine is big and loud
View price on Amazon
Cricut Explore Air 2 is incredibly easy to use since you just have to add the material, attach the pen, select a design, and press a button to start the cutting operation right away.
It's an excellent machine for home crafting and small businesses like Etsy shops since it can quickly cut vinyl stickers, decals, cards, and other products.
The machine's design is truly elegant, making it a joy to work with. Weighing 14 lbs (6.35 kg), it comes in pink, mint, black, blue, red, and other colors. And it works with 6 distinct tools.
Dual-Carriage To Simultaneously Draw And Cut
The most significant change from the previous version of Cricut Explore Air is the addition of the Dual-Carriage system, which means using two distinct tools (draw and cut) within the same cutting job. Plus, you can connect the machine wirelessly to your computer or smartphone.
Furthermore, Explore Air 2 can cut down on the speed it would normally need to complete elaborate projects, thanks to Fast Mode. It makes it twice as fast as the prior model. And it has a cutting force of 0.88 lbs (400 g), which means that it can work with more tools to cut harder materials (over 100) if you ever decide to open a new business besides making vinyl stickers and decals.
The noise levels are acceptable, so they shouldn't distract you from your work, not even when switching on Fast Mode.
Smart Set Dial For Auto-Calibration
The maximum supported material thickness is 0.07 in (2 mm). Cricut Explore Air 2 comes with the Smart Set Dial, which loads preset settings (pressure, depth, speed) in order to achieve the best results for your design projects. It's based on the material you select: paper, vinyl, iron-on, light cardstock, cardstock, fabric, poster board, or custom.
It can cut material with a size up to 11.5 x 23.5 in (29.21 x 59.69 cm), which is enough for most vinyl sticker and decal craft makers. However, unlike Cricut Maker 3, Explore Air 2 isn't compatible with Smart Materials, which means that you can't perform matless cuts. Instead, you have to resort to the LightGrip Machine Mat.
Easy-To-Use Designer Software
When it comes to the software application, with Explore Air 2, you get to work with Design Space, just like in the case of Cricut Maker 3. It means that you won't have any sort of issues to create, explore, and upload projects to the Cricut machine since Design Space is made for anyone with zero design skills.
On the downside, Design Space doesn't give you access to all features it has to offer for free. For instance, if you want to use a particular template for your small business, you have to pay for it individually. Or, you can pay a monthly subscription to Cricut Access in order to use countless templates.
The full price for Cricut Explore Air 2 is $249.99, but you can get it for $199.99 right now from our website. Find out more in our Cricut Explore Air 2 review.
Pros
Easy to assemble and use
Works with more than 100 materials
Great cutting speed, thanks to Fast Mode and Dual-Carriage
Decent noise levels
Cons
Doesn't work with Smart Materials (matless cutting isn't possible)
Not ideal for large-scaled cutting projects
You need a constant Internet connection to work in Design Space
The USCutter TITAN Vinyl Cutter comes in three sizes: 15 in (38.1 cm), 28 in (71.12 cm), and 53 in (134.62 cm).
We chose the mid-range because we think it's the most suitable one for handling vinyl sticker and decal designs, even large-scale projects. You can use it to cut adhesive vinyl, heat transfer vinyl, window film, hard paperboard, sandblast stencil, mask material, and other materials.
The Best Vinyl Cutter For Commercial Projects
The USCutter 28-Inch Titan 3 is an awesome vinyl sticker creator for commercial use. If you're an amateur, this isn't for you. As you can imagine, the machine is quite big since it can cut designs that are 28 in (71.12 cm) wide, so you definitely need a dedicated workspace to fit this monster (a home office won't do if you have limited space). It weighs 58.9 lbs (26.71 kg).
On the bright side, it comes with a stand, so you don't need to place it on another above-level surface. It has a downward cutting force of 1.65 lbs (750 g), which is more than enough for vinyl stickers and decals. And, the machine can cut a length of up to 360 in (914.4 cm).
Incredibly Fast And Surprisingly Quiet
You would think that the cutting process takes a tedious amount of time to handle designs so wide, but this couldn't be farther from the truth. USCutter 28-Inch Titan 3 reaches a speed of 37 in (93.98 cm) per second, making it the fastest cutting machine on this list. Another added bonus is that the noise level is surprisingly low when considering this beast's processing speed (it was improved since the original Titan).
Titan 3 is equipped with a 4-wheeled carriage system, uses laser alignment technology to cut the contours, and comes with three Titan blades. This makes it possible to create premium-level, polished vinyl stickers, and decals with intricate designs and perfect precision. And, if you want to plot instead of cut, you just have to add the pen holder adapter.
Matless Cuts, Vacuum Hold, Waste Basket
Furthermore, you should be happy to know that you don't need any mats when using the Titan 3 since you can use a 4-pinch roller feeder. It's backed by the vacuum hold system, which keeps the fabric in place and minimizes waste. There's also a stand-and-catch basket attached, which conveniently grabs scrapped material before falling on the floor.
The machine has an LCD display and control panel, which you can use to tweak the speed and cutting pressure. However, adjusting the blade won't be a simple task if you plan to regularly switch materials for your crafting projects. On the bright side, that's not necessary when using only vinyl (not until the blade is dulled).
Powerful Design Software
When purchasing the Titan 3, you will also receive a free copy of the basic version of Vinyl Master Cut, which represents USCutter's proprietary design software. It has a lot of cool drawing tools for text, curves, shapes, and vectorization. More can be unblocked by separately purchasing the professional edition, though. Unfortunately, the software application works only on Windows.
It's the most expensive vinyl sticker and decal maker on this list. USCutter 28-Inch Titan 3 costs $828.99.
Pros
Excellent cutting machine for commercial use
Matless cutting and low noise levels
Precise contour cuts, thanks to laser alignment
Super-fast, ideal for large-scale projects
Cons
Calibrating the blade can be difficult if you want to use multiple materials
It's huge, you need a lot of room
Works with only three blades
The most expensive machine on this list
View price on Amazon
Brother ScanNCut SDX125 is another awesome vinyl sticker and decal-making machine, whether you run your own business or just design cute projects for your kids.
In addition to vinyl, you can use it to cut paper and leather if you ever decide to broaden your business' horizons. Nevertheless, it works best with vinyl stickers and decals.
Integrated Scanner For Out-Of-The-Box Designs
It has a built-in scanner and LCD touchscreen display that you can use to scan designs and upload them to the machine without using any software. It's even possible to store designs in the machine and reuse them later since it has integrated memory. The ScanNCut SDX125 includes 682 designs, 100 quilt patterns, and 9 letter fonts so that you can quickly produce projects out of the box.
This is a huge time-saver since you won't have to go through the trouble of buying a third-party image editing application like Photoshop. And you don't have to waste time learning how to design images, edit and upload them, either.
Matless Cuts, AutoBlade Calibration, and Low Noise Levels
You don't need to use a mat when operating the Brother ScanNCut SDX125 since you can feed the material in the roller. And, it has an efficient AutoBlade that automatically detects the material to adjust the pressure, depth, and speed settings so that you won't have to perform this task manually every time you want to mix it up by changing materials.
It also means that you won't throw away fabric due to misaligned cuts. On the long term, this will save you a lot of time. It's super quiet, too, allowing you to catch up on work when pulling late-night shifts, without disturbing anyone else around your home.
Worth Upgrading From Brother ScanNCut 2
We have definitely noticed an improvement in Brother ScanNCut SDX125's speed when comparing it to the old ScanNCut 2 model. So, if you currently use the previous Brother model, we can tell you that the speed alone is worth the upgrade (twice as fast).
The machine weighs 12.79 lbs (5.80 kg), has a default work area size of 12 x 12 in (30.48 x 30.48 cm), scans material up to 11.7 in (29.71 cm) wide, and cuts fabric up to 0.11 in (3 mm) thick.
Proprietary Design Software
If you want more control over your designs, you can download and install Brother CanvasWorkspace, the proprietary software design application. And, the Windows PC or Mac you use for designs can be wirelessly connected to the cutting machine for hassle-free jobs, without getting your office tangled in cables.
Or, if you prefer another image editing application to come up with your vinyl sticker and decal designs, you just need to save the results in SVG format to be able to upload it to the Brother ScanNCut SDX125.
Brother ScanNCut SDX125 costs $399.99.
Pros
AutoBlade auto-identifies the material's thickness to load preset settings for accurate cuts
Start cutting jobs using out-of-the-box designs, without resorting to another computer with software
Matless vinyl cuts
Very quiet
Cons
Can be difficult to master
Additional tools and accessories are expensive
View price on Amazon
Silhouette Portrait 3 is a compact and portable vinyl sticker and decal maker that weighs a measly 3.5 lbs (1.58 kg). It's so small that you can put it in your bag, bring it with you, and take it out whenever you need to cut materials on the go.
In fact, Portrait 3 is a huge step-up from Portrait 2 in terms of weight, since the previous model was almost 6 lbs (2.72 kg).
Compact And Stylish Vinyl Sticker Printer For Matless Cuts
The machine has a sleek and elegant design that blends well with any white devices you have on your desk, including iPhone and iPad (it's completely white and the only color). It allows you to create DIY projects with a size as large as 8 x 12 in (20.32 x 30.48 cm) when using a cutting mat.
However, Silhouette Portrait 3 supports matless cutting, too, allowing you to expand cut designs up to 8 x 60 ft (20.32 x 18.28 m) when using lined media through a Roll Feeder. This allows you to broadly extend your business by printing long vinyl sticker banners or decals for big surfaces, which can be then rolled. For example, Portrait 2 could not cut material larger than 8 x 10 ft (20.32 x 3.04 m)
Matless cutting works only in certain scenarios, though. You must use materials with liners or backing, like vinyl, heat transfer, or sticker sheets, to create Kiss Cuts. But you can also cut paper or cardstock without a mat by using a dedicated feature called Pop-Out Cut. It has a maximum cutting force of 0.46 lbs (210 g) and can cut up to 0.07 in (2 mm) thick. There's also an adapter for Silhouette sketch pens included in the box.
AutoBlade Calibration And Feature-Rich Design Software
Furthermore, Silhouette Portrait 3 has an AutoBlade feature. Based on the material you select in the software and the tool you place in the machine, it automatically calibrates the pressure, thickness, and speed by loading preset settings. This way, you can save a lot of time since you don't have to adjust the settings manually every time you switch materials. And you won't waste fabric due to failed operations either.
To create and edit designs for Silhouette Portrait 3, you can resort to Silhouette Studio (which we already covered earlier). And the computer can be connected to the cutting machine through Bluetooth or USB in order to upload your projects. Once you purchase this machine, there will be 50 free exclusive designs available for download, along with a free 1-month subscription to the Silhouette Design Store.
Some would say that Portrait 3 is a mini version of the Cameo 4, especially since it can use the same tools as its big brother. Its noise levels are decent, although it's not as quiet as other cutting machines on this list (but less noisy than the Cameo 4). It definitely produces less noise than a blender or a vacuum cleaner, though.
Silhouette Portrait 3 costs $199.99.
Pros
Lightweight, compact, and portable
Matless vinyl cutting
Works with Print & Cut and PixScan
Cons
Doesn't have a Dual-Carriage system
You have to separately purchase special adapters to use the Cameo 4 tools
Available in one color only
Not suitable for large-scale projects
View price on Amazon
The main rival of Silhouette Portrait and the little brother of Cricut Maker, Cricut Joy is a performant die-cutting and writing machine that comes in a lightweight package and gives you the possibility to become portable.
It weighs only 3.9 lbs (1.75 kg). So you don't need a dedicated workspace for this product since you can put it anywhere. But it's not flimsy either, so don't worry about accidentally breaking it. In fact, Joy is quite sturdy. You can use it with 2 tools for cutting and writing.
Lightweight, Portable, Mighty
According to the Cricut manufacturer, Joy is the easiest cutting machine. However, don't believe for a second that it's not capable of carrying out complex tasks and intricate designs. On the contrary, Cricut Joy is surprisingly powerful and optimized for making vinyl stickers and decals. But it delivers the best results when using simpler designs that don't need too many changes.
Available in a single color theme (white and teal), it uses a Fine-Point Blade to cut through paper, vinyl, or 50 other materials you feed it with. And, if you want to draw instead of cut, you can replace the blade with a pen or marker. You can use the Standard Grip Mat with Smart Materials or get it out of your way and cut designs without a mat by using the roll feeder. You can also create custom cards quickly by using a Card Mat.
Comfortable For Small- And Middle-Sized Designs
As far as the material size is concerned, Cricut Joy cuts up to 5.5 in x 4 ft (13.97 cm x 1.21 m). But it can also cut material up to 20 ft (6.09 cm) long with repeated cuts. It's not enough to sustain a profitable business with large orders, but you can still use Joy as an amateur artisan or even to open a small Etsy shop.
When it comes to the software application, Cricut Joy works with Design Space, which means that you will have no sort of trouble with creating designs, exploring the online templates, and preparing the projects for cuts.
Unfortunately, the noise levels are surprisingly high for such a small machine. You can connect your computer or smartphone to the Cricut Joy through Bluetooth.
Pros
Elegant and mighty
The cheapest machine on this list
Great choice for entry-level craft makers
No assembly required: just plug and play!
Suitable for tiny projects
Design Space is easy to use
Cons
Available in one color only
Noisy and pricey
Not optimized for large-scale projects
Design Space doesn't leave much room for creativity
Extra tools and accessories are expensive
FAQ: More About Best Vinyl Sticker Maker and Decal Maker Machines
Can I print custom vinyl stickers?
Of course, you can. To get started, you need a software application dedicated to image editing. For example, if you buy a Cricut machine, you can use Design Space for free. If you get a Silhouette machine, you can use Silhouette Studio at no cost.
However, if you want to create elaborate designs, you will need a more complex program like Photoshop. After designing the project, you can print it out on vinyl paper using a dedicated machine like Cricut Maker 3 or Silhouette Cameo 4. Then, all that's left to do is cut out the negative space around the sticker design.
What machine should I buy to make vinyl stickers and decals?
Check out Cricut Maker 3, Silhouette Cameo 4, Cricut Explore Air 2, USCutter 28-Inch Titan 3, Brother ScanNCut SDX125, Silhouette Portrait 3, and Cricut Joy.
Can I use Silhouette Portrait 2 to cut vinyl stickers and decals?
Absolutely. However, Silhouette Portrait 2 was officially discontinued and superseded by Silhouette Portrait 3, which is the reason why you won't find the second edition on this list.
How to make vinyl stickers with Cricut Maker?
To make a vinyl sticker with Cricut Maker, here's what you need to do:
Launch Cricut Design Space (the design software application)
Select Maker from the top-right corner
Ensure that your PC is connected to the Maker
Create a design or pick a template
Resize the design, add text, and choose a font
Click and drag to select the design
Then, click Attach on the bottom-right part of the screen
Click Make it on the top-right corner
Wait until the design is printed out
Remove the vinyl sticker from the mat
Remove all negative space
That's it! You can now stick it somewhere
Conclusion: What's The Very Best Vinyl Cutting Machine and Decal Maker?
To recap, when looking for the top-of-the-line vinyl sticker and decal maker machine, you should ask yourself what you will use it for and which features you are most interested in since you won't find a product that checks all the marks.
The main features we have taken into account when researching the market for this study were: speed and power, easy to use, durability, commercial use, cutting accuracy, noise levels, and price.
We think that Cricut Maker 3 and Silhouette Cameo 4 are the best in the business of smart cutting machines. But you might feel otherwise if you own a niche business that only deals with vinyl stickers and decals but not anything else. You might never need to use all features provided by those machines but still have to pay a hefty price for the entire package.
Cricut Explore Air 2 is an excellent choice for designing and cutting decals, while USCutter 28-Inch Titan 3 is ideal for commercial purposes since it can complete huge projects in record time. Meanwhile, Brother ScanNCut SDX125 is very quiet and cuts designs out of the box, without a special software application installed on a computer, tablet, or smartphone.
However, if you prefer a lightweight, portable or efficient vinyl cutter and decal maker for your hobby or business, you can't go wrong with Silhouette Portrait 3 or Cricut Joy. Both are fit for all pockets.
No matter what vinyl sticker and decal machine you end up buying, be sure to return to this page and leave us your honest review in the comments section below. Help us improve this article by mentioning your likes and dislikes.