10 Of The Best Outdoor Fire Pits (You Can Get On Amazon)
A summer evening watching the sunset. A crisp fall afternoon with friends. A winter break alongside the kids. A way to ignite the springtime BBQ. These are just four reasons to include a fire pit in the backyard. It becomes a highlight of the patio as it encourages entertaining – whether that be among friends, family, or the neighbors.
Sing songs, tell stories, celebrate birthdays, roast s'mores, and provide a place of warmth and comfort all year long. It's a true luxury for the porch or patio area, and there are a variety of ways to go about styling it. Of course, because you start mapping your outdoor escape, you'll need to purchase all of those necessities, including a fire pit But, which are the best?
Compact Pick
Best Outdoor Fire Pits
The Outland Firebowl is the perfect fire pit for both home and mobile needs. It's a no-mess, no-fuss set-up and clean-up, providing the best of both worlds for those that love to entertain outside in their own backyard but also bring some warmth with them on weekend camping trips.
The fire bowl comes fully-assembled with a pre-attached, 10-ft. hose and lava rocks. The only addition you'll need to fulfill on your own is the standard, 20-lb. propane tank. Finally, construction is made in durable and sturdy steel with protective enamel, creating a long-lasting design that the family can utilize for years to come.
Pros:
No mess; propane fueled
Comes fully assembled
Weather-resistant cover included
Cons:
Propane tank not included
View price on Amazon
With an easy, modern design, the Solo Stove Bonfire Fire Pit offers a no-fuss fix to your outdoor needs. It has an all stainless steel build and includes a double wall feature that maximizes airflow and burns with little to no smoke. Say goodbye to those half-burnt logs with this purchase!
What's even more special about this particular fire pit? Because of the efficient burn, you don't have to spend your time slicing through the smoke to converse with your pals. Your clothes won't be drenched in the smell either. You can enjoy the warmth and the glow without the aftermath. And finally, it's an easily portable design and those no moving parts; it's just a one-piece construction and comes with a carrying case.
Pros:
Unique, chic design
Low smoke burn
Easily portable
Cons:
View price on Amazon
It is quite easy to fall in love with this whimsical, magical design featuring cutouts of both stars and moons, which are rather beautiful when highlight by the glow of a fire. This one is budget-conscious, retailing for just under $100, and unique in its presence.
Constructed in sturdy steel, it's a durable pit that will last throughout the seasons. There's also an easy-to-grip handle to make mobility a bit easier on families as well. Pay attention to the spark screen, too, which is nice to have when you have little ones enjoying the fire as well.
Pros:
Fun, unique design
Budget-friendly price
Includes cooking grate & spark screen with poker
Cons:
View price on Amazon
The Outland Living Series 401 Fire Pit creates a focal point for outdoor seating in its unique "coffee table" design. It's also extremely durable and safe! Made of stainless steel, it's also an international design award winner and comes with the highest safety ratings – important for those that are using this as a family staple.
Notice that the burner is also stainless steel, and the purchase comes with a 15 lb. bag of arctic ice rocks to really elevate the overall style of the table. All the essentials, such as the propane hose, are kept inside the table for easy storage and organization.
Pros:
Propane fueled
High safety ratings
Durable design
Cons:
View price on Amazon
This design is a bit more traditional than some of the other options on the list. But, the budget remains friendly to the wall, hitting under $90 and create a cozy atmosphere for friends and family to gather around during a spring evening. It's also a sturdy piece, made from iron, and includes a mesh top to keep the sparks at bay (and away from the kiddos).
Don't worry! It's easy to assemble and comes with an instructional manual to make the task stress-free. It also comes with an all-weather cover to protect it throughout the elements. And finally, the best part of this design is its versatility. Use it as a fire pit, use it as a BBQ, or turn it into an ice bucket for those warm summer days.
Pros:
Budget-friendly price point
Mesh spark cover & weather cover included
3-in-1 design
Cons:
View price on Amazon
How does a 360-degree view of your fire sound? There's nothing that's obstructing the view of this innovative and creative pit. This BALI OUTDOORS wood-burning chimney is built with sturdy cast iron, and with its specific design, smoke it diverted up and out of the view of you and your guests' eyes.
You will need to assemble the piece upon arrival, but it's simple! It's also an easy fire pit to keep clean and in working order for years to come. And by customer reviews, it works for larger spaces but also smaller areas as well.
Pros:
Easy to assemble
Sturdy cast iron build
360-degree view of the fire
Cons:
Check the size (it may be smaller than you think)
View price on Amazon
Next up, we have a traditional-style fire pit to meet your outdoor entertaining and relaxing needs. It's another 3-in-1 design that we're really digging, so the versatile of this piece is expansive for the family. A fire pit, a BBQ, and an ice bucket to cool drinks in the summertime meets too many needs!
In reference to the construction, it's incredibly durable, made from black-coated metal, and is lined with faux stones to create a welcoming finish. It's important to note that the purchase includes a spark screen for extra bouts of safety and must be assembled at home.
Pros:
3-in-1 design
Budget-friendly price
Spark screen included
Cons:
View price on Amazon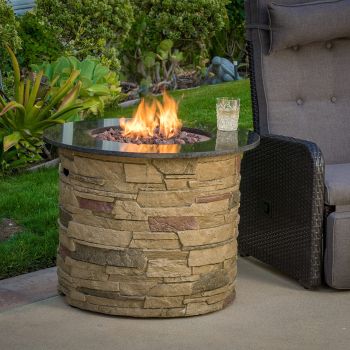 For something a bit more luxurious and stylish, check out the Christopher Knight Round Store Fire Pit. It's a stunning piece of architecture that will add fashion-forward yet welcome energy to your backyard. Mostly though, it will provide the function and warmth that you're searching for.
When it comes to construction, the pit is made from steel and fireproof magnesium oxide. And that magnesium oxide is resistant to mold and mildew, making it even more of a long-lasting investment. What's so beautiful about this design is that with all its style, it's still really functional; roast your marshmallows or set your drinks down on the side.
Pros:
Unique Design
Propane-fueled
Uses magnesium oxide in built
Cons:
View price on Amazon
This fire pit acts as both a warmth and a slice of romance for your summer nice and as a table to finish your patio escape. It features a durable, stable body that will bode well with a modern, minimalistic vision for your backyard. The size is nice, too, as it will blend well within larger areas but fit nicely inside smaller spaces as well.
And the control panel is neatly hidden inside with an electronic ignition and safety valve for an easy start. Note that although the propane tank is not included, the lava rocks for the centerpiece are!
Pros:
Gas-fueled
Accessible price
Lava rocks included
Cons:
View price on Amazon
We just found the best centerpiece for your backyard BBQing, entertaining, sleepovers for the kids, or romantic nights with your better half. This design truly has the best of both worlds. The price point remains at a beautiful middle-ground for those that want luxury, while that innovative design isn't gipped in the least.
The natural lava rock in the bowl both covers the stainless steel burner but preserves the heat as well. It's important to mention that you can change out the lava rock for a pop of color with fire glass rocks as well. Also, there's a protective cover included helping preserve the design for years to come.
Pros:
Innovative design
Natural lava rock included
Gas-fueled
Cons:
Possible damage during shipment
View price on Amazon
What is a Fire Pit and Why Have One?
Ignite a fire in your backyard! We're not talking about a bonfire, no. We urge you to utilize a fire pit to gather friends and family, create warmth during a winter night, roast marshmallows or hot dogs, add a bit of light to the evening space. Fire pits started as a mere hole in the ground but have since taken a more stylish turn. These small (or sometimes larger) structures can be added to your backyard so you can throw a fire together at a moment's notice but in a contained and safe way.
Thankfully, there are so many different designs, in various style genres, that can help complement your vision and provide the right about of necessity to your entertaining needs. If you're still asking yourself why you really need one, just take a look at this quick list:
a stylish heating source
BBQingpotential (smore's, hot dogs, and more!)
the focal point of your seating arrangement
a conversation starter
additional lighting
encourage more time outside
a point of family gathering
more space for entertaining
The Different Types of Fire Pits to Choose From
Wood-Burning Fire Pits:These designs come in a variety of styles, most of the more traditional variety. If you're a fan of that cozy, campfire feel, then you may want to take the route of a wood-burning fire pit when shopping for your home. You get the natural crackle of the wood, along with the scent that so many love.
Propane/Gas Fire Pits: For those that want to forgo the smoke, think about trying out propane or a gas-fueled fire pit. These pits are sometimes more contemporary or modern in style. Although, you can get these in various sizes as well. There's usually an ignition switch to turn the tank on and off, and there's no clean-up like a wood-burning pit provides.
Gel-Fueled Fire Pits:Gel doesn't give off any smoke or wood odor – similar to the propane. But, as clean as the fire is here, this route may not bring you as much warmth as some other types of fire pits. Just refill the gel canister when you're running low.
7 Things To Consider When Buying a Fire Pit
Because there is a vast array of designs and styles to choose from when buying a fire pit, there are several things to consider:
Material: There are several different materials that a fire pit can be constructed in. And depending on your needs in terms of function and style will depend on your choices. For example, those with a more contemporary vision may want to go with a stainless steel option and stay away from more traditional iron since it may be prone to rust.
Regulations: A lot of city limits will have local regulations set in place for when it comes to fire pits, bonfires, and the like on neighborhood properties. Make sure you're away of what these are and follow the guidelines. This includes possible permits or inspections from the fire department.
Style: There are a vast array of fire pit styles to choose from. Keep this in mind when you start shopping and don't settle on your first find.
Inclusions: Spark covers or mesh guards should be included with most fire pits. Double-check that you're getting the inclusions you want and need with your purchase. Weather-resistant covers, lids, lava rocks, and the like – whether you need to buy separately – should be known.
Budget: Just like with style, fire pits come in a vast array of price points as well. You can easily find a traditional pit for under $100, whereas others can carry a tag of $1000 or more! Give yourself a budget and narrow down your options before you start shopping.
Fueling: There are a few different types of fire pits to choose from in terms of fuel. Check out our quick list above to guide your search.
Location: Where you plan to place your fire pit is one of the most important considerations to make. You may have building regulations that will modify your options, but you also want to remind smart and safe. Consider the rest of your backyard, the furniture you've chosen, and how you want your entertaining needs met when deciding on its spot.
What Are Some of the Best Ways To Style A Fire Pit?
Fire pits are versatile. Their function appeals to all, while their designs have the ability to bend and mold to a variety of whims as well. Here's a quick breakdown on different trends we love in the interior design world and how to style a fire pit within those confines:
Bohemian: Wooden or stone-covered fire pits can be utilized in this style genre. Add some outdoor poufs – in colorful shades and prints to the scene.
Farmhouse: Benches and rocking chairs will be the best accompaniment here as well. And wood-burning fire pit will really elevate that comfortable, down-home feeling.
Contemporary: For those that want a chic, outdoor space, complement your stainless steel fire pit with some black matted patio furniture.
Traditional: Family homes tend to go the more traditional route, and for outdoor arrangements, that means classic patio chairs work fine. Just stay away from plastic (the heath won't do it well, and they aren't as comfortable).
How To Keep Safe With A Fire Pit in The Backyard: 5 Safety Tips
Whether you have a built-in fire pit or a portable piece, there are a few safety measures that must be taken. Pits are wonderful additions to homes and make gathering so much more enjoyable, but it's imperative that these 5 precautions are always taken:
Keep your fire pit 10 ft. away: At a minimum, your fire pit should be at least 10 feet away from any structures or neighboring yards. Take this into consideration when choosing a location for your new backyard piece. Keep it away from low-hanging trees or plants, as well as covered patios or arches.
Preparation is key: Before you light up the pit, make sure all vegetation is out of the way. All flammable items should be cleared from the vicinity as well. This goes for every time you utilize the fire pit.
Stay away from the wind: It's not recommended to light up the fire pit during windy times. Check the weather before you gather.
Never leave it unattended: Use common sense. Don't leave your fire unattended, ever. And definitely don't leave it unattended with children or pets nearby. (Also utilize the spark guards!).
Have an extinguishing plan: A shovel nearby is great to have in the event that the fire ever gets out of control. You can quickly drown it with dirt or extinguish it with water – or a fire extinguisher. Have a plan in place in the vent of an emergency.