Top 7 Best Garage Storage Lifts – Garage Ceiling Storage Lift
Your garage quickly becomes a one-stop-shop for all of your storage needs. From the car to the Christmas decor to your kayak and bikes, everything gets thrown into the mix. But there is more than one way to maximize and utilize every inch of the space. And that's where a hoist of sorts comes into the scene.
With any one of these best of the best garage storage lifts, you can help to declutter and organize this necessary piece of your home. Let's take a look at what a storage lift actually adds to your house and why these are our favorite purchases around!
What Is A Garage Storage Lift?
An organized garage has a lot of different components, but one you may not think of is a garage storage lift. These devices are perfect for utilizing an area of the garage that usually gets left untouched – the ceiling. With these lifts, you get to get all those larger, awkward items off the floor and stored away higher – leaving your square footage to play with, organize, use, or just park your car in!
Editor's Choice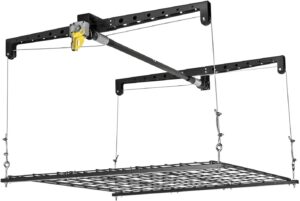 Best Storage
What Can I Use This Extra Storage For In A Garage?
The possibilities for using this extra storage are endless! Do you have bikes you'd like to store away until spring or maybe a kayak or two? This is a great place to keep your holiday decorations hoisted until that time of the year starts to creep in – there are models that allow you to slide plastic bins in and out whenever you need them. You can even find storage lift systems that can hold outdoor furniture during off-season times. If it's taking up space in the nooks and crannies of your garage, then it's likely that you can organize it, tidy it up, and then hoist it into a holding position until its time of need comes to call.
What To Look For When Buying Lifts For The Garage?
There are a few different areas you should be mindful of when you begin your garage storage lift/hoist search. Know your needs and what you plan to store before shopping, and then check out these categories before you purchase!
Size & Capacity:
Of course, you should have this in mind when buying. Knowing what you need to store will help you find your perfect match. Make sure you buy a system that will fit nicely into your garage and not take up too much space or get in the way of garage door operation. You also want to make sure your garage ceiling can withstand the installation; lightweight models do exist!
Materials Needed & Installation:
Do you have a preference for what you'd like your lift to be made of? Plastic is an option, but so is stainless steel. This dictates the price, the lifespan, and the durability depending on the items that you plan on storing inside. The most population construction materials are steels and metals because its strong enough to support larger items (and no rusting!).
First up on our list is the Racor PHL-R Ceiling Storage Rack. For just $250, you will get this adjustable, mountable lift that can be installed to any ceiling – even angled designs. This design has some of the best customer reviews on the market and is an Amazon bestseller! It is also fully adjustable and has the ability to mount to nearly any ceiling – including those with an angular design.
Even better, it has been constructed with a high-strength steel that allows you to lift up to 250 pounds. So, yes, it is durable and incredibly user-friendly. It raises and lowers by crank. The installation process is quite easy and, at the end of the day, you get 16 square feet of extra storage space to revel in.
Pros
Durable, high-strength steel
Lights up to 250 lbs.
Creates 16 sq. feet of additional storage space
Cons
Double check cables before storing
View price on Amazon
Up next on this journey is the Racor LDL-1B Ceiling Ladder Storage Lift. For those looking for a smaller, less expensive option, you will want to learn a bit more about this design. Specifically, this piece is for storage your ladders and removing the clutter they create in the corners of your garage. It is user-friendly for most, and its pulley system reduces weight by 4x.
Honestly, it is a really simple storage solution with its hook and rope locking mechanism, which securely suspends your ladders. And although it seems made with simplicity in mind, it is quite the innovative idea, don't you think?
Pros
Great price point
Simple design
Highly-satisfied customer reviews
Cons
View price on Amazon
The HARKEN Cargo Box Hoist comes in a variety of sizes depending on your personal needs. It is a universal fit for all cargo boxes, including Thule, Yakima, SportRack, and JEGS. This model makes everything a bit easier for you inside the garage – including the organization and usability of the space.
Although this one looks a bit more complicated, it is fairly easy to install with its four-point hoist kit that comes with illustrated instructions and installation video. And it is also really simple to use. Its patentedsystem lifts evenly regardless of weight distribution. As its description proclaims, "The self-locking cleat grips instantly to prevent accidental release if the rope is dropped."
Pros
Stainless steel construction
Size variety
Made in the USA
Cons
View price on Amazon
Do you need somewhere to store your bikes during the off-season? The RAD Sportz Bicycle Hoist 4-Packwill do it for the entire family. You will not have to worry about your bikes taking up space or getting damaged within the hustle and bustle of the space. And for such a simple solution, it comes with an easy price point that you will love and appreciate.
It will mount directly to your ceiling to keep your bikes lifted and safe. And it allows you to lift up to 100 pounds without issue. The model includes safety locks for ease of mind as well.
Pros
Great price point
4-bike inclusion
Safety locks included
Cons
View price on Amazon
It is now time to take a quick look at Partsam Electric Hoist Lift with Crane. One of the most durable on the list, its wire ropes, and electric setting makes it a breeze to use and provides ease of mind as well. It is remote control powered, easy to install, and will lift up to 440 pounds!
There are lifting slings that come included and are perfect for helping with your storage needs. Take a peek at the customer reviews for this one and snag some ideas on usage – honestly, everyone loves how simple it is to use and install, especially for the affordable price.
Pros
Steel ropes
Remote control powered
Lifts up to 440 pounds
Cons
May have trouble with mounting
View price on Amazon
It is time for another peek at another design, and this time it is the HARKEN Truck Hardtop Garage Storage Hoist. For those that have the luxury of a hardtop for their truck, you may want to check out this storage solution. These car additions can really take up a lot of usable space inside your garage, that is where the hoist comes in handy.
You only need one person to get it working, it is easier than you may think to install, and included self-locking mechanics for ease of mind. It is also simple to use with its even lifting and loading. Finally, the construction is all about durability and comes with a stainless steel foundation.
Pros
One-person operation
Easy installation
Safety locks included
Cons
View price on Amazon
And finally, we finish our garage lift journey with the StoreYourBoard Cargo Box Ceiling Storage Hoist. This heavy-duty storage system will hoist your cargo boxes with such ease and simplicity. It will fit nearly any cargo box with its adjustable straps up to 60 pounds.
It includes a high-lift pro system with its holding straps and center connections to keep all of the gear and "stuff" in place – and do so safely. Finally, it comes with instructions and all the mounting hardware you need to get the job done.
Pros
Fits all cargo boxes
Hardware included
Heavy-duty system
Cons
View price on Amazon
Conclusion on a Garage Ceiling Storage Lift
These types of garage storage systems make your home more functional and easier to manage.And that's why we did a little digging for you. These easily stood out as some of the best garage storage lifts your money can buy right now. Clear out the clutter and find the ability to use your garage to park your vehicles again!