The 15 Best Drawer Organizers to Declutter Your Home in 2023
Say goodbye to kitchen spaces and office areas that are a complete mess. Not every drawer should be labeled as the "junk" drawer. It's time to start getting things in order – so you can not only find everything you need – but you're using what you've got.
When every item has its own place, you'll not only be able to find it easier, but you'll also feel more at ease. As you will no longer see things piled up to the ceiling, thrown on top of each other, and in a general state of mess, you'll feel better.
For Your Kitchen
For the Office
For Your Garments
Best Drawer Organizers
You'll see just how easier it gets when you declutter your home with the help of these 15 drawer organizers today!
Utensils need a spot to call home in your drawers so snag one that was made for them! The Home-It Expandable Bamboo Utensil Dividerswill arrange your essentials in all the right ways in just a matter of minutes.
Constructed of the highest quality Moso bamboo, your forks and knives won't be rolling around snagging scratches anymore. Instead, the cubbies will hold all your necessities and everything will be easy to grab and go!
Pros
Expands to fit drawers of multiple sizes.
Cons
View price on Amazon
This metal, mesh piece is perfect for organize your home office. The Rolodex Deep Desk Drawer Organizeris a price that you can agree with and each cubby is deep enough to fit your needs.
Separate your pens, erasers, paper clips, and more! You won't be searching for what you need anymore. Instead, you'll love the convenience this addition will offer.
Pros
Thick metal and sturdy build.
Cons
Smaller items can pass under the dividers.
View price on Amazon
Your dresser drawers should be organized too! Stop wasting time in the mornings trying to find what you need. Instead, install one of these Simple Houseware Underwear Drawer Organizers. You'll be able to tidy up these spaces in no time.
Perfect for organizing lingerie, socks, and underwear making packing, sorting, and getting dressed such less of a fuss.
Pros
Features 4 bins with different types of dividers.
Cons
The bra compartments aren't big enough for larger cups.
View price on Amazon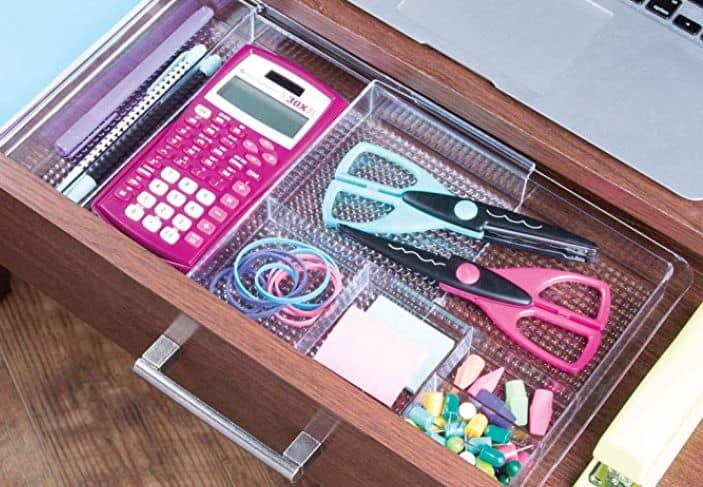 We're loving these iDesign Clarity Plastic Expandable Drawer Organizers. They're a great way to organize desk drawers, vanities, and bathrooms. And the compartments comes in a variety of sizes to fit your needs.
Store your makeup brushes, palettes, lipsticks, eyeliner, contact lenses, medication, pens, pencils, scissors, and other bathroom, office, and crafting supplies. The options are truly endless with this design.
Pros
The expandable drawer is perfect for all sorts of knickknacks.
Cons
The bins aren't very deep, so things like makeup may not fit.
View price on Amazon
The Madesmart Original Junk Drawer Organizeris really versatile too and an inexpensive option for those that want something to fit a certain budget. Maximize drawer storage – anywhere in the house – with this design.
You'll see that it can easily fit kitchen tools, desk supplies, or even bathroom necessities. Make every drawer in the house a new project and a tidy spot!
Pros
Comes with lots of compartments.
Cons
View price on Amazon
With these interlocking pieces, you can essentially create your own design around what you need! The Madesmart Value 8-Piece Interlocking Bin Packwill give you everything you need to make that call on your own.
The price point sits nicely and you'll receive 8 different small bins or lock in and tidy your spaces with. These are designed to be used in any room of the house and come in a variety of colors including black, white, and teal.
Pros
Lots of interlocking bins so you can adjust them however you want.
Cons
They're not ideal for silverware as longer knives won't fit.
View price on Amazon
Here's more options for tidying up your clothes! The homyfort Foldable Cloth Storage Box Organizerwill help you out with your closet spaces and your dresser drawer areas. Shirts, underwear, bras, socks, and more, can be easily organized and make you feel a bit more put together as the work or school weeks roll on.
These particular bins are eco-friendly and breathable. And they fold and store easy for when they're not in use.
Pros
Great price and lots of storage options.
Cons
Some are missing the bottom inserts.
View price on Amazon
Here's another drawer organizer that works great for kitchen utensils. The Bamboo Expandable Drawer Organizerwill work for larger spaces, which is wonderful for those that need to fill and help tidy their extra pieces.
The design here is adjustable making it wonderfully versatile. There's a lifetime replacement guarantee included here too – so your purchase is protected!
Pros
Expandable drawer at a good price.
Cons
Construction leaves much to be desired.
View price on Amazon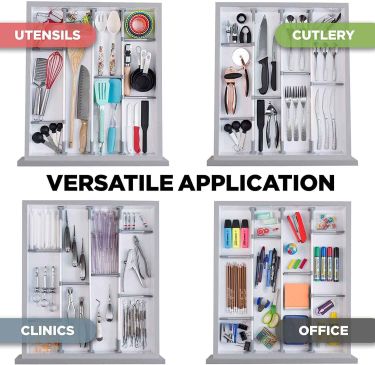 The Practical Comfort Adjustable Drawer Organizerisn't what we're used to seeing, but we absolutely love the innovation. This organizer can truly be used anywhere and everywhere – and utilizes every inch of the drawer you put it in.
From your work office to your at-home office, it's a true life-saver. And it's adaptable to wherever you place it.
Pros
The organizer looks great and is customizable.
Cons
Runs a bit expensive for wat it offers.
View price on Amazon
We love this divider as well, especially for guest bedrooms, bathrooms, or kitchens. The CosyHome Bamboo Drawer Divider will give you the freedom to personalize based on your needs.
Made of premium, eco-friendly bamboo, quality isn't of concern here. Use these to tidy up your junk drawer, craft supplies, vanity, or guest towels in the powder room.
Pros
Looks beautiful and is eco-friendly.
Cons
May be hard to fit in drawers perfectly.
View price on Amazon
These drawer organizers are really fun and would be great for the kids playroom, don't you think? The Creative Storage Drawer Organizerscomes in a set of 4 for under $10 and can come in assorted colors, green, rose red, or white!
They're also a great choice for organizer dorm rooms, apartments, or even classrooms. Each tray has two dividers which can be taken out and moved around freely for personalization.
Pros
Colorful and perfect for kids, too.
Great price.
Cons
View price on Amazon
The Three By Three Seattle Drawer Organizeris super chic, modern, and, of course, functional too. This pack of 5 will help organize any space that needs the makeover. Mix and match up the design the way your particular drawer sees fit.
The fun colors and patterns also helps to amp up the style here. The set includes one each:12x3x2″, 9x6x2″, 6x3x2″, 9x3x2″, 3x3x2″.
Pros
Great price, multiple sizes.
Cons
The metal is sometimes bent when delivered.
View price on Amazon
Acrylic is really on trend right now, so you may want to have another look at this organizing option. These STORi Clear Plastic Vanity & Desk Organizers are wonderful for tidying up makeup, bathroom essentials, or office supplies. And they also work for organizing your pantry.
Customize any drawer with 2 each: 3-inch by 3-inch, 6-inch by 3-inch, and 9-inch by 3-inch NESTING and sliding compartments. All pieces are also proudly made in the USA.
Pros
Transparent, so you can see everything inside, even from the sides.
Cons
The bins aren't very deep so they don't hold a lot of items.
View price on Amazon
If you truly love the idea of bamboo, then check out this 5-Piece Bamboo Drawer Organizer Set. It's made for more than just the kitchen as it'll look amazing in your office or vanity as well.
And you can rearrange the pieces to match your own needs and wants throughout your home. With each set you get 5 organizers, they're 100% handmade, and deep enough to store anything from jewelry to makeup.
Pros
Made out of bamboo, so they look great.
Cons
The bottoms are a bit flimsy.
View price on Amazon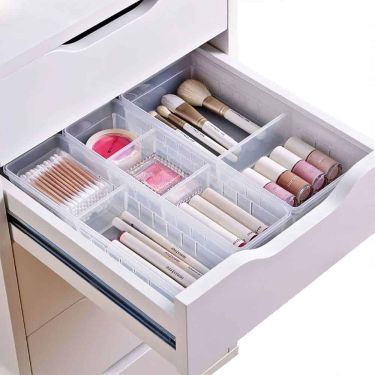 The Chris W. Desk Drawer Organizerincludes4 clear drawers(2 x Large + 2 x Small). The Storage Drawers Size : Large(L x W x H) – about 10.24" x 4.65" x 1.9" and Small (L x W x H) – about 10.24" x 3" x 1.9". They're made from sturdy plastic materials that are eco-friendly and durable.
You can add to this set easily and it's so easy to use anywhere in the house. You could even use these in the pantry to organize snacks.
Pros
The set features 2 small and 2 large trays.
Cons
The plastic isn't very durable.
View price on Amazon
Final Thoughts on Best Drawer Organizers
With this list, there's no excuse to have your drawers filled to the brim with junk. Make it a weekend project to get all the spaces of the house organized this weekend.