Best 9 Coverstitch Machines For Beginners
We know that we might now be the world'smost professional sewing enthusiasts in the world, but we've certainly spent a lot of time working on our skills and trying to learn, and we're pretty proud of how far we've come!
That's why, when we started learning more about coverstitch machines and how useful they can be for people who regularly make and wear their own garments, we started wondering whether or not it might be time to treat ourselves to a new piece of technology we could actually really use! After all, investing in the thing that will help you take your skills further can be a really smart move when it comes to improving your art.
Best Coverstitch Machines
Like we always do, any time we're looking to buy a new investment piece, we decided to really put the research in to make sure we're considering all our options and getting all the right info. That way, we know we've really decided on the very best options for our needs and budget. By the time we were finished keeping track of all the best coverstitch machine options we'd found in our research process, we had realized that we had quite the useful little list on our hands, so we decided to share it for other sewing enthusiasts to see as well! Check out these nine awesome models and designs that we came across in our search.
If you ask us, the best way to invest in a new and slightly more specialized sewing machine is to pick one that still has a little bit of diversity in function. You want something that's built specifically for what you're trying to learn or what you do a lot, but also something that's still very useful and will let you do all of the things you need to quite easily. That's why we loved this design fromBrother that's simultaneously a coverstitch machineand a serger all at once! We especially loved it because the price is so reasonable, particularly considering the quality of the brand and machine.
Although it can also be used as a regular serger, like the kind you might use to give the bottom edge of a shirt a neat and sturdy finish, it's also intended to be used in a slightly more specialized way. That's where the coverstitch aspect of things comes into play! This model is created with great durability that will let you do a wide range of coverstitches on many different kinds of fabrics and materials. One of our very favorite features of this machine is the colour coded stitch dials. This makes adjusting the tension or length of the individual threads you're working with nice and easily without getting confused. We also like the impressive sewing speed that this model's particular quick-loop stitch system enables.
View price on Amazon
Are you quite interested in this idea of investing in a machine that lets you do regular sergingand coverstitch, but you're also a little more of a beginner when it comes to using that kind of machine, so you'd prefer to get yourself something that's sold as more of a slightly more completed kit? Then we have a strong feeling you might get along a little better with something like this model and kit offered by Janome!
Because it's both a high-quality machine and also comes with so many bonus features, this model is a little more of an investment in terms of price. We still found that reasonable, however, because it's such a complete package. For example, you're getting not only an instructional manual that will show you the technical basics but also a helpful tips DVD, a thorough seaming guide, a needle threader, and 14 packs of spare needles. The machine also features an intentionally heavy-duty exterior the lets fabric and material slide across the plates, as well as a free arm feature that's great for seaming and hemming necklines, sleeves, pant legs, and so on. It's the perfect combination between a professional mass-producing machine and an easy, simple home sewing machine.
View price on Amazon
Do you love the idea of buying a slightly more complete set, and you're even feeling quite enthusiastic about the DVD of tips and tutorials that will help you use your new coverstitch machine to create all kinds of awesome things, but you were hoping not to spend more than $500 at the base price? Then perhaps you'd much prefer this alternative offer from Janome that's about $100 cheaper because it comes with fewer things, narrowing things down to more of an essentials package. Don't worry, you'll still get that DVD that had you feeling so enamored!
This version of the machine, though much the same in the way it works, includes the same kind of needle threading system you saw before, but this time you're only given a pack of size 14 needles, which the company offers as their most versatile size. Unlike the other machine, this one's designed to be a little more on the simple home machine side of the combination, rather than the professional and industrial side, but it'll still give you a fantastic finished product as far as coverstitch is concerned!
View price on Amazon
Are you actually the kind of sewing enthusiast who prefers to work primarily with stretch fabrics, like someone making lots of costumes for a dance studio's annual showcase might? In that case, we think you'll get along a little better with something like this coverstitch and chain stitch combination model offered by high-quality professional brand JUKI. This machine is specifically designed to create a kind of stitch that stretches, making it the perfect tool for working with all of those stretch fabrics we talked about.
Part of what really drew us to this model is the fact that it has a slightly more diverse function when it comes to finishing specific kinds of seams. In addition to providing better stretch than usual to your cover stitched edges thanks to its chain stitch abilities, this particular model is also capable of adding decorative, almost embroidery-inspired detail to stretch collars that are actually intended to be visual as well as functional. This is a great option for people who actually wear the things they create regularly.
View price on Amazon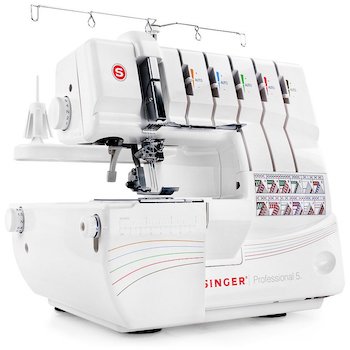 Are you still feeling quite interested indeed in this whole concept of purchasing a combination serger and coverstitch machine but you're quite experienced in using a serger, and you've always preferred models that let you use more than four threads at once, but that's as many as the coverstitch combination machine you saw earlier had to offer? Then we'd definitely suggest taking a look at this fantastic machine fromSINGER that gives you the stitching capabilities you need but this time with five threads instead!
One of the other best features about this machine is the way it includes self-adjusting tension. The controls for this are simple, visual dials that let you select the kind of stitch and project you're doing, and the machine takes care of setting itself to the appropriate tension for those conditions all on its own, without you having to do quite so much manual setting adjustment as some other kinds of machines. Between this and the range of stitch options, including coverstitch, rolled hem, and a few decorative stitches, this machine is full of possibilities.
View price on Amazon
Do you actually have a slightly larger budget than some of the machines you've seen so far require, and you're looking to invest in something a little more akin to what you might see professional designers using in their workshops? In that case, we'd be willing to bet that you'll get along much better with a model like this one offered by JUKI, which combines both serging and coverstitch threading capabilities like many of the models on our list.
To make the use of this machine even easier than it actually already is, manufacturers included color coded knobs that control stitch length, tension, and so on. It also includes tiny thread shears for cutting your project free, an automatic threading system, a useful differential feed dial, and a free arm feature, making hems, necklines, coverstitch, and rolled hemming much simpler than you might have seen in some of the other models on this list and elsewhere.
View price on Amazon
Are you actually already quite familiar with several different kinds of cover stitching, and you even have a little bit of experience in which scenarios and garments make which kind the most useful, but you haven't seen a machine that involves all of the ones you've tried before yet? In that case, we have a strong feeling that this model from Brother might have just the kind of thing you're looking for.
More specifically, this machine specializes in four different kinds of coverstitch that are effective for seams and hems. These are the tri-cover and wide cover (which each have a width of six millimeters), the narrow cover (with a width of three millimeters), and more standard chain stitching like you've seen offered by most of the other machines. Additionally, this machine has a few other very basic but extremely useful features that make it very user-friendly indeed. For example, the machine has a lever-based tension release that lets you easily remove fabric from under the foot quickly and without damage in essentially any circumstance.
View price on Amazon
Are you still feeling quite intrigued indeed by the idea of a machine that combines home sewing and industrial professionalism, as well as serging and coverstitch, all in one place, but you're still looking for something a little more simplified than many of the models you've seen so far? Well, if three threading capability sounds enough for you, rather than four or five like you've seen before, then we think you might have better luck using a machine like this one from Janome! It even has some of the bonus materials you've seen in other package offers, but this time not quite as thorough for people who already have quite well-stocked kits.
This machine, which comes with great, extra-long free arm capability, also includes two extra feet with different functions than the default one included by default. This machine also has great speed, heavy-duty materiality, and a smooth working plate that lets any kind of material at all feel equally simple to use, thanks to how well various fabrics slide on its surface.
View price on Amazon
Has the design that's caught your eye the best so far been the JUKI brand machine we showed you earlier that had four and five thread capability and industrial properties, but you're just not sure that you need quite so many options, even though the durability and professional quality of the machine really tempts you? Then we're absolutely convinced that this alternative and slightly more simplified of the same design, also offered by JUKI might be right up your alley!
One of the best features of this particular machine is built right into the work surface plate of the machine; rather than needing to add a detachable piece to make a rolled hem happen, the feature is already included. It's built, however, in a way that doesn't interfere with your ability to use the machine for regular sewing, regular serging, coverstitch, and other kinds of capabilities.
View price on Amazon
---
Conclusion
Do you know another sewing and DIY enthusiast who has been thinking about investing in a coverstitch machine of their very own lately but who also feels like they could use a little bit of guidance and information along the way? Share this post with them, so they have all kinds of models, machines, and recommendations to consider while they search!