7 Of the Best Backyard Sprinklers To Buy And Prep Your Lawn
Whether you're working with a large lawn, small yard, or multiple rolling acres, a sprinkler is an absolute must-have item. There are plenty of different types to fit a variety of needs, but it's important to know that if you want a successful keeping of the grass, the plants, and all of the other various greens founds on your home property, purchasing one of these garden tools is something you'll need to go ahead and grab for this season. And that's why we've shopped for the best of the best for you. Below, we'll walk you through 7 of the best backyard sprinklers to buy and prep your lawn with throughout this spring season.
Even if you're in parts of the world that receive ample amounts of rain, there will be times that having a sprinkler on hand will only enhance your gardening and grooming process. Whether you can utilize a hand sprinkler for your small plot of land or you need something more substantial, we've found some good designs to meet all kinds of wants and wishes.
Editor's Choice
Portable Pick
Good Coverage Pick
What Is A Sprinkler?
Before you dive into buying a sprinkler, you need to make sure you know what one is. A sprinkler is a device that sprays water on your lawn or plants. It's the best way to establish successful irrigation throughout gardens, farms, lawns, golf courses, or other types of home, recreational, or business acreage. There are also various types depending on your needs and the greens that need watering – from watering cans to in-ground sprinkler systems. Below, you'll learn more about the different varieties and what design is best for your land.
Wait, Do I Need A Sprinkler?
Do you have plants? Do you have grass? Do you have a flower bed, garden, or shrubs? If you have any type of lawn, the answer is yes! The kind may vary on what you have personally, but you'll need some type of watering agency at hand. Of course, you'll need to make sure your greens get more water throughout the warmer and drier months of your year. There may be areas of your lawn that need extra attention as well, especially hard-to-reach areas or covered spaces that natural rains won't reach.
7 Of the Best Backyard Sprinklers To Buy And Prep Your Lawn
The Rain Bird Professional Pop-Up Sprinkler comes from the #1 commercial-grade irrigation spray head brand in the world. This particular design is only 4″ in height but incredibly easy to adjustable within a 360-degree frame. It's also easily adjustable in terms of spraying distance – from 8 to 15 feet of accessibility.
The overall design is built with heavy-duty stainless steel and includes a patented pressure-activated co-molded super to prevent water leakage. It's one of the most dependable of purchases and is known for its long life – and for this price point, that's an incredible benefit! And what the reviews of this particular option tell us is that it's easy to use even for those without much experience with installation.
View price on Amazon
Pros
Incredibly Affordable
Multi-Packs Available For Purchase
8-15 feet spray distance
Cons
Not ideal for larger lawns
You've found the original traveling sprinkler! Since 1865, the Nelson Traveling Sprinkler RainTrainhas helped so many lawn owners take proper care of their grass and other greens. Using power from the water to navigate around your own space, it follows a completely customized hose path. It will travel up to 200 feet and cover up to 13,500 square feet.
There are several features that you'll want to take into consideration before purchasing as well, such as the 3-speed option, which allows you to adjust for the level of water saturation, and the automatic shut-off prevents water waste. Essentially, all you will have to do, lay out the hose path, turn it on, and let it do its job!
View price on Amazon
Pros
3-Speed Option
Covers up to 13,500 sq. ft.
Customizable Path
Cons
Heavy to carry
May get stuck in bald spots
Orbit Zinc Impact Sprinkler on Tripodis a great choice for those that need larger coverage options. This design has the ability to spray up to 85 feet in diameter, which covers around 5,670 square feet when it is set to full circle. Coming in either zinc or brass materials, the construction is durable and set to last throughout the changing seasons.
There's also a lot of customization included with this tripod sprinkler. You can adjust spray coverage to your liking – from partial to a full 360-degree spray. And you can also use the deflector shield and diffuser screw to alter stream pressure and radius. Lastly, one of the best features is the anti-backsplash arm which improves its ability to spray water in a consistent, desired pattern.
View price on Amazon
Pros
Large-Area Coverage (up to 85 ft. in diameter)
Durable Construction
Adjustable Coverage & Settings
Cons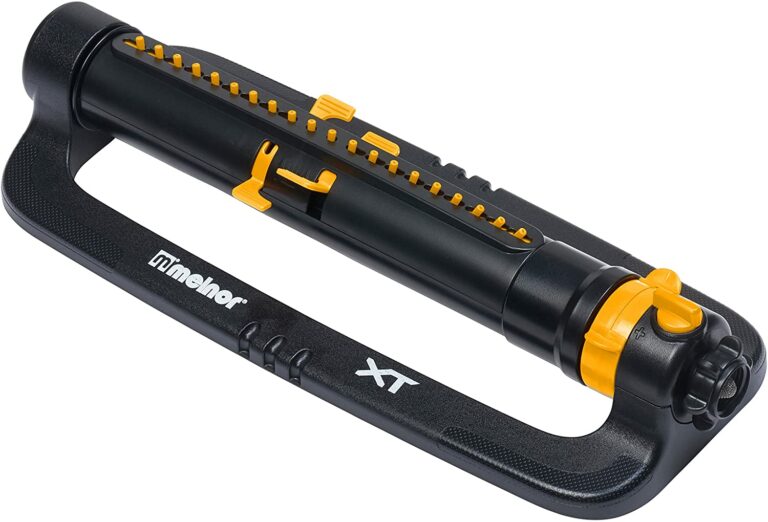 This is one of the more traditional sprinklers on the list and one we may be the most used to when it comes to residential lawns. The Melnor XT Turbo Oscillating Sprinkler with TwinTouch is clog-resistant and comes with built-in flow control. It also features a turbo-drive motor (which helps to nix any possibility of damaging puddling) to ensure a long lifetime of usage and 20 precision rubber nozzles that reach up to 4,200 square feet.
There are easy-to-use tabs that will help to control the range of the watering pattern and precision. There are also adjusters that will control the width of whatever area that needs help.
View price on Amazon
Pros
Clog Resistant
Built-in Flow Control
Width Control
Cons
The Rain Bird Brass Impact Sprinkleris the #1 best-selling brass impact sprinkler. Did you know that brass, bronze, and stainless steel construction lasts longer than zinc? And this particular design is easy to install, even for those without experience in this realm. You can adjust it to spray full-circle, part-circle, or other customizable patterns. There's also a flap that will adjust the spray distance from 23-50 feet options.
Remember Rain Bird is one of the most trusted and longest-lasting brands in the world of irrigation, so you know you'll be getting a quality product when deciding to go this route. And includes a straight-through water flow design.
View price on Amazon
Pros
Trusted Brand
Brass Construction
Adjustable Steam Length
Cons
Great to residential homes and coming in at a super family-friendly price point is the Melnor MiniMax Turbo Oscillating Sprinkler. Even though this design is compact and easy-to-carry, it packs the punch of a full-sized oscillating sprinkler. Features include adjustable width and flow ranges – create the right amount of irrigation for both narrow strips of lawn, grand, or larger, more open spaces as well.
It also includes a long-lasting Infinity turbo drive which is quiet while operating and helps to eliminate puddling. For those worried about connections, this sprinkler features a quick connect system making set-up and breakdown a cinch.
View price on Amazon
Pros
Budget-Friendly
Turbo-Drive Included
Adjustable Width and Flow
Cons
Ideal For Smaller Lawns Only

And lastly, we have the Orbit Brass Impact Sprinkler On Wheeled Base,which is a great option for those that need to water larger areas. It will spray up to 90 feet in diameter, which translates into covering around 6,361 square feet when you decide to set it to full-circle.
In terms of construction, this beauty is made of brass which means it can withstand high-pressure water and weathering, knowing that you will get a long life out of its purchase. Its features are beneficial, too, especially for those that want some leeway with personalization. You're able to adjust the coverage from partial to full watering and use a deflector shield and diffuser screw to change the stream and distance radius.
View price on Amazon
Pros
Ideal For Large Areas
Brass Construction
Easy-To-Carry
Cons
What To Look For Before You Buy
Since there are such a variety of sprinklers out there, there are several different areas that you want to overview and do your homework in before you buy. For example, if you have a more sophisticated design, you may want to have a certified plumber come and take a look at the installation to give you some peace of mind. If you want to ensure long-lasting life, you may want to make sure you're purchasing a design that is constructed with brass. There is a multitude of features to make sure you're taking a longer peek at before whipping out your credit card and making your final selection.
Here are some other areas to take a second look at before you whip out your credit card:
Size
You'll need to know the size of your yard before you start shopping. The general rule is that for lawns up to 4,000 sq. ft. or a smaller lawn, a fixed sprinkler should work great. For areas up to 10,000 sq. ft. or a larger lawn, you will need something with more options, such as an oscillating or rotating sprinkler (or an entire in-ground system).
Settings
When it comes to the sprinkler, you'll find devices that have a variety of settings. Make sure that your choice has what you need to get your goals accomplished in terms of timing and water pressure. It's nice to have a good variety of settings – from timing to night-time options. You may want to ensure that there is an automatic shut-off feature (for fear of overwatering). We suggest you make a must-have list of settings you need and double-checking before you purchase.
Possible Settings:
night-time
automatic shut-off
timer options
oscillating
stationery
low, medium, high pressure
range adjustments
flow timers
full or partial water
Range
Of course, different sprinklers will provide different ranges of irrigation. This is an imperative function to look at before buying to ensure that larger lawns or smaller lawns will be provided the right amount of water. Looking at your sprinkler's range, adjustments will also be paired with its pressure options, so make sure you aren't overwatering or under watering your selected space.
Features
Child play and animal deterrent are too common features of sprinklers that you may want to make sure are included in your chosen design. For example, safely running through the sprinklers on a hot summer day may be a really important aspect of your device's versatility. Making sure your sprinkler will make that an even more fun advantage of that purchase.
You'll also want to make sure you know how your system connects. Some models will be protected against everyday wear and come with features that prevent clogs and leaks – look for those!
Types of Sprinklers:
Spray Heads:
Sprinklers with spray heads are exactly what they sound like. They're installed below the ground, and they will pop up to spray the ground. When they're finished, they will remain below the ground and out of sight.
Flood:
Flood sprinklers are ideal for farms and are one of the oldest methods of irrigation. It is designed to cover an entire field with water and makes soil infiltration easier to attain.
Rotors:
Rotor sprinklers are some of the more popular designs. They provide multiple streams of rotating water over any landscape. It usually an oscillating and/or stationery feature.
Shrub:
A shrub sprinkler will have a head that is elevated above your plants. This provides easier access to your particular plants that need water from a higher area.
Conclusion
The right kind of watering is the key to a lush, healthy lawn and healthy, growing plants. To achieve the proper amount of irrigation, you'll need to make sure your yard has access to water – and we can't always rely on the most natural of ways to make that happen. Instead, do your homework, start shopping, and make sure you provide your space with a sprinkler or sprinkler system that caters to your every necessity. Keep your own lawn's design in mind when purchasing as well. Do you have a narrow slice of yard that you'll need to water appropriately? A flower bed? Or some hills or possible puddle zones? We just suggest looking at every inch of your land before deciding on your best buy.