30-Minute Lunch Recipes That You'll Actually Enjoy Making
It could be whipped up during a quick break from the pool in the summertime or an easy way to make a meal for the fam during the winter holidays. We don't always want to spend a lot of time in the kitchen – especially at the midday hour, but we always want those bites to be delicious. Here are 15 30-minute lunch recipes that you'll actually enjoy making. They're all family-friendly and vetted for scrumptiousness.
1. Chipotle Chicken & Cheese Quesadillas
Chicken and cheese is always nice especially with a kick chipotle. And this recipe from Krafted Koch is quick and easy – but mostly it's a family-friendly way to feed everyone for lunch! Top it with some fresh pineapple pico.
2. Baked Chili Dogs
These are a great way to spruce up the weekend or serve up at a pool party in a pinch. Check out these great recipe for baked chili dogs by visiting Life in the Lofthouse. Some classic potato chips are the best accompaniment.
3. Stromboli
The Recipe Rebel will show you how to make some homemade strombolis. What's great about a recipe like this is that you can personalize it to your liking. Fill it with classic pepperoni and cheese or go with feta and spinach!
4. Steak & Quinoa Burrito Bowl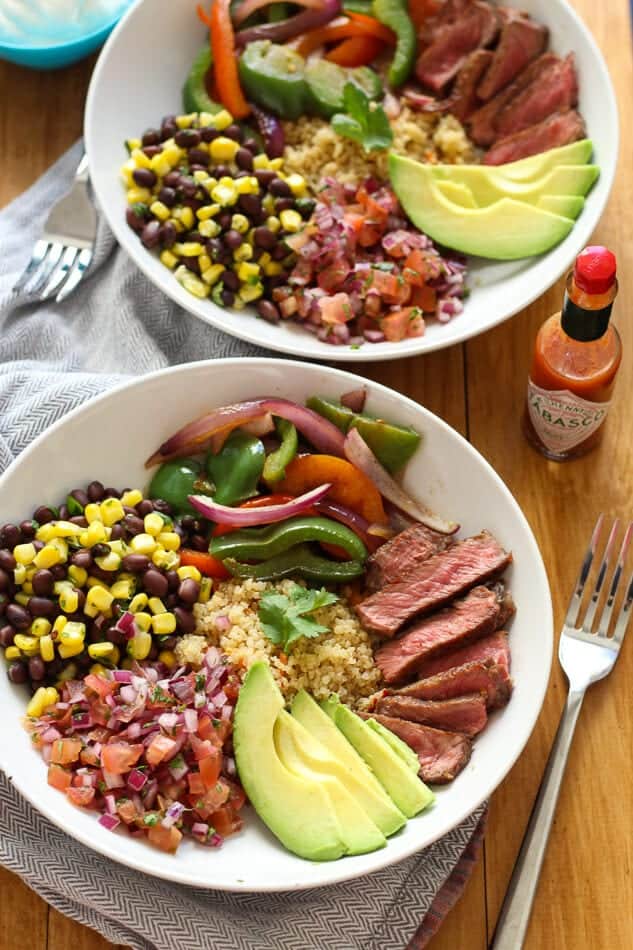 How do steak and bur-riot bowls sound for today? Fill it with all of your favorite, fresh toppings. You can even nix the steak if you want a vegetarian option. Grab the recipe by visiting The Girl On Bloor.
5. Thai Red Curry Chicken & Veggies
Carlsbad Cravings will give you a kick you've been craving with this quick, lunch recipe. Thai red curry and veggies could really brighten your day. And the leftovers are quite nice as well – we promise!
6. Sheet Pan Chicken Fajitas
You can do this with steak too! Or just veggies! There's so many ways to personalize this recipe. Check out how to whip up a quick batch of sheet pan fajitas by visiting our friends at Midwest Foodie.
7. White Pizza with Tomato & Basil
Pizza is always a great way spruce up any meal and in a quick way. But there are tons of ways to top those pizzas. And Tasty Oven when with a white rendition along with some slice tomatoes and basil.
8. Instant Pot Spaghetti
Grab your instant pot to make the quickest and most delicious of spaghettis! Everyone loves this classic, pasta dish so it's essential that you have a good recipe on hand. Tag this one from I Heart Naptime.
9. Chicken Noodle Soup
Averie Cooks knows that a good chicken noodle soup should be a part of all of our repertoires as well. Whether someone is feeling under the weather or you're enjoying a cozy, fall day at home, chicken noodle soup is a wonderful way to bring comfort to everyone's bellies. And this recipe is packed with delicious nutrients.
10. Creamy Italian Chicken Pasta
Here's another family-friendly pasta dish that doesn't take too much prep or time in the kitchen. Shugary Sweets shows you how to create a pan filled with the creamiest chicken with the most scrumptious Italian flavors. Jump on over and bookmark the tutorial!
11. Pulled Pork Pastry Puffs
These quick puffs are easy to make and a delicious way to include a different white meat onto the family menu. You can easily do this with shredded chicken as well – don't worry. Add some homemade ranch to its side and a leafy green salad. We found this fun recipe at Plain Chicken.
12. Tuna Melts
Tuna melts get a bad rep, when in reality, they're one of the tastiest of lunch options. Sarah Titus will show you how make the perfect tuna melt – and one that won't scare off the kids! How about serving this up alongside a delicious pasta salad?
13. One Pot Beef Penne
One pot recipes always makes times go smoother and easier in the kitchen. And over at Girl Gone Gourmet you'll follow along as she makes a beef penne dish that everyone will want seconds from – or maybe even thirds. The secret to extra bouts of deliciousness here is the fresh mozzarella on top.
14. Greek Salad & 3-ingredient Hummus Dressing
For lighter and healthier fare, check out some of this Nashville chef's array of amazing recipes. LL Balanced has so much inspiration and this particular leafy green salad – and fresh humus dressing – caught our eye. It's so flavorful and healthy!
15. Chicken Chimichanga
And this chicken chimichanga recipe from Munchkin Time is just so satisfying. Learn how to whip these up (you can easily replace the chicken with beef or just veggies) and serve with some rice and beans on the side. You can even cover it with some warm and spicy queso as well.