The 10 Best Water Flossers for Dental Hygiene (Reviews) in 2023
Not that we're getting "old" by any means, but we're definitely finding that we're becoming a lot more conscious of our oral health as we age. We'll be the first to admit that, like most kids and young people, we were a little more lax about how frequently we flossed once upon a time, but that time is no more.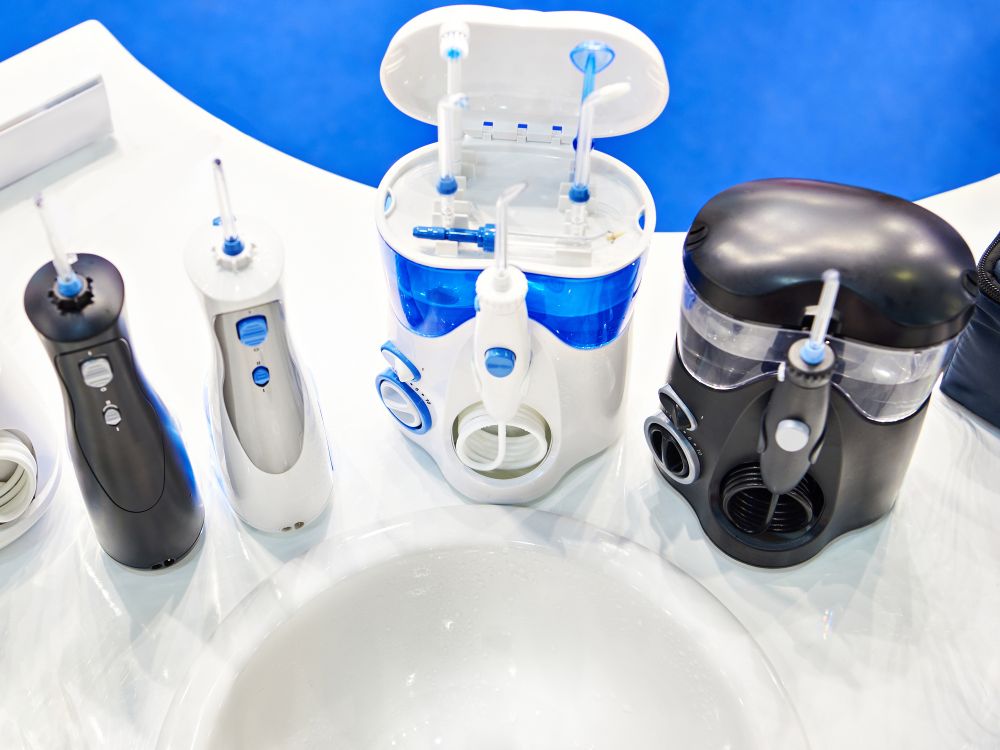 We're lucky and proud to have a full set of strong, healthy teeth and we definitely intend to keep things that way for as long as we possibly can. If that means investing a little more money in reasonable household tools that will help us keep our teeth strong and white and our gums pink and healthy, then so be it.
This line of logic is how we found ourselves researching and shopping for the best water flosser options we could find on the Internet. It just seemed like the logical next step for people who already use a high-quality electric toothbrush and the best tooth paste and mouth wash that our dentists could recommend for our needs. We also adored the idea that water flossers get you the same effect as traditional dental tape, but without creating quite so much disposable waste!
Editor's Choice
Best Budget
Premium Pick
What Is the Best Water Flosser?
Of course, any time we start researching something we're thinking about buying to ensure that we get the model that's truly the best for us and therefore the most worth our money, we find ourselves bookmarking a whole list of quality options to go back to and look over once more.
We've always enjoyed reading other people's reviews and recommendations during shopping processes, so we figured we might as well share our own too, just to help other people with the same interests out.
Check out these 10 fantastic water flossers that we considered in our search!
Even though you're not opposed to paying full price for the right item, are you also the kind of bargain hunter who is always on the lookout for a decent sale that gives you good prices without a loss in quality? In that case, we'd absolutely suggest taking a look at how this offer fromWaterpik provides you with a quality machine for $20 off the rate it would usually go for! We don't know about you, but we can always use an extra $20 in our pocket.
This particular water flosser was actually tested by the American Dental Association and found to be at least 50% more effective at removing debris and residue from between teeth than regular dental floss. With that highly esteemed seal of approval, it's doubly impressive that the machine is so simple to use and accessible to navigate.
The whole point here is to allow you to access dental cleaning levels of oral care at home without needing to undergo special training like your usual dental hygienist would. We're particularly fond of the idea of a massage mode for gum stimulation and having the ability to choose from ten different speeds and pressures, depending on your mouth's needs that day. We also like the large size of the flosser's reservoir, making it quicker to use when you don't have to refill it every single time!
Pros
Super easy to use and at a great price.
Features lots of settings.
Cons
View price on Amazon
Are you actually someone who does a lot of traveling and spends enough time on the go that you're only interested in a water flosser if you can take it with you? Then you're certainly going to need something a little more portable than the kind we showed you above that comes with an entire base dock and a water reservoir! Instead, we'ddefinitely suggest checking out what Liberex has to offer with this cordless water flosser that'smuch more portable, space efficient, and travel friendly.
Besides its portability, one of the best features boasted by this water pick is that it's capable of putting out 1600 perfectly pressured water pulses a minute for maximum tooth and gum benefit. This model also comes with five different 360 degree rotating nozzles, some of which give a slightly different stream for personal preference; one person might like a more concentrated feel while someone else might prefer one that's like a gentler rinse.
Different nozzles also means that different family members might feasibly share this flosser, swapping the heads out for cleanliness but using the same handheld. Finally, we really appreciate the way this flosser comes with memory functions! If you enjoy more pressure at the beginning and then a softer rinse round at the end, you can program those features right in so the base gives you just the kind of flossing experience you want without you having to stop and adjust things in between.
Pros
Features 5 different 360 degrees rotating long nozzles.
Portable size.
Cons
Charging cable is a bit too short.
View price on Amazon
Did we really catch your attention with this whole concept of getting a large countertop flosser that comes complete with its own reservoir but you're also the kind of person who likes to see more than one of the same basic design from different brands before you make any kind of decision? Then here's another useful machine of the same type, this time offered and customized a little byH2ofloss.
This particular design puts a little more emphasis on how useful and multi-functional different kinds of tips can be for getting various results and really amplifying your gum health. It comes with 12 detachable locking tips, allowing you to get specialized effects like tongue cleaning, irrigation, pressurized streams for working around orthodontic gear and braces, and misting just for extra moisture if you're experiencing dry mouth.
This design is also specially designed to be quieter than not only its previous version of itself, but most water flossers on the market (although it naturally does still make some small whirring). With six built-in pressure range settings (and the rather useful sounding ability to pause), this flosser can pump out 1200 pulses per minute. It comes with anti-overheating systems and a 24 month warranty,just in case.
Pros
Lower noise levels.
Powerful irrigator with 1200 pulses per minute.
Cons
Floss tips can break pretty fast.
View price on Amazon
Are you still feeling much more intrigued by the idea of buying and using a more portable water flosser than these countertop designs but, like we said before, you're still feeling rather intent on looking at as many different versions, brands, ad price points of the same basic thing to really make sure that you invest in the option that's best for you? Then here's another portable, cordless water flosser for your consideration, this time fromNicefeel!
Interestingly, this particular portable flosserdoes actually have its own reservoir; it's just located at the bottom of the flosser as a built-in piece rather than being a whole separate tank! This time, however, the reservoir only holds 300ml of water, which is enough for about three flossing processes. Since many people will use this model for traveling, however, we're pleased to see this the reservoir actually detaches entirely from the bottom the flosser, making it extremely easy to empty, clean, and dry out before you pack it back into your suitcase to hit the road again.
This flosser has three cleaning modes, is capable of 1800 pulses per minute for 99% spotless debris clearing power, and comes with four different 360 degree rotating heads so the whole family can use it without passing germs around. You'll even get plastic carrying cases for the nozzles, keeping them clean and protected in your bag!
Pros
Has three flossing modes and four tips.
Super easy to use.
Cons
Water cup isn't large enough for a proper cleaning.
View price on Amazon
Are you feeling quite intrigued by the design above but you're also looking for a slightly more durable version, and you're willing to invest a little bit more money into the design to get it? Well, the price point is only a few dollars higher, but any cost variance between similar models is worth noting while you analyze your process! We'd definitely say that this cordless, portable model fromMOSPRO is worth checking out.
Like the one above this water irrigator has a fully removable, detachable reservoir on its bottom end that's nice and easy to clean and keep dry between uses, making it ideal for traveling with. This particular model has an impressively long battery life and can be easily charged almost anywhere via USB port, which makes its portability even higher.
It has normal, gentle, and pulse modes in order to account for what your teeth and gums need on a given day, and multiple heads to offer your family the same kind of care while still keeping things hygienic. This handheld design is lightweight and comes in three different colours for you to choose from.
Pros
Waterproof, so you can use it in the shower.
Comes with multiple color-coded tips so the whole family can use it.
Cons
Water reservoir empties fast.
View price on Amazon
Of course, the colour and aesthetic of something that you're hoping to buy for its practical abilities is never the most important thing to consider when you're analyzing all its features, but it doesn't hurt to purchase something that you like the look of so long as all of your other needs are also being met! That's why we liked the look of this sleek black version of theWaterpik flosser, which also has plenty of wonderful practical features to offer besides its colour.
Although this countertop water pick is on sale, it's still on the more expensive end as far as the options on this list have gone so far. That doesn't mean, however, that it isn't worth the price! This model is stacked with useful features that will benefit your oral hygiene. It's easy to navigate, simple to adjust, and lets you alternate between harder hitting flossing functions and slightly gentler massaging power, giving you adjustable speed within either setting.
Whether you're trying to stimulate your gums or brighten your teeth by keeping your enamel extremely clean, you'll probably find yourself completely set here; tests showed healthier, brighter smiles in just a week of using the flosser for no more than a minute per day. This flosser also comes with an impressive bundle that gives you seven tips instead of just four; the regular ones you've seen on almost every model so far, but also three specialty ones for orthodontic equipment, plaque fighting, periodontal pockets, and water-based tooth brushing.
Pros
Powerful spray.
High volume reservoir.
Cons
View price on Amazon
If you've felt pretty interested in the other versions of this particular model we've shown you so far but you're also the kind of person who feels the most satisfied when you know you're investing in the most up to date model that a brand has to offer, then we think you'll be pretty pleased to see that this upgraded version of the portable flosser byMOSPRO that we showed you earlier is available for a reasonable price as well!
This model is designed to be particularly high powered, both in terms of its water output but also in terms of its longevity in use, making it an especially great option for traveling with. Once the lithium ion battery inside is fully charged, it can actually run for eight to ten days worth of uses at the recommended treatment length for what your gums and teeth require most! The charging port is USB compatible, making it easy to power up essentially no matter where you are.
Like many others, this flosser offers you four interchangeable nozzle tips, each with a great range of motion and 360 degree rotation capability. You can even adjust the different pulse modes so you can really make sure you're getting a pressure and water movement action that benefits you the most and feels right.
Pros
Battery lasts for about 10 days.
It's cordless, so you can take it with you anywhere.
Cons
View price on Amazon
Are you still feeling sold on the basic idea of a water flosser that's portable, cordless, and lightweight but you're not sold on any one particular option yet because you can't help wishing there was a version out there that included more detachable nozzle heads in its basic pack for your large family, rather than you having to buy extra refill packs just to get everyone covered and flossing? Then we have a strong feeling you'll appreciate the wayZerhunt packages their flosser!
Considering that this piece is priced right in the middle range of what we've shown you so far, it's rather impressive and extremely reasonable that it comes with the most family sharing tips on the list. Sure, other models had up to seven heads, but many of them were specialized for specific functions rather than just giving more people the ability to get that regular clean you're looking for. This flosser pumps out 1800 pulses per minute and has heads that work well with any kind of oral condition or gear. The bundle gives you six heads in total, each of which is compatible with all three modes that the handheld works in; normal, massage, or pulse (for when you need a little more pressure than usual). We like the way the handle has been purposely ergonomically shaped for easy and comfort, making it non-slip in addition to being lightweight.
View price on Amazon
Did we actually really catch your attention with this whole idea of having more interchangeable heads or tips on your flosser but you're more interested in having different kinds to achieve all types of effects and forms of care, rather than just having more of the regular tips for more people? Then we have a strong feeling you might get along a little better with something like this bundled cordless portable offer fromBESTOPE!
The middle range price of this particular item is impressive because it's designed to fit two toothbrush heads in addition to the rest of the water flosser heads. This means you're actually getting and electric toothbrush out of the deal as well, reducing your oral care tool costs significantly. After all, electric toothbrushes can be pretty expensive in their own right! Additionally, you'll get interchangeable tips for tongue cleaning, plaque reduction, periodontal pockets, rinsing, and gum massaging. Besides the fact that it has the best range of detachable heads so far, this model also has the longest lasting battery life between charges, even with frequent usage; it can last through up to 30 days of treatments before you need to fully charge the battery again!
View price on Amazon
Are you actually in the market for something high quality and very effective indeed but you've never been one for bells and whistles, so you're also looking for a model that's very minimalist and accessible despite also being cordless and portable? In that case, we'ddefinitely suggest giving this water flosser fromAkunbem some consideration before you go.
Easily the most standout feature of this particular flosser is its "DIY mode". This lets you completely customize your water pressure, movement, and experience however you please at a much more basic level, rather than being confined to choosing only between three different pre-set modes that are viewed as commonly acceptable or beneficial. The controls on the machine might be much more basic and accessible, but you're actually getting a much more interactive handheld flosser in the end.
Another impressive feature is that the durable, detachable reservoir built into the bottom of the flosser, which holds a standard 300ml of water, is designed to be completely leak proof when it's screwed on and clicked into place. This makes it so you can actually leave the flosser filled even when you're traveling, rather than having to remove the reservoir, empty and dry it out, replace it, and then refill it when you get to your destination. Even so, itis easy to remove and dry out when you need to!
Pros
Large water reservoir.
Great for traveling.
Cons
View price on Amazon
Conclusion
Do you know someone else who has been considering investing in a quality water flosser lately but who still feels like they could use a little bit of guidance before they make a final decision? Share this post with them so they can see even more information and options than they might have already found in their own search!