Usually when we talk about fun cocktail recipes, we're talking about celebrations or summer parties. The fun flavours and themes kind of just remind of us sunny days out on the patio. We've realized, however, that we're really limiting the fun if we only think about the possibility of enjoying a themed cocktail a few months of the year. Why not let yourself celebrate in the fall too?
Check out these 15 delicious fall flavoured cocktail recipes that will have your taste buds dancing despite the cold weather!
1. Cranberry margaritas
To us, no other flavour says fall (and reminds us of the impending Christmas season) quite like cranberry! Sure, we enjoy cranberry juice and similarly flavoured things the rest of the year too, but there's just something about the taste that seems right for the season. Check out this simple but delicious cranberry flavoured cocktail on Gimme Some Oven!
2. Cinnamon maple bourbon sour
This recipe might sound sweet, and it is, but it definitely isn't too sweet, if you ask us! The combination of cinnamon and maple flavours takes that sweetness and gives it some bite. It resembles the smell of a delicious cinnamon maple candle and simply tastes like fall, if you ask us. Check out the details on So Let's Hang out.
3. Autumn Russian
Are you already a huge fan of white Russian drinks any time of year? Then you'll love the taste of this version from Kitchen Meets Girl meant specifically for fall parties! Besides having a rich taste that hints of cinnamon (but not too strongly), a fall coloured sprinkle rimmer is the proverbial cherry on top.
4. Mulled wine
Have you ever made fall time pot simmers on your stove top, filling your whole kitchen with the warm smell of seasonal spices, cinnamon, and star anise? Maybe we're a little weird, but we've always thought that those smell so good we could take a big, warm gulp. We've resisted the urge to date, but this mulled wine recipe from Gimme Some Oven tastes as thought we've given in, and we're pretty pleased about it!
5. Figgy maple bourbon fizz
Do you prefer your cocktails to have a bit of fizz or pop no matter what time of year it is? Well, here's a great recipe for blending your usual preference with a little bit of a fall twist. Hints of fig and maple combine perfectly with good bourbon to give you a cocktail that's worth sipping and savouring.
6. Spiced apple cider margarita
Have you always liked the taste of apple cider but you're not the biggest fan of warm drinks? Then Domesticate Me is here to save your day! This cocktail, with its cinnamon sugar rimmer and sliced apple garnish, si the perfect compromise, giving you all the taste of a cider without the heat.
7. Cranberry cinnamon whiskey sour
Do you like to enjoy a good whiskey sour on a Friday night when work is finally done for the week? We don't blame you! Just in case you feel like getting a little bit seasonal with your weekly treat, here's an awesomely delicious autumn version from Baker by Nature! Hints of cranberries and cinnamon make for the perfect fall beverage.
8. Vanilla pear cocktail
Maybe you'd love a cocktail that tastes and smells like fall but you're really just not a big fan of cinnamon or maple flavours? That's understandable! There are plenty of other fall flavours out there for you. When we were growing up, our grandparents used to bake delicious things involving pears in the fall, right around Thanksgiving time. Harness that alternative fall treat in this delicious vanilla pear beverage by Two Tarts.
9. Caramel apple cider cocktail
Do you like the idea of an apple cider cocktail but you'd rather something a little more sweet along with those flavours? To be honest, we usually go by the rule "the sweeter, the better", so we're with you on that one! Creative Culinary gives you just what you're looking for by adding caramel to both the cocktail and the rim of this drink. Garnish it with a skinned apple slice!
10. Pumpkin cider beertail
Perhaps you like the idea of flavoured drinks but traditional cocktails are usually just too sugary for your taste buds to handle? Get the best of both worlds by enjoying a "beertail" instead! This is a beer based drink that has added flavours (in this case, seasonal ones), just like a cocktail does… minus the extreme sugar levels. This pumpkin cider beertail by Brit + Co. is the perfect example of what we mean. It's pretty much every fall flavour you could want in one place!
11. Apple pie punch
Are punches the best kind of cocktail in your books? They're kind of like a regular sugary cocktail, but a little higher on the juice content. This particular recipe is a great fall option because when we tell you that it tastes like apple pie, we are not kidding! It's like a delicious dessert treat but for adults. Get the full ingredient list on The Cookie Rookie.
12. Vanilla vodka Chai tea
Perhaps your favourite fall beverage isn't usually a cocktail at all, but rather a latte? That's actually the case for us too and when it comes to lattes, it's Chai or busy for us! The fragrant flavours involved in a hot Chai drink just can't be beaten. In case you do want to wander into cocktail land some weekend this autumn, however, here's a drink recipe that blends the two for you! Life As a Mrs teaches you how to make a Chai flavoured cocktail that features vanilla vodka.
13. Apple cider sangria
Do you love nothing more than a good sangria in the summer? We don't blame you, and we're no strangers to making giant bowls of fruit filled sangria and serving them up in the biggest punch ladles we can find. In the fall, however, those fruit flavours aren't exactly seasonal. Instead, try this apple cider version that taste a little more autumnal! My Life and Kids shows you how it's done.
14. Maple bourbon apple cider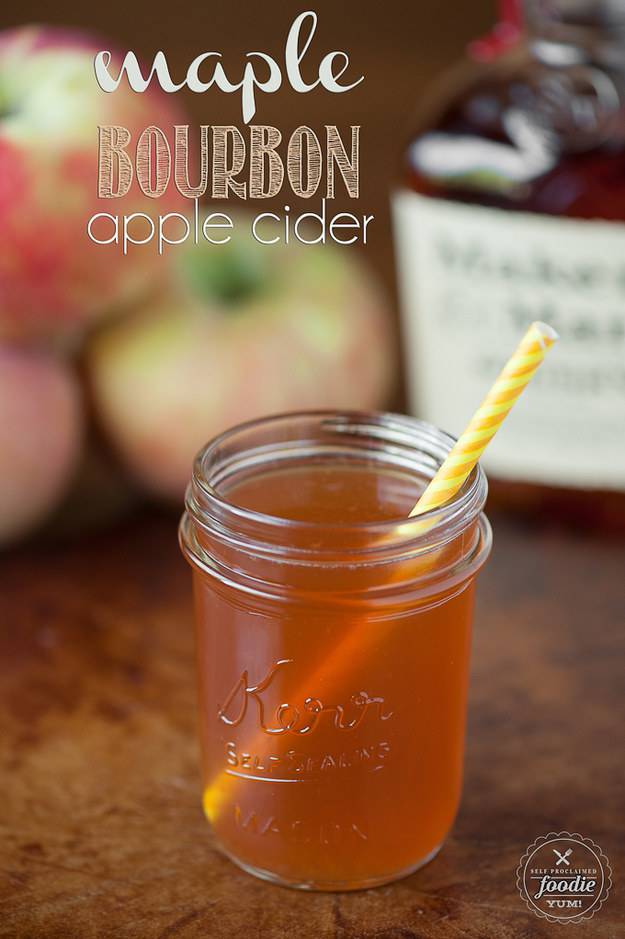 Just in case none of the other combinations have quite hit the mark yet for you, here's one that takes elements from three other recipes on this list and blends them together in a new way just for you! It's got the sweetness of maple syrup, the tartness of apple cider, and the rich base of a good bourbon. Self Proclaimed Foodie has all the details you'll need to make it.
15. Spiced pumpkin punch
Are you fully aware of your pumpkin spice addiction and ready to indulge in it to the best of your ability this fall? Don't worry; this is a judgement free zone when it comes to pumpkin spiced anything! Hop on the cocktail train while still enjoying your favourite fall flavouer by making yourself this pumpkin spiced cocktail from Domesticate Me.
Do you have another favourite fall cocktail recipe that you look forward to making every year but that you don't see on our list? Tell us how to make it in the comments section!