The Best Camping Showers to Buy in 2023 for Your Outdoors Vacation
The weather might not be quite right for campingjust yet where we live, but that doesn't mean we're not already planning our big summertime family camping trip and getting prepared for it! In fact, right now, we're in the process of considering our camping shower options so we can make our purchase and have that ready well in advance of the trip since it's an essential.
We've been searching for all kinds of online options and, to be honest, we've actually been quite pleased to see how many great options there are for affordable prices. By the time we'd finished favoriting the ones we wanted to consider more closely, we had an entire list!
Editor's Choice
Best Camping Showers
Why not share that list with other campers, right? Just in case you're also in the market for a quality camp shower, here are 10 of the best options we came across in our search.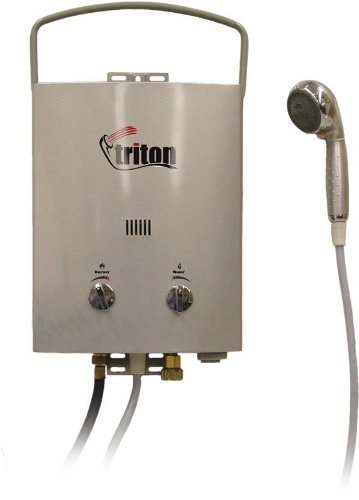 If you're going to invest money in a piece such as a camp shower, would you most prefer to get something that will get you the most comfortable experience possible, almost like you're at home? Then we thinkCamp Chef might have what you're looking for right off the bat.
This little shower pack hangs conveniently and hooks up to your power and water generator, making it ideal for RV or camper van owners. The electricity element lets the pack at the top heat small amounts of water at a time for comfort, even on the road and off the grid.
Pros
Gets you hot water with the help of 2 D batteries.
Can produce 1.5 gallons per minute.
Cons
Requires you to hook it to a pump.
View price on Amazon
Do you like the idea of water that's been warmed at least a little bit, but you'd prefer a design that doesn't have to be hooked up to an electrical socket or generator since you might not necessarily have access to such things at all times? In that case, we think you might have better luck with something like this summer shower from Advanced elements!
Instead of electricity, this refillable shower bag is warmed by solar panels. The bag holds up to 5 gallons of water, which is just enough for the kind of quick rinse you might need between dips in the lake. Its convenient handle makes it not only easy to carry from place to place when you move camps but also to hang from just about anywhere, including the nearest tree branch if necessary.
Pros
Can hold up to 9 liters.
There's a water temperature gauge.
Cons
The valve is difficult to handle with soapy hands.
View price on Amazon
Rather than camping in the woods where you can hang a shower from any tree branch, are you headed somewhere like the prairies, which are a little flatter? Then maybe you'd prefer this pressurized system from Rinse Kit!
Rather than hanging from a high-up place and relying on gravity for part of its water movement, this shower system sits in a tub and is pumped up through a hose when you press the handle on the showerhead. The system inside makes it so that you don't need batteries, and you don't have to pump anything to create the pressure yourself. It lets you spray a consistent stream of water for up to three minutes from the lower tub, which holds two gallons.
Pros
Doesn't need a pump or batteries.
The hose is six feet long.
Cons
The box isn't very large.
View price on Amazon
Have you actually been hoping to find something not only much more affordable but much smaller and a little more primitive since you're taking the kind of camping trip where you won't really need to do much more than rinse off rather quickly between swims in freshwater? Then we're pretty sure this piece from Simple Shower isjust the kind of thing you're looking for.
This company provides you with a super portable, totally collapsible piece that you can simply insert in any kind of water bottle to turn it into a quick-squeeze shower. Hold onto a one or two-liter water bottle that you can refill for the duration of your trip, and you'll never be without the ability to rinse off! Perhaps the best part is that it only costs $10.
Pros
It works with any water bottle.
Super easy to transform most water bottles in a shower.
Cons
There's no way to plug some of the holes, so the flow is too powerful for some occasions.
View price on Amazon
Are you actually trying to make your camping trip as no-waste as possible, so you love the idea of an extremely portable shower, but you'd prefer not to carry large plastic water bottles? Then maybe you'd rather have a design like this one from Sea to Summit that you can use to create a shower effect right from the lake or sea!
This design does also comes with a 10 liter screw-on bottle that you can use to squeeze power water through the showerhead as well. All of it comes in a very convenient waterproof zipping case that can actually also be used as a dry-pack for things like extra clothing or other fabric things to protect them from getting wet on hikes or canoe trips. This design is more expensive than the one above, but it also has more diverse features to offer.
Pros
The shower spout can be opened gradually.
Comes with a long cord so you can hang it up a tree.
Cons
The spout loses some of its seal after a while.
View price on Amazon
Are you still thinking about how much you liked the portable water bag idea when it comes to an outdoor shower design, but you're also the kind of person who likes to consider more than one option of something before committing to a purchase? Then we'd suggest taking a look at this camp shower from FeChiX as well.
Compared to the other bag, this one has a wider and larger showerhead attached for an effect that's a little more like your shower at home, rather than more of a stream like the previous piece. This design is also a little more affordable than the previous one, which is something worth considering as well.
Pros
Features a great shower head.
Heats up the whole 5 gallons in 3 hours of full sunlight.
Cons
The plastic handle isn't very sturdy.
View price on Amazon
Are you still feeling less than 100% convinced by the other shower bags in particular, even though you're pretty sure that's the kind you'll choose in the end? Then it won't do any harm to look at this design fromSportneer as well!
This shower bag shares many features with the previous ones we showed you, including the solar power detail, but it's not entirely the same. This bag's hose and shower head are removable for cleaning and easier portability, and it also has a storage pocket for small things like a bar of soap as well. It even has a temperature gauge on the back so you can see how your water has heated.
Pros
Features a temperature gauge.
Heats up the 5 gallons in about three hours.
Cons
The showerhead is pretty small.
View price on Amazon
Rather than something that limits you to about five gallons of water, would you prefer a design that lets you carry a little more shower water but still avoids becoming extremely heavy? Then we thinkNEMO might have just the kind of thing you're looking for.
This particular outdoor shower is built to be extremely lightweight in its materiality so that it doesn't becometoo heavy when it's full of water. Part of keeping things very light is reducing the power mechanism to a very simple foot pump. The way it's built, however, still lets you pump a decent amount of pressure into the handheld shower piece.
Pros
Comes with its own pressure foot pump so you can adjust your showers as needed.
You don't need to hang this camping shower.
Cons
View price on Amazon
Are you still feeling keen on the idea of a bag you can hang, and you'd even like a space-efficient shape, but you're still not feeling settled with any of the suggestions we've already made? In that case, we think you might have better luck with something like this cube-shaped design from Risepro.
This bag, with sturdy handles that allow it to hang even when it's full, holds up to ten gallons of water, making it perhaps the best volume for its shape and size. The black color and material of this bag heats the water passively in the sun by absorbing heat from its rays, and water is pumped through the head using gravity but controlled with a switch that lets you choose the pressure of the flow.
Pros
Super portable as it folds easily.
Carries up to 10 gallons.
Cons
It's a bit too big to lift when full.
View price on Amazon
Have you actually found yourself still thinking about how much you enjoyed the pressing hand handle design on the showerhead, but you also felt quite partial to the cylindrical shape of the 11-gallon design at the way it heats and hangs? Then we think you'll like this shower from Wadeo that's like a combination of the two!
This version of that shape and designis smaller, containing only four gallons when it's full, but the heating systems are much the same. This design also comes with an alternative foot pump, in case you prefer to power water through it that way rather than with the hand press action on the showerhead.
Pros
You need to press the nozzle to control the water so nothing is wasted.
The foot pump means you can place it on the ground.
Cons
The air tube is a bit short.
View price on Amazon
Conclusion
Do you know another camping enthusiast who has been thinking about investing in a portable camping shower but who feels like they could use a little bit of guidance? Share this post with them, so they have all kinds of suggestions and information to work with!