19 Vegan Spaghetti Squash Recipes To Make Tonight
When you are craving a beautiful bowl of pasta, you do not have to forgo your dietary needs to throw your health-consciousness to the wind. The same goes with some other hearty dishes known as "classic comfort foods." Instead, you just need to get creative in the kitchen. Add a few more veggies on the table (and trick the kids) with these 19 vegan spaghetti squash recipes that you can make tonight! There are so many ways to serve up your spaghetti squash, here are some of our favorites! You just may surprise yourself with some of this delicious and innovative stove-top (or oven) magic.
Easy Vegan Spaghetti Squash Recipes
1. Chili-Stuffed Spaghetti Squash Bowls
We are loving this two-bean veggie chili and we're loving its presentation even more. Served inside a tender spaghetti squash, this dinner becomes the best accompaniment to a fall night with the family. And there's nothing to feel guilty about when indulging.
Be sure to have everyone's favorite toppings ready to go. Avocado, sour cream, jalapeños, and even a bit of cheese (vegan versions work too) can make a happy camper.
"Chili Stuffed Spaghetti Squash Bowls- roasted spaghetti squash filled with a hearty two-bean vegetable chili. It's a warm and satisfying meal that's perfect for cold weather! (vegan, gluten-free + grain-free)" –Making Thyme For My Health
2. Thai Stuffed Spaghetti Squash
This is everything you love about a tasty, flavor-packed Thai dish but with all the nutrients you need and want to feel good about eating it. There's nothing boring about the meal and it truly will satisfy.
You may even want to add some teriyaki to the concoction or replace the peanut sauce for those with allergies. If you did want to add some meat into the mix, some shredded chicken would be a beautiful accompaniment as well.
"Pasta? Who needs it?! This Thai-inspired stuffed spaghetti squash is piled high with garlicky roasted broccoli, creamy peanut sauce and crunchy peanuts." –Connoisseurus Veg
3. BBQ Spaghetti Squash Pizza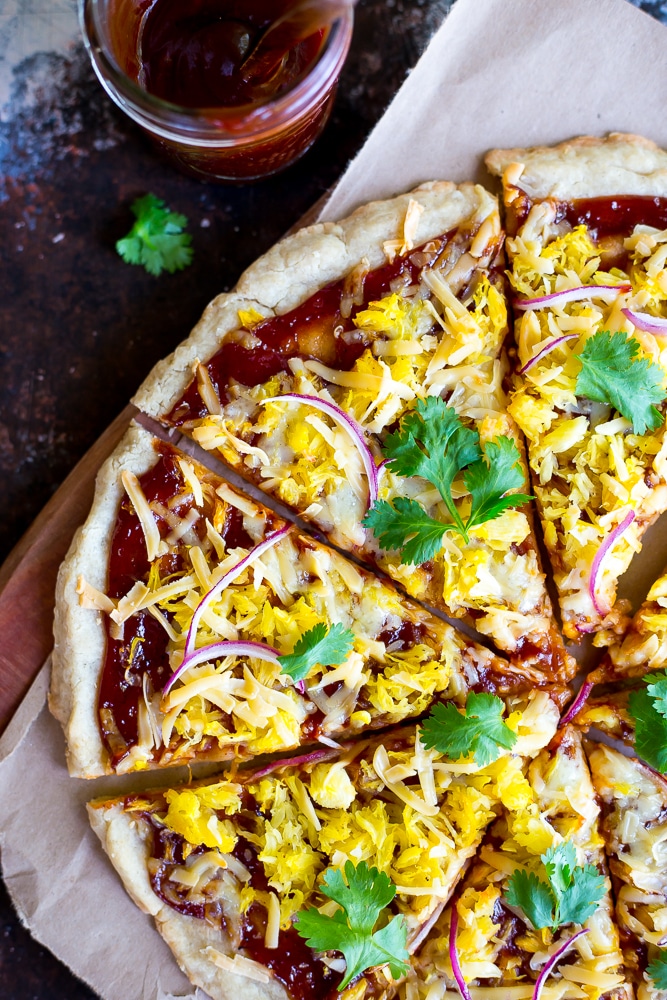 Who doesn't love a good piece of novelty pizza? And BBQ has been such a popular way to dress your slices. With this recipe, you get the flavors you love but without any shame.
Per the chef's advice, gouda pairs quite nicely with this dish. But don't worry, there are plant-based or nut-based substitutes that will still give you that same, cheesy deliciousness without the dairy.
"Basically, I just can't get enough and this BBQ Spaghetti Squash Pizza has been a regular lately." – She Likes Food
4. Spaghetti Squash Lasagna
Yes, you can even create a lasagna from your squash – and we're in love with the idea. What's even more amazing about this dish is the tofu ricotta that's used in between the delicious layers making it completely vegan and great for those with restrictive diets – whether by choice or need!
Serve this up with a side salad filled with leafy greens. You could even make a nice garlic bread and truly indulge in the night with the family.
"In addition to being incredibly flavorful, this recipe is also simple, requiringjust 10 ingredients. And it's naturally gluten-free and vegan, so everyone can enjoy." –Minimalist Baker
5. Mediterranean Spaghetti Squash Bowls
You really can turn your spaghetti squash bowls into the foundation for any of your favorite dishes or flavors. We've had Thai and Italian, and now we have Mediterranean to become inspired by.
The pesto topping really sets this plate off and ignites a unique taste for a weeknight dinner. Nix the feta to keep it completely vegan or add it in there for the extra bounce and bite.
"Roasted spaghetti squash topped with your favorite Mediterranean ingredients and pesto! This healthy vegetarian dinner recipe will make everyone happy." – Cookie and Kate
6. Mushroom Bolognese Spaghetti Squash Casserole
This is everything you love about bolognese but without any of the bolognese. It's perfect for family meals and works well as an ahead-of-time type of meal prep.
You'll need to roast your spaghetti squash and make the sauce before you actually start making the meal. And it doesn't have to be the day you decide to serve this up for dinner. Instead, you can break up the work in parts and have a stress free creation.
"It's like lasagna, but without noodles.. like a casserole, but on the healthful end of the spectrum.. Like spaghetti bolognese, sans the spaghetti and sans the actual bolognese." –The Roasted Root
7. Creamy Pesto Spaghetti Squash Bake
If you are a fan of pesto, then we have a real treat for you. And even though the word "creamy" is attached to this recipe you need not to worry. Instead, dive right in and start getting your hands dirty as it is still completely vegan with its cashew cream addition.
It also includes an amazing, homemade pesto recipe if you want to go the extra mile. Of course, you'll still get a stunning dish out of this one if you decide to go with a store-bought favorite.
"Silky cashew cream and basil pesto go into this crispy panko topped, totally vegan, and 100% delicious spaghetti squash bake!" –Connoisseurus Veg
8. Spaghetti Squash with Vegan Tomato Basil Cream Sauce
This is the one you need. This is the one you want. This is the one that will hit the spot then you need a big bowl of spaghetti and can't stray from your diet. All it needs are some soy or chickpea meatballs to finish it off.
Serve this up for the entire family. Don't be afraid to toss a salad for its side and a batch of garlic knots too!
"This sauce only have five teeny tiny ingredients: diced fire roasted tomatoes, cashews, water, basil, and salt. Does it get any better than avelvety smoothtomato basil cream sauce that's totally vegan and heart-healthy? No, it most definitely does not." –Hummusapian
9. Spinach Artichoke Pesto Spaghetti Squash Bowls
We're loving this cheesy goodness. It's like having spinach dip right inside your tender squash bowl! Of course, you will need to use dairy-free cheese to keep it vegan but it's also an easy dish to add chicken to or extra veggies.
You also have the ability to whip up some homemade pesto and make this an even more homemade treat for the family. All in all, this recipe has few ingredients but loads of flavor (and comfort).
"Spinach Artichoke Pesto Spaghetti Squash Bowls- roasted spaghetti squash stuffed with spinach pesto and marinated artichoke hearts. Grain-free, gluten-free and can easily be made vegan too!" – Making Thyme For Health
10. Lentil Bolognese with Spaghetti Squash
Here's another take on classic bolognese that our vegan friends and family members can get on board with. It's also just a healthier version of the one we all know and love. And it'll hit the spot if you're craving it.
You may be a family who loves to have pasta at least once a week. Make your nights even more health conscious by replacing those carbs with these veggies!
"Hearty vegan lentil bolognese is a comforting and wholesome dinner. Serve it over spaghetti squash boats or your favorite pasta." – Yummy Mummy
11. Vegan Spaghetti Squash Lasagna Bowls
We have another spin on lasagna that is easy to dive into and love. It's from our friends at Making Thyme for Health (we found multiple, amazing recipes over there!) and the innovation within this dish is unmatched.
Who knew you could make lasagna in squash bowls? Well, know you have all the information you need including how to create a cashew-cream filling that is absolutely delectable. And you should keep to make vegan cannoli filling.
"Vegan Spaghetti Squash Lasagna Bowls- layered with a hearty vegetable filling and topped with creamy cashew ricotta, these lasagna bowls make for a flavorful and filling plant-based meal!" –Making Thyme for Health
12. How-To Spaghetti Squash
If you're wondering how to even make spaghetti squash, you'll want to keep this tutorial bookmarked. This is a foundational recipe that needs to go in your repertoire and will help you with so many different dishes.
You'll be utilizing your oven and it'll be the beginning of the most beautiful of friendships.
"Learning how to cook spaghetti squash is super simple and you'll be an expert in no time with this easy, foolproof method of cooking spaghetti squash cut in half in the oven!" – The Simple Veganista
13. Spinach-Stuffed Spaghetti Squash
There are just so many strong, wonderful flavors included in this recipe and it's incredibly healthy too. Garlic is a favorited taste, especially among our comfort dishes. But it has tons of health benefits too, especially when its matched with so many vegetables.
Then take the lactose out of the mix, and you have a heavenly made boat filled with everything you'd want in a dinner. Don't forget the vegan cheese!
"This easy vegan garlic spinach and feta cheese stuffed spaghetti squash boats recipe is the best healthy and delicious comfort food for fall! They're cheesy, creamy, dairy-free, gluten-free, loaded with vegetables, and even low-carb!" –Bianca Zapatka
14. Ginger Miso Spaghetti Squash
Here's another great meal you can prep ahead for or even take for a healthy lunch! Add protein to take it up a notch or leave it in its natural, beautiful form you see here.
This is such a versatile recipe that you can help to make your own. It is a really simple recipe that is perfect for those just starting out in the kitchen.
"To get you started a couple of my ideas to make this a meal are to add roasted chicken or stir fry vegetables. Try adding some crunch by topping with cashews or pine nuts." –The Organic Dietitian
15. Mexican Spaghetti Squash Bowls
Not only does this bowl look incredibly delicious but it's quite beautiful too! All of those fresh ingredients come together to make a rainbow worthy of any lunch of dinner for the entire family to enjoy.
Onion, garlic, bell peppers, corn, black beans, and more come together to make this a knock-out, quick-to-become a family favorite recipe.
"Enjoy this Southwestern Stuffed Spaghetti Squashfor lunch or dinner. It is very satisfying, hearty and healthy with bold Mexican flavors!" –Healthier Steps
16. Southwestern Stuffed Spaghetti Squash
Here's another recipe that will sing to your Mexican-flavored loving soul. And this one has quite the nice kick to every bite! Refried beans are at the heart of this one.
Make sure you have some of your own toppings to personal each dish. Top it off with cheese, pico, salsa, fresh avocado, or even some sour cream.
"Spicy, vegan southwestern stuffed spaghetti squash is a satisfying, easy, and healthy dinner for any night of the week!" – Beaming Banana
17. Spaghetti Squash Caprese
For those that love a bit of Italian influences to their meals, this one is for you. My personal favorite salad is the caprese. I will do anything for a beautiful slice of tomato, with mozzarella, and all the right spices.
And this boat will serve up every bit of that but with a heartier punch. The best part? That punch is filling, satisfying, and still totally healthy!
"Fresh tomatoes are infused with fresh sautéed garlic, tossed with perfectly cooked spaghetti squash, and topped off with fresh mozzarella and basil. This low carb meal is sure to please any Caprese lover!" – Fashionable Foods
18. Spaghetti Squash with Broccoli-Pumpkin Seed Pesto
This is the perfect fall recipe. It has everything you want in an autumn-inspired dish, but it's so unique too!
There's so much texture, incredibly innovative flavor pairings, and the kiddos will even want more (if they're already fans of broccoli and cheese). And it's an easy recipe to make completely vegan or add in some roasted chicken.
"Roasted spaghetti squash with homemade broccoli pumpkin seed pesto makes for a light yet filling and nutritious low-carb vegetarian dinner – Add your favorite animal protein to make it even more filling and well-balanced." – The Roasted Root
19. Broccoli Cheddar Spaghetti Squash Casserole
Who loves a good broccoli and cheese casserole? We've found one for you that you can serve up and not feel guilty about diving into. You can easily make this a side dish for your family meals or brunches.
Or you can make it an entree by adding meat. Of course, for those that want completely vegan options, go with a cashew-based cheddar or plant-based cheese!
"The end result is satisfying enough to eat on it's own but it would also make a great side item. Either way, it's filling and just cheesy enough to quell your macaroni cravings." –Making Thyme for Health