Oven Roasted Eggplant with Hummus and Tomato Jam
I used to think I hated eggplant. It was either tasteless mush, or severely undercooked with crunchy bits and a heavy bitter taste. With these scars of childhood dinners past, I successfully avoided eggplant for years. Then entered the cooking method that changed it all, the slow roast.
And now I can't even begin to tell you how much I love eggplant. It is mild, soft, and can absorb all the flavor of a good marinade or a delicious sauce. It cooks perfect every time, and is so gosh darn simple.
The oven roast requires just three simple steps:
Step #1: Prep those plants.
Half each eggplant from stem to bottom. Then score the flesh of the eggplants in a crisscross pattern. This score allows the moisture to uniformly escape from the eggplant. This is the difference between an evenly cooked eggplant and one with mushy overdone sides and crunchy underdone exteriors. The score is key. You want it to be as deep as possible, without piercing the skin.
Step #2: Flavor town.
Eggplants are bland. There I said it. BUT that doesn't mean our slow-roasted eggplants have to be bland. The trick to a flavor-packed finished dish is in the marinade. We will whisk together a flavorful marinade and pour it over before roasting. The eggplants will act like sponges and absorb allllll of that delicious flavor.
Step #3: Oven Roast.
That's all she wrote. Throw them into the oven and relax while the Slow Roast works its magic. Simple, delicious, foolproof… the Slow Roast.
Now, we come to the most exciting part… TOPPINGS. After you pull those succulently soft and flavorful eggplants out of the oven, they will be begging for some sweet sauces to punch up the flavor to an 11 out of 10. We are going big here people.
Dollop them with some lemony hummus, which is made out of cannelloni beans instead of garbanzo beans because we are rebels and cannelloni beans have a super light and silky texture which is the perfect pairing to our eggplants.
And then hit them with a spoonful or two of homemade tomato jam, which is the spread of our Savory Sweet DREAMS.
Ingredients for oven-roasted eggplant:
6 mini eggplants, halved
1 lemon
3 tablespoons olive oil
1/2 teaspoon cardamom
1 tablespoon Italian seasoning
1/2 teaspoon salt
1/2 teaspoon pepper
4 cloves garlic, pealed and halved
For the hummus:
1 (15 oz.) can cannellini beans, drained and rinsed
1 lemon
1 clove garlic
1/4 cup tahini
2 tablespoons olive oil
2 tablespoons water
1/2 cup tomato jam
Directions to prepare the roasted eggplant recipe:
Preheat the oven to 400 degrees.
Using a peeler, peel of the lemon skin in thin strips. Be careful to remove just the yellow skin, and not the white pith which is bitter. Set aside.
Juice the peeled lemon into a small bowl. Whisk in the olive oil, cardamom, Italian seasoning, salt and pepper. Set aside.
Half the eggplants from stem to butt. Score the flesh of the eggplants in a hash pattern. Be careful to not puncture the skin. Place in a baking dish.
Brush on the oil and lemon mixture.
Scatter the lemon peels and halved garlic over the top. Place in the oven and roast for 40 minutes.
While the eggplants are roasting, add all the hummus ingredients into a blender. Blend until smooth, add in more water if needed. Set aside.
Once the eggplants are cooked, remove from the oven and discard the lemon peels and garlic cloves.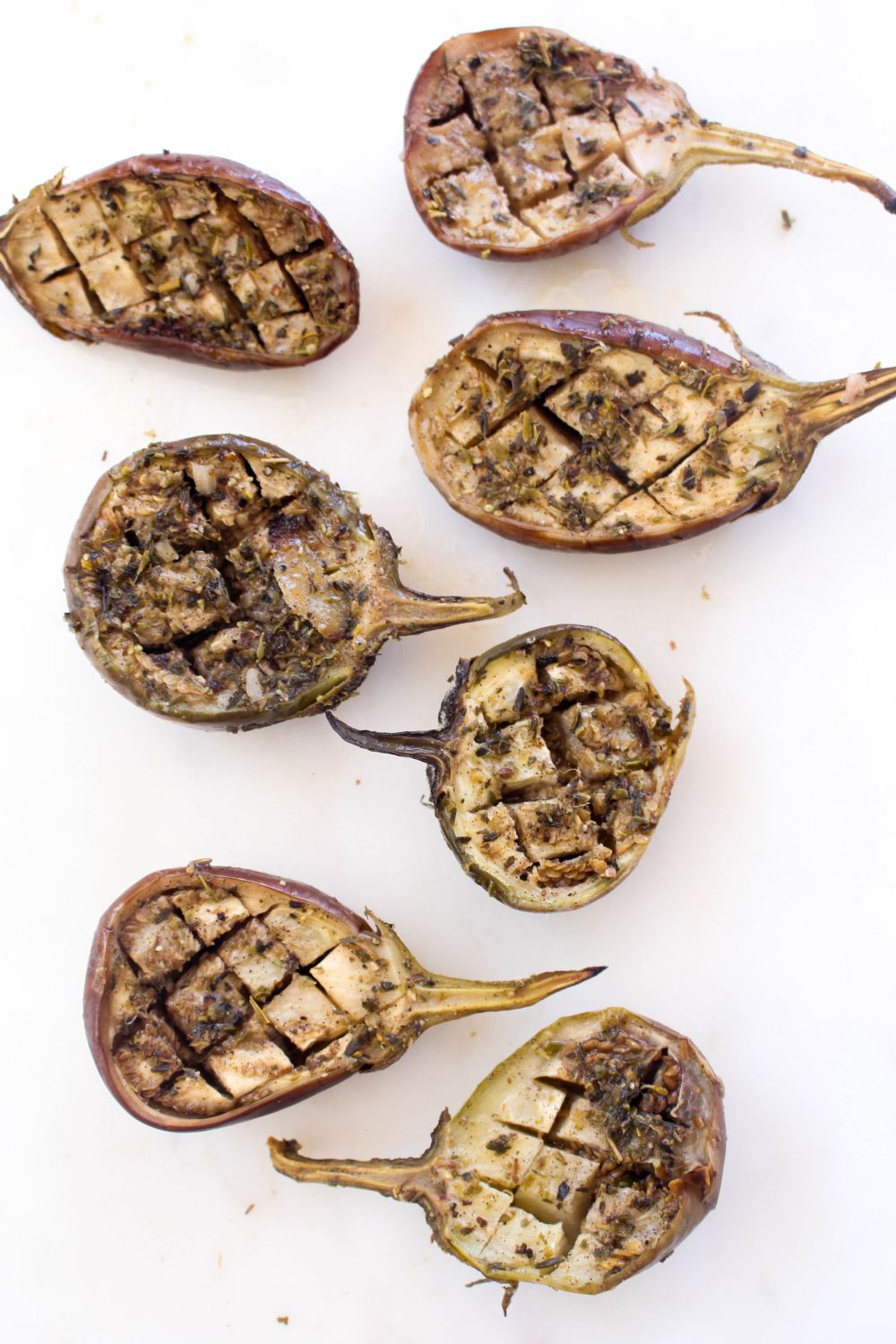 Top with hummus.
Then tomato jam. Serve.