50 Savoury Breakfast Muffins To Satisfy Your Mornings With!
Start your mornings off will full-flavors, maybe some spices and a whole lot of delicious bites. Prepare these ahead of time for a grab and go ease that both you and the kids of the house can enjoy. With these 50 savoury breakfast muffin recipes you'll satisfy your morning appetite and make rising early worth the alarm!
1. Cheese, Peas & Egg
This seems like an odd combination at first glance but it's packed with flavor and nutrition, so the kids will be getting a bite they love and you won't fill guilty for giving it to them. Find the recipe at Sailu's Food.
2. Spring Veg
Delight the tastebuds with these muffins that are packed with a bunch of springtime veggie love. Food to Glow has all the details on the creation of these bites.
3. Flakes, Feta & Corn
Made with quinoa flakes, feta roasted capsicum and corn, these savoury breakfast muffins from Fuss Free Cooking is one of the more unique but satisfying choices on the list.
4. Ham & Cheese
If you're looking for a recipe that the entire family will enjoy without apprehension, then you'll want to visit She Wears Many Hats and snag this recipe for ham and cheese breakfast muffins!
5. Spinach, Feta & Peppadew
Quick and Easy Recipes brings us this combination of spinach, feta and peppadew in a muffin! You can top these with butter too for extra savoriness.
6. Bread Pudding
Check out this recipe for savoury bread pudding – there's bacon involved! – over at Madhuja's Kitchen! You won't leave the house unfulfilled with these.
7. Ham & Kale
Food Faith Fitness combined some ham and kale to make these savoury breakfast treats. If you're a fan of those green leafs then you'll want to dive into this one.
8. Carrot, Beetroot & Ginger
Here's a super unique savoury breakfast recipe for those that want a bit of adventure infused into their morning routine. Grab the recipe over at Sprinkle of Green.
9. Sausage Cheddar
For those that are scared to go with more obscure ingredients, here's a fan favorite for the family. Sausage and cheddar is a classic breakfast combination you can follow the recipe at Running to the Kitchen.
10. Bacon, Cheese & Onion
Pip & Little Blue combines bacon, cheese and onion for another fan-favorites savoury breakfast muffin recipe. Classic ingredients and ones that most love; this one is a winner!
11. Mushroom, Zucchini & Quinoa
Anything is better when made bite-sized according to May I Have That Recipe and that goes double for breakfast … with these muffins your get satisfaction and good-for-you ingredients.
12. Breakfast Casserole
You can even make your favorite breakfast casserole in a savoury muffin form for the family to enjoy. Check this idea out at Thriving Home.
13. Bacon, Potato & Cheese
Again, we have some more classic breakfast foods combined and made into the most perfect morning bite. Find it by visiting Cook Almost Anything.
14. For the Kids
If you're looking for a savoury breakfast muffin recipe that the kids will enjoy then check out The Holistic Ingredient for all the details. Eggs, goats cheese and chives are just a few of the ingredients.
15. Salami & Cheese
We're loving this idea for a corn muffin that's stuffed with salami and cheese. Rice and Bread has all the details to grab for making it.
16. Prosciutto & Chives
The Kitchn focused their recipe around prosciutto & chives for a salty, Italian-inspired muffin for all to enjoy. And they're nice and moist with the addition of cottage cheese.
17. Whole Wheat & Egg
Make a healthy version of a savoury breakfast muffin by making it whole wheat! A Mummy Too Has all the know-how.
18. Hard Boiled Egg & Bacon
Check out these extra-large bacon and egg muffins from Recipe Tin Eats. We love the hard boiled center and crispy bacon sprinkles.
19. Turkey Sausage
Full of protein and fresh ingredients these protein-packed bites are an easy and gluten-free way to start your morning. Visit PopSugar for the recipe.
20. Spinach Artichoke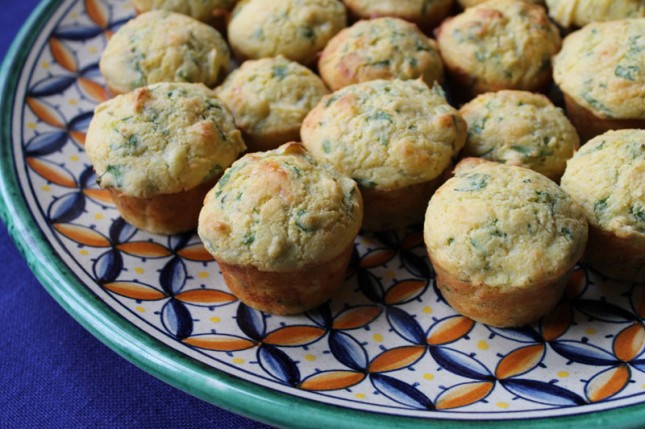 Brit + Co has these fabulous muffins gracing their web site and we are in love with the ease. If you love spin dip as an appetizer than you'll love these for breakfast.
21. Cheddar & Jalapeno
Over at Joy the Baker you'll find a spicy and satisfying mix of cheddar and jalapeños to really put some pep in your step come morning time.
22. Bacon & Parmesan
The Worktop gives us an extra special combination of bacon and Parmesan in a savoury breakfast muffin perfect for a grab and go in the perfect. A bit of freshly squeezed OJ would compliment this one fantastically.
23. Pesto Spinach
Check out these pesto spinach bites that will also put a little zest into your mornings. The Candid Appetite has all the delicious details.
24. Frittata
Angie's Kitchen gives us these fabulous frittata muffins that will make breakfast fancier and your fridge cleaner since you can throw in a bunch of fun ingredients.
25. Bacon & Cream Cheese
Over at Create Craft Love you'll find biscuit bites in the shape of a classic muffin that everyone in the house will want to dive right into. Bacon, cream cheese and more round out this recipe.
26. Sour Cream Cheddar & Chives
These are more like muffin tops but they're just as delicious. Check out the recipe for these sour cream, cheddar and chive drops over at She Wears Many Hats.
27. Ham & Swiss
Ham and cheddar is great but ham and swiss is a true classic and perfect for a quick and easy breakfast. You'll find this recipe at Clockwork Lemon.
28. Kale & Goat Cheese
We found this yummy and nutritious recipe at Yahoo! Moist and satisfying, they're mixing up good-for-you kale with soft and creamy goat cheese!
29. Pepperoni Pizza
Who says you can't have pizza for breakfast? With these pepperoni pizza muffins from Low Carb Yum you can have it every morning of the week!
30. Gruyere & Roasted Garlic
For more sophisticated palettes – or at least those that love all kinds of cheese – check out these gruyere and roasted garlic breakfast muffins from The Veg Space.
31. Broccoli Ham & Cheddar
Go Bold With Butter added some broccoli to their ham and cheese muffins to make it a bit healthier and to add some green for the kids to start their day with.
32. Thyme & Swiss
Here's another unique mix that you may not think off at first when deciding on your morning bite. But these savoury muffins from An Edible Mosaic are work the quick bake.
33. Avocado, Cheese & Egg
Avocado is one of the best super foods around and the most satisfying. Add it to your breakfast treat with some eggs and cheese too. (via Wonky Wonderful)
34. Smoked Cheese, Caramelized Onion & Bacon
Food Lust People Love took classic ingredients and pushed them a step further. Smokes cheese, caramelized onion and crispy bacon can be the best start to your morning.
35. Quinoa Carrot
These quinoa carrot breakfast muffins are packed with protein! Grab all the details and directions over at Sippity Sup to make these ahead of time for the week!
36. Florentine
Teenie Cakes made some Florentine muffins for all the Italian lovers out there. Pesto, mozzarella, spinach and pine nuts are the stars of the show.
37. Feta & Olive
Mix up some feta and olive savoury breakfast muffins with this inspiration from The Cookie's Pyjamas. It's a bit of a Greek-inspired bite and we love it!
38. Sausage, Cheddar & Olive Oil
This Gal Cooks made these beauties and they're scrumptious and fulfilling too. Hop on over to check out the instruction and gather the ingredients!
39. Paleo Meat & Veg
Here's another breakfast muffin recipe that is fit for the paleo-dieters out there. Grab the details at The Nourishing Gourmet.
40. Apple & Gouda

Now we have another personal favorite of mine with the apple and gouda pairing seen here at Running With Spoons. These are technically mini frittatas too which makes them even more fun.
41. Mushroom, Goat Cheese & Rosemary
Bowl of Delicious! made these tiny quiches that work just like muffins for a grab-and-go easy breakfast. It's a sophisticated trio of flavors too but the kids will still enjoy them.
42. Carrot Raisin
Savory Style made these savoury (with a pinch of sweet) muffins and we're drooling over them. These are also great for DIY gifts, thank you's and to send off with the family in the morning.
43. Olive Thyne
These are not only mini in size but they're also gluten-free, grain-free and ready for the paleo dieters all around. Check in out at Gourmande in the Kitchen.
44. Pumpkin Sage
If you want something extra special and a bit unique, check out Minimalist Baker and this recipe for pumpkin sage breakfast muffins! These would be great to share with co-workers or neighbors too!
45. Mexican
The Wholesome Dish makes some Mexican-inspired muffins that will become a family hit! They're packed with fun ingredients and fresh ones too which is a double plus.
46. Maple Bacon Corn
Here's a fun one for everyone to try out. It's a more unique flavor pairing but one that everyone secretly loves to indulge it. Visit the recipe at Grandbaby Cakes.
47. Eggs, Kale & Roasted Red Peppers
Two Peas & Their Pod makes some egg muffins with a bit of kale and roasted red peppers thrown in too. They're scrumptious and good for you too!
48. Apple-Bacon Cheddar
Betty Crocker has one of my personal favorite combinations on the list, especially for those that like a bit of fall flavors throughout those crisp months. Check it out!
49. Sausage, Cheddar & Green Onion
Here's another recipe that can become a family favorite. The extra bite of the green onion make this a tad more unique and sophisticated as well. (via The Kitchen Snob)
50. Bacon, Egg, Cheese & Hashbrown
Take all your breakfast favorites and combine them into an easy, savoury breakfast muffin. Check out this recipe at She Knows.