Recipes for Using Up Leftover Wine
If you're a wine lover, than you know how relaxing it can feel to finally sit down and enjoy a fragrant glass of wine after a hard day at work or at the end of a long week. It's not often, however, that you'll finish the whole bottle if you're simply enjoying a casual glass. Some people don't mind re-corking and saving their wines, but others find that it changes the taste.
In case you're not a fan of re-pouring leftover wine, we've compiled a list of delicious dinner recipes that give you a way to use that last little bit without drinking it or letting it go to waste!
1.Orzo and scallops in beurre blanc sauce
The Ktchn suggests delicious juicy scallops atop orzo for dinner, which is an idea that makes our stomachs rumble, but the scallops aren't even the best part of this dish! Amp up their taste game by smothering them in beurre blanc sauce made with white wine.
2.Salmon with white whine and dill sauce
Life's Ambrosia knows how delicious classic, simple white wine sauce is, but they also think that a mouthwatering slab of salmon needs something a little more playful on the taste buds when it comes to sauces. They suggest adding dill to the mix to really make using your wine leftovers worth it!
3.Carmelized onion and potato gratin
Sometimes, instead of being mixed in as part of a sauce, the wine in a recipe is included as an ingredient before baking, just to add a little extra flavour. That's the case here with this delicious potato and onion gratin from Spicy Southern Kitchen.
4.Sausage pasta with white wine cream sauce
Cookpad gives you a recipe that's delicious for not one, not two, but three reasons! Firstly, corkscrew noodles are among the funnest pastas to eat. Next, the recipe uses up the last of that white wine that was marinating in the bottom of the bottle. Finally, the wine flavour is complemented by chunks of mouthwatering sauce that give the entire dish a heavenly taste and smell.
5.Drunken cheesy bread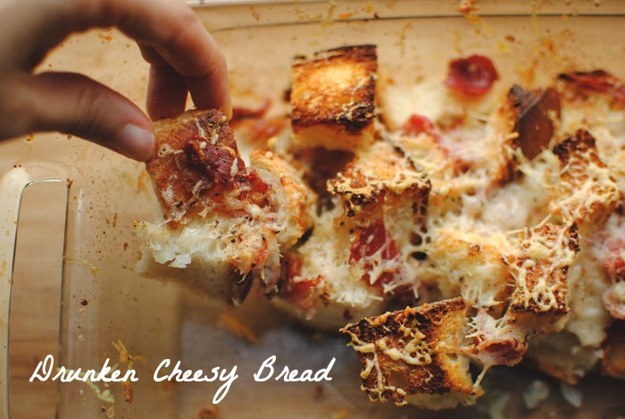 Because what could possible be better than just regular pull-apart cheesy bread? Cheesy bread with a little bit of wine soaked into it, of course! Find out how this one's made on Coffee, Light & Sweet.
6.Barley and baby artichoke risotto
Vegans and vegetarians can enjoy their wine dishes just as much as the next person! Instead of including meat, this recipe concentrates on baby artichokes radishes, and peas atop risotto, all drizzle in a wine sauce Check out the steps for making it on Chef Wanabe.
7.White wine chicken and artichokes
Does the idea of combining artichokes and white wine sauce make you drool a little, but you'd prefer a dish with meat in it? Grab some big noodles, grab some chicken, and hop on over to The Ktchn to learn about this stunningly tasty dish.
8.Linguine with clams
This delicious Italian pasta is chalk full of mouth watering little oysters, which makes us want to drop what we're doing and urn to the kitchen to cook! Believe it or not, however, the oysters are only the second best part of the dish. A Cozy Kitchen shows you how to include your leftover wine for a standout taste.
9.Chicken soba soup
You've seen a number of chicken and pasta dishes so far that might not be diet friendly for vegetarians, vegans, or people with celiac disease. That's where Big Girls, Small Kitchen swoops in with a soba recipe to save the day! The best part? The taste of your leftover wine in the broth, of course!
10.White wine poached eggs
The Ktchn doesn't shy away from the idea that wine has no place at the breakfast table! Of course, there are no rules saying that you can't drink wine with any meal you pleased, and there are also no rules saying that you can't eat egg dishes later on in the day. Concentrate on the delicious manner in which the wine contrasts the egg, toast, avocados, and herbs.
11.Prime rib roast au jus
If you're never tried au jus before then you're in dire need for a solution to this problem immediately! In fact, we've just gone ahead and found it for you. Of course, this isn't just any au jus recipe… this one lefts you use up your leftover wine! Find out how to add the extra flavour on Steamy Kitchen.
12.Red wine poached rhubarb
David Lebovitz suggests giving expensive wines the credit and standard they deserve by creating a more gourmet dish than some of the others on this list. Sure, it's got a scoop of ice cream on top, but rhubarb poached with wine is certainly another experience for the taste buds!
13.Cabarnet burgers
Is cabarnet your weapon of choice, even though you have a little left? Don't let it go to waste! We suggests incorporating the wine into your meal the way The Brewer & The Baker did with these delicious cabarnet marinated burgers!
14.Wine jelly
Do you love wine so much that you just want to be able to scoop it onto anything and everything? America's Test Kitchen has the perfect idea for casual meals, buffets, and appetizers! This wine jelly will taste better on crackers and cheese than basically any other topping you'll find!
15.Beer and barley stew
Nothing tastes quite as hardy as a beer and barley stew… except for maybe one that also dissolves wine into the mixture! As an added bonus to this delicious recipe, the blog post to make it from Back to Her Roots has themed both their post and their meal after zombies, claiming this meat and wine mixture to look like brains!
If you run out of white or red wine, you can always use white wine substitutes and red wine alternatives.
Do you know someone who adores wine but who's always letting the last sip sit open until it goes to waste? Share this article with them in order to inspire them to learn some new tricks in the kitchen!