The 8 Best Ping Pong Tables to Buy in 2023
Ever since we were quite young, the idea of owning any of the big, classic table or video games that we used to play with our friends at the old arcade down the street has been a personal dream. Of course, some of those retro standing arcade games are very hard to find andvery expensive indeed if you do, so we decided that a table game might be better.
Our favorite of those was always ping pong and we got a raise at work, so we figured it was high time we treated ourselves by investing in our very own home ping pong table! We weren't sure how many options we'd truly be able to find online, but we were very pleasantly surprised when we looked at our bookmarks at the end of our search to see that we'd amassed quite the list of quality options.
Editor's Choice
Best Budget
Premium Pick
Best Ping Pong Tables
We figured we might as well share this list for others to see! If you're interested in purchasing your very own ping pong table too, check out the eight best designs we came across in our search.
If you're going to invest your money into a home ping pong table, would you really like to invest it well in something that's just about as top grade as the professional tables you'd see in tournaments on TV? ThenJOOLA might have just what you're looking for right off the bat.
Besides being durable, movable on wheels, and made of quality material on top that won't easily chip no matter how much you play, the strength of the net and its clamps is quite a draw of this piece. It's also quite appealing that the table has convenient ball holders on each corner.
Pros
Easy to assemble.
Comes with corner ball holders.
Cons
Lacking customer service.
View price on Amazon
Did we have you feeling quite intrigued indeed by the idea of investing in a professional grade tournament ping pong table but you're not quite sure you need things like corner ball holders, so you can't help wondering whether there might be aslightlymore simplified version? Well,JOOLA might still have you covered a second time around.
Because this design is still a professional product by the same company but with a few less bells and whistles, it's got the same sensical and intuitive setup process and design as the previous table. The difference here is that this table can be completed and ready to play on a little more quickly!
Pros
Super easy to assemble.
Very sturdy, will last a long time.
Cons
Some packages come with some issues with the screws.
View price on Amazon
Are you completely intent on adding a ping pong table or table tennis set and you know you've got the space to set one up, but you're not sure that you want to dedicate all if that space to that one thingall the time? Then you should definitely check out whatButterfly has to offer.
This table is seamed horizontally down the centre where such a crack won't interfere with your game. Having this crack here, however, is a great convenience in regards to how the rest of the table is built, however, because it lets you fold the table upwards and in half onto its wheels when you're not using it so that you can push it back against a wall and out of the way until you're ready to play again.
Pros
Superior quality and very durable.
No assembly needed.
Cons
Quite costly since it's a professional table.
View price on Amazon
Have you actually already determined that youdon't have the room for a ping pong tableinside your home, like we mentioned above, but that's okay because you have the space outside and the weather is nice enough where you live for the table to be set and used there most of the year round? ThenStiga definitely has the kind of table you're looking for.
Of course, function is undoubtedly the priority in all of these table designs, but for this one in particular, materiality was also of the utmost importance. That's because it was specifically built with the intention of being used outside! The goal with the making of its frame and surface was to provide a table that can withstand a but of natural weathering from the elements.
Pros
Very little assembly is required.
Great price for the quality.
Cons
Color is not very durable.
View price on Amazon
Like the previous easily stored away design, this table has the ability to be halved quite simply. The purpose of doing so, however, is a little bit different than we talked about before.
T&R Sports offers you a table that specifically folds for the purposes of offering a sort of single-player mode. This is great for practicing when you don't have a partner to play with or warming up before you play a match against another person. It is, we suppose, also quite convenient for storage when necessary too.
Pros
Foldable table that's very easy to move.
Cons
The table is not very thick.
View price on Amazon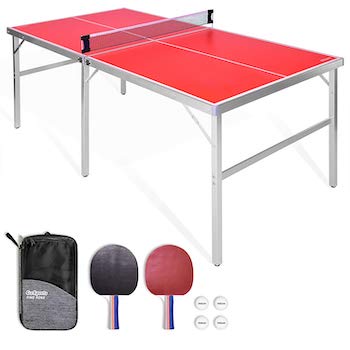 Have you quite solidly decided that a ping pong table is precisely what your home needs but you're just not sure that you've got the space to fit one of the large sized professional grade tables like we've shown you thus far? Then maybe you'd get along a little better with something like this design fromGoSports.
There are two reason this particular option stood out well to us. The first is its size; a larger, wider table might seem like the best asset to the game but in reality, a good game of ping pong can be played on any size table and getting one that's the proper dimensions for your space is the real key. This one's mid0sized. The other huge draw is that it comes already complete with two quality paddles and four balls in a convenient zipping case.
Pros
Comes with 2 table tennis paddles and several balls.
Super cheap.
Cons
The table is smaller than many others.
View price on Amazon
Are you still thinking about the beautiful professional tables we showed you earlier on our list but you're also the kind of person who always feels convinced that they should shop around as much as possible first? Then here's another design for your consideration, this time fromFranklin Sports!
The main difference between this table and the others is that this brand paid more attention to the clips that attach the net to the table. While the others are by no means sub par, this table features clips that are specifically designed for strength and durability so that your net stays strong and well placed no matter hw many power hits you drive into it in the heat of the game.
Pros
Great for outdoor or indoor playing.
Mid-sized table for kids.
Cons
Fairly expensive for a small table.
View price on Amazon
Are you actually still thinking about how youreally wish you had the room for a full ping pong table of the larger professional kind you've seen thus far but you're not even sure you have room for an additional four-legged piece of furniture at all, no matter how much you adore table tennis? Then we thinkFran_Store might actually save your day!
Rather than selling you an entire table, this brand sells you an adaptable ping pong tabletop that will actually help you turn almost any table into the piece you've been dreaming of! Set it on a table, clamp it in place, and attach the net to play your game, then break it down when you need the table once more.
Pros
Full-sized foldable table.
Affordable price.
Cons
It is only a conversion top that works over a pool table, so you'll need extra equipment.
View price on Amazon
Conclusion
Do you know a fellow games enthusiast who has been thinking about investing in their own ping pong table but who feels like they need a bit of guidance when it comes to choosing one? Share this post with them so they have more information and guidance!