15 Amazing Houndstooth DIY Projects
Have you ever looked at a pattern before and immediately thought "I just can't get enough of this"? We sure have, and it was houndstooth that caught our eye! Whether the pattern is featured in neutral colours or fun, bright shades and printed on a white or coloured background, we're drawn to it every time. Of course, that makes it the perfect pattern for us to work with in our DIY projects.
Check out these 15 fun, creative ways to use more houndstooth in your crafting and decor projects for a graphic, extra fun look!
1. Houndstooth wall stencil
Are you so in love with houndstooth that you'd be quite happy to dedicate a whole wall in the space you're making over to it? We don't blame you one bit! Project Nursery shows you how to use a stencil properly in order to create a nice, even houndstooth pattern across one wall in any colour combination you please!
2. Houndstooth throw pillows
Sometimes the best way to get a houndstooth pattern on the things you want to make is to work with fabric that's already printed for you. We can guarantee, though, that you'll enjoy the process of finishing your project a lot more than usual if you're working with a pattern that you love! Once you've got the fabric, try making yourself a pair of adorable accent piece throw pillows, just like It's Overflowing did.
3. Houndstooth polymer clay cane
Do you love creating things with polymer clay but you're used to larger colour blocking patterns rather than smaller, more detailed ones like houndstooth? We've always thought of how convenient it would be to have patterned clay for making detailed jewelry, but as we're sure you've noticed, we much prefer making things ourselves to buying specialty whenever we can. Luckily for all of us, Creator's Joy has a tutorial that outlines how you can actually make your own houndstooth clay!
4. Houndstooth manicure
Houndstooth has been a staple in fashion for years and we love the way it trends again every so often, letting us be the height of fashion when we indulge our favourite pattern obsession! If you like houndstooth enough to want to incorporate it into your personal style but you don't own many clothing pieces featuring it, try painting it on your nails instead! StoneJessica shows you how to make the right shapes.
5. DIY houndstooth shoes
When it comes to loud patterns in fashion, one of our favoruite ways to incorporate them into an outfit is to feature them on an accent piece, like a clutch or a pair of heels. That's why we were so excited to see this tutorial for awesome DIY houndstooth pumps from Love Maegan! We think they'd look perfect with a little black dress.
6. Alexander McQueen houndstooth show shirt recreation
Have you ever seen a garment in your favourite pattern and lamented at the cost because it's made by a designer label that you can't currently afford? Don't fret! This gorgeous Alexander McQueen original blouse is a great example of what we mean. Don't fret, though! Your DIY skills can save the day here. Making it With Danielle guides you through the process of recreating the look more affordably so you can rock the style without breaking the bank.
7. Houndstooth sunglasses using duct tape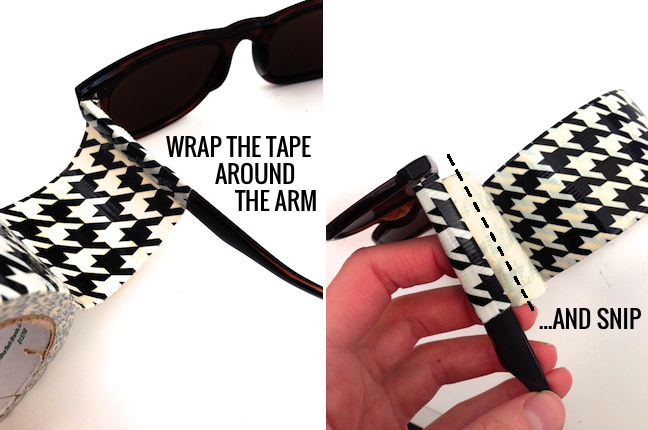 If you've never used quality patterned duct tape to embellish fashion pieces in simple ways and add a little personality to your accessories, then it's time you started! We love the way Sorelle in Style incorporated some stylish houndstooth detail into their favourite shades by wrapping some patterned tape neatly and evenly around the arm.
8. Houndstooth stamped cushion
Did you love the idea of a houndstooth throw pillow, but you don't currently have access to any pre-printed houndstooth fabric for sewing? Make do with what you have! Any pre-sewn pillow or a throw cover made in plain fabric will do if you follow this DIY stamping tutorial from Crafting Fingers closely. Stamp your very own houndstooth pattern all across the front, or even all over!
9. Stenciled houndstooth side table
Have you always kind of loved the look of grahpic tabletops but you haven't been ready to commit a whole piece of furniture to any particular pattern until now? Then stenciling techniques are about to become your best friend! Cutting Edge Stencils guides you through the process of adding a subtle houndstooth detail to the surface of a side table for maximum style.
10. Houndstooth hall rug
Did you enjoy stamping your own houndstooth throw pillow so much that now you've got your stamped primed and ready to stamp houndstooth all over pretty much anything in sight? Hold your horses just for a moment and choose something you'll really love in the end! We suggest this awesome area mat featured on Cutting Edge Stencils! It'll add fun personality to an entry way or bedroom, and it'll also contribute to the aesthetic differently depending on what colour of base mat you choose.
11. Neon rainbow houndstooth nail stickers
Nail stickers are practically ingenious, if you ask us. They make adding very small detail to the surface of your nails so much easier than free handing little lines and shapes, giving you a neater finished product. Julie Ventura understands that struggle well, so they've developed this tutorial to show you how to make your very own nail stickers featuring- you guessed it- houndstooth! We're crazy about the idea of adding a rainbow background to the design.
12. DIY retro fabric houndstooth earrings
Do you have some houndstooth fabric scraps leftover from another project you made and you've been looking for something new and fun to do with them, but you'd prefer to keep it easy? butt0neddown shows you how to use those little pieces of material to make adorable button style earrings featuring your favourite pattern.
13. Metallic stenciled wall art
Do you like the look of houndstooth print in more abstract things than just a crisp stamp or stencil? Then incorporate it as a background and follow Royal Design Studio's lead in creating some alternatively patterned art right over top! Paint the whole concept on a nicely sized canvas to create some stylized wall art!
14. Houndstooth stenciled dresser drawers
Did you like the concept of houndstooth stenciled furniture but you're not sure you need another side table in any of your rooms right now? Try transforming an old dresser into an upcycled attention piece instead! Cutting Edge Stencils shows you how to create a neat stenciled pattern across the front of an old set of drawers for a sort of vintage patterned look.
15. Stenciled houndstooth tee
Does all this talk of stenciling have you itching to do more pattern making, and on more varied materials or projects each time? Then we definitely suggest that you try your hand at clothing too! Why not customize yourself some awesome houndstooth pieces so you can enjoy wearing your favourite pattern even during seasons when it's not quite at the height of style for the moment? Transient Expression shows you how it's done.
Do you know another DIY enthusiast who loves DIY just as much as we do? Share this post with them for a little bit of inspiration!