DIY Water Features for Your Home
Now that summer is in full swing, have you been looking around your backyard, deck, or patio and thinking about how dry it all feels in the heat? We were doing so recently as well and we couldn't help thinking the whole space would just look better with some kind of water feature. Rather than just going to the store, however, we started wondering whether we might make our own, which is why we've been scouring the Internet for information and tutorials to get us started.
1. Simple potted bubble fountain
Maybe you don't have a whole lot of space in your outdoor area, or perhaps you're looking for a design that might be used inside or outside? In any case, we'd suggest taking a look at how Scattered Thoughts of a Crafty Mom created a lovely but simple potted bubble fountain that's actually easier to make than it looks.
2. Rustic window pane falling water feature
Are you a total upcycling enthusiast who is looking for a little more of a challenge because you're rather handy indeed? In that case, we think you just might be the perfect person to take a look at how Interior Frugalista repurposed a rustic window pane into a falling water feature where the water trickles down the glass in a way that's very pretty and natural looking.
3. Tipping teapot wooden barrel fountain
When we said the words "rustic water feature" were you picturing something a little more visibly weathered but also with a unique twist? Then we have a a strong suspicion you might get a kick out of the way Hometalk created this barrel feature with a small fountain that trickles down through a tilted and stylishly rusted teapot!
4. Beautiful bamboo trickling water basin
Is the idea of a water feature that "trickles" actually specifically what you're aiming for because you find the sound very relaxing indeed? Maybe you're still looking for something that you can use in or outside. Either way, we appreciate the spa-like aesthetic of this bamboo and stone basin outlined in neat, clear detail on Safaffect.
5. Buried backyard water fountain
When you started thinking about putting a water feature in your backyard, were you actually picturing something a lot bigger and more permanent? Well, if you're feeling up for a much bigger challenge than some of what you've seen so far, then we'd definitely suggest taking a look at the way Goods Home Design made this fully DIY buried backyard water fountain that looks very impressive indeed.
6. Overflowing ceramic pot fountain
Were you a huge fan of the ceramic pot idea we showed you earlier but you'd actually prefer not to stack multiple pots if it means getting more water involved for better sound? Then we have a feeling you might be a little happier with the finished product if you make something like this recirculating or overflowing ceramic pot fountain outlined step by step on Tater Tots and Jello!
7. Miniature stacked concrete oasis
If you're going to create a slightly more permanent fountain that will really transform your backyard, would you rather have more of it showing decoratively above ground? Then we have a feeling you might prefer something like this stacked rock open fountain design outlined step by step thanks to Family Handyman.
8. Two-tier nested glazed ceramic pots fountain
Maybe you're actually feeling quite enthusiastic about the stacked pots idea but you'd rather make a version that has more of a clear fountain to it and less of a bubbling spa effect lightly trickling out the top? Then we'd be willing to bet that you'll have a much better time making this larger fountain version outlined in clear detail on Lowes.
9. DIY copper water wall
Has the idea you've liked the most so far definitely been the one for the standing fountain we showed you earlier on our list but your whole home's theme is a little more industrial than that style allowed for? In that case, we think you might prefer this copper version for its metallic shine! See how this standing water wall was made in more detail on J Paris Designs.
10. Stunning stone wheelbarrow waterfall
Are you still scrolling through our list thinking about how much you'd like to make something a little more creative and kitschy than some of the things you've seen so far? Well, if you're a big gardener who likes to spend a lot of time in your yard, then we think you'll very much enjoy the way Caps Creations turned a wheelbarrow into a beautiful rock fountain!
11. Copper rain chain
Have we really got you enamoured with the idea of making a fountain that involves copper in some way but you're feeling up for a challenge and looking for a design that might be a little more artistic when it's finished? In that case, we have a strong feeling this copper chain water feature that showers down uniquely might be right up your alley! Get the full details for making your own on Instructables.
12. Ceramic urn water feature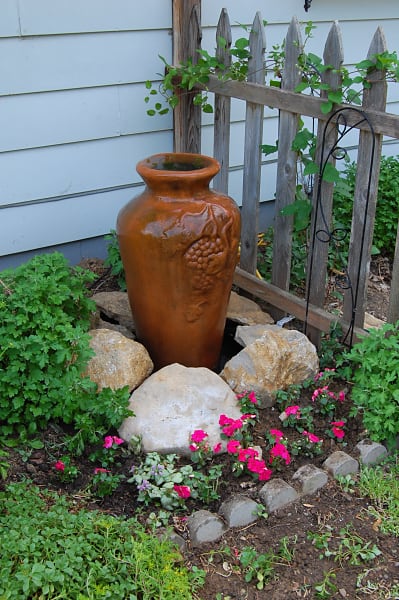 Just in case you're still thinking about how much you liked the idea of a glazed pot water feature that quietly bubbles but you're still looking for singular pot design that will look quite classy? In that case, we'd absolutely suggest taking a look at how Garden Stew made this lovely damp ceramic urn feature that looks gorgeous in any type of garden.
13. Stacked pail, rock, and glass orb fountain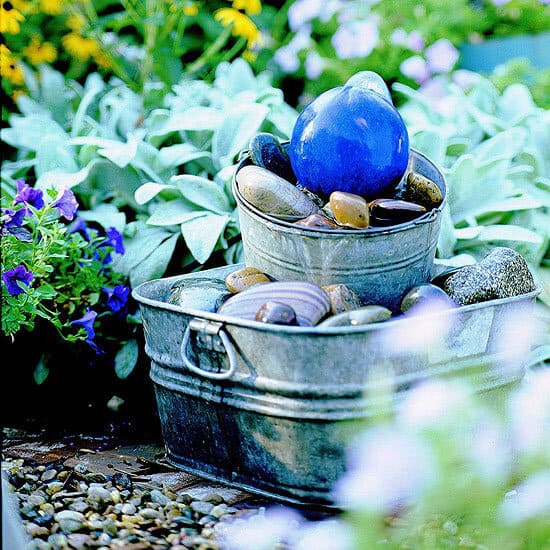 Are you actually still looking for something a little smaller and more manageable in or outdoors than a lot of what you've seen so far, with bonus points for a relaxing spa-like design? Then we think you simply must take a look at how BHG filled two simple, differently sized pails with stones and pebbles, topping it off with a class orb so that the water looks like it's bubbling up from underneath the pop of colour!
14. Vineyard inspired wine barrel fountain
Are you a big wine enthusiast who has your backyard styled like vineyard and you're looking for some kind of classy water feature that will really suit the space and its aesthetic? Then, especially if you're looking for something quite simple, we'd definitely suggest taking a look at how HGTV made this minimal but stylish wine barrel and bottle feature that sprouts water right out the top
15. Floating watering cans feature
Are you actually still finding yourself thinking about how you liked the tipping teapot idea the most but you can't help wondering whether there might be a way for you to have even more tipping elements to show off how cool the mere concept is even a little more? In that case, we think you just might be the perfect person to give this awesome tipping watering cans and galvanized bucket water feature a try!
Have you made other stunning water features before that you were very happy with indeed and still have flowing but that you don't see here on our list? Tell us all about what you created and how you did it or link us to photos of your finished work in the comments section!