Surprise Yourself! With These 15 Carrot Greens Recipes
Who knew that you could grab the tippy-tops of our favorite orange roots and turn them into delicious side dishes or the secret ingredients to a vegan entree? Well, after today and this list of fun, you'll be in the know and a part of the security society. Surprise yourself (and the family) with these 15 carrot greens recipes. Don't chop them off and throw them away, instead use them for good and create some extra deliciousness.
Delicious Carrot Greens Recipe Ideas
1. Sauteed Carrot Greens
You can easily sauté them and make them a delicious counterpart to your steak or pasta tonight. Just follow along with this easy recipe! We love using every inch of the food we are blessed to have in our kitchens – and this is a no waste idea we can get behind!
"Don't toss those carrot tops! Reduce food waste by learning how to sauté carrot greens for a simple green side dish that's big on flavor. Root-to-stem cooking at its finest!" –Fork in the Road
2. Carrot Top Pesto
Check out this amazing pesto recipe! You can use those carrot tops to make one of the most delicious toppings! We love this on top of carrots, on grilled cheeses, pasta, and more!
"Don't throw away those carrot tops! Make this delicious carrot top pesto with them to toss with pasta, beans, or eat straight up as a dip." –Simply Recipes
3. Carrot Top Sabzi
We are in love with this healthy, vegan main course meal. It's a great one to whip up when you have dietary restrictions or you want something guilt-free but full of flavor. There are so many wonderful spices that will satisfy your taste buds!
"My current favorite way to enjoy carrot greens? This carrot top sabzi." –My Heart Beets
4. Carrot Greens Chimichurri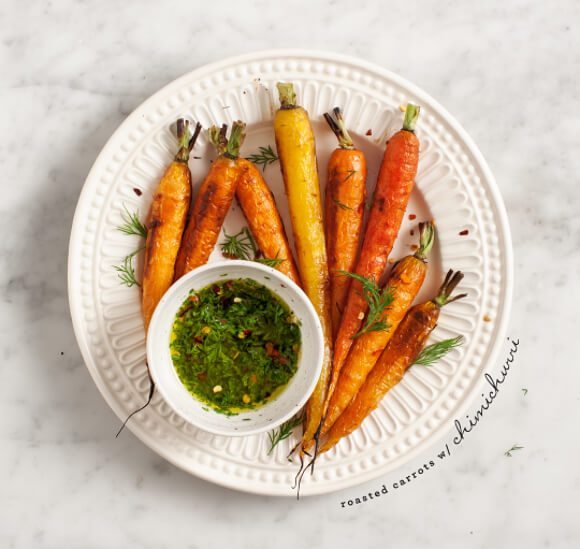 You can create a delicious pesto from those carrot tops, yes. But, you can also create an out-of-this-world chimichurri sauce as well. Use it for taco nice, salad, or to dip your roasted veggies in!
"Don't toss those tops! Carrot greens are just as edible as carrots themselves, and they're delicious in this tangy chimichurri sauce, pesto, and more." –Love and Lemons
5. Curried Carrot Fritters
Are you looking for some new appetizer ideas? We love these healthy carrot fritters. They give you a comforting bite and just the right amount of crunch!
"Light & perfectly spiced Curried Carrot Fritters. Quick, simple & delicious!" – A Virtual Vegan
6. More Carrot Top Pesto
If you're into pesto, here's another great recipe we stumbled upon. There are so many ways to utilize this kind of sauce. Our favorites include on different types of salads, grilled chicken or pork, and even on a variety of wraps and sandwiches.
"A simple, six ingredient pesto recipe made using carrot tops! A great way to incorporate a new type of green, as well as reduce food waste using all parts of the carrot." –Snacking in Sneakers
7. Vegetable Roasted Chicken Broth
Those tops can be utilized in your veggie broth making. This homemade recipe is simple to conjure up and super versatile. And as stated below, it's much lower in terms of sodium and works for our vegan dieters!
"You don't have to buy broth with all that sodium; try making your own. Making your own is so easy, and, so healthy! I promise, you'll like it." – Life Currents
8. Carrot Top Tabouli Salad
This salad is so flavorful and have so many delicious, fresh ingredients. Use it as a side dish during the spring or summer months. but you can add meat to it to make it a protein-packed entree as well.
"A light refreshing salad filled with fresh herbs, veggies, and heart healthy bulgur. Carrot top tabouli is my favorite summer lunch." –Abra's Kitchen
9. Garlicky Moong-Masoor Daal
This is a comforting dish that works well all year long. If you want some cozy bites, try something new with this flavorful bowl full of nutrients.
"Garlicky Moong-Masoor daal with Carrot Greensis a very healthy, loaded with vitamins, minerals and protein. It can be prepared in less time and very light on the tummy." –J Cooking Odyssey
10. Carrot Greens Salad
While scouring the blogs, we found another great salad recipe that uses carrot tops as its special power. It's such a great side dish to have with a coursed meal and you'll feel like you are at a fancy restaurant when you serve it up – because it's quite pretty!
"I usedvarious quantities of veggies untill it looked and tasted good.Quantities are to the best of my memory!" –West Hill House
11. More Carrot Top Chimichurri
Anytime we find a recipe that's versatile enough to withstand and enhance OTHER recipes, we have to share it. Here's another chimichurri recipe that you'll want to snag and remember for the future. It can ignite so many dishes!
"Not only do they add a depth of flavour and complexity to a dish, they also aid digestion." –The Guardian
12. Maple Garlic Roasted Carrots
Does this carrot recipe not sound absolutely delicious? Truly, maple and garlic are such a complimentary combination. This is the perfect, fall side dish!
"These Maple Garlic Roasted Carrots are incredibly tender, bursting with flavour and are topped with a delectable Carrot Greens Chimichurri. They make aperfect side dish to any meal!" – Jessica in the Kitchen
13. Turmeric Roasted Carrot Soup

A good bowl of soup is good for the soul (we really do believe that). And we love to have different soup recipes up our sleeve for rainy days. This turmeric creation is so tasty – it'll surprise you!
"So to kick off soup season, I am sharing this simple soup with flavors that I crave this time of year.Carrots get rubbed with a super-flavorful and super-immunes boosting turmeric and garlic spice mixture, and the roasted until soft and caramelized." –What's Cooking Good Looking
14. Carrot Top Pesto Pasta
We have another pesto recipe that you may want to try. This one is easily accompanied by pasta but we feel like it could really kick up your flatbreads and pizza as well!
"Instead of just tossing them away, throw them into a green sauce or sauté them with other vegetables. They'll add an extra bit of nutrition to whatever you're eating." – Healthy Nibbles
15. Carrot Top Pesto with Vegetable Noodles
And we leave you with a pesto recipe we love, but with a combination of ingredients that make it even better. This vegetable noodle dish will even have the kiddos asking for seconds (and not realizing how many greens they're actually ingesting!).
"This recipe is one that uses a usually over-looked part of the carrot to make the most beautiful tasting pesto, and I like to think of it like a metaphor for all the little things that we over-look in life; that might actually be the most beautiful parts." – Euphoric Vegan