12 of the Best Cookware Sets to Buy The Chef of the Family
Whether you're searching for the perfect wedding present or you're on the lookout for an new collection for yourself, we've compiled the quickest list featuring the top-notch products in the line of kitchen helpers. Below you'll be peeking at 12 of the best cookware sets to buy the chef of the family. Depending not the needs-and your budget-it's a beautiful medley of ideas that hit all the marks.
These Rachael Ray Cucina Nonstick Cookware Pots & Pans set includes: 1-quart and 3-quart Covered Saucepans, 6-quart covered stockpot, 8. 5-Inch and 10-inch skillets, 3-quart Covered sauté pan, slotted turner and spoon. Basically, you have everything you need to make a killer meal.
The pieces come in a variety of beautiful, rustic-inspired shades such as agave blue, cranberry red, and lavender. And they're crafted with durable aluminum and sturdy hard enamel porcelain exteriors. Fawned over by both convenience and control, the set boasts dual-riveted rubberized handles and shatter-resistant glass lids as well.
View price on Amazon
Within the Vremi 8-Piece Ceramic Nonstick Cookware Set you'll get 2 dutch oven pots, 1 casserole pot with lids, and two angled fry pan skillets perfect for making crepes or pancakes! They can be used on the stovetop and go directly to the table as serveware – making for less mess and less hassle.
The pieces are made from non-toxic, die-cast aluminum and feature ceramic coating made for heating evenly. And if you're looking for color the green is gorgeous and the blue and white combination is quite pretty as well.
View price on Amazon
The SHINEURI 9-Piece Nonstick Copper Cookware Pans & Pots feature an 8-inch fry pan, 1.5 qt. sauce pan with lid, 2.5 qt. sauce pan with lid, a silicone whisk, ladle, slotted spoon, and slotted skimmer. All of these pieces come together to provide an at-home chef with a lot of must-have essentials and they all come with a non-stick surface.
Fry, grill, roast, steam, and more can happen within the confines of these pans and pots. Whip up your favorite pastas, chili, or even soups. And the price is incredibly budget-friendly!
View price on Amazon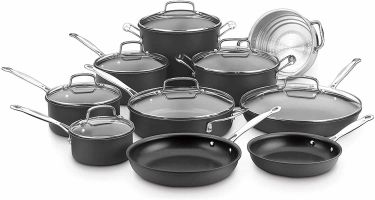 Cuisinart Chef's Classic Nonstick 17-Piece Set is one of the most trusted sets on the list. Featuring a hard anodized exterior-making it harder than other stainless steels-it is dense, nonporous, and wear resistant. You'll be purchasing pro-level pieces here!
Its premium nonstick cooking surface is reinforced with titanium and provides lasting food release, there's no oil or butter needed here! And the glass is break-resistant, perfect as a family-friendly kitchen choice.
View price on Amazon
One of our "splurge" options comes in the form of the Calphalon Premier Hard-Anodized Nonstick 11-Piece Cookware Set. Within the set you'll be getting a 10-inch fry pan, 12-inch fry pan with a cover, 1.5 qt. sauce pan with cover, 2.5 qt. sauce pan with cover, 3 qt. sauce pan with cover, and an 8 qt. stockpot with cover.
Its durable nonstick interior is metal utensil safe and all of the pieces are dishwasher safe as well, making for an easy cleanup option. Better yet, the entire set is suitable for gas, electric, and glass top stovetops.
View price on Amazon
Isn't this set stunning? Its mirrored polish finish will help elevate your kitchen to new heights. And with the HOMI Chef 14-Piece Nickel Free Stainless Steel Cookware Set you won't just be getting style, you'll be getting quality as well.
Mixing well with other stainless steel appliances, within the set you'll be receiving a 1.5 qt. covered sauce pan, 2.5 qt. covered sauce pan, 7 qt. covered stock pot, 8-inch fry pan, 9.5-inch covered sauce pan, and 5 cooking utensils. These pieces were designed to meet the demands of cooking everything from family-friendly meals to more elaborate sit-down dinners.
View price on Amazon
This Vremi 15-Piece NonStick Cookware Set is a great starter option. All of the necessities are included and the price point is unbeatable. It featured non-stick surfaces, vented lids, and each piece is both over and stovetop safe-so no extra worries are included!
Purchase this set as a newbie at college or for your camping needs as they work great for traveling as well. For the most versatility, a Vremi buy is the way to go.
View price on Amazon
For those looking for a smaller set to fit their needs, check out the Frigidaire Induction Ready Stainless Steel Cookware Set. Including a 1. 5 qt. sauce pan and lid, 3 qt. sauté pan, 5 qt. stock pot and lid, you'll be able to cook delicious meals on induction, electric, glass and gas cooktops with ease.
They are made with an impact bonded aluminum for even heat distribution. And every piece is dishwasher safe which helps with a stress-free cleanup and they feature riveted handles for easy mobility.
View price on Amazon
This T-fal Signature Nonstick Dishwasher Safe Cookware Set features non-stick, dishwasher safe pieces including 7.75-inch and 11-inch fry pans, 1 qt. and 2 qt. sauce pans with lids, a 5.5 qt. dutch oven with a lid, a 10.2- inch griddle, a spoon, ladle, and slotted spatula. And they are safe for all cooking methods except for induction.
More benefits of this particular set are its dishwasher safety, thermo spot indicator, and ergonomic heat resistant handles. And the price point isn't too shabby either.
View price on Amazon
Heat up quickly with the Viewee Stainless Steel Pots & Pans Cookware Set! Made with sandwiches aluminum tri-ply bottoms, the steel heats up quickly and evenly distributes the warmth too. The set can also withstand high-levels of heat without damage so you'll be getting high-durability within the purchase as well.
You'll be receiving a non-stick skillet for your morning eggs and anti-corrosion so no rust will be added to your meals. The mirror-polished finish also gives a push of style within all its function-always a plus!
View price on Amazon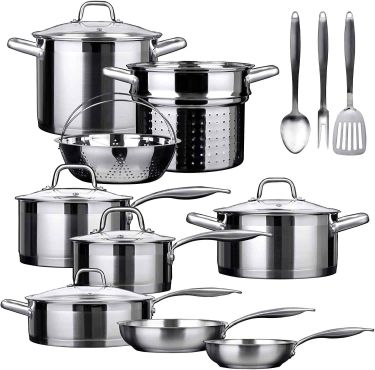 You'll be spending a bit more on the Duxtop Professional 12-Piece Stainless Steel Induction Cookware Set than some of the others on the list but you won't regret it. Your set will include: 8 and 9.5-inch fry pans, 1.6 qt. and 2.5 qt. sauce pans with lids; 8.6 qt. stock pot with lid, 4.2 qt. casserole with lid, 5.5 qt. saute pan with helper and lid; 9.5-inch pasta basket and steam basket, and 3-piece kitchen tools.
Every piece has been made with 18/10 commercial grade stainless steel and heavy gauge impact-bonded aluminum with an encapsulated bottom. With that being said, it has been built to last for a lifetime. Each piece is also suitable for all cooking sources including electric, gas, infrared, or induction stove.
View price on Amazon
And finally, we have the Stone & Beam Kitchen Cookware Set that features hard-anodized aluminum exteriors, non-stick interiors, tempered glass lids, and two spatulas. It has all the modern necessities and bells and whistles you may be searching for.
It's important to note that these pieces are hand wash only and must be used with metal utensils or scouring pads only.
View price on Amazon
Conclusion
You can't go wrong with any of these cookware sets. All you need to do is finalize your list of kitchen needs and your budget before shopping!