Check Out the 7 Best Carpet Shampooers For Pet Owners in 2023
Not every home has a pet, but nearly any home with some carpet could use a carpet shampooer on hand. But, for those that do have some four-legged friends, these machines become an essential part of the clean-up and accidental mess-up process.
Between pet stains or spills that are bound to happen as just an everyday part of life, these tools are a great way to keep your rugs and carpets from staying tainted and being kept in tip-top shape. Here are 7 of the best carpet shampooers for pet owners. Go ahead and snag yourself one!
Editor's Choice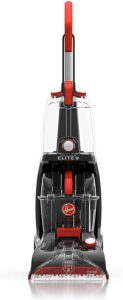 What Is A Carpet Shampooer?
In the simplest sense, a carpet shampooer is a device that, well, shampoos your carpets! These machines will clean your carpets, but in a deeper way than just a traditional vacuum. Using water, steam, sometimes heat, and a cleaning solution of some variety, your carpets get a "bath," so to speak, just as we do with our hair. They are designed to extract all the deepest and dirtiest of grime hidden within the sewings of your carpets.
Different Types of Carpet Shampooers:
Wet Clean –With a wet cleaner, you'll be shampooing your carpets using hot water, a cleaning solution, and suction to extract the grime. This is the most popular option to both buy and rent for at-home use.
Dry Cleaner – Just like clothing, there are some carpets that should never get wet, and that's where a cry cleaner comes in handy. These machines do not employ water. Instead, they use solvents or foam to clean.
Spot Cleaner – Instead of cleaning every square inch at once, these smaller, portable devices are used to clean up a quick spill or one-time stain. For those needing help with more isolated messes caused by kids, pets, or everyday life, you'll want to check out these options.
Steamer – One of the more versatile machines, a steamer can be used as a spot cleaner or a full-room carpet cleaner. They, too use hot water and a variety of cleaning solutions to get the job done.
Wait, Can't I Just Use A Vacuum?
Absolutely not. A vacuum uses suction to extract all of the loose debris found in the floors and around the corners. Crumbs, hair, dust, and more are the focus of these high-powered cleaning machines. You will find yourself using this device daily.
But once the excess dirt is gone, what about the actual material? All of those germs wrapped up in the wool or cotton blends need a nice shampooing every once in a while – in fact, a full carpet shampoo should only be done 1-2 times a year, while spot cleaning may happen more frequent based on accidents. This keeps the colors from becoming dingy and odors from settling.
And if you have pets, a carpet cleaner truly is a necessity. You can even find shampooers that have been made especially for these types of accidents making your life a bit more stress-free and certainly a whole lot cleaner.
What To Look For When Shopping?
Size: What kind of job do you need to get done? If you're only looking to clean up accidents and spills, a smaller machine is what you'll need to pay attention to. Something that is smaller and compact will be easier tomaneuver. Of course, if you're looking to give your carpets a full cleaning, then you will want to go with a larger device that will be able to handle the job.
Solution Used: Nearly every machine uses a different and specified cleaning solution. Make sure you know what that is before you drop in a formula willy nilly. Also, pay attention to any possible allergies you may have before cleaning your entire home with it.
Power:When it comes to a shampooer in a pet-loving home, the more power and suction the machine has – the better! You want to make sure that you are able to dry out your carpet as quickly as you can so odor and more hair don't stick to the dampness. And let's not even mention the mildew and bacteria that can easily grow within wet carpets that aren't dried correctly.
Price: How much do you really want to spend? You will find cleaners, steamers, shampooers, and portable spot devices at a variety of price points. Make sure if you are spending a higher dollar that you are working with a quality machine that has all the features and capabilities that your home needs.
Other features: Some carpet shampooers will have attachments made especially for pet owners. Motorized tools or brushes can help sweep up excess hair, odor, and stains with ease.
Best Carpet Shampooers
We ran a list of great carpet shampooers, so you'll have an easier time finding the one that's right for you.
First up is the Hoover Power Scrub Elite Pet Carpet Cleaner with is known to remove deep-embedded dirt and stains thanks to its innovative spin scrub system. What's that, you ask? Well, it means that it does its cleaning with its 360-degree brushes and strong suction. It includes large capacity tanks keeping the dirty water separate from the cleaning solution with the ability to refill far less often than other models.
With this machine, you're also guaranteed faster drying times with its quick clean mode feature – 45 minutes and your carpets and rugs will be dry! There's also another innovative addition included with this device which is its automatic detergent mixer! Included with purchase: 8' hose to deep clean hard-to-reach areas, 2-in-1 pet tool attachment to remove pet hair, stains, and odors, and a sample bottle of carpet cleaning pet solution.
Pros
Quick Clean Mode
Spin Scrub System
Automatic Detergent Mixer
Cons
View price on Amazon
Next up is the Bissell Turboclean Powerbrush Pet Carpet Cleaner Machine and, as we know with the brand, with every purchase of a Bissell product, the company will donate to the Bissell Pet Foundation. This machine is lightweight, so it's easy to carry around your house and multiple levels – only 12 pounds! And it features the DirtLifter Powerbrush, which was designed to lift deep down dirt and fight tough stains.
When using this cleaner, you'll be using Bissell's Oxy formula with works to quickly remove pet stains and odors from carpets and rugs. There are other convenient features too, such as its collapsible handle and two-tank system keeping the cleaning solution and dirty water completely separate.
Pros
Removable nozzle
DirtLifter Powerbrush
Collapsible handle
Two-tank system
Cons
View price on Amazon
The Bissell ProHeat 2x Revolution Max Full-Size Carpet Cleaner is self-proclaimed to be engineered as the best and most powerful carpet cleaning system for the toughest pet stains and odors. Included in this machine is the maximum cleaning mode that delivers professional-grade cleaning to your home. It's designed to challenge the toughest stains with its clean shot penetration.
It's also easy to maneuver with its lightweight design, so getting under and around furniture is a breeze. There's also the 2-in-1 pet upholstery tool that removes pet hair, stains, and odors, making this a machine that was absolutely made with pet owners – and their worries – in mind.
Pros
CleaShot Pretreater
2-in-1 Upholstery tool
Antibacterial cleaning
Cons
Hose doesn't store on the machine
View price on Amazon
Let's take a leap over to the Hoover PowerDash Pet Compact Carpet Cleaner now, shall we? First, you may notice the price as it's a bit more budget-friendly than some of the other models on the list. But that doesn't mean you are getting away with less quality here! In fact, it includes a lot of innovative technology, including heat force power, making drying a lot quicker and easier to manage, and PowerSpin brush roll for deep cleaning.
Check out the design, too, as it's quite a bit smaller than some of its competitors. It's great for homes without much storage space and easier to carry around multiple levels and corners. But even though it is smaller, that doesn't mean it goes without the friendly two-tank system we all love.
Pros
Budget-friendly
Uses heat force power
Lightweight & easy to move
Cons
View price on Amazon
Sometimes a mobile, spot cleaner is all we need, and that's where this Bissell Pet Stain Eraser Cordless Portable Carpet Cleaner comes in handy. This can easily be used anywhere in the house and even in your car! Designed to erase pet stains and odor, it is easily portable and cordless for ease of motion and cleaning. It also uses a ready-to-use, no-mix formula so you can instantly begin cleaning without any wait time or preparation.
Also, the way it works is all-in-one magic. Within the small device, you get spray, scrub, and suction. Go from stain to wet, to dry, to shine in no time! And yes, you can even use it on your upholstery when and if any of those accidents decide to happen there.
Pros
Lightweight & portable
Uses ready-to-use formula
Easy-to-remove suction nozzle
Cons
View price on Amazon
You may have rented one of these beauties before! The Rug Doctor Pro Deep Carpet Cleaner is a professional-grade machine that you will love. It not only knocks out stains, odors, and overall dinginess, but it's an all-purpose cleaner for your entire home – far more than a mere spot cleaner.
Let's list off all of its wonderful features now, shall we? With a 22-foot length cord, you'll be able to reach all the nooks and crannies without trouble. There's a digital indicator light that alerts you when the cleaning solution is empty or if there is a brush roll jam. And there's a dual tank system too.
Pros
Full-floor cleaning
Professional grade
Durable, long-life capability
Cons
View price on Amazon
And finally, we have the Bissell Big Green Professional Carpet Cleaner Machine. This one is also known for its professional-grade quality cleaning. It uses hot water extraction cleaning to ensure deep cleansing and stain removal. Honestly, your carpets will look brand new after a go-around with this model – and its Bissell cleaning formula. It's made for complete floor cleaning and not just to spot clean small stains or messes.
Its heavy-duty suction power makes drying time go back in a flash. The PowerBrush scrub is also a beneficial feature of this model. Oh, and there's a 5-year limited warranty included with its purchase as well.
Pros
Professional grade
Hot water extraction cleaning
Heavy-duty suction power
Cons
View price on Amazon
Extra Tips & Tricks When Using A Carpet Shampooer
Once you have your carpet cleaner, you may feel a bit overwhelmed upon its first use. Have no fear! Here are some extra tips & tricks that you may want to remember to make usage so much less stressful (and these nuggets of advice won't be in the instructional manual).
Keep vacuuming! Vacuum before you shampoo and keep on vacuuming after the job is done. You don't want to clog your shampooer with excess debris that your vacuum could and should have handled for you. It also helps to keep allergens and dinginess at bay once you've given your carpets a nice washing.
Spots can't wait. Do not wait for those spills and stains to settle. Once a mess happens, tackle it head-on to make clean-up a breeze.
Blot, blot, blot. You have probably heard this before because the same advice goes for your clothes. If you have a spill, blot the mess! Soak up as much as you can before cleaning it. And never, ever rub. Rubbing will only cause the stain – the wine, the urine, the ketchup – to bury itself deeper into the fabric.
Clean the machine! Okay, this may actually be found in the instruction manual, but we want to make sure you follow this rule. Keep your machine clean. Every single part of it should be washed out and completely dried after usage. You don't want a stinky carpet cleaner!
Don't go off-brand. Use the recommended solutions for your device. There is a reason these formulas were chosen, so make sure you are happy with that particular brand or product before purchasing the actual shampooer.
More Tips On Keeping Your Carpet The Cleanest!
What else can you do between shampoos? We have a few ideas that you can employ and make part of your daily, weekly, and overall life routine. You'll thank us later, we promise!
Create boundaries for the pets. Don't allow your four-legged friends free range of the house. Instead, limit the areas that your kitties and pups can roam. This makes clean-up a bit less overwhelming.
Utilize doormats. For both inside and outside of entryways, you'll want to add some doormats to the decor scheme. This helps limit excess debris from being tracked on the carpets.
Employ a no-shoe policy. Leave your shoes at the door (next to those mats we mentioned above). Again, this leaves your carpets less likely to catch a mud stain or extra dirt in their crevices. Grab a tote, a bucket, a basket, or even a tray to keep shoes organized.
Conclusion
Even if you feel like your carpets are a lost caused, there are ways to manage the foot traffic and keep your floors from becoming stained, dingy messes. No matter how many pups or little ones you have roaming around, following along with these tips and grabbing yourself a carpet shampooer will help to breathe new life into space and have your home feeling so much fresher and cleaner than it ever did before.