8 Best Bread Machines to Make Your Own Bread
If you've never tried making your own homemade bread before, then we're very sorry indeed to tell you that you are missing out on something delicious! Of course, making bread from scratch the old-fashioned way is a bit of a laborious and outdated process that not many people have time for. That's why bread machines and bread makers are such an awesome thing. Not many people realize just how simple bread makers are to use, nor just how affordable they can be for the high payoff you get from purchasing the one that's best for you.
That's part of why we've been gathering the links to the best, most high-quality bread makers we can find available online. Shopping online gives you the opportunity and time to really research your choices, comparing and contrasting their features so you can invest in the right product.
Editor's Choice
Why make your own bread?
Besides the fact that the process is fun to learn and baking bread makes your house smell wonderful, most people make their own bread, so they know precisely what's going into their food. Making your bread from scratch helps you cut down on the number of preservatives and trans fats your family consumes, as these things are often present in store-bought bread recipes.
What is the best bread maker machine?
If you'd like a little bit of guidance on choosing the bread-making machine that's best for you, check out this pros and cons list of the highest quality models we came across in our search.
If you're looking for something straightforwardto use because you're a beginner or simply very busy, then we think you'll appreciate this first model from Hamilton Beach. It's designed with a three-step process in mind: add the ingredients, select the correct cycle for what you're looking to bake, and start the bread maker. This company actually knows that many people use bread makers for all kinds of things, so they give you a list of recipes, including gluten-free French bread, jam, and cake.
While most people with experience of this bread maker have been complaint-free, a few have expressed discontent with the price. Although its online price tag is decently affordable, many customers saw the machine available for slightly cheaper in physical stores after purchasing, so checking your local home stores first might save you a few bucks.
View price on Amazon
Pros:
Super easy, 3-step process
Easy to clean removable inner basket
Great, diverse recipes included
Cons:
Online price might be slightly higher than in-person options for the same machine in some places
Did we catch your attention when we talked about being a bread-making beginner, but you can't help wondering whether there aren't some options out there that will help equip you a little more thoroughly right from the start? Then you'll enjoy this fully stocked bread-making kit from Hamilton Beach. Besides getting the fun red and stainless steel model that's easy to clean, you'll also receive a dishwasher-safe bread pan, a kneading tool, a custom measuring cup and spoon, and a paddle-removing tool.
Because this machine is closer to the beginner's end of the spectrum, it does lack a few of the fancier features you might find on other, more expensive, and sophisticated models. It does not, for example, have an automatic yeast dispenser as some bread makers do.
View price on Amazon
Pros:
Dishwasher safe accessories
Easy to clean exterior
LCD screen with easy to see the countdown timer
settings for three different kinds of crust
Cons:
More basic model, lacking fancier features like yeast dispensers
If you're looking for a more advanced model of bread maker, like the kind that actually mixes the doughand bakes the bread for you, look no further than this model from Zojirushi. This design has dual kneading blades for more effective dough making. It also has dual heaters on the bottomand the top for even baking. Its large LCD screen helps you select settings easily. Those settings include modes for rapid course baking (for the basic kinds of bread), as well as whole wheat, gluten-free, and vegan bread.
Although some people think the size of this machine's bread pan is a perk, some people actually found it too deep. This extra deep pan makes loaves of a height such that the slices don't actually fit properly in most conventional pop-up toasters. If you're an easy morning toast lover, this might be a consideration for you.
View price on Amazon
Pros:
Dual kneading blades for thorough mixing
Even heating system for perfect baking
Visually accessible screen with easy to adjust settings
Cons:
Extra deep bread pan makes slices too large for some average toasters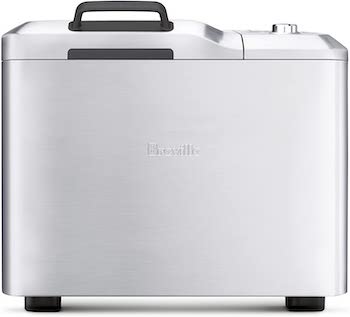 If you're the kind of avid baker who likes to make all different kinds of bread with more diverse ingredients than the average loaf, then you might get along better with this model from Breville. This model features an automatic fruit and nut dispenser that works with the kneading blades to spread the additions out evenly through the dough. The blades themselves avoid interrupting the shape of the loaf by collapsing seamlessly after mixing, right before baking. The machine comes with 46 recipes, three loaf sizes, and settings for three different crust colors.
In order to fit all of those awesome features, this machine is naturally a little larger than a lot of other kinds of bread maker. Some people who have ordered it in the past found it to be heavier, bigger, and clunkier to work with than they were anticipating based on descriptions and photos.
View price on Amazon
Pros:
Collapsible dough blades
Automatic fruit and nut dispenser for even distribution
Diverse recipes and preparation settings included
Cons:
Larger, "clunkier" size than many bread maker models
Besides being a bread lover, are you also the kind of person who loves all different kinds of carb-based diets and wants to learn how to make those yourself as well? This machine from Zojirushi can help you towards those goals. Besides having several healthy bread choice settings for vegan, gluten-free, and whole wheat bread, as well as a fruit and nut dispenser that's removable and machine washable, this model is also programmed with settings for making pasta and pizza dough. You can even custom program the settings for your top three favorite recipes so that making them is even faster and easier.
If you're a previous user of this brand and have experience with older models in their line of bread makers, be prepared for some changes. Although the features included are convenient, they are very different from what their older machines included. The placement and usage of the features that appear in both older models and this one are also different. Some previous users reported that this was a rather large adjustment or learning curve compared to their older machines by the same brand.
View price on Amazon
Pros:
Useful and simple health settings
Removable and washable fruit and nut dispensers for even distribution in the dough
Programmable features to make temperature and setting selections for your favorite recipes quicker and easier
Cons:
A big change in available features and setting placements compared to older models by the same brand
If you're the kind of person who is keen to learn more about bread makers but could also use a bit more guidance during the process, then we think this model fromCuisinart has the best features for you. This machine makes use of audible tones during mixing and baking that help you add ingredients at the right time, remind you to remove kneading blades when the mixing is done, or let you know the perfect time to remove the dough and shape it by hand for baking. This model also has a great delayed start feature, letting you set everything up for future baking and walk away, coming back to fresh bread up to twelve hours later.
Some owners who have worked on different brands of bread makers before have noticed a discrepancy in this model when it comes to temperature settings. This machine tends to run a little hot, which risks burning the crust of your bread if you rely on only the timer and temperature, rather than using the window to check the ride and crust of the bread yourself.
View price on Amazon
Pros:
Audible tones to cue certain actions for perfect bread
Removable kneading blades
Delayed start feature for future bread made fresh when you need it
Cons:
Machine can run a little hot in terms of temperature setting compared to other models, risking burnt crust
Are you actually an experienced bread maker and bread machine user looking to upgrade your basic little machine to something more customizable and well equipped? Well, particularly if you're also into the idea of a larger size, thenCostway might have just what you're looking for. This machine is fully customizable, letting you enter a variety of features to program systems according to your favorite recipes. It has an even more extensive delayed timer than most models, giving you bread, breakfast, or dessert on command in the future (up to 15 hours later). It's easy to clean inside and out and allows you to make a range of loaves up to a larger size.
Because this model isso programmable, some user reported quite a steep learning curve. It's definitely worth hanging onto the manual and reading through the instructions several times before you get down to business. The settings are by no means hard, but programming the right ones in sequence to get your perfect results is an adjustment.
View price on Amazon
Pros:
Easy to clean inside and out
Fully customizable to your preferences and favorite recipes
Lets you bake a larger range of things and in a wider variety of sizes (up to a larger maximum)
Cons:
More difficult to program than the average starter level bread maker; comes with a steep learning curve
If you'd rather invest in a machine that has all the ease of the beginner machines but all the programmability and customization of the more professional machines, then you might get along with this blended model from KGDC the best. This machine offers you some settings that are more like three-three step "add-and-go" models, but other options that involve an automatic nut or fruit dispenser and custom selection of crust thickness and finish. The machine's inner workings are removable and dishwasher safe, and its timer can be activated immediately or delayed up to 13 hours.
Compared to most of the other models you've seen so far, this machine falls on the expensive end of the spectrum. Its high quality (in terms of both hardware and results) certainly justifies its price tag, but it's the kind of investment that might eliminate it from many budget levels.
View price on Amazon
Pros:
Delayed timer up to 13 hours
Basic "add and go" settings for simple bread
Automatic switch from baking to warming when bread is done
Custom programmability for loaf size, ingredients, crust thickness, and finish
Cons:
Impressive combination of custom options makes it a much pricier machine
What is a bread maker?
A bread maker is a small kitchen appliance separate from your oven and other appliances. Its size, shape, and setting are specifically intended and set for baking bread; it gives you the default requirements for making the best bread possible. Using a bread maker rather than making bread in your oven makes the process quicker, easier, and more likely to turn out just right.
Who should use a bread maker?
Anyone at all can use a bread maker! In fact, bread makers are an easier way for beginner bakers to learn how to make homemade bread than using more traditional methods in your oven. They're also better for people who are busy and don't necessarily have the time to sit still near their kitchen, checking the oven window to see how close their loaf is to be perfectly baked.
Bread maker safety
Most quality bread makers are safe-touch on the outside, even if you can feel a little bit of warmth. Despite this, the interior of the appliance obviously heats to quite high temperatures in order to properly bake your dough. Inserting and removing the dough is the part of the process you'll have to be most cautious about. You'll also want to keep baking time in mind; most bread makers have timers and auto-stopping safety features, but burning something is never the goal.
What can you make in a bread maker?
Believe it or not, bread makers can actually be used to make a whole lot more than just bread. People also often use them to make:
Jam
Meatloaf
Cakes
Scrambled eggs
Yogurt
Rice pudding (and other rice dishes)
Do you know another bread-loving DIY enthusiast who has been thinking about investing in their very own bread maker but who could use a little more guidance in choosing the right one? Share this post with them, so they have all kinds of options to consider.